The Phoenix:
—From The Aberdeen Bestiary: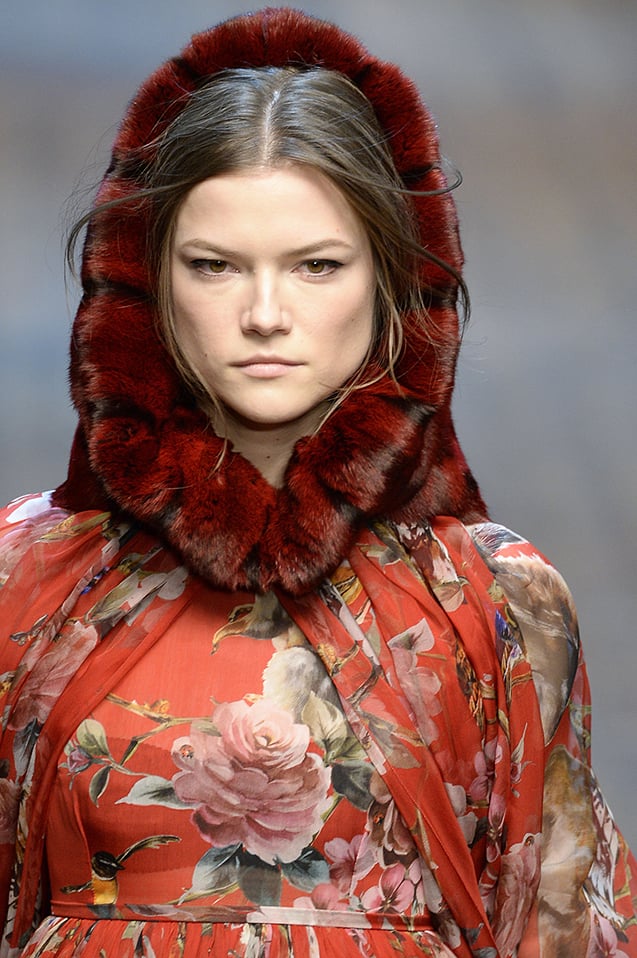 "When its time is come, it enters the covering and dies. From the fluid of its flesh a worm arises and gradually grows to maturity; when the appropriate time has come, it acquires wings to fly, and regains its previous appearance and form.

Let this bird teach us, therefore, by its own example to believe in the resurrection of the body; lacking both an example to follow and any sense of reason, it reinvests itself with the very signs of resurrection, showing without doubt that birds exist as an example to man, not man as an example to the birds."
Domenico Dolce and Stefano Gabbana always offer an opportunity to be transported to a magical world. In this particular catwalk the main topic was fairy tales. Surrounded by an eerie, purple light, all sorts of dreamy visions stepped on the catwalk.One of the main allures was this dyed, red mink fur hooded, chiffon dress. The fashion house took a wardrobe classic and elevated it to a fantastical stratosphere. Like a vision, this garment appeared both grand and enchanted. The dress was inspired by flora and fauna that once garlanded medieval manuscripts. Owls, flowers, rabbits, and flowery images on the red chiffon dress told the viewers that it came from the mysterious forest. From the deepest of woods, it ethereally floated above the floors. Like the Phoenix, it appeared from the darkness, the depths and reinvented a story for itself. It also refers to "being a woman" today. Girls borrowed helms from the armour of a knight no longer needed to come and save them. To be a woman for Dolce&Gabbana means to be graceful and strong. A woman, like the phoenix, can and should rise again through the reinvention of her own story and self; more powerful than before.