The Salamander:
—From Isidore of Seville [7th century CE] (Etymologies, Book 12, 4:36):
"The salamander alone of animals puts out fires; it can live in fire without pain and without being burned. Of all the venomous animals its strength is the greatest because it kills many at once. If it crawls into a tree it poisons all of the fruit, and anyone who eats the fruit will die; if it falls in a well it poisons the water so that any who drink it die."
Well known for his embroideries on the Milan Fashion Week scene, Fausto Puglisi has been recognized by his daring, metallic, and robust design. This show gave a designer's collection that wasn't scared to experiment with new textures and patterns; far away from the glitz and sparkle that gave him fame.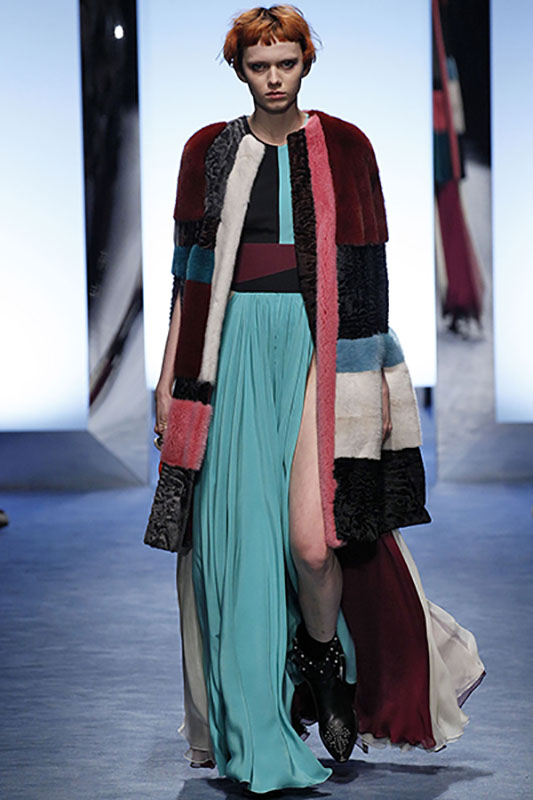 The catwalk was full of asymmetrical capes and gowns resembling ancient Roman sculptures. But more daring was his use of colours in a particular cape; bright combinations of burgundy, hot pink, white and teal applied to mixed furs of karakul and mink. Structure and suppleness were combined with dexterity to offer the viewers a scorching plethora of textures and colours at the same time. A bit too much to handle for the faint-hearten but then, that's never been Puglisi's way.
Like the salamander this design imbued the runway with a dangerously, lethal, yet tantalizing mixture of draped silk jerseys, layered with fur bright combinations. Puglisi exemplifies with every collection, his fiery Italian approach to life, and his passion for beauty. His intensity is embedded in every single one of his pieces but, this year, this coat was self-descriptive of what this designer is all about. Puglisi's unique creations are informed by the romance of the past, but are twisted with a modern cadence to create a high caliber canter. The classicism of ancient Roman sculptures, the hedonism of Bacchanal or even contemporary Hollywood revelry, and the quiet reserve of 1950s couture, are his incessant sources of inspiration. If you could describe his work in a few nouns, those would be: danger, fire, shock. But paradoxically, all contained in irresistible packages of colour, shine and sensual shapes.
This collection was for women who dare. The women who Puglisi adores, and those that adore him right back, are cut with the same scissors. A cross 1950s screen icons to today's most controversial, yet strong-minded women. Those who dare to fall under his spell are aware of the danger his designs entail: a bit too much, too much drama. But really, who cares about the drama or about who will turn out his fire if you end up wearing this dreamlike fur coat?