The Met Gala, also known as the Costume Institute Gala, is the fashion industries biggest and most exclusive event bringing together designers and the most famous faces from the world of fashion, music, film, television, sport and art. The Gala is hosted each year by American Vogue editor in chief Anna Wintour, and a selection of celebrities, to raise money for the Costume Institute at the Metropolitan Museum of Art (Met). The fashion fundraiser was founded by Eleanor Lambert in 1948 and was designed to get New York's high society to part ways with their cash in the name of art and fashion. Since the inaugural gala, the event has become one of the most exclusive events in the world and today is an annual themed exhibition and dinner celebrating fashion and the industry's cultural influence around the world. The theme for the 2019 Met Gala was, Camp: Notes on Fashion, based of Susan Sontag's 1964 essay, "Notes on 'Camp'". Celebrities interpreted the theme with a designer chosen for them by Anna Wintour, which resulted in a variety of creative outfits on display, some backlash, but most importantly, the Met's most memorable gala and exhibition yet.
Opening the pink carpet with not one, not two, but four outfit changes, Lady Gaga set the stage for the many extravagant outfits that followed. While each look was completely different from the one that came before it, many of the designs walking the carpet had a second theme in common – Feathers. From Cardi B's Thom Browne dress, which took 35 people, 2000 hours and 30,000 feathers to create, to Anna Wintour's pink and black feathered cape dress designed and created by Karl Lagerfeld before he died, feathers we're everywhere. Natural materials like feathers and fur, with their volume and shape, go hand-in-hand with the Camp theme of this year's Met Gala. But, it was only when I traced the steps the prestigious guests made back on the first Monday in May this year – up the grand staircase – passing the Monet and Picasso expressionist exhibition – entering inside the Camp exhibit that one really appreciates the natural materials on display – and how they have been used since fashion began to inform style and reflect queer culture.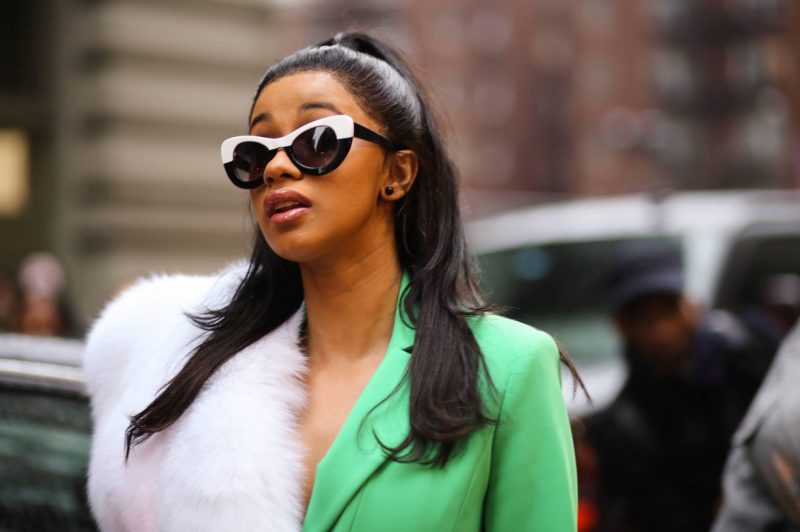 For many of the designers and stars at the 2019 Met, Camp meant a celebration of irony, humour, parody, pastiche, artifice, theatricality and exaggeration. This was the same criteria for the Costume Institute's curator Andrew Bolton who expressed Camp and its connotations through more than 250 garments, accessories and objects dating back to the seventeenth century. The colourful display rivalled the works of art worn by guests including musician and actor Harry Styles, supermodel Stella Maxwell and cosmetics billionaire and reality TV star Kylie Jenner. The same way the eye to wondered from one extravagant garment to the next on the pink carpet, exploring this exhibition in person, one's eye does the same.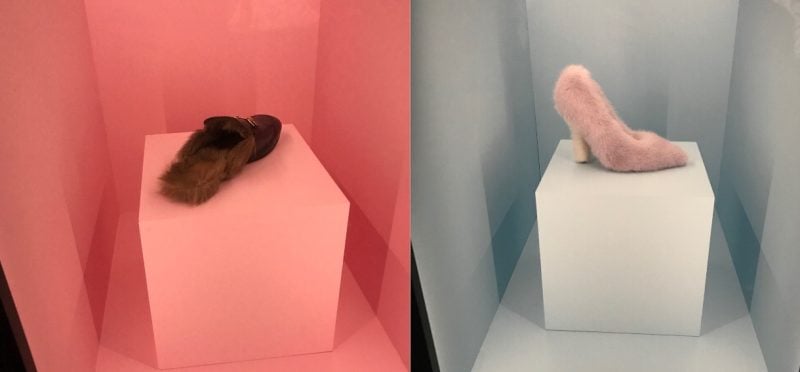 The first object that catches my attention is a Célinelilac and whitemink fur and leather heel – a fluffy heeled slipper from Céline's spring/summer 2013 show that would give the fashionista who would wear such a statement shoe unrivalled style. Then, a Gucci slide consisting of brown leather, brown fur and gold metal detailing, a familiar style that was seen on the feet of Justin Bieber back in 2016 when they were released. After navigating the first few rooms of the exhibition and noticing two contrasting fur footwear creations, it becomes apparent that all-natural materials, from fur, silk, feathers, leather, wool and cotton cover all corners of this exhibition. Natural and sustainable materials are the most memorable and fashionable. While fur remains a staple sustainable fashion material, proudly used by fashion houses Fendi, Valentino, Louis Vuitton, Saint Laurent and more, some designers have turned their back on the magical material, some of these designers use to have magnificent fur garments and accessories, many on display here.
I managed to visit the Camp exhibition at the Met on the last day before it closed, allowing Wintour and Bolton to prepare for the Costume Institutes next big exhibition next spring. A bustling crowed of fashion lovers young and old photograph Burberry's rainbow cape, once worn on the runway by supermodel Cara Delevingne, hordes of students study every inch of Versace's 1992 Vogue print embraided jumpsuit, and popular culture enthusiasts rejoice at Andy Warhol's soup dress showcasing his infamous Campbell's tomato soup print. Yet, of all the garments and objects on display here, none gather a greater crowd than those featuring fur and feathers.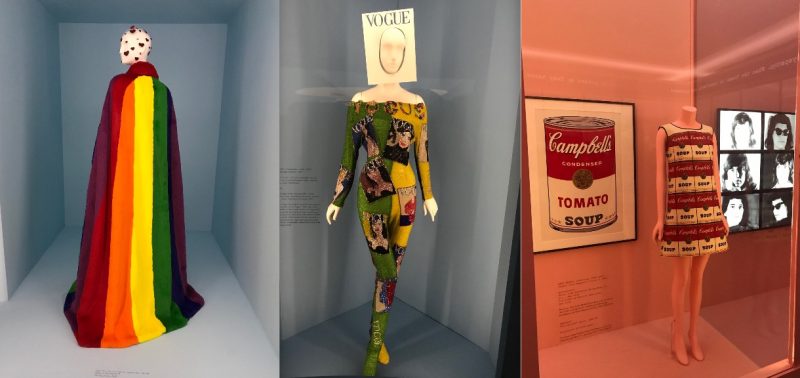 Drawn to their luxurious and voluminous appearance, onlookers' minds tick over the craftmanship on display. Fur and feathers, with their cultural and economic connotations still have the biggest allure that any synthetic alternative could only dream of rivalling. When these works of art are in front of you, only then does it become apparent that thousands of hours in ateliers with the most skilled craftspeople have created these fur and feather embellished looks, and finally they are getting the appreciation they deserve.
However, with all sways of positive attention comes some negative comments too. All the celebrities who attended the Met who wore any natural material, including Wintour with her iconic feathered ensemble, were targeted by animal rights campaigners for their choice. But this isn't the first time Anna Wintour, argued by Forbes to be the most powerful woman in media, has come face to face with violent animal rights activists. More than 20 years ago, in 1996, Wintour was enjoying a dinner at the Four Seasons in New York City when an aggressive protestor stormed the dinner and slammed a dead raccoon on Wintour's plate. Yet, despite decades of challenge after challenge, Wintour stands by natural materials like fur and feathers defiantly. During an interview in 2019, Wintour stated, "fake fur is obviously more of a polluter than real fur," before continuing to say that it was up to individual fashion houses to ensure they are following best practices and are "being ethical in their treatment." Therefore, it comes as no surprise that violent animal rights groups would target the fashion event, but defiantly, natural materials in their natural glory take centre stage during the Camp exhibit.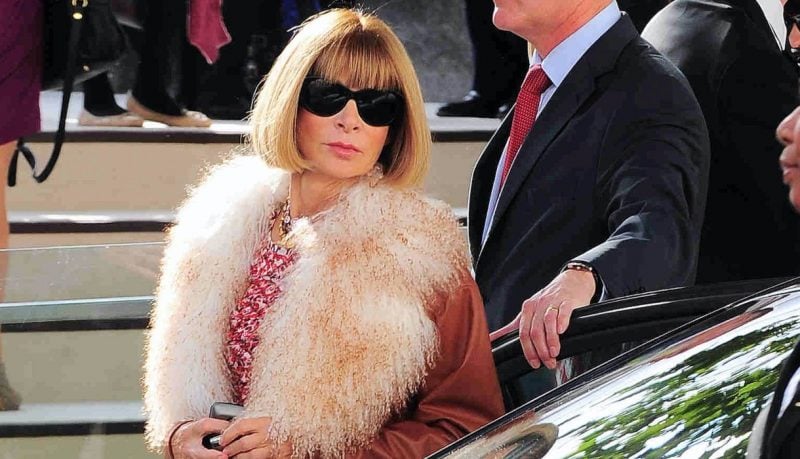 Camp: Note on Fashion has transformed into notes on fur, feathers and fabric. Seeing the exhibition in person has given me a new appreciation for the skill and craftmanship that has gone into the creation of the pieces on display. A colourful celebration of Camp culture and an expression of individuality made this exhibit the most impressive I have ever seen. Despite murmurs from animal rights groups, fashion, with its appreciation for sustainable natural materials, took centre stage for a night of fundraising and fashion appreciation in the months that followed. I don't know about you, but I'm already looking forward to the next first Monday in May.