Clutching a baby kangaroo and wearing a faux-fur coat, the world's highest paid supermodel Gisele Bündchen will appear on the cover of next month's Vogue Paris. The edition is dedicated to eco fashion and promoting fake fur. That's right, the magazine that put Luna Bijl in Gucci's pink fox fur on last August's cover is going faux.
The publicity will no doubt inject a bit of much-needed glamour into the anti-fur effort. But in this case, glamour means something very different from an accurate message about faux-fur. In an attempt to support sustainable and eco-friendly fashion, the faux-fur outfits that Gisele sports for the campaign are more poisonous to the environment, energy consuming and unsustainable than the real thing.
One can't help but wonder whether Gisele's position will be as unsustainable as the coat she wears. After all, years after she supposedly ditched fur back in 2004, she has been spotted on numerous occasions taking winter walks with boyfriend Tom Brady in fur-trimmed hoods and was pictured wearing a fur-trimmed biker jacket last November in New York.
No doubt the timelessness of fur will outlive glossy publicity shoots. Campaigns such as these have tried and failed before…
Cast your mind back to 1994, and you'll remember PETA bid to win the alliance of five legendary supermodels: Cindy Crawford, Naomi Campbell, Kate Moss, Christy Turlington and Elle McPherson. At the time, each of them claimed that they would rather go naked than wear fur.
But the campaign has become something of a distant memory. Fashion fell in love with fur more than ever and its popularity has grown ever since. Only Turlington has stuck by an anti-fur stance. The other four realised that going naked wasn't worth abandoning the style and sustainability that comes with wearing fur.
In defence of a foxtail stole she was wearing, Kate Moss made it clear that "I wear what I want to wear", and Naomi Campbell has since sported fur products from designers such as Fendi, Dolce & Gabbana and Givenchy. She also signed as the face of luxury New York furrier Dennis Basso in 2009.
Crawford said that she thought the PETA campaign was just another modelling job, and went on to become a model for the mink coat giant Blackglama®, as well as Naomi Campbell and Elle McPherson.
This was the same label that Gisele modelled for before she was intimidated by a PETA protest at a Victoria's Secret Fashion Show in 2002.
But it's not only these supermodels that were unable to resist the allure of fur. In 2013 for instance, an array of rabbit, raccoon, coyote and fox products returned to the shelves of Harvey Nichols after they announced they were dropping fur in 2004.
Khloe Kardashian, who once posed naked for PETA and wore a 'f*** yo fur' coat, has posed wearing fur with her sisters and friends across social media in this past year.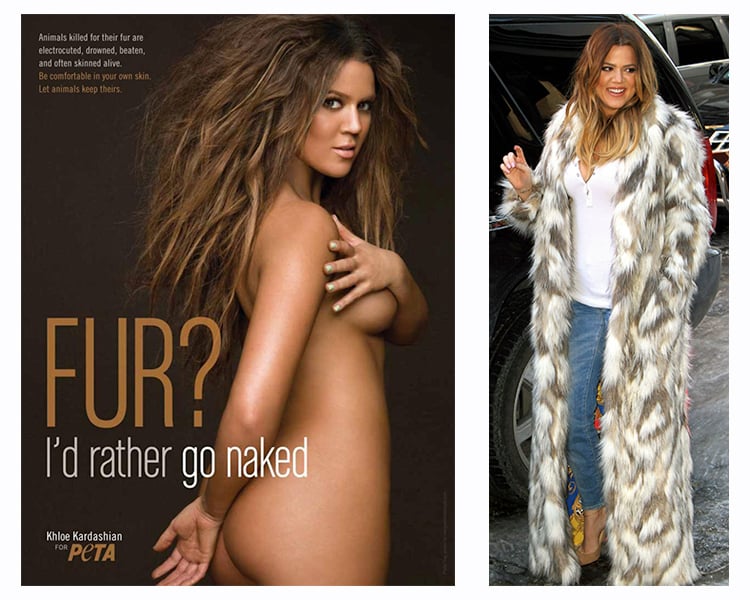 Global superstar Lady Gaga rushed to the defence of Kim Kardashian in 2012 when she was flour-bombed, calling her "fabulous".
She challenged PETA by writing on her website: "Save your flour to make bread for the children who are hungry?"
The singer, who is notorious for wearing a meat dress to the 2010 MTV Music Video Awards, has adamantly advocated the right to wear fur. The star wrapped up in a brown fur coat after taking part in protests against Trump in California following the result of the election last year and in 2012 she slammed PETA's campaigns for being "violent, abusive and childish".
Gaga made it clear that the intolerance displayed by anti-fur campaigns had no place in free conversations about society, equality and politics. "I respect your views, please respect mine," she wrote.
It is undeniable that fur is still an influential part of fashion, art and beauty.
To end on Gaga's words: "You see a carcass, I see a museum piece de resistance".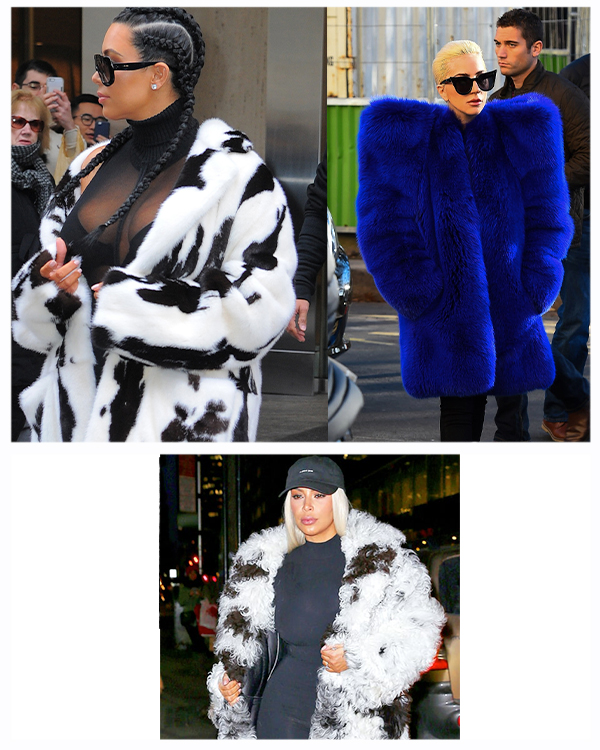 Photo Credit (header image, left to right): Daily Mail, Vogue Paris, Getty Images.