The recent Louis Vuitton X Supreme collaboration, as well as the infamous 'Balenciaga IKEA' bag (featured below), is an example of fashion re-contextualising the everyday and the 'street' with couture execution. Both come with hefty price tags, but they also share the goal of proving that fashion can be aesthetically accessible to all, and that the gap between high and low styles can be bridged.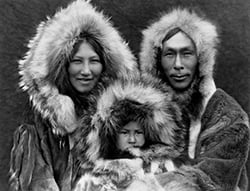 Fur should be thought of in the same way: it is not a material that is just suited for the privileged few. While fur is undeniably a statement of luxury and class, it would be reductive to leave it at that. An Inuit furrier would desire a fur coat as much as a Russian oligarch, and both could potentially afford it too. Fur is not only sourced for fashion – for an Inuit, fur means survival.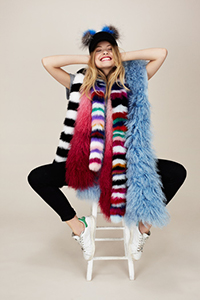 There can be a tendency to only think about glamorous products in terms of their quality and design, as if they don't actually have a more practical function as well. A fur coat is there to keep you warm as much as it is to look fabulous, just like a bag is for carrying your things, and a watch is a tool for telling the time as much as it is a piece of jewellery.
There's no one forcing you to choose whether you wear your modestly priced Charlotte Simone popsicle scarf, Yves Salomon gilet or Gaultier lapin-trimmed cardigan for warmth or style: they cover both bases at once. That said, when choosing between a Fendi pompom or a fur-trimmed Canada Goose, only one would be suited for the ski-slopes.
What all these examples show is that fur is being used to fulfil a diverse purpose. Fur can be fashion, or function, or both.
But we should not only think about the functionality of fur in terms of its warmth and growing affordability. It is also the longevity of this natural fabric that allows fur to prove its functional worth over fake alternatives. Just one fur coat can be a source of style and elegance for three generations.
Not only this, but people are realising that fur does not have to be limited to the winter months. Fur is becoming lighter and more adaptable. A bulky fur coat isn't your only option for wearing the material in summer. There is a range of fur trims, gilets, jackets and collars. Fashion blogger star Olivia Palermo has often been snapped in spring wearing various elements of fur in nude and pastel colours.
So whatever the time of year or whatever branch of society you come from, fur will prove to be an essential addition to your wardrobe for a range of styles and functions.