WHAT IS REMIX 2018 COMPETITION?
REMIX is the annual fur design competition which gives up-and-coming talent from across the globe an opportunity to showcase their innovative designs to a highly influential, international audience where they will experience a global exposure across a range of traditional and online media channels. This year, Remix 2018 will take place during the month of February in Milan, Italy, and will be supported by VOGUE Talents.
REMIX 2018 competition winners receive awards, prizes and press coverage to help further their career.
This year, the Gold, Silver and Bronze winners will have the opportunity to be included in an exclusive editorial shoot produced by Vogue Italy and featured in Vogue Italy April print issue as well as online on www.vogue.it.
The top three prize winners will also have the opportunity to have their garments featured in FUR NOW, the International Fur Federation's global fashion advertising campaign. The campaign runs seasonally throughout the year in print as well as online in major magazines such as Vogue, Harper's Bazaar, Elle, L'Officiel, Cosmopolitan, as well as on social media.
The Gold Prize Winner this year will be granted:
An all-expense paid trip to Kopenhagen Design Studio (Date TBC / courtesy of Kopenhagen Fur).
An all-expense paid trip to Studio NAFA (North American Fur Auctions) at their Toronto headquarters for a week of technical training and practice (Date TBC / courtesy of NAFA).
Previous REMIX finalists have credited the REMIX competition in propelling their careers which has seen them work with fashion brand royalty such as Louis Vuitton, Dolce & Gabbana, Gucci, Roberto Cavalli and Jean Paul Gaultier as well as dressing A list celebrities.
AM I ELIGIBLE TO APPLY FOR REMIX 2018?
You must contact your IFF member organisation that you are planning on applying. (To find out who your member is click here)
Entries will only be accepted from design students who are currently studying or have graduated from design school within four years from the date of entry to the competition.
The three garments you are planning on putting forward for your application MUST have an aspect of fur. The primary garment should be a full fur look and the 2 supporting garments may also be a full fur look, or contain fur as a trim or part of an accessory.
HOW DO I APPLY FOR REMIX 2018?
If you are interested in becoming part of the REMIX 2018 competition and making that next step in your fashion and design career, please fill out the application form to the right.
Applications will close December 11th, 2017
If you have any questions please contact [email protected]
Interview with Morten Ussing: Remix 2017 Gold Prize Winner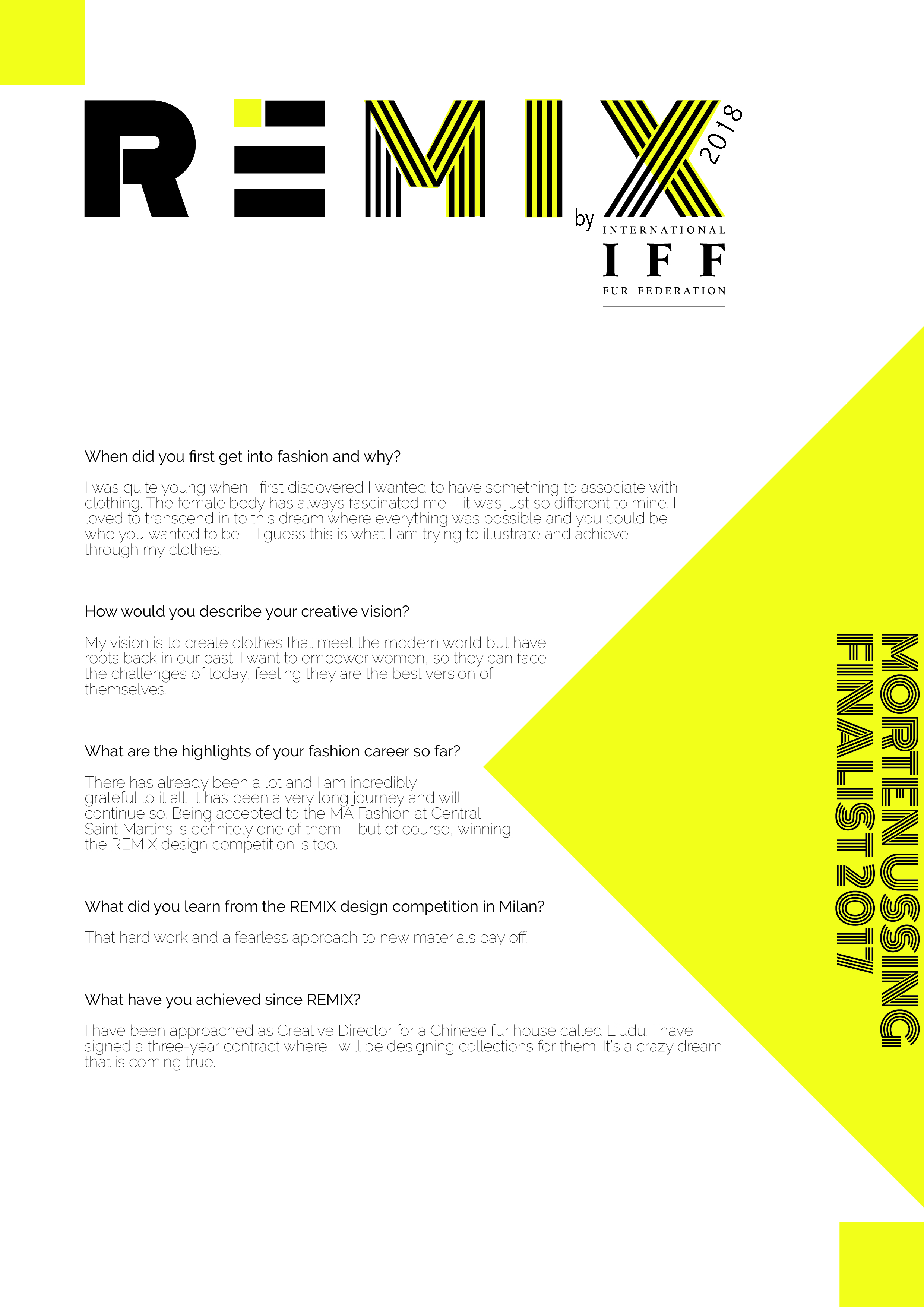 Interview with Nicolas LeCourt Mansion:
Remix 2017 Bronze Prize Winner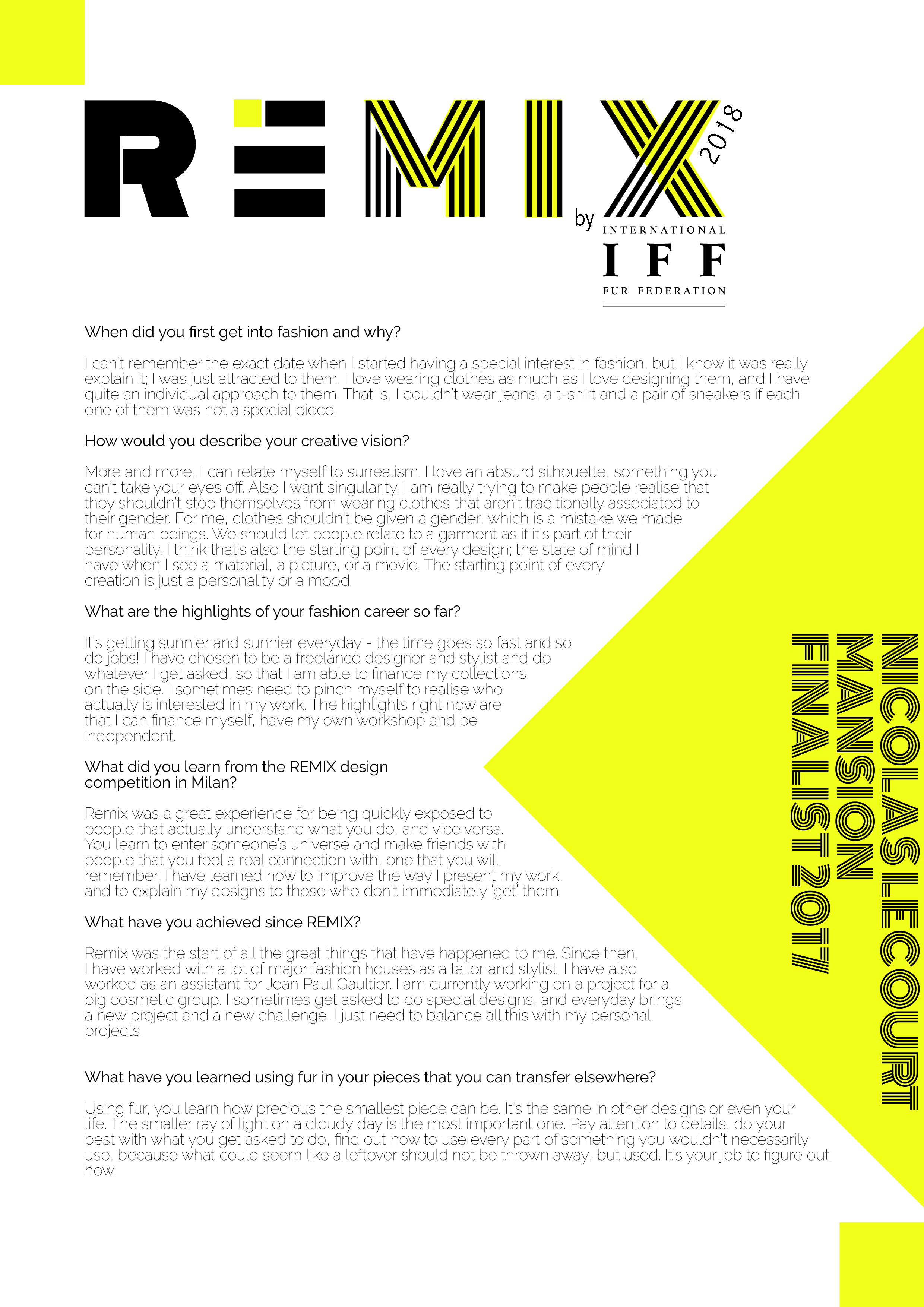 Interview with Santiago Artemis: Remix 2016 Finalist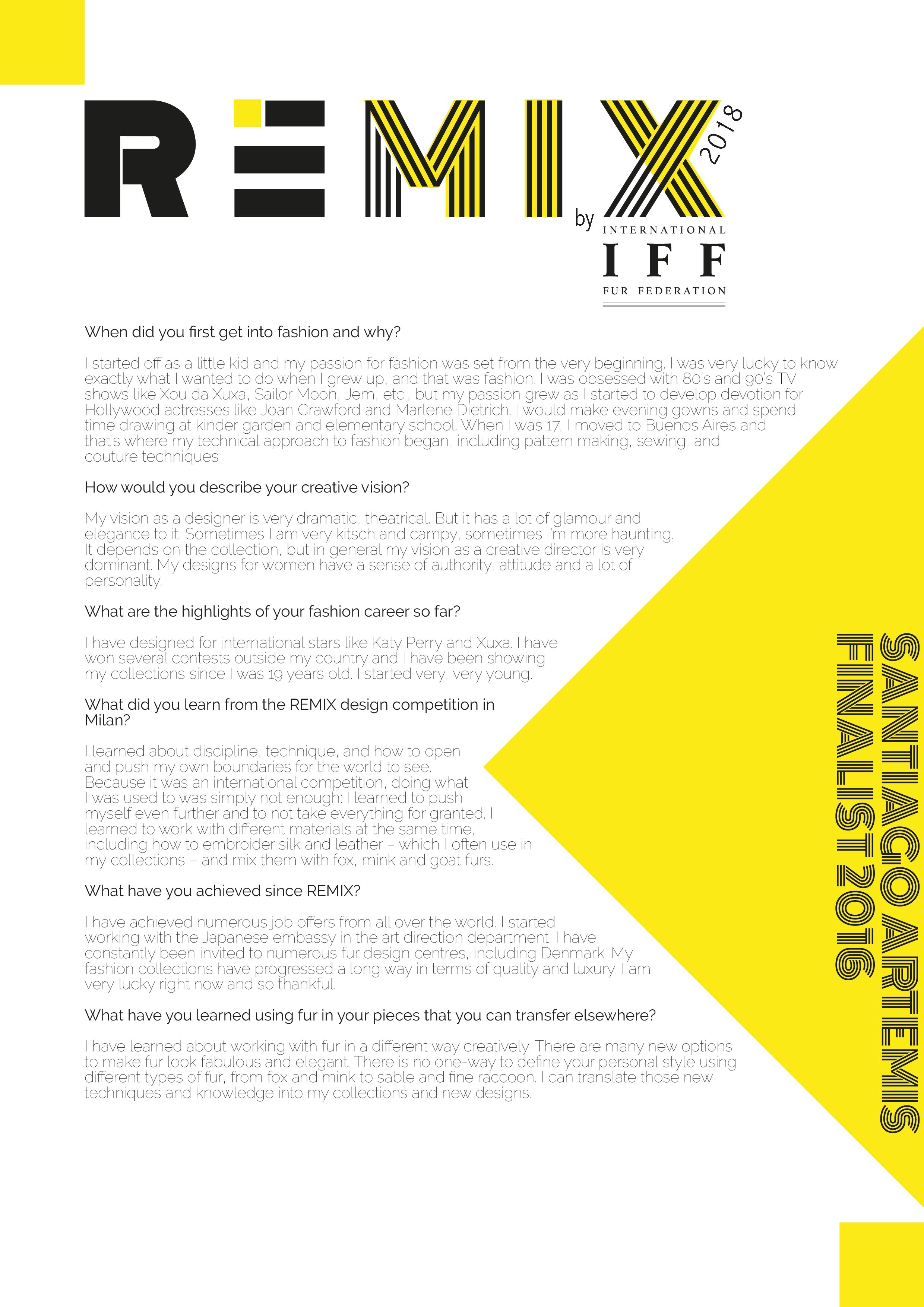 Interview with Edda Gimnes:
Remix 2016 Bronze Prize Winner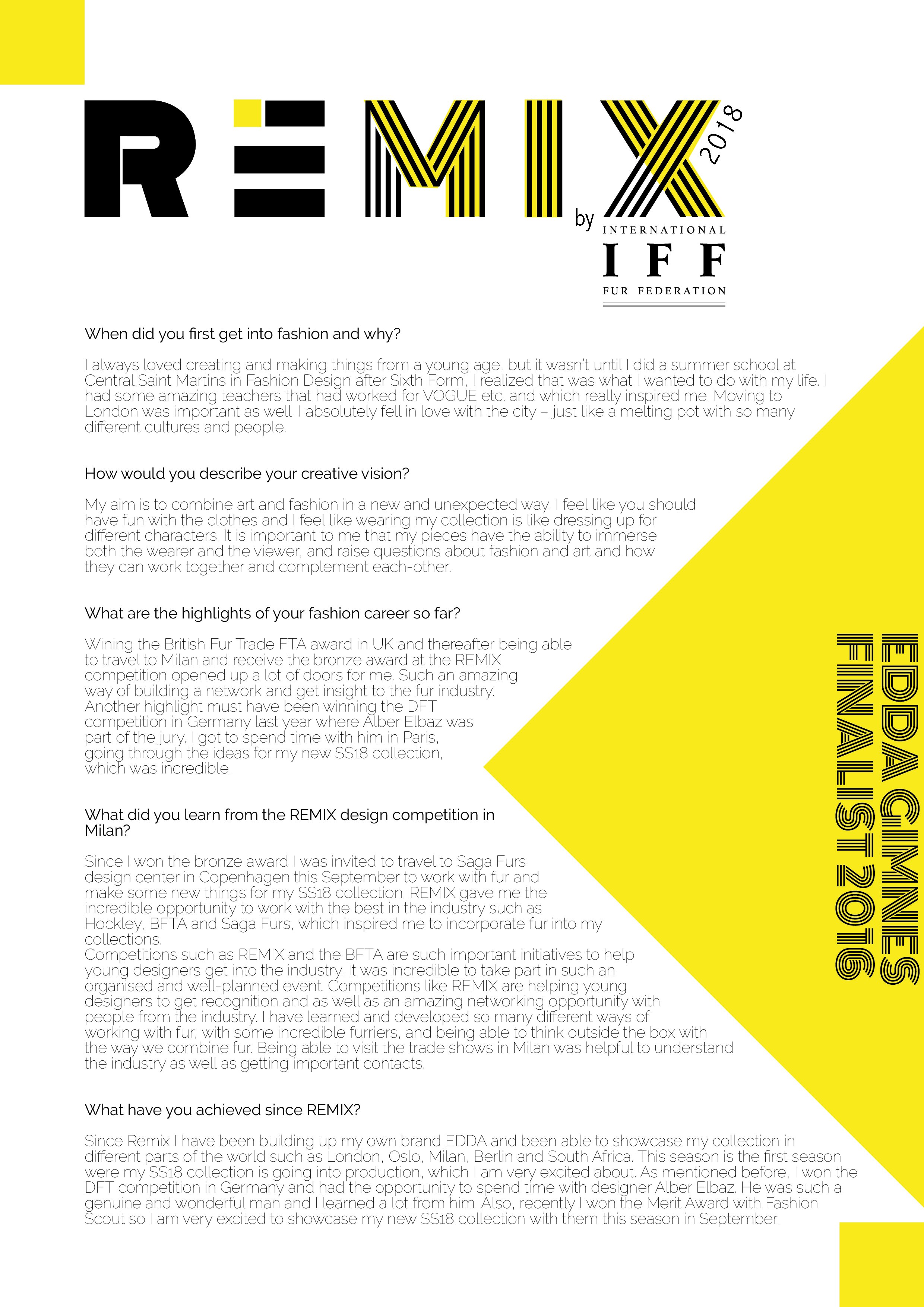 Interview with Nicolas Garcia: Remix 2015 Finalist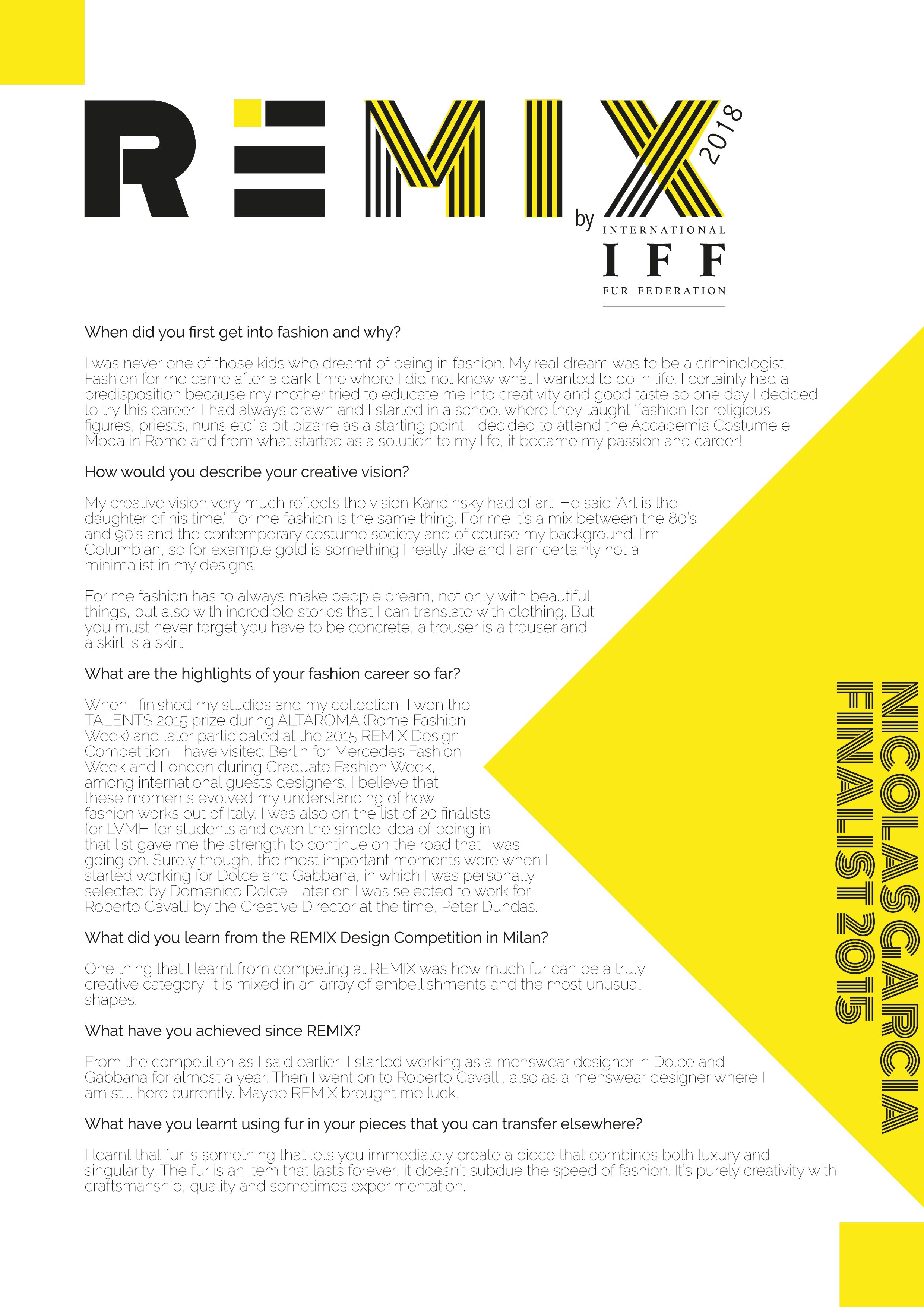 Application