At the International Fur Federation, we are committed to supporting the next generation of fur talents. This is why we supported Ineta Joksaite when she asked for funding to attend Fur Europes Fur Summer School in Kastoria, Greece. Here is Ineta's story.
My name is Ineta Joksaite and I'm one of the 25 lucky people who attended a life changing trip to Fur Europe's Summer School in Greece on August 23rd 2019.
The Fur Summer School lasted 9 days and focused on sustainability, fur skills, fresh ideas and learning the truth about the industry from its core.
Supported by Fur Europe and the Hellenic Fur Federation, and taught by outstanding industry professionals including fur technician, designer and professor in fashion marketing Ilias Revas, who has also designed for FENDI. Revas is spectacular at what he does and a brilliant person, he made our trip very exciting and informative. Our main host, professor Vasilis Kardasis, who not only taught fashion stars such as Alexander McQueen and John Galliano, but is an iconic human being, who made the whole trip so personal and mind opening leaving a deep imprint in our hearts. He has given us a piece of himself and that is the biggest gift we all took home…
All organizers were so professional and humane throughout. Adam Gono made sure that everything was going great. Christine Liana was so helpful and brilliant and don't get me started on the fun we had through out the whole trip. The trip we could only go to once. (Tears).
I was first introduced to this opportunity by British Fur Federation (BFTA) after winning the 1st prize in their fur design competition in 2019. Applying for the BFTA competition was was the best decision I have ever made. There was application forms and selection criteria, but you don't have to be a designer to get in. Just interest/ relation to fur was enough.
We stayed at the best hotels, ate the best food. There was a lot of food. And wine. And more!
So let's dig into the wonders of Fur Summer School 2019 and see what marvellous time we had and what we learnt about the fur industry that normally people don't know.
DAY ONE
After everyone gathered at the Thessaloniki airport (few of us came few days early), we took off to a little magical town hidden within the glorious mountains of Northern Greece, called Siatista.
A mind blowing sunset and the most spectacular family hotel, Iberis – nestled into the mountain with the freshest air – combined with the mouth-watering food and views you don't see every day – welcomed us with open arms. We were allocated a roommate and settled into our rooms. I stayed with lovely Vida, who is also Lithuanian, like me, it was exiting to make new friend right away.
DAY TWO
After breakfast and prof. Vasilis talk, we each got a personalised backpack as a gift and took them everywhere. We got divided into groups and off we went to explore local small businesses in Siatista.
We learnt so much about repurposing fur trims into new materials, pricing and techniques. This was very interesting to learn for me, as I personally don't like wasting my fabrics. I came to conclusion that fur is a perfect example of sustainability and we got to see it with our own eyes.
We also realised how much hard and precise work there is inside every manufactured item. And it just made us more appreciative of the skill, time and effort that fur industry has.

After visiting all the manufacterers, we went for a beautiful dinner. Then it was time to visit the mink farms.
We were given this amazing opportunity to see how the mink farms operate and learn everything about the process. We have seen different shades of mink, how well they are look after and fed. We also had a chance to raise question about all our concerns regarding the animals. Some people still think that animals are being skinned alive and tortured, but this is not true at all. They feel no pain or distress and they can only provide a best quality furs if they are looked after well and fed with nutritious food. Wounds in the skin would decrease the quality. Already so early on in the trip, I thought how eye opening and reassuring it was. Learning the truth means I now feel much more confident and proud of entering the fur industry. Before learning all this, I was against using natural fur, based on the fake information I'd previously found online.
We rounded up the day by coming back to the lovely hotel and dipping into beautiful swimming pool before heading out to traditional Greek dinner and some Sirtaki dancing!
DAY TREE
After breakfast, we took of to another magical town situated around the lakes and between mountains called Kastoria. Kastoria is built on the fur industry and even its name comes from ''Beaver''. So many fur shops and factories all around. This is a go-to town for fur auctions. 
We were given a tour of Folklore and Byzantine museums and of Koumpelidiki church where we explored the fascinating artwork. Our guide, Fedon Giatas was so passionate when talking about Kastoria's history which made it interesting to listen to him. Words cannot describe how inspired I felt after visit.

Later, we visited the exhibition centre, where our projects were going to be realised. Prof. Vasilis had a very special talk with us, then divided us into 5 groups and made sure no people from the same country stayed in the same group.
My group was 3 and we were all designers. The project theme was ''money'' and we all brought some old notes and coins to get inspired. We got to know each other a bit and started to brainstorm the ideas. There were 2 piles of scrap fabrics and fur trims to use in this upcycling project for everyone. We also got to see an incredible piece of fabric made of Salmon skin. I have never seen anything like this.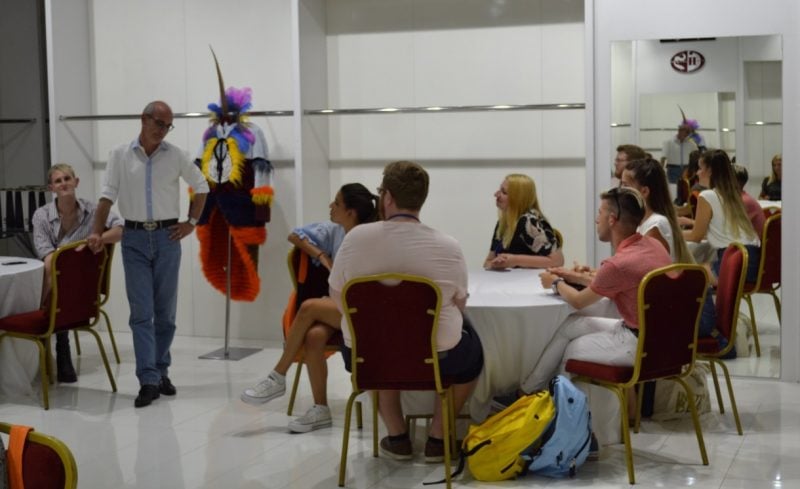 DAY FOUR
On this day we were welcomed to the PKZ Furs. Another great opportunity to see the fur masters at what they do best. I have never imagined that it takes so much work and skill to make just one coat. Hundreds of small fur strips are sewn together using a fur machine and then the finished pieces are manipulated to fit the pattern using wetting technique and staplers. It was very interesting and exiting to see the process and how fast they work.

Then we went up to the finished garment section where everybody had a chance to try on the latest models of fur coats – they were so beautiful and colourful. At the end of the visit, we all received sweet furry gifts to take home. 
This is me and some of my favourites!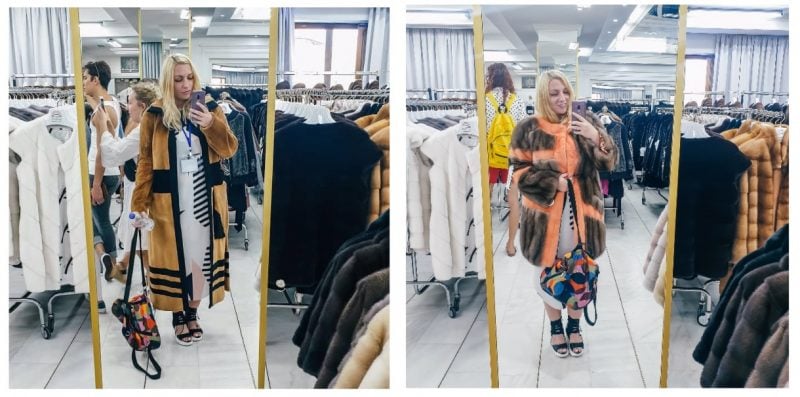 On the same day we had a trip to skin dressing DTS factory. Lovely Athena Ditsiou gave a quick presentation explaining the steps in dying processes and how sustainable and effective their business is. Not to mention, that the water they use is then cleaned and recycled to the point that is used in spraying the surrounding fields. We then had a walk through the factory and saw so many interesting equipment pieces where we even had a go at mixing paint and dying the fur ourselves.
I was very surprised, bu more so happy, to see how sustainable the whole fur industry is. Nothing gets wasted, fur scraps are turned into new fabrics, animal leftovers are turned into biofuel. Water is recycled. Even old coats can be recut, remodelled and updated. And the best part, fur is biodegradable.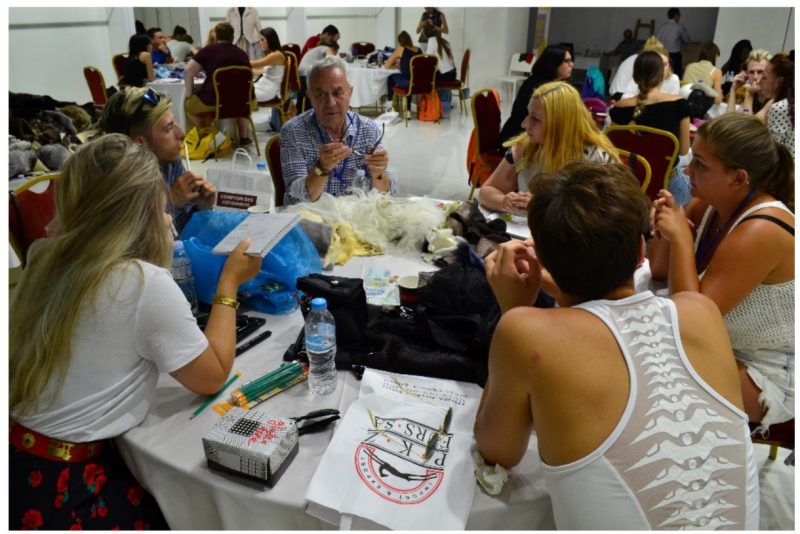 Later we headed back to the exhibition center for a discussion. Then it was time for night-time sightseeing of Kastoria from the mountain, thanks to such an amazing and friendly host Ilias Revas.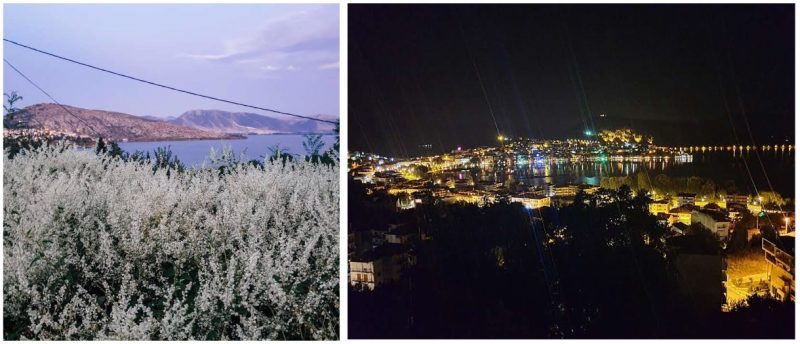 DAY FIVE
Everyone was now fully focused on projects, patterns, and expanding the furs. There was also a presentation by Saga Furs where they showed us mind blowing fur manipulation techniques and we learned more about utilising the fur scraps and turning them into magnificent art pieces. I was interested in learning about printing on fur techniques and how different furs create different effects of print. We also received tote bags with fur pom poms as a gift.

It was then time to focus on my pieces for the project. We called our theme MULTIPOLAR, reflecting the fact that there are two sides of every coin and that we all have a different perspective about money. We decided to create a light and dark contrast piece that can be worn in multiple ways. It can be personalised, created from new or upcycled materials, including a grandmothers knitted, worn or embroidered cloth that would then become a family relic and would never be thrown away.
We used all sorts of scarp fabrics and techniques to show that Multipolar has endless possibilities. My dark piece was made using plastic leather with leftover mink trims going through into the tree shape, symbolising how people can become obsessed with money and it tangles through your veins. 
For the light side, I used Mongolian sheep fur that I decorated with my own signature technique of top stitching, to symbolise that talent, hard work and faith in yourself can put food on the table, this is where money becomes a sign of good.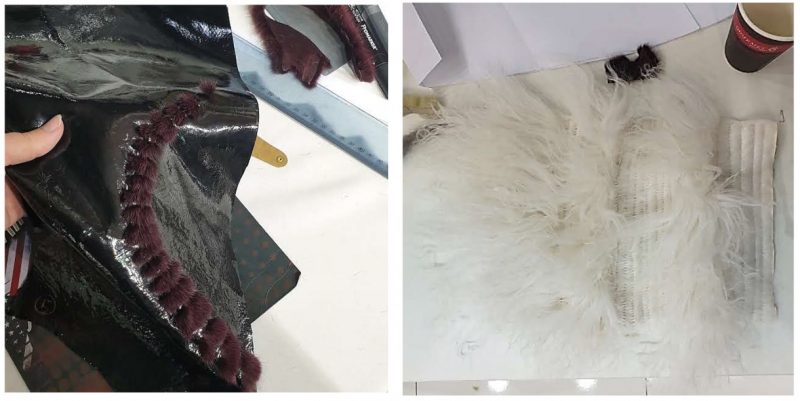 We then finished off the evening in the lovely sea food restaurant by the lake. Warm evening breeze and wine and I decided to be brave and try octopus and calamari! 
DAY SIX
We were given a presentation by KOPENHAGEN FUR and learnt about opportunities in working with them. This day was intense as the work had to be done for the project. I also had an interview about my experience with the lovely Vladislava Gospodinova and Henry Bateman. It was a fun experience and I am glad I was able to start over few times (laughs). 
Afterwards, we had an interesting discussion about fur industry and how wrongly it is perceived by majority of people, including myself just recently. All due to unrealistic and unfair articles online. We talked about the lack of information regarding the industry and how transparent it really is. It is important to educate everyone, even if they have no interest in fur.  So many people's businesses, lives, families rely on the fur industry and that seems to be forgotten and not cared about. A lot of people don't realise that fur industry is essential too many and plays a key role in sustaining the economy.
The discussion was a true eye opener and after learning all this information directly, all I can say is that I am proud of entering the fur world and I will surely use it as well in my upcoming collections.

It was 29thof August, a day I entered a new year in my life, just like Evelin from Estonia a day before me. We were both given lovely cakes and champagne, got our birthday song and it was truly a wonderful gesture.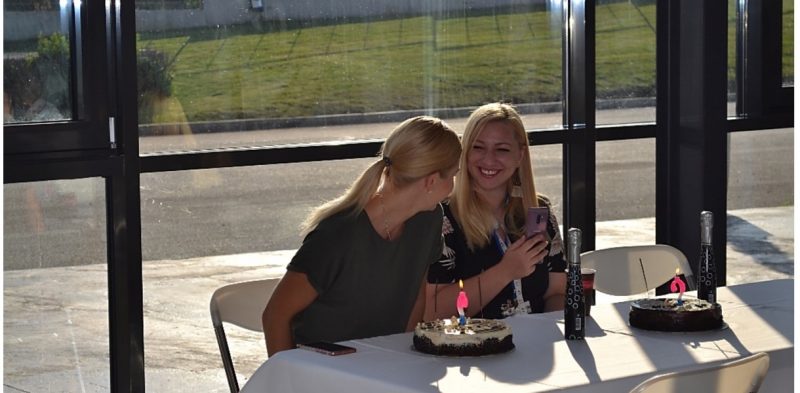 We finished the day with dinner in this stunning restaurant close to the lake and some of us stayed on chatting till the late night back at the hotel.
DAY 7 
A nice refreshing ride by the lake took us to the exhibition centre. The views were phenomenal, and we really enjoyed learning a little bit more about Kastoria.    

Then the project continued, and our group created a logo.
DAY EIGHT
The big presentation day! This was a time to finalise our projects and prepare for the presentations. We decided to keep ours as short as possible but interesting. We finished our work early, some of us went to the mountain café for coffee and I had the most delicious milkshake ever. 
After some time to prepare, we headed back to the exhibition centre for the final presentations.
I made a lot of new friends and was so proud of everyone's work. Everyone looked happy, uplifted and felt a sense of achievement. We received our certificates and of course I had to cry receiving mine, so there's that.
The idea that it was coming to an end and our new wonderful family was going separate ways was tough to handle, but the tears were also happy tears. Happy to be given such a crazy, once in a lifetime opportunity to experience what we did. No words can describe the feelings we had. Meeting significant people from the industry and all the wonderful people who came to the Fur Summer School 2019 was a highlight of mine. We also received goodie bags with accessories. I love my new fur bag!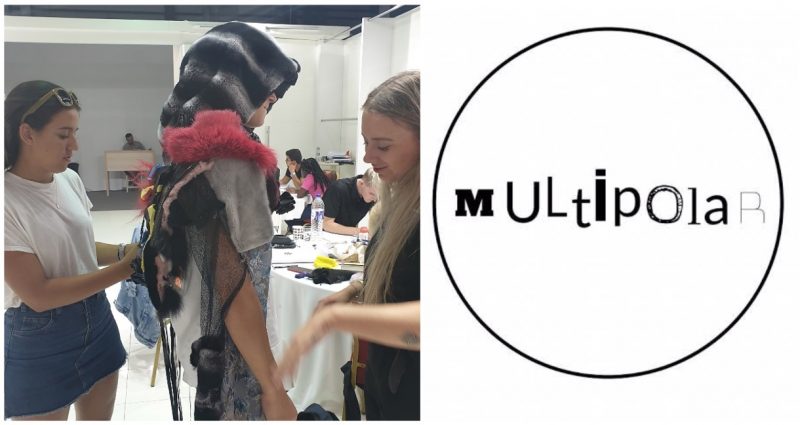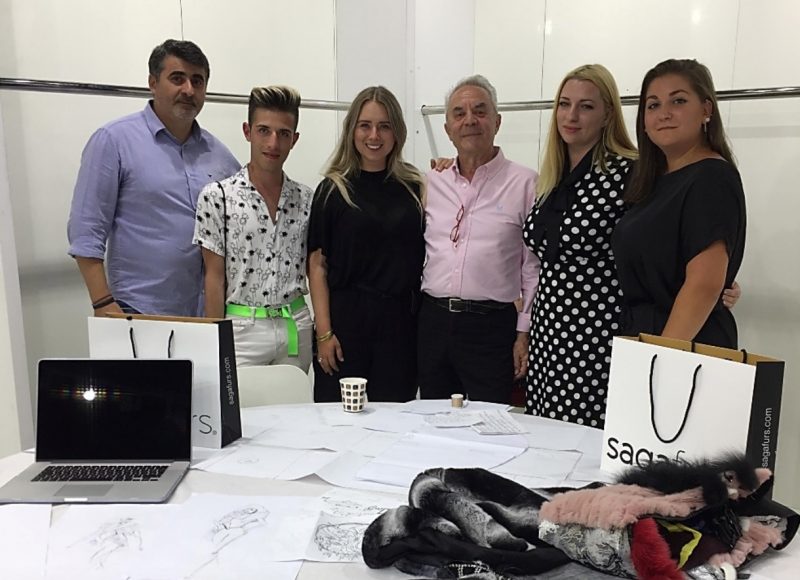 Photograph taken with Kirsten Thyra Henriksens phone.
The last evening in Kastoria, we went to the luxury restaurant/bar called Nautical Hall, to indulge great wine, snacks, music, dancing and laughter. We even met the mayor of Kastoria and had a brief conversation.What an incredible last night!
DAY NINE
Goodbyes, tears, dark sunglasses and trip back to Thessaloniki.
I wrote a special Thank You note from my heart to lovely Vasilis and gave it to him together with Vida from Lithuania, Beata from Slovakia and Orsi from Hungary. This was a precious moment to see his face lit up, it was an honest exchange of emotion.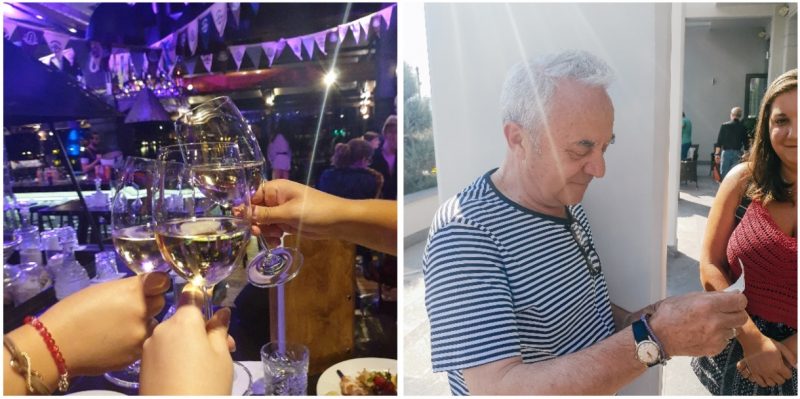 I will never forget this trip and I hope there will be many more of them for others to experience. My advice to anyone considering Fur Europe's Fur Summer School would be: just be you, go with open mind and heart and it will be filled with so much in return.
Ineta