The inaugural Fur Futures Americas programme was held in Toronto April 6 – 7th to coincide with the NAFA auction.  Eight young people, interested in pursuing a career in fur, were invited for a two day educational themed meetings on all aspects of the fur trade.  As a part of the event, the young people had an opportunity to learn about mink farming by visiting a Toronto-area farm that is internationally revered for its high standards and  for producing high quality pelts. Following the tour, there was an opportunity to watch the fur auction in progress, receive a mink grading seminar and a wild fur seminar by seasoned NAFA fur graders.  The two day event was hailed as a success by those in attendance.
By Jacob Shanbrom, Fur Futures Americas Member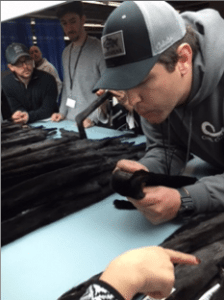 One of my first memories is falling asleep in the back of my mom's SUV covered by her fur-trimmed parka. Since then I have always had an affinity for fur, because to me, fur represents not only luxury and elegance as perpetuated by both of my late grandmothers, but above all, comfort and safety, as a direct reference to my Mother.
As a student at School of the Art Institute of Chicago (SAIC), I've had experiences I never dreamed I'd have, particularly all of the specialized classes I've had the privilege of taking, such as corsetry, shoemaking, and fur design. In my senior year, I have been extremely interested in material discovery, such as python, crocodile, leather, and my favorite, fur. I was thrilled at the beginning of my last semester to get a call that a spot was available on the Fur Futures Americas trip happening in Toronto in the spring. I immensity said yes, and before I knew it, I had landed in Toronto airport and was on my way. The opportunity to attend this trip has truly changed my life as well as outlook on the fur industry.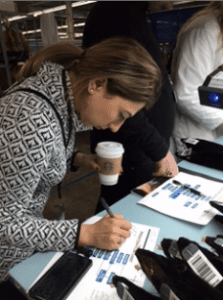 Fur futures Americas gave me the chance to travel with seven other creative individuals all involved in the fur industry including students, designers, farmers, tanners, retailers, and manufacturers. We visited a mink farm to view in person the extremely high standards enforced in North America. I was thrilled to see just how healthy the animals were as well as meeting the farmers and discovering that most fur farmers are run exclusively by families and are often many generations old. I was even more thrilled to learn that every aspect of the animal is put to use, from fur to manure, being that the animal is fed such a healthy diet. Nothing is put to waste. We also attended the NAFA auction, one of the largest in North America.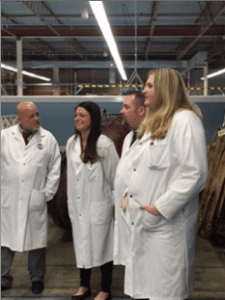 This trip has meant a great deal to me, and I am beyond grateful for the opportunity. As a designer using a sometimes-controversial material such as fur, I believe it is imperative that I understand where it comes from as well as the ethics. After my experiences, I stand proudly behind my work, knowing that fur is ethical as well as a natural product that has been around since the beginning of time. I fully intend to continue using fur and hope that other designers using fur will be able to have the opportunity to gain a better understanding of where it comes from. Although fur may not be everyone's cup of tea, the choice belongs to the wearer and no one else.