Kelli McGuinness, Fur Futures member reports on her experience at the Fur MasterClass Supreme workshop at Centria University in Finland.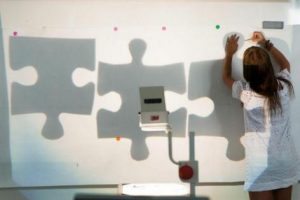 I was lucky enough to be invited to attend the Masterclass Supreme Fur workshop at Centria University in Finland as a young designer with a special interest in fur and leather. This course is an intense 3-day workshop aimed to expand the minds of creatives into expressing their individuality through working with diverse and challenging fabrics.
On the first day of the Fur MasterClass Supreme workshop I met the other participants from all walks of life. It was the most international group the course has had to date, with individuals coming from England, Iceland, Greece, Mexico, Belgium and Finland. The brief to our project was titled Engigma Energia, which was based on various artists and literature, with the aim of finding out who we were as individuals and opening our minds to express our creativity freely.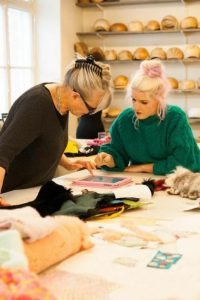 We had a wide range of fabrics to work with, ranging from mink to fish leather. We each had to create a puzzle piece on which expressed we our inner most desires and dreams, with the end result being a large instillation piece with all the pieces creating one combined piece of art.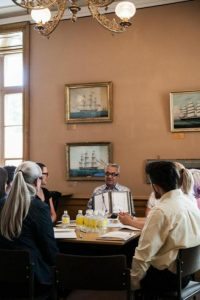 During my time at the Fur MasterClass Supreme workshop we had a busy itinerary in which we visited local museums and attended architectural tours, as well as visiting one of the largest fox farms in Piersesari and meeting with the chairman of the Finnish Fur Breeders Association. As a designer from England this was all new to me and I learnt a lot, from meeting with new people to learning more about the fur industry and how it works.
I found the overall experience completely inspiring. As a young emerging designer, meeting people who have immense knowledge within the industry taught me intellectually as well as technically – skills that I can take forward for my future career.
The lecturer Basil Kardasis and course leaders Pia Blomstrom and Mari Niva were exceptionally organised and driven in giving the group the most interesting and rewarding experience they could. This is an experience that I can take with me and remember in the future. I would love to go back and attend more courses at the university and would recommend it to people from all different fields, because it was a truly wonderful and educational experience.