Kelli Mcguinness is a BA Fashion Design graduate and womenswear designer specialising in knitwear mixed with a diverse use of woven fabrics. She is innovating ways of layering various techniques of textiles and experimenting with the use of colour and form.
"My key style influences come from a variety of places," says Kelli. "I enjoy people who are unique and express themselves through their style. I love layering and clashing colours, prints and textures, creating an aesthetically stimulating visual through your style. The person who currently influences my design work is fashion blogger Susie Bubble. She is young, vibrant and expressive – everything I aim to achieve through my design work, and she is my muse. I love the style of Japanese street fashion, harajuku girls in particular, they are fun, eccentric and not afraid to express who they are."
Her designs have featured in London Graduate Fashion Week and in the British Fur Trade Association (BFTA)'s Fur Design Competition, in which she won the third place prize and had the opportunity to attend a fur workshop.
"I love fashion and see inspiration for new trends all around me. I see things that get me excited for new projects everyday and I think the flair and passion has always been a part of me. I always have style moments. I have always studied arts, performing, visual and textile. Studying for my degree in Fashion Design fed my passion for fashion and I can't imagine doing anything else."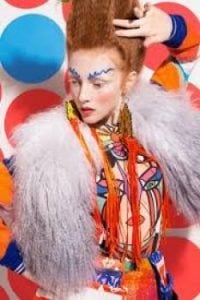 Kelli's ambition as a designer is to launch her own successful womenswear label, exploring the diverse use of fur, knitwear, print and textiles. In the next 5-10 years she hopes to be showing her collections at London Fashion Week and have her ready-to-wear label selling in major stores internationally.
"Fur has always been an interest to me as a fashion designer – I love the diversity, textures, and endless possibilities it has as a fabric. It excites me to imagine the potential one piece of fur has, and what it can become and who could wear it. As a designer I aspire to be unique and inspirational with the way I use fur. I have recently completed my fur coat as part of the BFTA design competition, it is a little crazy, but I love it!"
For more information on Kelli, take a look at her twitter here.