Kelli McGuinness is a knitwear designer and Fur Futures member from the UK, who has a strong interest in fur. Here, she tells us all about her trip to Saga Furs' Design Centre in Copenhagen.
As a young designer I am always looking for new inspiration and ways of developing and building on my skills. After visiting the Saga Furs exhibition stand at MIFUR last year, I was blown away by the creativity and diversity of their design samples. The bright colours and intricate techniques really inspired me and gave me a desire to learn more about the technicality and skill of creating such beautiful fabrics.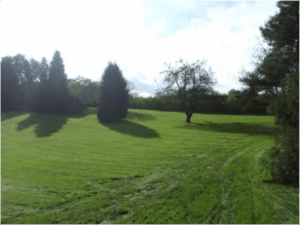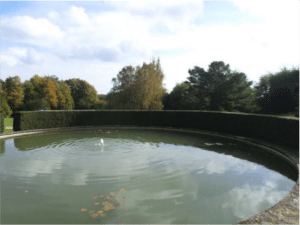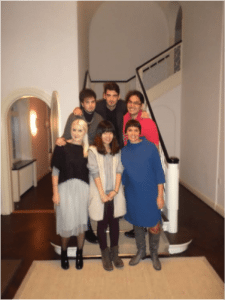 I wanted to know more about Saga Furs and was lucky enough to be given an opportunity to attend the Young Designers Seminar at their Design Centre in Denmark.
Upon my arrival at the Young Designers Seminar I was overwhelmed by the beauty of the buildings and their surroundings, idyllic countryside and a sense of tranquillity. After a tour of the guest house I was introduced to the other participants who I would be sharing my time there with. Ranging from 20-29 years of age, an international group consisting of students, designers and businesswomen, I knew I was going to have an insightful few days.
Saga was kind enough to schedule a tour of Copenhagen for us for the following day. The tour guide drove us around the coastline, where we visited 'The Little Mermaid', as well as many famous monuments and buildings in the city. We then had an arranged tour around a new exhibition named 'Fur: In life and death'. This was a powerful exhibition showing the varied opinions on fur from around the world. There were also garments from several designers who have worked with fur over the years, including John Paul Gautier and Oscar De La Renta.
The following day we all got straight into the Young Designers Seminar, learning about the fundamentals of Saga Furs: who they are, what they do through to the qualities of the skins, to the design side. The workshop was surrounded with inspiring visuals; the walls were filled with rails of exciting fur samples, ranging from various colour combinations (I love colour!), mixing of other fabrics, all the samples were vibrant and desirable. I couldn't wait to learn more.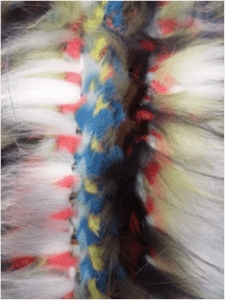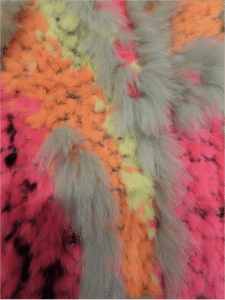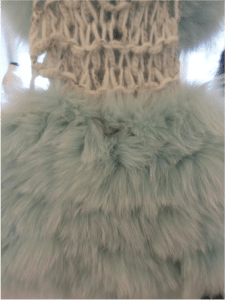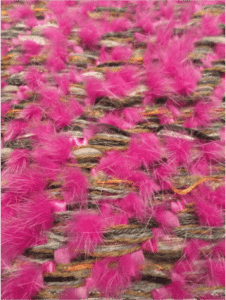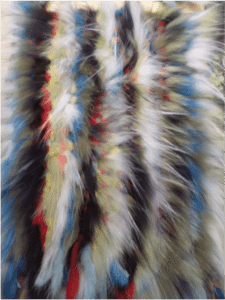 We each had the opportunity to sample various techniques at our own request. As a knitwear designer I wanted to incorporate a textile and craft element into my work. I chose a beautiful arctic fox dyed a mint green to work with initially. As a knitter I wanted to try a technique familiar to me, as well as something I could continue back in the UK, as fur machines are hard to come by. After stretching and drying the skin I transformed it into a yarn by cutting it in a circular motion to create one complete ball of fur yarn. I then mixed the mixed the fox fur with white and silver chunky wool and I was away in my own knitting world. After mixing plain yarn, then fur and repeating the process I had created a unique and interesting knitted fur scarf.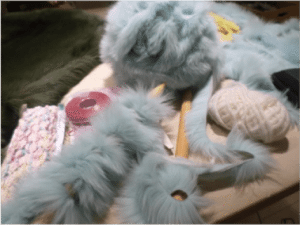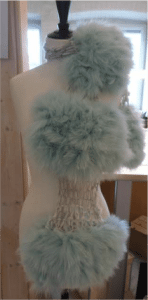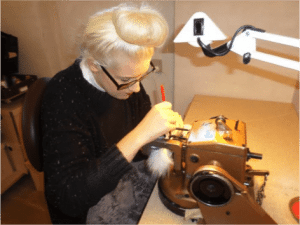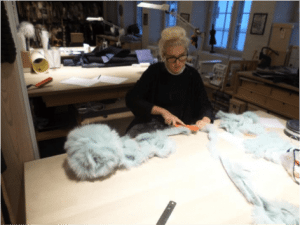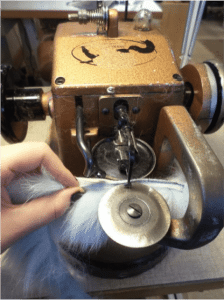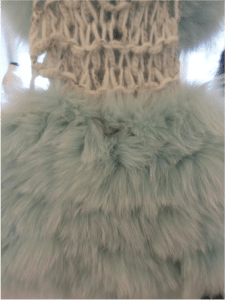 I then went onto try various other techniques with yellow dyed mink, such as the Octopus technique which consists of twisting dampened fur with an electronic drill, once dried it becomes a permanently twisted strip of fur. I also tried the checkerboard technique, using a beautiful piece of lilac leather as my base fabric. It's fair to say I was in my element!
Looking around the room it was a pleasure to see designers and creatives from different walks of life getting excited and inspired as they each worked to their own design aesthetic. This conveyed that no matter whether you work in the business side or designing, we all felt the same appreciation to be working with such wonderful material. Saga's Young Designers Seminar gave us all the freedom to be creative and enjoy learning about all aspects of the business. I felt very privileged that I had been invited to attend the Saga design workshop and would encourage anyone who has an interest in working with fur, to try the Saga workshop experience for yourself.