Escaping the snow that blankets Europe and the polar vortex engulfing the US Midwest, I find myself under the reasonably warm Mediterranean sun – it's time for the hotly anticipated Mercedes-Benz Fashion Week Madrid (MBFWMadrid). Between Friday 25 and Monday 28 January, I navigated the cobbled parades that crisscross Madrid, skipping from fashion show to expert talks by industry luminaries, and back again.
On the opening day of MBFWMadrid, the Guru is in a sensory overload. Marcos Luengo showcased a series of pastel and colour rich fur coats, more fur than I've seen hit the runway in a long (long) time. Luengo claims to be inspired by the painting of Joaquín Mir when he was creating his timeless collection, which was full of deep colours and a variety of materials like velvet, silk and of course, fur. Oversized female silhouettes paired with long neoprene fur vests gave his show a modern twist, all of which left the guru wanting more.
This was followed by the segment: "How to wear fur today," by Natalia Bengoechea at the Spanish Fur Association's (SFA) stand, in the exclusive Cibelespacio area near the anteroom of the catwalk. I was enamoured by Natalia, who used her extensive experience as a stylist and fashion director of the most influential Spanish fashion magazines such as Vogue, Yo Dona, Grazia and SModa, and experience as a stylist for international celebrities and fashion shows, to host engaging talks and showcase garments by Ramiro Guardiola. While a revel in the new tip and tricks I've just learnt, I make my way to my first show: Marcos Luengo.
Next on the guru's agenda was the delightful Ulises Merida show. His reimagined use of his favourite colours: purple or yellow, with injections of green nuances in his parade made for an eye-feasting show. Mérida's collection focused on geometry and colour showcasing a delicate balance between subtlety and solidity, achieved through the play of patterns and fabrics, like natural fox fur. Vibrant dyed furs gave his furs a youthful edge, and I want them all.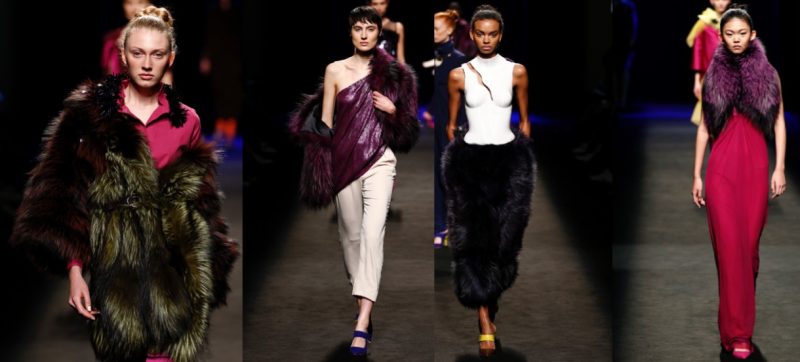 It seems fitting that cushioning shows like Marcos Luengo and Ulises Merida, which marked a return to natural materials (something a few high fashion designers reject in favour of synthetics), was a talk on "Sustainability and trends in natural skin" by Mayte of the Church with clothes by Jesus Lorenzo. This informative and engaging talk reinvigorated my resolve to push for fur in fashion since sustainability is no longer an afterthought but a key part of designer's manifestos today.
This was followed by "The Skin I Live In" – a talk by Abraham Gutiérrez with garments by Silvia Marotti, and "Attitude, the new style" by Juan Acuñas with Nomadi Deluxe garments on the final day of MBFWMadrid. I found Juan, who has been in the styling world for many years and is now a stylist to Spain's biggest stars, gave one of the most insightful and resonating speeches of MBFWMadrid. All speakers also offered interesting tips on how to combine garments and accessories in natural product sector. All of these stylists also shared their invaluable knowledge and professional opinions meaning the guru is now an all-wiser and all-the-more-fashionable guru.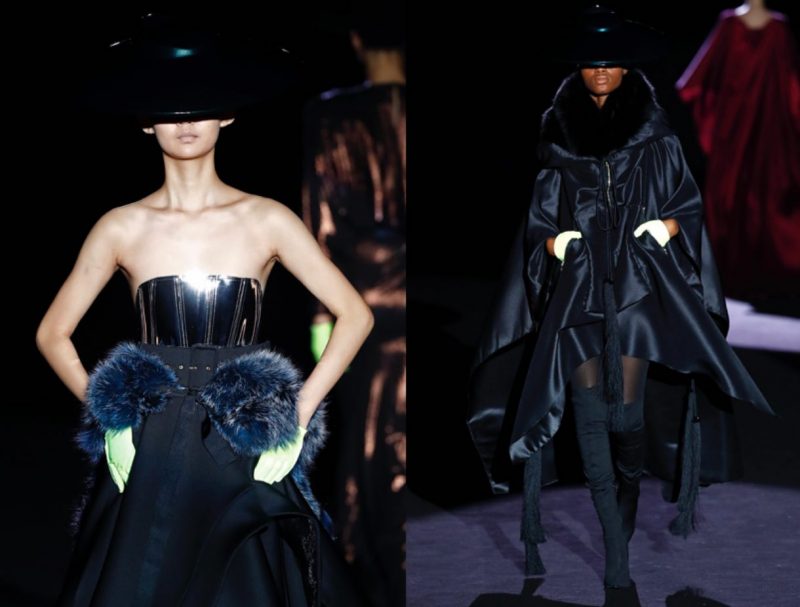 Next to take centre stage was Roberto Diz who marked his 16threturn to the catwalk in Madrid, participating for the first time in 2004. Diz did much to reinvent his use of patterns, lines, volumes, concepts, iconic shoulders, and of course, fur! Much like the juxtaposing classic 80 ' silhouettes with modern colour pallets and city influences that I saw at Edward Crutchley during LFWM, Diz was inspired by the photographs of Helmut Newton and Thierry Mugler, which give rise to garments structured in contrast to light designs, long dresses that mark femininity and futuristic metallic reflections.
MBFWMadrid ended by reaffirming its commitment to sustainability, mainly through the concept of recycling. Their pledge to ​​environmental awareness through "Slow Fashion," and the idea of biodegradable fashion, is very much in tune with my deep-rooted beliefs and what seems to be a change in fashion industry attitudes. Our struggle and message for a world with less plastic and greater use of natural fabrics is finally being heard.