The Fashion Committee Spanish Fur Association, formed by the furriers Myriam Buenaventura, Miguel Marinero and Arturo Aguado, and expert journalist in Fashion Clara Courel and consultant in Fashion and Lifestyle David March, have selected three students Fashion design who will represent Spain in the edition of the Remix 2017 Awards, which will take place next February in Milan with a catwalk show of the collections of the 10 finalists chosen by the international Jury.

Students are Margarida Marques ESNE Madrid, Macarena Lopez ESNE Oviedo and Ana Echegaray of Creanavarra. The garments will be made by the furriers Jorge Martinez, Jesus Lorenzo and Julio Lama, all members of our association.

For More Information: http://spanishfurassociation.es/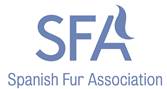 El Comité de Moda de Spanish Fur Association, formado por los peleteros Myriam Buenaventura, Miguel Marinero y Arturo Aguado, y por la periodista experta en Moda Clara Courel y el consultor en Moda y Estilo de vida David March, han seleccionado a los tres estudiantes de Diseño de Moda que representarán a España en la edición de los Premios Remix 2017, que tendrá lugar el próximo mes de febrero en Milán con un desfile de las colecciones de los 10 finalistas elegidos por el Jurado internacional.
Los alumnos son Margarida Marqués de ESNE Madrid, Macarena López de ESNE Oviedo y Ana Echegaray de Creanavarra. Las prendas serán confeccionadas por los peleteros Jorge Martínez, Jesús Lorenzo y Julio Lama, todos ellos miembros de nuestra asociación.