"The voice of beauty speaks softly; it creeps only into the most fully awakened souls."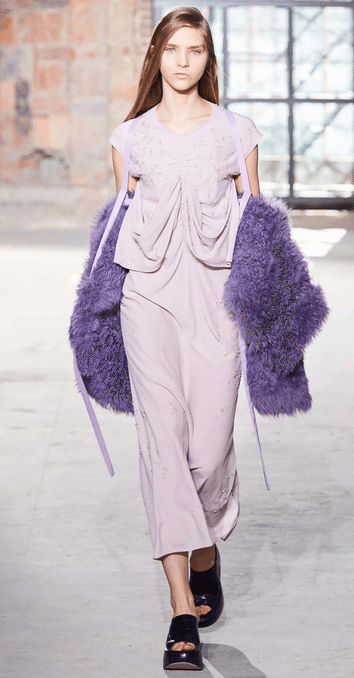 Psychology describes the term eclectic as the approach that takes formulas and techniques from different theories to create an integrated style. And in some ways, it describes quite accurately Sander Lak's work.
Sander Lak is a theorist; and his theories are based on his personal journey through London's Central Saint Martins, working for the likes of Marc Jacobs, Phillip Lim and Christophe Decarnin, before taking over as head of design at Dries Van Noten.
From each experience, he took the bits of theory and methods he felt comfortable with and applied them to his work. He is an independent thinker and, even though his last collection was a clear reflection of his work with Van Noten, he is strongly influenced by his own style of dress.
The catwalk showed his tendency to leave his coats unbuttoned, a keenness for layering sweaters atop shirts atop sweaters. Not only do trousers have cargo pockets, so does a slim skirt in silk gazar, because there "were girls in high school wearing these cargo pants and they were so cool," he said. "I wasn't a part of them in the '90s. But in my youth that was the coolest thing."
All these "cool details" and personal memories such as cotton and nylon jean-style jackets were presented with lined in fur and styled with silky dresses and gracefully knotted bodices. The collection was youthful and informal but lavish.
Sander Lak is clear in his self-governing approach towards his work by declaring "I felt like the world had changed and the old system of winter and summer doesn't work anymore". He said: "For me, I feel like the two collections you show should be one collection [aesthetically.]". So, his collection is a glorious mix and match of Autumn/ Winter, of warm colours and spring citric of 90's and nowadays, of fox and silk, of him and them. He is eclectic, once again.
Lak has earned an extraordinary opportunity. For once, investors are looking to build a new brand rather than revive one that has become dormant. Lak is leaping into the future and finding that the only way forward is to trust his gut and avoid getting bogged down by what the system wants and when it wants it. All this without forgetting the creative flare, the experimentation of presenting traditional materials like fur and silk with a new twist.
He believes and lives on his personal theory "just make great clothes". And that's what he has done. He works independently but does not present himself nor his work in a rebellious way. His creative voice is not loud but is soft and is a new and interesting one that we will all be waiting to hear from each season.