British legacy designer Zandra Rhodes, an independent brand and spirit, has used her unique patterns and designs to stay relevant for the last 50 years in fashion. Her most famous designs fill an exhibition at the iconic Fashion and Textiles Museum in central London. Visiting the exhibition on a gloomy December morning, I am greeted first by a memorial sized portrait of Zandra with her signature illuminating pink bob, and a collection of intricate garments that nestle to the right of it – a welcome colourful contrast to the grey London weather. Before I even enter the exhibition, I am confronted with Dame Zandra Rhodes' distinctive style, and I am excited to explore more.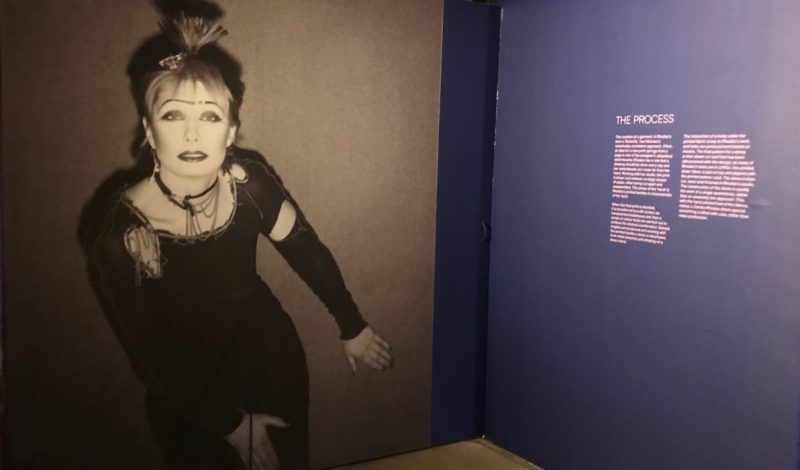 With her runways filled with spectacle after spectacle, British fashion and textile designer Zandra Rhodes has cemented her place in the British and the world's fashion hall of fame. The entire exhibition celebrates the founding of Rhodes' fashion house and the five decades of stunning creations that followed, showcasing everything from her sketchbooks to hand painted patterns. 
Born in Chatham, in the south east of England, Rhodes flare of art and keen eye for observation would lead her to graduate from the Royal College of Art in 1965, where she studied print textiles. After graduating, Rhodes' designs were considered too avant-garde by British manufactures leaving the young designer somewhat an outcast. But, determined to make it on her own, Rhodes started her career selling her innovative fabrics directly, eventually creating her own garments. Rhodes, along with Mary Quant and a number of other British designers, propel London fashion to centre stage, and by 1970, Royals including Princess Margaret and celebrities like Elizabeth Taylor and Freddie Mercury, could be seen adorning Rhodes' masterpieces.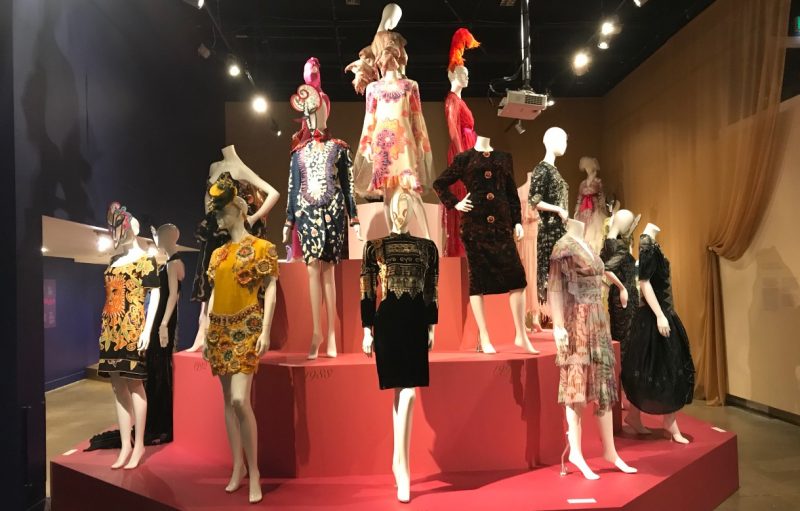 With the most famous people in the world wearing her creations, it wasn't long before Vogue veteran Diana Vreeland took notice and featured Rhodes' designs in the June issue of American Vogue. Rhodes' brand then skyrocketed becoming a staple in high-end American stores including Nieman Marcus and Saks Fifth Avenue. In 1972, Zandra Rhodes is awarded Designer of the Year adding Royal Designer for Industry to her growing accolades in 1974.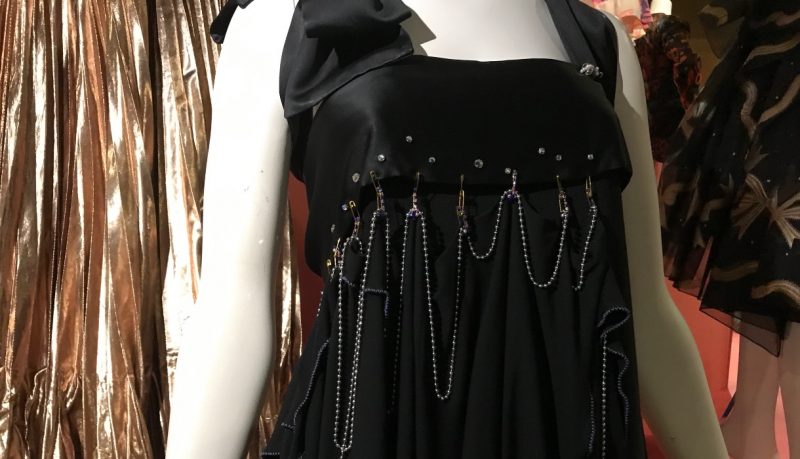 By 1977, Rhodes takes Punk to the streets. Her infamous and iconic 'Conceptual Chic' collection, comprised of black and pink jersey designs embellished with statement safety pins and holes, earned her the name, 'Princess of Punk.' Not even Vivienne Westwood could compete. After creating a grand Elizabethan dress for Princess Diana in 1981, some seven-years later, in 1987, Rhodes was invited by the Indian government to design a collection of saris with Indian craftspeople and artisans. The final showcase of the collection was held in the majestic Taj Bombay and Taj Delhi with critical acclaim. Another decade of designing with John Galliano and for the San Diego Opera once again repositions Rhodes at the epicentre of global fashion and by the end of the 2000s. And almost 20 years after Rhodes inaugural recognition (1997), she is appointed Dame Commander of the Order of British Empire in the Queen's Birthday Honours in 2014.
Rhodes never shied away from supporting and working with other designers and brands. In the same year, Zandra Rhodes, a huge lover and ardent designer for natural fur, created a bespoke collection with fur house Pologeorgis Furs. One of the designs, a sable coat, was worn by Actress Taylor Schilling in a feature in Allure magazine.
Then, in 2016, for his first solo collection as Valentino's creative director, Pierpaolo Picciolo asked Rhodes to design a range of prints inspired by the triptych The Garden of Earthly Delights, and American designer Anna Sui showcases Rhodes' Tahiti print in her SS16 Tahitian collection.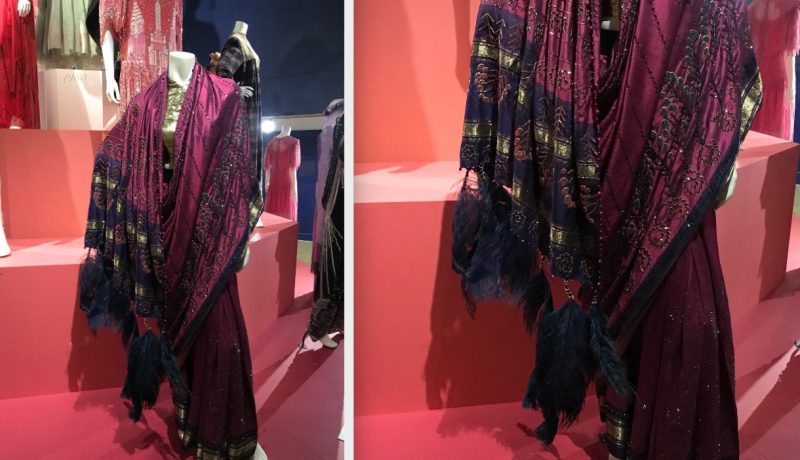 Reinventing herself again, this time joining the digital revolution that has engulfed the fashion industry, Rhodes' launched an archive-based collection made in collaboration with MatchesFashion.com. Reintroducing her most timeless and emblematic designs, including Princess Diana's cherry blossom dress, the collection is a huge success. Not one to slow down after almost 50 years in fashion design, in 2018, for the filming of the hotly anticipated blockbuster of the summer – Bohemian Rhapsody – Rhodes replicated costumes originally commissioned by Freddie Mercury and Brian May in 1976. Having seen the movie, I can confirm Rhodes work is simply mesmerising.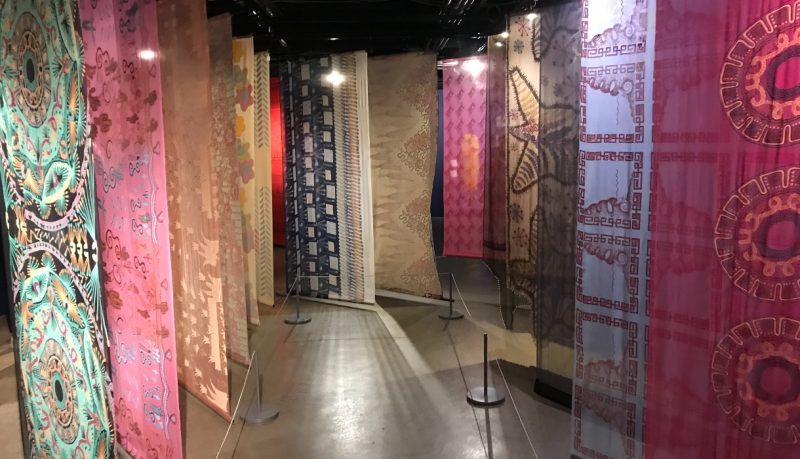 Also in 2018, Rhodes created a second collection with Pologeorgis Furs. Rhodes fall 2018 collection features a collection of hand-painted mink coats and jackets, fox furs, lamb and shearling. And, taking us to the present year, music icon Barbara Streisand commissions a bespoke Zandra Rhodes ensemble to perform in at British Summer Time festival in Hyde Park, before the 2019 publication of Zandra Rhodes: 50 Fabulous Years in Fashion and the exhibition where I find myself in awe of these iconic designs.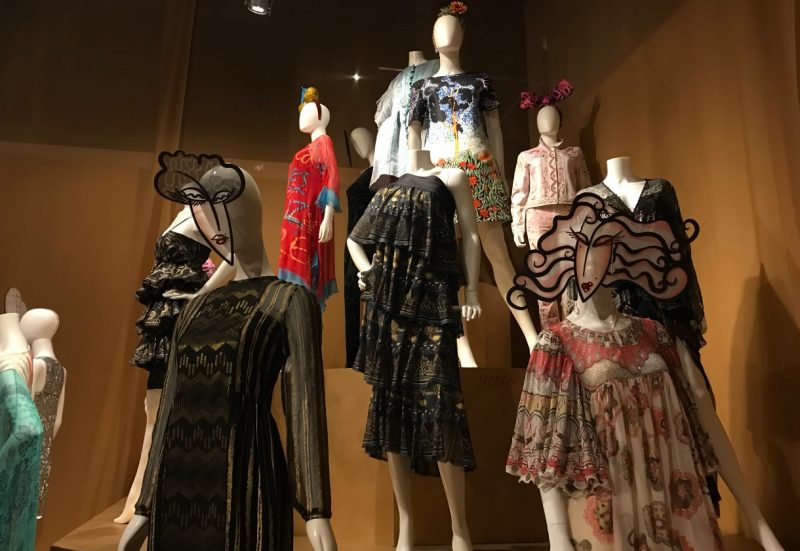 After 50 years of fabulous fabric designs and fur creations, Zandra Rhodes has cemented her position as British fashion design legacy. Unmatched and unrivalled in her ability to hand paint custom prints and adapt to different cultures and times, Zandra Rhodes is the queen of reinvention and innovation. From Renaissance to Punk, and from silk to sable, Rhodes has done it all. I don't know about you, but I'm excited for another decade with Zandra Rhodes at the helm of the international fashion scene.