As we've entered a new decade, fur has instantly been strutting up and down major cities runway, revving up a magnificent start to 2020, giving us a glimpse of what more we can expect to come. Taking a look at furs that were shown in London, Milan and Paris Fashion Week Men's, we discover what trends and styles were most prominent on the runways, setting the tone for what 2020 has in store for the fashion world in this new decade of bravura. We have a whole load of furs to examine.
Edward Crutchley Men's Fall 2020 – LFWM
From a first look at Edward Crutchley's collection, what becomes apparent straightaway is the use of colours that Crutchley had chosen to represent his opulent taste. These hues came in very neutral tones, with a very heavy dependency of grey, followed by black, brown with a series of bright pinks, oranges, yellows, and blues to halt the steadiness between the various looks. Although alike in colour scheme, uniqueness and distinctiveness populated the runway with each silhouette exhibiting a distinguishing look, ranging from chequered blazers, trousers and shorts, well-fitted suits, baggy coats, alongside a Japanese patterned coat and a two-piece.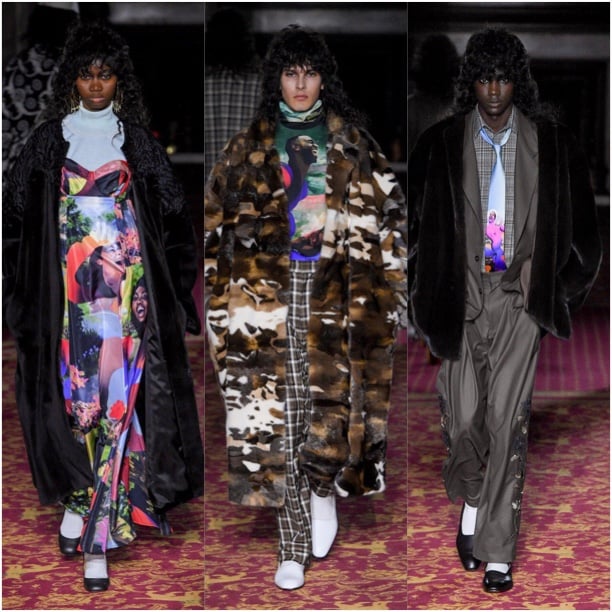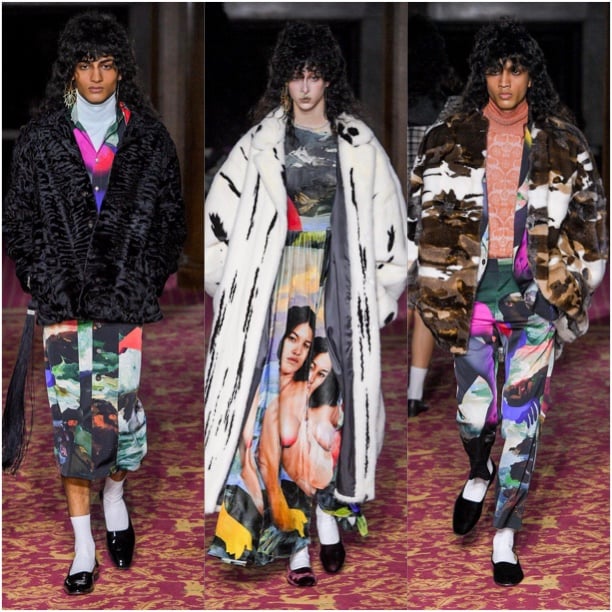 Silhouettes even went as far as a few multi-coloured shirts and trousers with "out-of-this-world prints from artist Erik Jones" – WWD, embossed throughout. The main highlight of Crutchley's collection had to be the extravagant furs that excelled the runway, and these all came in the form of voluminous, long and oversized coats. Colours were kept to a minimum, with all black, white with stripes of black, and brown army printed patterns formulating the individual silhouettes.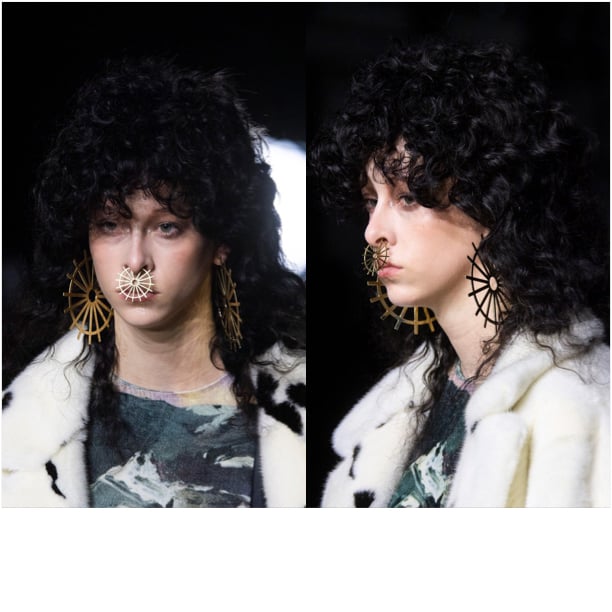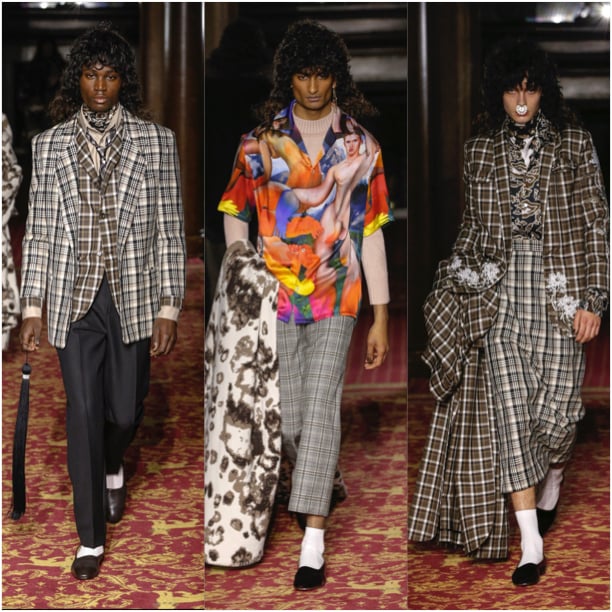 Although similar in style, each fur garment had their own grandeur to them bringing a sense of eruption whilst paired with chequered trousers, Edward Crutchley emblem earrings, turtlenecks, high rise socks and black patent shoes.
Astrid Andersen Men's Fall 2020 – LFWM
Astrid Andersen's collection for FW2020 took inspiration from her mother's rose printed sofa, which transformed into the main signature look in Andersen's pieces. Silhouettes all had idiosyncratic detail with styles coming in an array of runway struts, featuring ponchos, sporty tracksuit two pieces, oversized coats, vividly coloured shirts and flared trousers, all taking stimulus from the 70's era.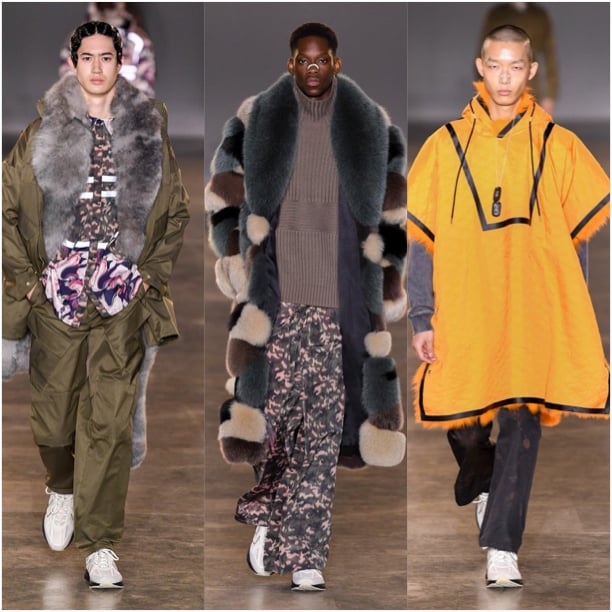 Colour arrangement focused heavily on more soft and subdued tones alongside camo-patterns and stripes, with outbursts of vigorous orange coats, puffer jackets, tops, jumpers and trousers to really catch the recipient's eye. A central, and unmissable piece that took everyone's interest was the super extravagant orange fur coat which exhilarated the runway with its presence, paired with neon-like striped trousers.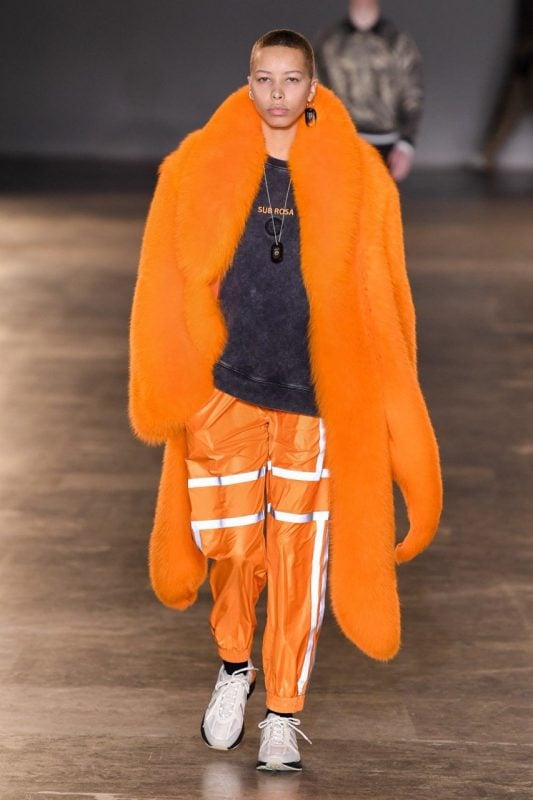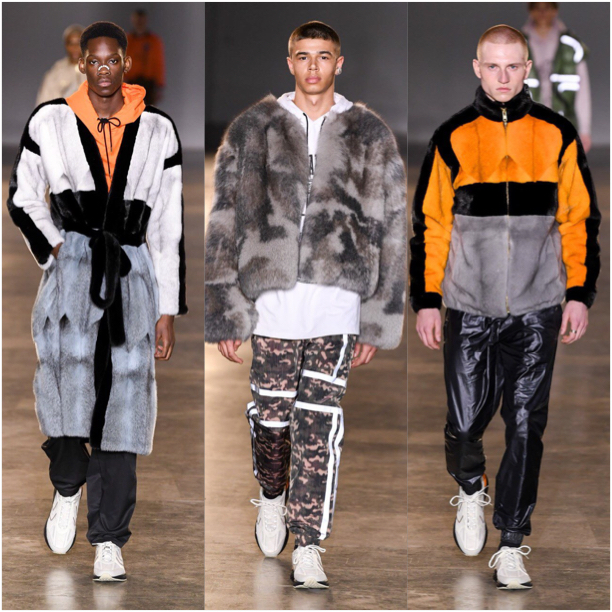 Fur was coherent on the runway, and although it was mainly seen on grand coats, it also appeared onto the 70's poncho trim as well as on a coat collar. As Andersen is known for her heavy usage of fur, this collection did not dissatisfy, and based on it, 2020 should be the year for men in fur.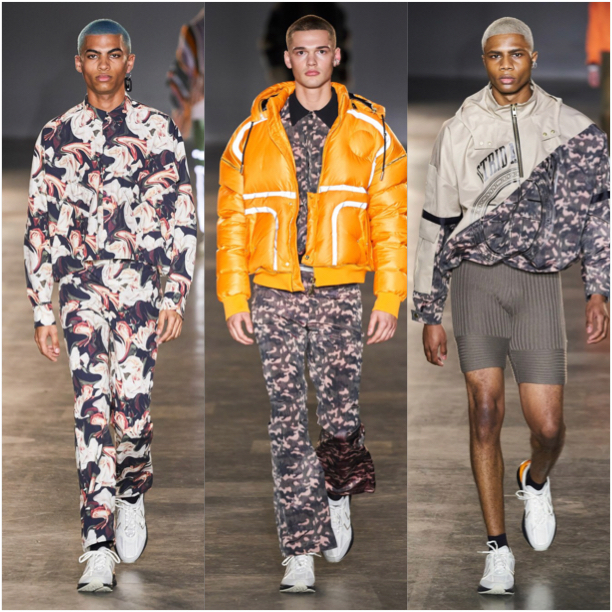 Fendi Men's Fall 2020 – MFWM
Moving onto Milan, we have none other than Fendi. Smart and dapper appear to be two prominent key words to describe the route that Silvia Venturini Fendi chose in producing this collection which took on traditional tailoring, whilst revisiting Fendi's magnum opus.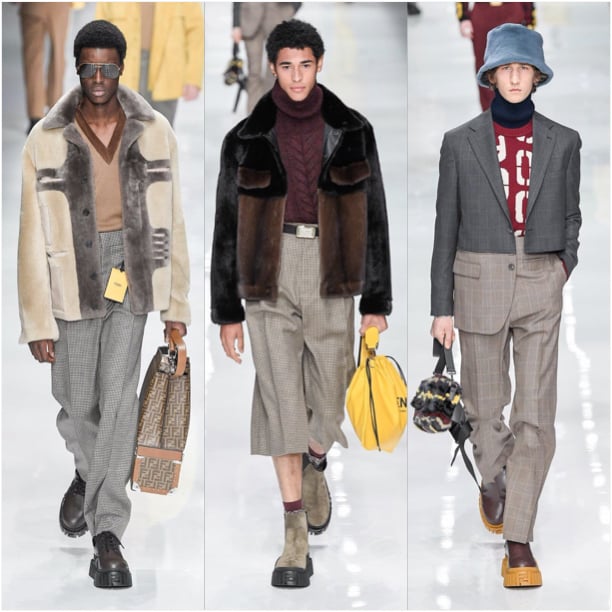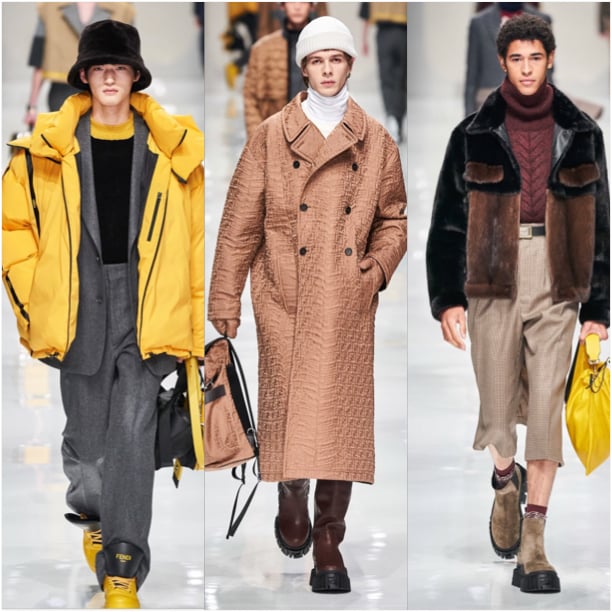 Although style remained somewhat similar in terms of the trouser and blazer ensemble, the collection as a whole was incredibly arresting. Silhouettes that were most consistent featured high-rise trousers, that came in a range of opaque colours, as well as soft yellow, steel blue and sage green all paired with a series of turtlenecks, shirts, and jumpers.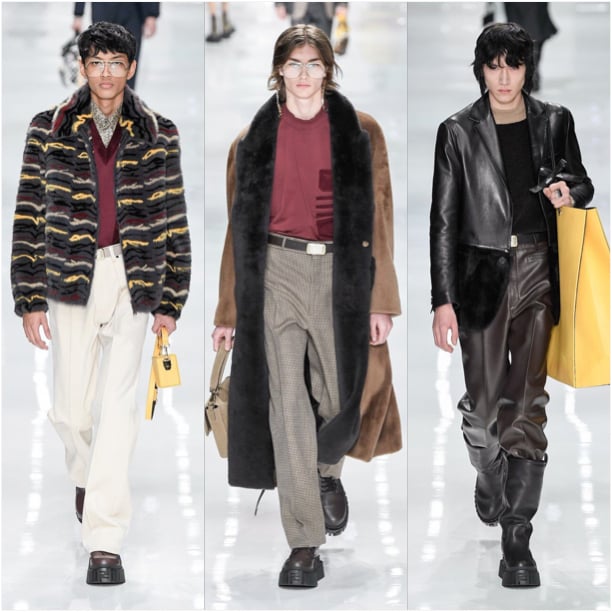 Other looks apparent on the runway featured bucket hats, multi-coloured lug-soled boots, trench coats with 'FF' embellished onto them, as well as puffer jackets. Fur was undoubtedly present on the runway and elated the ensemble, featuring sky-blue and khaki bucket hats, long and short coats, all sporting a black and brown aesthetic, and a range of fur tote & bum bags.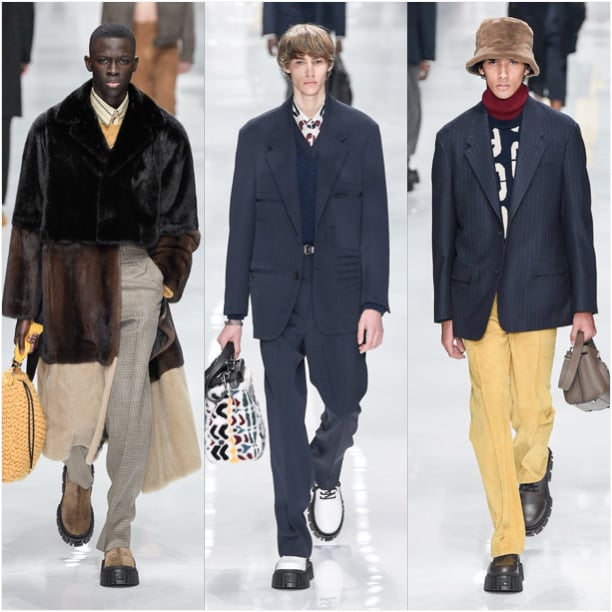 Each fur piece bought an attractive element to the runway stage as each had their own distinctive style such as half coloured pieces, stripes and patterns, formulating a sustainable menswear show ready for 2020 to enrapture.
Louis Vuitton Men's Fall 2020 – PFWM
Virgil Abloh took us back to work in Paris, in suits and done so in style. With blue skies and white clouds, forming a calm 'workplace' models took down to a runway that reflected the overall collection and message that Abloh was trying to convey – what work means in today's day and age, "and what the metaphors for that are" (Vogue).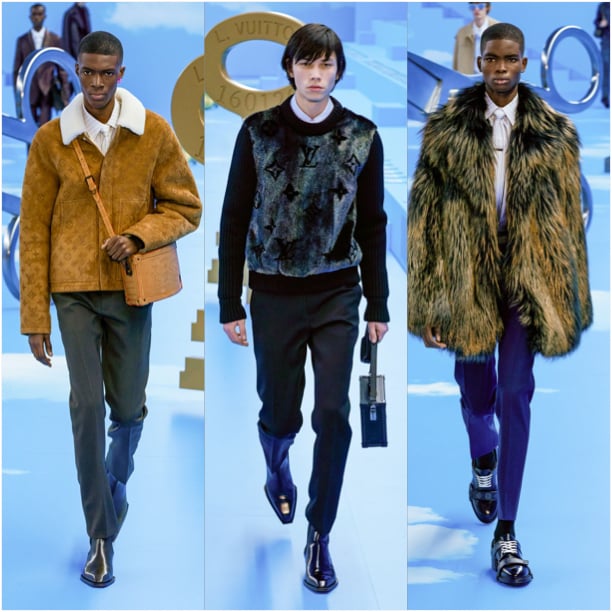 Main word in the first sentence, suits. Suits were very much present with each and every model that walked down the runway displaying a consistent white shirt fastened with a white tie, which remained the only constant figure of Abloh's 'work' metaphor in a sea full of dark and coloured suits and coats, trousers and accessories. Styles ranged from more classic looking work attire, to ruffled blazer sleeves and shirts, cloud-printed suits, trousers, and shoes, to the 'Louis Vuitton' emblem printed all over a white shirt.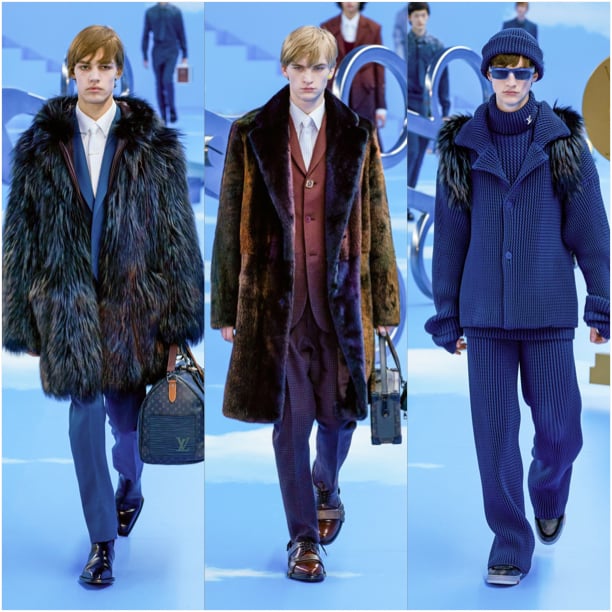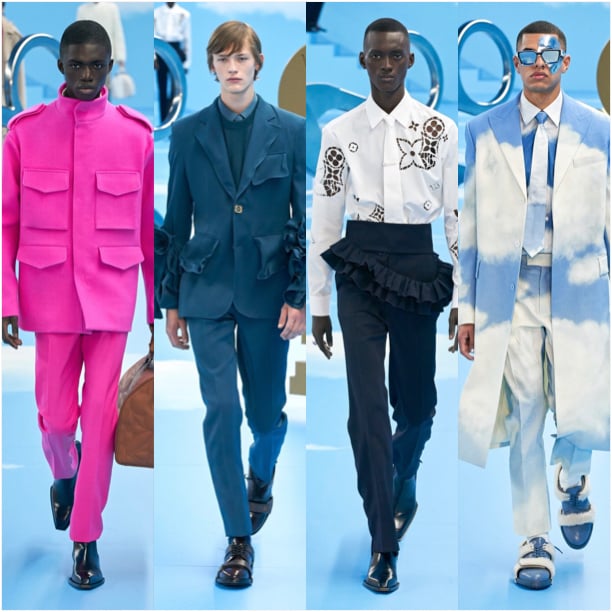 Fur absolutely bought their game onto the runway with fur jumpers, hoods, and full-length coats adding on another dimension onto Abloh's work attire, creating fun in workwear fashion. The two fur coats were astonishing, both similar in style, big, puffy, and lavish, creating an epic presence and establishing utmost superiority on the runway. Colour remained stable with black, white, grey, and blue forming majority of the silhouettes, however, amongst these hues came a pressing magenta pink which gave colour via hats, trousers, gloves, straps on shoes, coats and jumpers. This broke the cycle of very easy-on-the-eye colours and gave the audience a valiant change.
Dior Men's Fall 2020 – PFWM
Dior headed into the new decade with a timeless menswear collection with a colour palette of blacks, greys, beiges and a lot of swagger. Blazers and trench coats were prevalent on the runway, with a lot of looks paired with shirts and jumpers – some tucked, some not, emphasising a 'swagger' aspect to the show.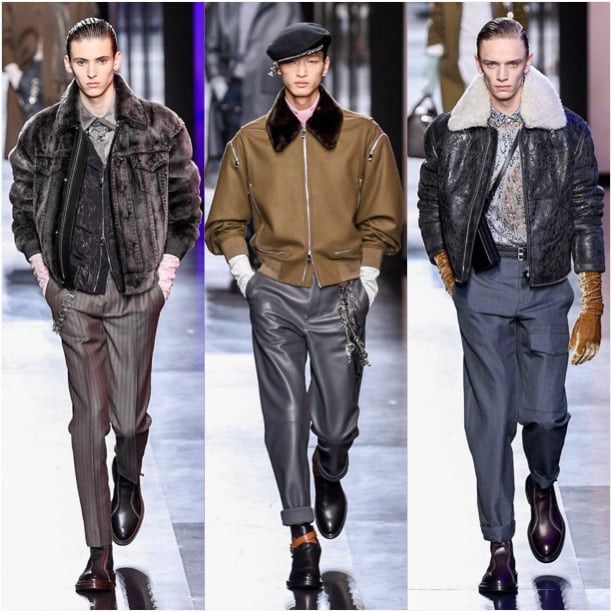 Models were also seen with one hand in their pockets whilst walking down, accompanied by evening pastel coloured gloves, trench coats, trouser chains and sliced bomber jackets. Dior's autumn/winter collection, which paid homage to the late Judy Blame (British fashion stylist, accessories designer and punk iconoclast), featured a fur coat, bomber jacket, fur and shearling collars.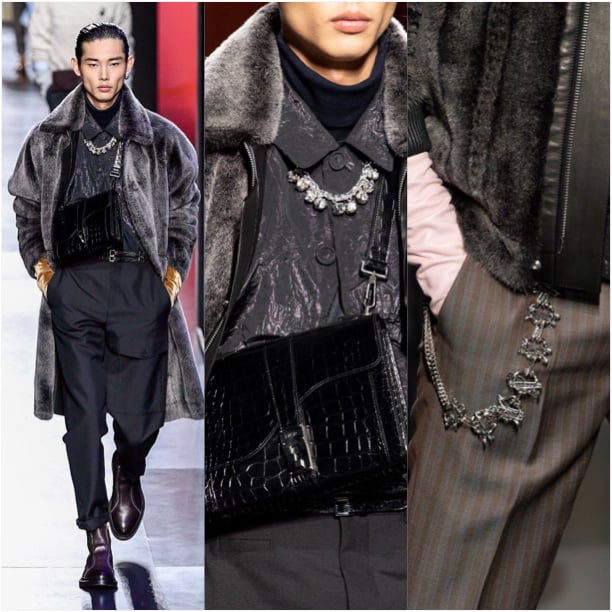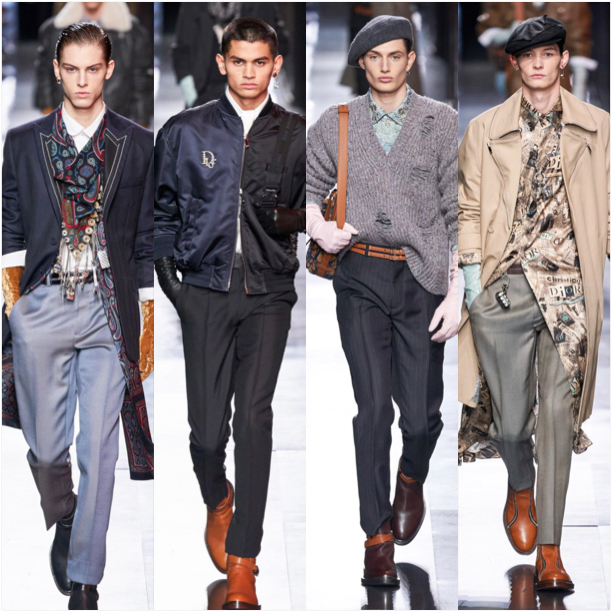 A real stand-out piece was the fur coat that had trompe-l'oeil shaved buttons and pockets (WWD), giving a three-dimensional optical illusion forming a totally different type of coat. Other looks that were prevalent on the runway included 'newspaper' patterns on oversized shirts paired with long coats, beside jumpers and blazers, tattered sweaters, and Paisley patterned print all over scarves and ties.
Fur has moved on to this new decade with even more panache and has endlessly shown to be a material that is limitless in creativity. Brands have used fur in their collection to tell a narrative and have done so with such innovativeness through each distinctive design produced. What a start to 2020, we can only image what fur Women's Fashion Week will bring us, and we can't wait for it!