It's the most wonderful time of the year! And we are here to guide you with a wish list to help you through the most magical season to look your most festive. There is no better time than Christmas to bring out all-natural fur must-haves. And seeing as it's just around the corner, there is no time to lose in deciding which furs one should have to ensure you shine this winter season, and every other season.

1. D&G Lapin and Leather Strap:Are you bored with the same old basic bag strap? Number one on your wish list that you're sure will never let you down is the swanky D&G adjustable strap. Rest assured that you can use it with any one of your favourite bags as this comfortable-on-the-shoulder, attention-grabbing natural fur accessory will have you standing out from the crowd not only during the winter season.
2. Harrods Rabbit Fur Water Bottle: You have normal hot water bottles, then you have glorious, deluxe hot water bottles that come in the form of natural fur. Harrods have come up with a statement – the best way to spend cold winter nights? With your new favourite natural fur hot water bottle, ensured to always keep you warm and unbelievably snug, especially through winter, where days get shorter and nights get a colder.
3. Pologeorgis Soho Fox and Shearling Slipper: It's probably unlikely you'll wear these outside this winter, unless you plan to freeze your toes off, but these need to be on your wish list this year as they make for perfect indoor footwear with bold aesthetic and stand-out visuals. Think of all the attention… and not just for the winter season. You'll be wearing these out in the sun in no time.
4. Fendi Ice Cream Fur Charm: A little stocking filler never hurt anyone, right? And a Fendi furry keychain makes for the perfect one.
5. Simonetta Ravizza Bubble Fur Furrissima Cap:As if this needs an explanation as to why it should be on your wish list this year. Caps are the new 'it' thing, and they aren't going anywhere in 2019. Set a trend and go for a fur cap for the new year.
6. Harrods Christmas Fur Stocking:Where are the stocking fillers meant to go? This isn't a wish list present, this is a get-it-before-your-wish-list-presents-present.
7. Missoni Striped Fur Jacket: Dreaming of a white Christmas? Well the Missoni Fur Jacket is as close as it comes, if you're living in the UK. This seamless piece is perfect to create your signature look, either played down by day or up by night. Be a style icon all year round.
8. Emilou Fur Satchel: A fur bag is something everyone deserves to have for their wish list, whether they've been in the naughty or nice list this year. You can't deny anyone of a fur bag.
9. Yves Salomon High-Top Boots: This is what your Christmas present needs to look like. There simply aren't any other boots that can give you the same feeling when opening the box up on Christmas morning. That, and the feeling you'll get wearing them every other day after. The world is your runway.
10. Max Mara Fur Earmuffs:These will never go out of style, and your ears will always be cold during the winter. So where is the delay? Fur ear muffs are a MUST this winter. Not only do you want to have warm ears, you want to look chic wearing them.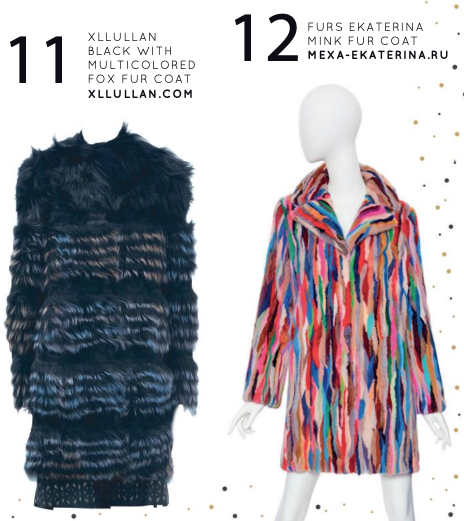 11. Xllullan with multi-coloured Fox Fur Coat: A fur garment is the most pristine look. Start your 2019 the right way and have a fox fur coat by your side.
12. Ekatrina Fur Coat: A colour explosion calls for a perfect Christmas gift. The world is your oyster with this exquisite coat, as you can rest-assured it matches with everything, yet you know who won't be blending into the background.

13. Louis Vuitton Mink and Shearling Dreamy Slippers:This is truly a gift that you know you won't need the receipt to. You can slip into these after a long day on your feet, or after those shoes that have been giving you blisters. Fur slippers will most definitely soothe all of your aching pains. A present that will last you a lifetime and will always be there in your time of need.
14. Saks Potts Fur Trimming Foxy Forest: Who doesn't want something that Kendall Jenner has also worn? Enough said on that one…
15. Moncler Fur Neck Warmer: This is a cute little extra to ensure two things. Firstly, your neck will undoubtedly be kept snug, and secondly, you can leave your bed but still have that pillow effect.
Fifteen must-haves all complete and ready to purchase. Don't be late in deciding which one of these fifteen furry festive pieces you want to unwrap on Christmas Day. You know whichever one it is, fur will bring sparkle and magic into your New Year.