"Rebellion cannot exist without the feeling that somewhere, in some way, you are justified."
– Albert Camus.
There are quite a few things the Fur Guru enjoys but one of the most delightful is to listen about myths and very old stories of how we have justified our "naughty" side throughout history. Personally, since early years, I have been of the naughty bunch: trying new things, questioning my parents when I wasn't allowed (bless them!) and pushing boundaries were some of my preferred activities in my younger years.
So, this week, the Guru couldn't wait for Catherine Spooners' talk at the London College of Fashion (LCF) about werewolves. Because ladies, be aware, there's nothing sexier, more exciting and provocative than a furry (yes, you heard me), "species transvestite" (Miss Spooner's words, not mine). For you and me: werewolves.
These mysterious and sensual creatures have been a source of inspiration and curiosity for men and women since the XIX Century. And they appeared to have a comeback in fashion in the past years too. Most of this talk was based on Ralph Lauren's AW15 campaign as part of LCF lectures "Embodied" series. These look to reshape our understanding of how human anatomy and its adornment can provide a carapace that functions on both a cerebral and visceral level. But, to be more precise, the main reasons that seduced this Guru back to the classroom were two words in the whole description: fur and fashion. So, these so called "adornments" were fur (in the particular case of Ralph Lauren's campaign: fake). The analysis did mention the correlation between fur, wolves, women, men, nature, tribes and a very weird fixation for canine companions that started on the XIX Century through illustration with women accompanied by rather big size dogs and portrayed in an intimate environment and/or positions (don't ask).
So, that's history for you my darling readers. And concentrating in this particular campaign there was also mention of how fur has the intricate denotation of women wearing wolf but also, wolf wearing women. It appears to be a symbiotic relationship in which the line between humanity and beast become blurry or inexistent. It also implies connection with nature, presenting throughout the campaign a series of allegoric images of Jimmy Nelson's Nenets (First Nations group) pictures. Through accessories and the company of dogs, the remembrance of Chuckis and Nenets add a bridge between human and nature.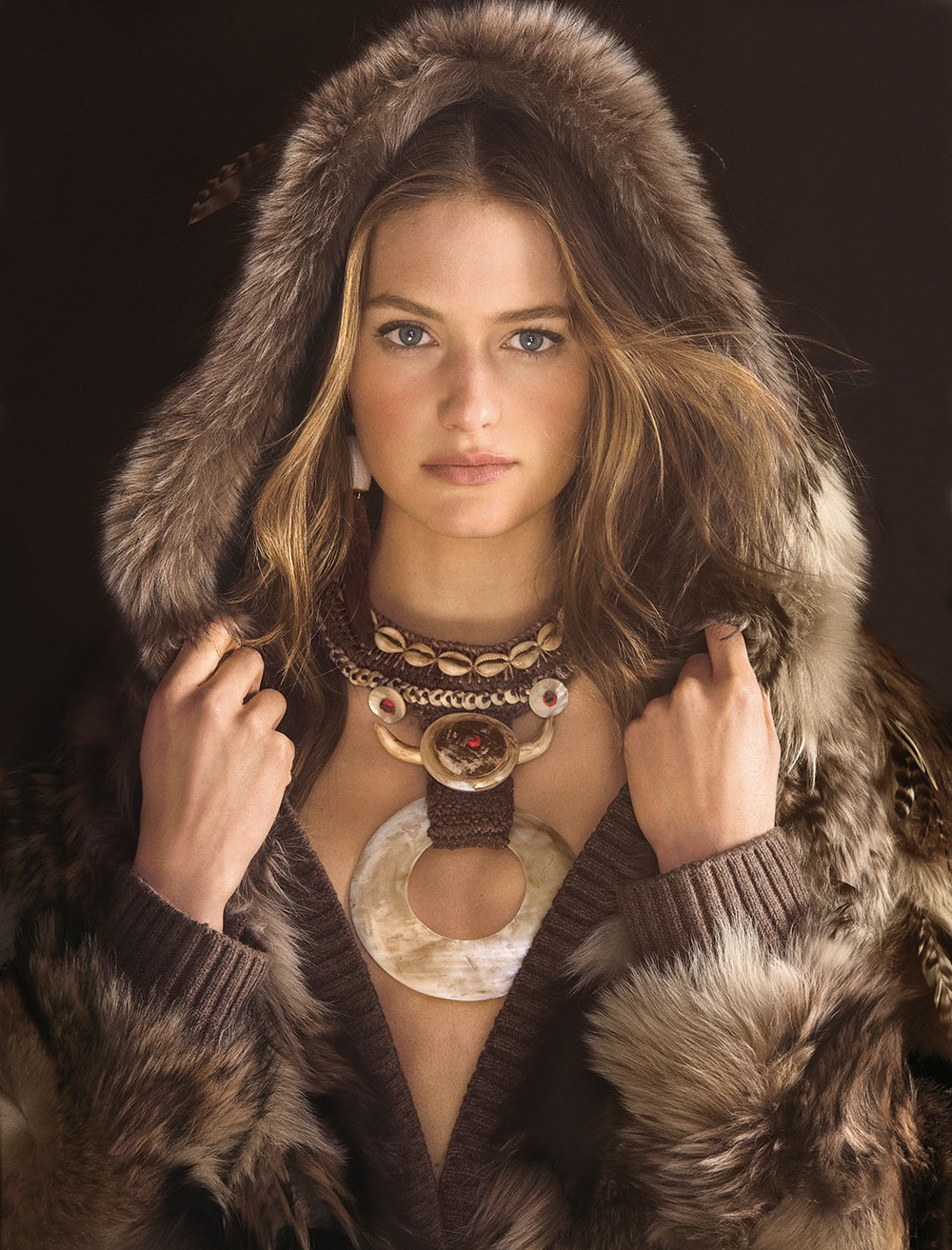 Ironically, all the models have a western look that reminds us of Dances with Wolves character "Stands with a Fist" and her painful 80's hairstyle that contrasts with the rest of her braided, native looking "sisters". The models appear with a radiant and celestial look and, of course, fake fur. Because they love nature too, you see?
But this campaign reflecting the incessant chase for the beast, wilderness and nature didn't come alone. The trend started with Vogue (September issue 2014 ) with images representing the symbolic relationship of fur and skin through pictures of women wearing furry clothes, accompanied by wolves and with highly suggestive positions (yep, the XIX Century fixation apparently is here to stay).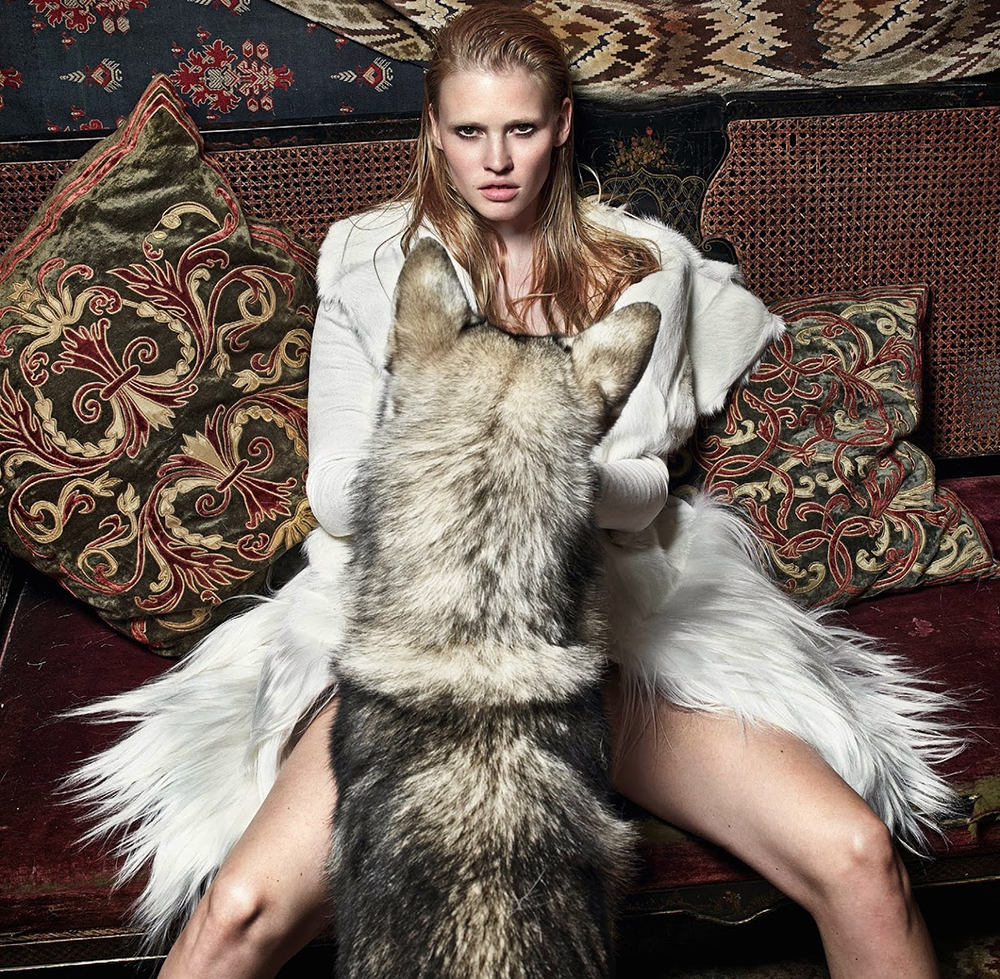 Another one in the list was the W Magazine September Issue 2014 entitled "Bad Girl Rihanna, the World's Wildest Style Icon". The issue depicts a series of images with the singer wearing Fendi, Dolce&Gabanna and YSL fur. Heavy makeup, dark scenery, wolves (of course) remind us of a Voodoo ritual. Fantastic images may I add but, the message kept irritating this Guru. The truth is Rihanna is not presented with a celestial look, the header includes "bad girl" description of the singer and… real fur. Because only "bad girls" use real fur, you see?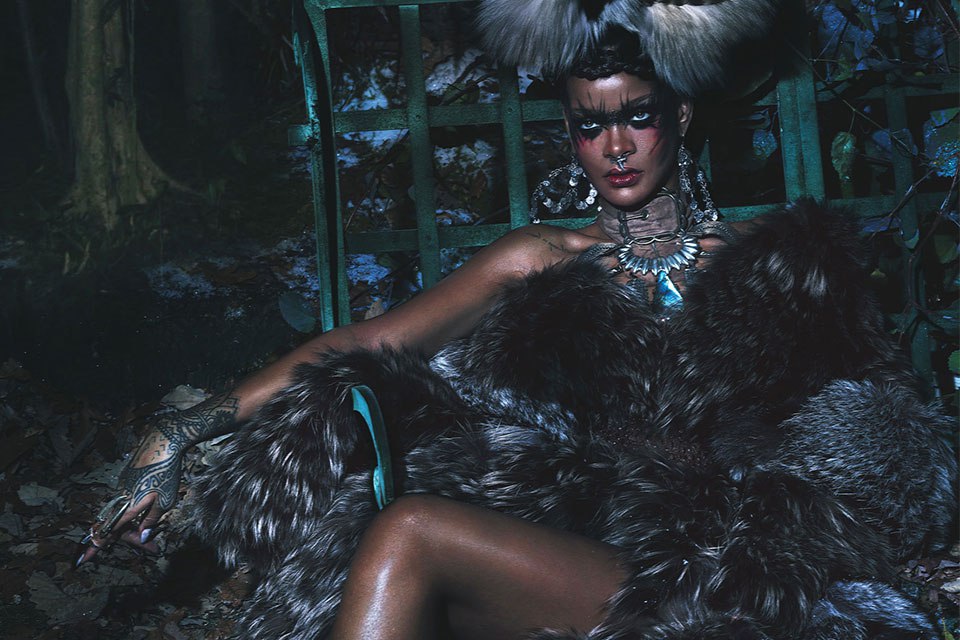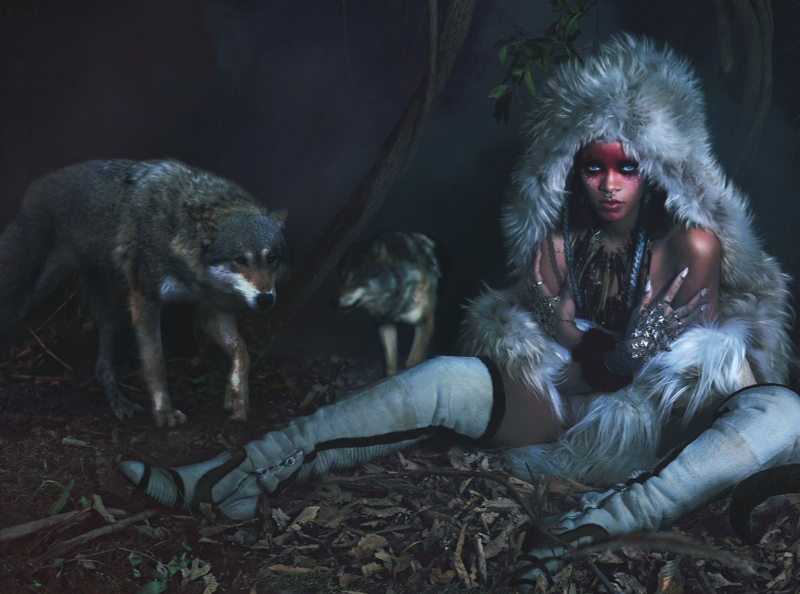 So, we do like animals and fur, connection to nature and native archetypes, we thrive at the idea of becoming or interacting with these mystical creatures that live in-between the wild and the human. We clap excitedly when we hear of the next Twilight Saga and the new "pack" of werewolves is presented to us. All these images of land, trees, and natural materials, behaving or being with animals excite us but we just can't deal with fur. The Guru can't abide so much contradiction! If we like animals and fur (with all the sensual allusion and beauty it implies) then why do we support an industry that produces plastic fake fur and will take hundreds of years to disappear while filling precious space and polluting a planet that belongs to animals and us? If we like connecting to nature and we find native archetypes inspiring then, why do we protest and condemn the use of seal fur while it is such an important source of food and sustenance for Inuits?
This Guru left with more questions than answers and the uncomfortable feeling of these constant double standards. With the final words of Spooner's presentation resonating in my mind: "Werewolves will never belong; they are not human, they are not wolves. Even when they die, they will become white wolves while the rest of the pack is black".
Our trade has carried the stigma of "guilty pleasure". The inadequate, the one which doesn't belong, the one that doesn't apply to modern times. Our precious material and unique garments have been brutally judged and our activity constantly questioned. But the fur demand continues, the heritage, tradition and craftsmanship that supports our trade shouts loudly like a rebel, howls deeply like a white wolf. For many, we might not belong (just like the werewolves) but the reality is that we are not the "naughty" ones. Fur will continue walking the same path that humans do because it's natural, sustainable, because it belongs to the land, just like us. And because nothing makes us more human than our dependance, appreciation and use of the generous gifts that the animals have given to us since centuries ago.
P.S. Get ready for next week my dearest followers! The Guru will be backstage at FUR NOW 2018 campaign filming and she will be updating you on the most outstanding pieces and gossip behind the scenes.
The Fur Guru
xx