A treasure chest of art and sculptures, the Wallace Collection, once a source of inspiration to Manolo Blahnik, now showcases his uncompromising designs in the splendid grandiosity they deserve. Manolo Blahnik is an artist and icon in the world of shoe design. Originating from Santa Cruz de la Palma, in the Canary Islands, Spain, Blahnik dreamt of fashion, so after attending boarding school in Switzerland, studying Politics and Law at the University of Geneva, then Literature and Architecture, Blahnik got his degree and move to Paris to study art at École des Beaux-Arts and Stage Set Design at the Louvre Art School. In 1969, Blahnik moved to London working as a buyer for fashion boutique "Feathers", whist writing for L'Uomo Vogue. It was this year, 1969, where Blahnik would meet editor-in-chief if U.S Vogue, Diana Veerland, while he was in New York, an encounter which would change his life forever. Blahnik presented Veerland with a portfolio teaming with sketches, Veerland, steadfast with conviction, said, "Young man, make things, make accessories, make shoes." So, following her advice, Blahnik began creating.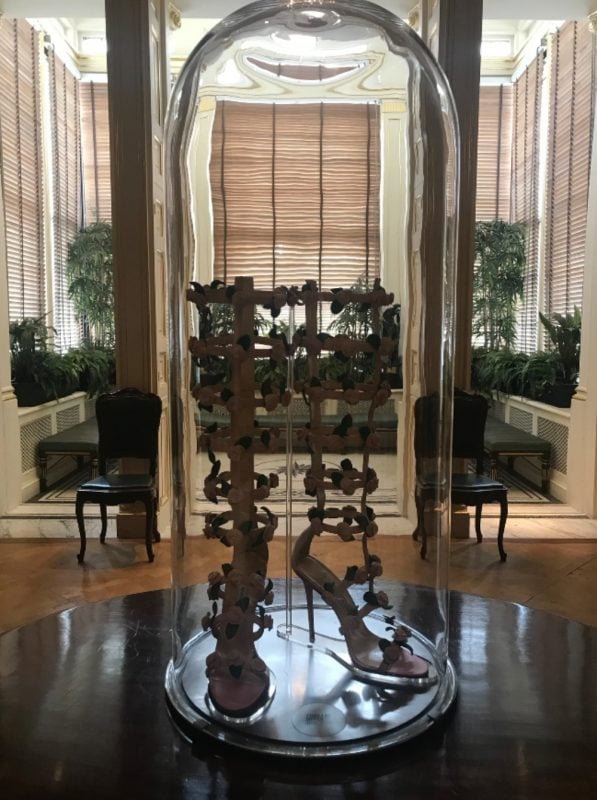 As I make my way up the grand staircase, I am greeted with the first design. Luxurious, creative and beautiful. According to Blahnik, the painstaking process begins with drawing before turning his sketches into 3D designs, referencing each inspiration along the way. This first creation, a floral vine which appears to be growing up the structure of shoe, is said to encompass Blahnik's affection for nature.
But as I navigate the Manolo Blahnik exhibition, it becomes apparent that his designs are not all housed in once place, but rather they are nestled in between the art decorating this building. According to Wallace Collection Curation Director, Dr Xavier Bray, the placement of Blahnik's designs besides the unrivalled eighteenth-century collections or art, sculptures and furniture, is simply because the collections here inspired Blahnik throughout his career, so they should stand side-by-side. However, I feel there could be more of a symbolic connotation to the placement of Blahnik's designs. In the face of fine artist curators, by fine art I am referring to traditional forms of art like painting or sculptures, for example, the fashion industry continues to argue that intricate garments from dresses, to furs, to shoes, is art. Therefore, it seems fitting that the position of Blahnik's designs should share the stage throughout the Wallace collection. For me, and hordes of others who gaze in awe at the delicate and extravagant designs, Blahnik's designs are are in their rightful place.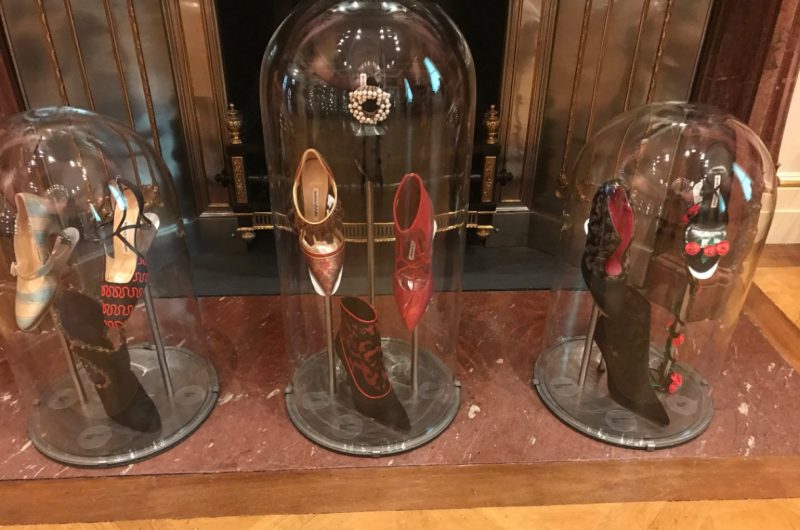 Each shoe encased in glass tells a different story. The romanticism and craftsmanship behind them comes to the forefront as you wonder: what kind of woman is a shoe like this designed for? What is the narrative Blahnik wants to tell with each piece?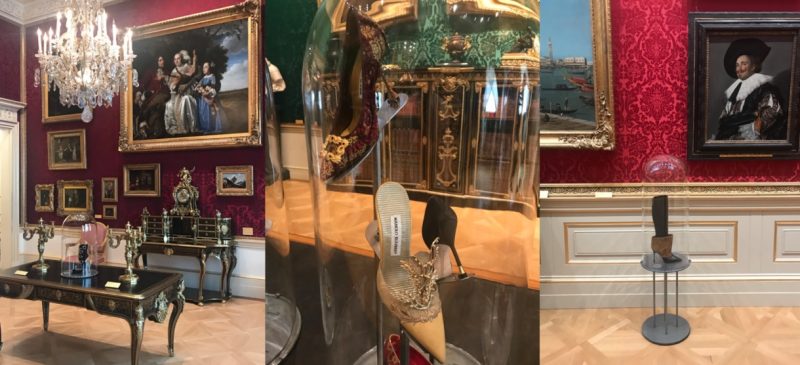 As highlighted with the first of Manolo Blahnik's designs, he had an affection for nature which ultimately led to him to incorperate a variety of natural materials into his creations. It is this reason why on many of the intricate designs enveloping the Wallace Collections Drawing Rooms, study, and Boudoir Cabinet all feature elements of fur. Fur can be seen on the soles of shoes and in the form of pom-poms decorating Blahnik's designs. The fur adds texture, colour and shape to his creations making them all the more intricate and interesting to look at.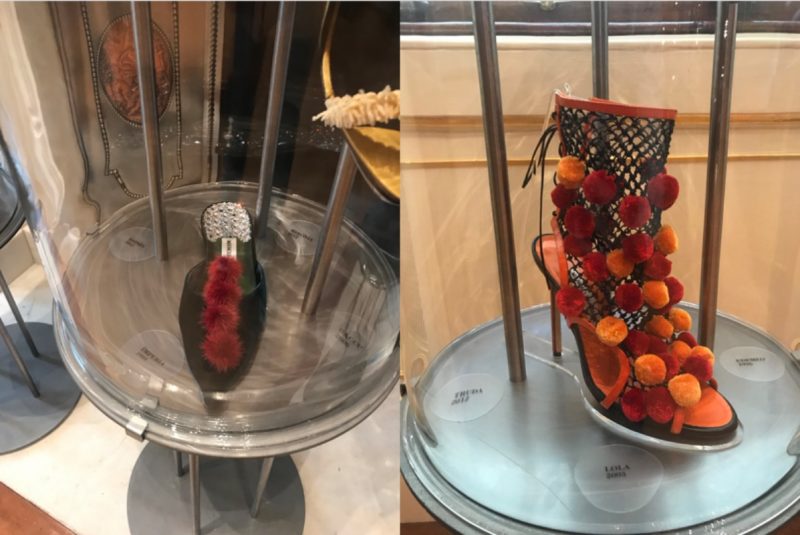 "The Wallace Collection has been a point of reference for me since my early days in London. It was – and remains – one of my favourite museums with the most refined selection of art. I am incredibly humbled and honoured to be a part of the project and have my work displayed at the museum."
 – Manolo Blahnik
As I enjoy fur embellished designs on display, I notice that many of the paintings hanging above Blahnik's creations also feature fur. From the West Room to the Great Gallery, paintings from some of the world's best artists feature fur in its natural glory. Notice the cuff on the painting below? A reminder that fur, one of the most natural materials has been ulitized for millennia. Perhaps the art at the Wallace Collection, like the renaissance painting below, was Manolo Blahnik's source of inspiration to incorporate fur in his shoes. After all it's a timeless and beautiful fabric.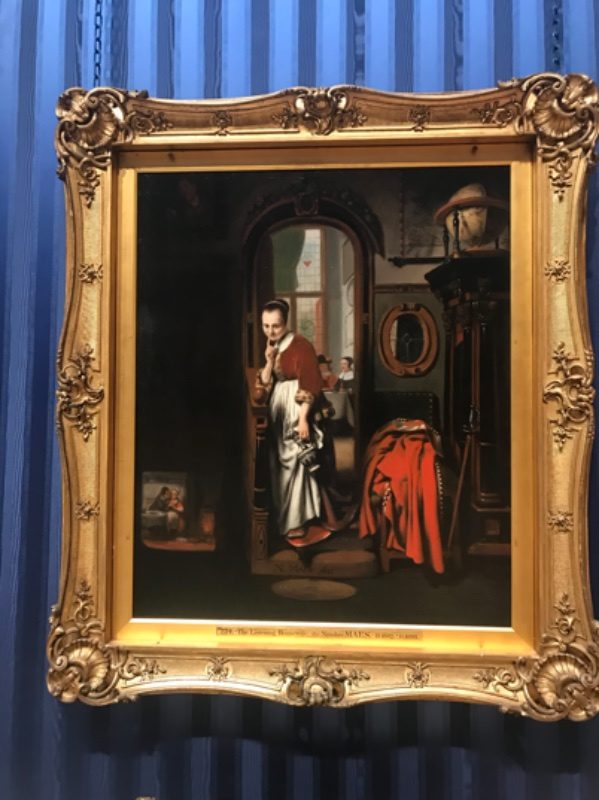 While the use of fur in footwear is not a new concept, it continues to evolve to feel as though it is. Before Gucci announced they were going fur-free, they released a line of shearling lined slippers, and fur couture house Fendi is trailblazing with their use of fur in footwear. Most notably, creating the iconic Fendi fur embellished slides. These shoes below have been seen on the feet of Justin Bieber and Kylie Jenner, to name only two A-listers and style icons. The use of fur in footwear both past and present continues to highlight how fur is at the heart of fashion.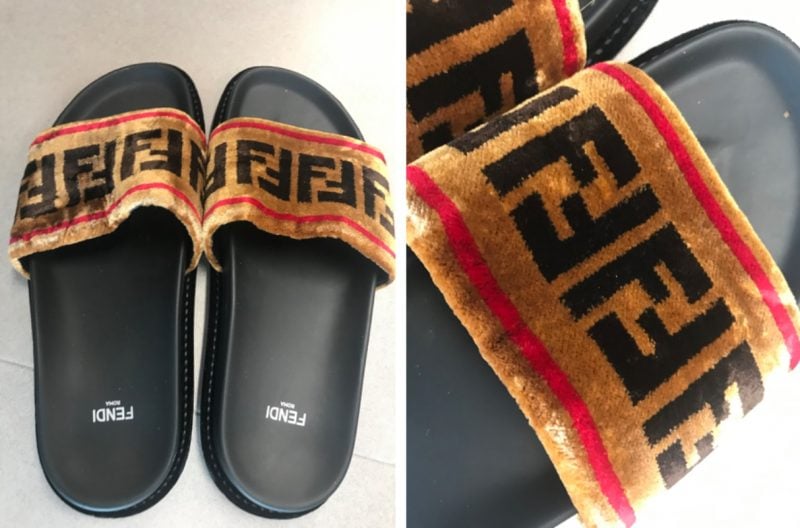 From wandering through the enchanting Manolo Blahnik's exhibition, the Fur Guru feels a renewed appreciation for the craftsmanship in footwear design. Craftsmanship that often goes hand-in-hand with the artisanship of fur as this exhibition shows. It is natural marriage that craftsmanship at the highest degree would include fur, and when the two are combined, fur and footwear, fashion continues to be elevated to new levels. Fur not only provides ultimate comfort in footwear, but it connotes luxury with its baroque and opulence and showcases craftsmanship through quality and elegance. That is why Manolo Blahnik is renowned for his exquisite mind.