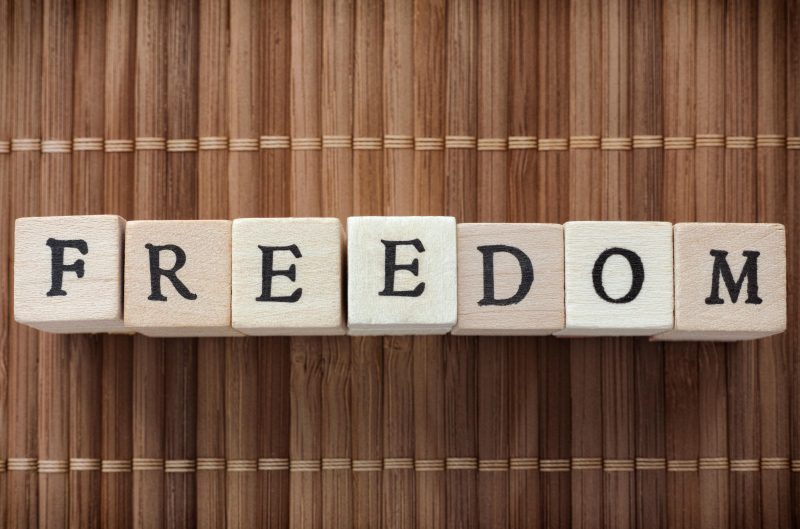 It is widely published when celebrities, as well as non-celebrities, hit-back against animal activists who have bullied or been pugnacious towards them over their choice to consume animal-based products – whether that's eating meat, wearing natural materials, or using cosmetics containing animal products. Freedom of choice, as defined by Longman, is: the right or ability to choose whatever you want to do or have, however, increasingly, we are seeing freedom of choice being restricted by those who perceive consumption of animal deriving products as 'wrong,' often comprehended by PETA. 'Wrong' in their eyes stretches from consuming meat, wearing sustainable, natural materials, buying a new pet, or even uttering phrases containing animal-based goods, including "bringing home the bacon". But where does the line get drawn between freedom of choice and what's acceptable?
PETA supporters have a long history opposing people who they don't see eye to eye with. They usually challenge those who don't share the same view as them by throwing foul signs, dressing up as animals covered in blood, protesting on the streets, invading restaurants, as well as abusing people online and in person. A celebrity example of this involves the Kim Kardashian-West flour-gate. In 2012, Kim Kardashian attended an event to promote her new fragrance where she was greeted by an animal rights activist who assaulted the star by throwing a flour bomb towards her head covering the star in flour. With no concern for the stars safety, or her own for that matter, the woman, who strongly denied being a part of PETA's organisation, showed a blatant disregard for the surrounding public when executing this dangerous act. It's one thing to disagree with a person who doesn't have the same beliefs as you, but it's another when the act starts to become viscous and begins to unhinge what a person is allowed or isn't allowed to do. This act led to Kim's sister Khloe Kardashian, who once posed nude in an anti-fur campaign for PETA, to post a statement in relation to the incident saying: "Not only has PETA lied to the public, but they have proved that they support this kind of behaviour. I've been a vocal supporter of PETA for a long time, but I have also been very vocal about anti-bullying, so this was a huge disappointment for me. As you all know, I don't condone violence and bullying and what happened last Thursday was just that. I am absolutely disgusted by their behaviour. Everyone is entitled to their own beliefs and opinions — I personally don't wear fur but that doesn't mean I am going to force my views on anyone else, ESPECIALLY by violating them." Khloe Kardashian severed ties with PETA following the incident. What Khloe Kardashian alluded to here is that the maltreatment bestowed upon people by organisations like PETA proves that they want to systematically destroy people's freedom of choice, acts which have no place in today's society.
Another more recent incident includes PETA versus Jennifer Lopez. At the premiere of JLo's feature film Hustlers during the Toronto International Film Festival (TIFF) 2019, protestors were holding signs and shouting, "Shame on you, JLo, for wearing fur! Shame on you for wearing fur Jennifer Lopez! Stop wearing fur Jennifer Lopez! Stop wearing fur JLo! Stop wearing fox fur!" (TheTalko). PETA have previously targeted Jennifer Lopez by calling her shocking names such as a 'monster' and accusing the stars beauty of only being 'skin deep' because of her love for fur. However, JLo's choice to wear natural materials is a personal one, and one that should not have repercussions from animal activists who feel they have the right to a say in what people can or can't eat, wear or buy. In a world where 'sustainability' is a major buzzword in the fashion sector, shouldn't plastic alternatives which are responsible for the deaths of thousands of aquatic animals be looked into? Or should we look past that for a quick fix to natural fabrics?
Looking closer at non-celebrity incidents with animal activists, I must say, this story is revolting, and one which we must look deeper into to understand where we draw the line between acceptable and peaceful protesting to downright harassment. The Daily Star reported a story where a vegan activist spat on a woman and called her a 'nasty piece of s**t' over her fur coat. In what civilised world can this behaviour be deemed appropriate? The article mentions that the attacker 'often carries leaflets in order to "educate" people about her cause', perhaps we should educate people on the serious offence that spitting on somebody has as it definitely isn't an adequate way to get messages across. On a day-to-day basis, the fur industry is portrayed in a negative light as the argument is heavily dominated by animal activists, inhibiting people to form their own opinions. But why? Because activists, such as the woman in this instance, believe that they can go around making the rules on what freedom of choice is and force their beliefs onto others, intimidating people into doing what they want. In today's society, anti-animal groups have terrified those who, for example, want to wear their grandma's vintage fur coat. An article written on The Telegraph explains how the writer inherited a sable coat from her grandmother, however, has to think twice about wearing it, as although she 'loves the coat', she doesn't want people to look down on her. This proves that society has played a huge role in shaping the minds of people today in their choice to, in this case, wear something that has sentimental value, over the fear of getting spat on, ill-treated on the streets, or worse. The decision to wear natural materials, or eat meat, or not, is wholly down to the individual, who most likely has made an educated decision and come to that conclusion.
The lack of freedom of choice doesn't end with what we can or can't eat or wear. A few months ago, PETA released alternative animal-friendly phrases to be used instead of idioms that have been used in literature for centuries, and that are deep-rooted in society, as they 'perpetuate violence towards animals' (The Guardian). This includes changing 'bring home the bacon' and 'put all your eggs in one basket' with vegan alternatives such as 'bring home the bagels' and 'put all your berries in one bowl.' It's reported that PETA have claimed that although the idioms seem harmless, they carry meaning and can send mixed signals to students and their relationship with animals (Talk Radio). However, and rightfully so, there was huge backlash online, as PETA were subsequently mocked for their outrageous idea, with one user sarcastically tweeting, "Feeding a fed horse is animal abuse, you're gonna give it a belly ache. Reported.' (@danekevincook) emphasising just how absurd PETA's idea to control the freedom of speech, which has never been looked upon as something degrading towards animals, is. Associating those phrases to racism, homophobia, or ableist language is ludicrous and is nowhere near the scale of offensiveness, deeming them unquestionably incomparable. Founder of Vegan food delivery service allplants.com, Jonathan Petrides, communicated what he thought on the matter. Unexpectedly, yet not that surprisingly, he couldn't work out whether PETA were trolling the internet or if they were trying to make the world hate vegans, and further explained that he doesn't agree with curbing people's linguistic choices, as that 'is just another form of radical placard-toting that paints vegans as judgemental activists' (Talk Radio). If a fellow Vegan doesn't believe in the case, what makes PETA assume others will?
PETA's disallowance doesn't stop there. In October 2019, PETA criticised Justin Bieber for purchasing two cats instead of adopting them, with senior vice president of PETA, Lisa Lange, in a statement to People announcing: "Baby, baby, baby, nooooooo. Justin Bieber could inspire his fans around the world to save a life by adopting a cat from a local animal shelter – rather than fuelling the dangerous demand for hybrid cats, contributing to the animal overpopulation crisis, and proving that when it comes to helping animals, his stance so far is 'I don't care'" (Independent). The debate surrounding breeding versus adopting will always be rife as many questions arise: is it ethical? Is it okay to buy a new cat or dog when there are so many in shelters ready for a home? However, it isn't as black and white as that. Nobody should be made to feel as if they are obliged to adopt an animal and nobody is morally expected to do so. PETA, as always, are keen to condemn harmless actions propagating their narrative, however, Bieber hit back with a statement on his Instagram story that read: "Peta go focus on real problems. Like poaching, and animal brutality. Ur tripping because I want a specific kind of cat? U weren't tripping when I got my dog Oscar and he wasn't a rescue…every pet we get must be a rescue? I believe in adopting rescues, but I also think there are preferences and that's what breeders are for. Peta go help with all of the plastic in the ocean and leave my beautiful cats alone." What Justin Bieber has made reference to here is spot-on, there are preferences that people who want a dog or cat have, some animals have been abused and aren't allowed near children, some don't want to be around a large group of people, or perhaps somebody just wants a new kitten or puppy. There are plenty of factors to take in when determining what is right for a specific person or family, regardless, giving an animal a loving home shouldn't be condemned. Saying that Bieber's position is "I don't care" is shameful and insanely selfish, again, highlighting the point that PETA goes around perpetuating untrue statements, stripping one person's free will lead to a breakdown of everyone's free will tomorrow.
To conclude, it is apparent that PETA will stop at nothing to deprive people of their freedom of choice. It has now thickened to much more than what we can eat or wear; it has become a way of living – what we can or cannot say, can or cannot buy, can or cannot do, limiting our freedom of choice day by day. When will we be restricted to almost everything that PETA deems intolerable? It is not a way of living, and it certainly isn't down to anti-animal groups to be the voice of the people in a civilised society.