As virtual Fashion Weeks around the world concluded, a schedule which saw editors, celebrities and press joining front rows via video-call, a number of new trends have exploded taking fashion in a new creative and surreal direction. While the shows at New York, London, Milan and Paris may have been audience-free, there is still plenty to look at and discuss. Below, we round up the highlights from the autumn/winter 2021 shows. 
LOUIS VUITTON
The Louis Vuitton AW21 collection was unveiled with a runway show which was inspired by time travel and mythology. Since Louis Vuitton  welcome Virgil Abloh as its new Men's Artistic Director, the natural furs we've seen come out of Louis Vuitton continue to take the brand in a pioneering direction.
The concept for the collection and show riffed on the idea of an art heist. From fox to mink, voluminous coats, blazers, jumpers and cardigans patrolled the catwalk in an explosion of creation.
FENDI
Fendi is known for their neutral shades which reflect the mineral colors of Rome, the brands birthplace. The organic shades that have dominated in Fendi's history and this AW21 was no different. From spaghetti-fringed furs in lapping herringbone to loose-sleeved suede bonded mink, this show stopping collection evoked a new contemporary feeling whilst maintain Fendi's timeless chic aesthetic. Much like Karl Lagerfeld in 1965 when they recruited him, Fendi maintain their famous "Fun Fur" period.
DIOR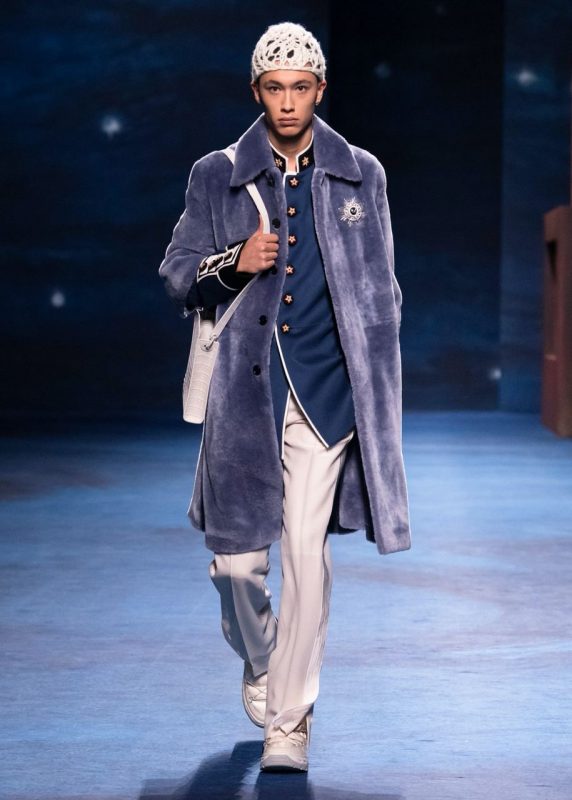 Since taking the helm of menswear at Dior, Kim Jones has been putting his mark on the fashion industry, and his AW21 collection was no exception. The show opened with a glittering gilded embroidered coat draped over a star-buttoned suit. And while the virtual audience enjoyed his collection from a far, it didn't take long for the star of the show – a greyish-blue natural fur military-influenced coat – to wow spectators all over the world.
Jones explained in Vogue, his research was based on the ceremonial tail-coated attire required by artists in France when they're inducted into the Academie des Beaux-Arts in Paris: "In fact, we've made several of them [the Academie's coats] for people since I've been here," he said. 
BRIONI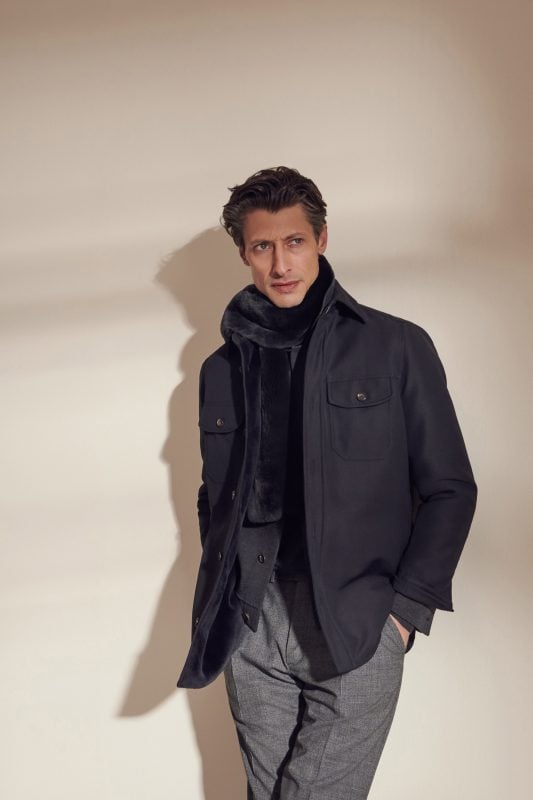 Norbert Stumpfl latest collection for Brioni takes inspiration from a fresco that was painted in 1614 by Guido Reni at the Palazzo Pallavicini-Rospigliosi, in the house's home city, Rome, a story about leading Apollo through the night sky to bring dawn to the darkened world below. Stumpfl said, "For me it's less about ostentation that it is about hope. It's about bringing light back after the darkness." 
A favourite of the Prince of Wales, Stumpfl achieved his goal with this collection and illuminated our horizons, particularly with this black fur mink scarf, the start of the show, highlighting the craftsmanship of the Italian fur ateliers. 
TODS
Famed for his laid-back aesthetic, Creative Director Walter Chiapponi took Tods in a surreal and sporty direction their AW21 collection – a combination of the brand's craftsmanship with couture-inspired shapes. Leather-finished trench coats for womenswear, tweed, plaid and natural fur collars for menswear, Toys have created silhouettes and finishes which don't stray away from their signature Italian classicism but bring the brand into the spotlight in a big post-pandemic way.
With natural fur still dominating the runway during fashion week, we can't wait to see these key pieces make their way from the runway to the hughstreet. And with these creative minds in the driving seat of the world's most famous fur brands, we can't wait to see what creations they produce next.