The Turtledove:
—From Guillaume le Clerc Bestiaire: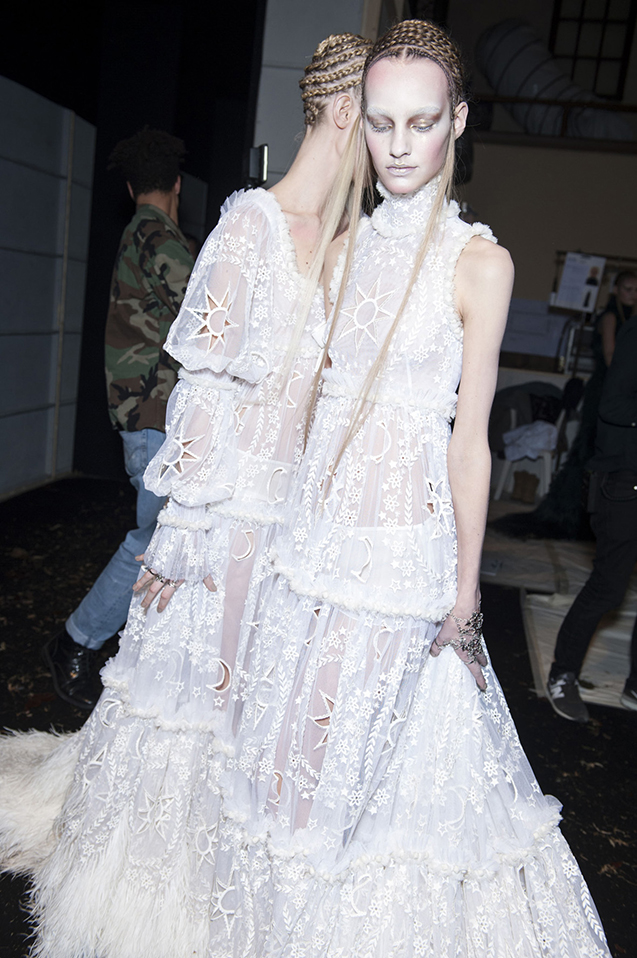 "Now I must tell you of another bird which is courteous and beautiful, and which loves much and is much loved. This is the turtledove. The male and the female are always together in mountain or in desert, and if perchance the female loses her companion never more will she cease to mourn for him, never more will she sit upon green branch or leaf. Nothing in the world can induce her to take another mate, but she ever remains loyal to her husband."
In the middle of a sinister fairy tale and a nod of Midsummer Night's Dream stands the turtledove. It appears that she has lost something or someone. There is a chill in the air, fallen trees and steaming land. There's nothing green anyway and so, she stands still.
And talking about faithfulness and devotion, Burton is a good example of how to cleverly keep the authentic McQueen DNA in a collection giving her own personal stamp, being an independent thinker without deceiving the brand. She showed trapeze layers of varied fur swinging ghostly around mossy moors and mysterious landscapes. She showed the possibilities fur brings with varieties such as fox, beaver, marmot and mink. With the creation of different patterns and textures with different furs, she reminded us of the endless possibilities this material offers. Billowing embroidered skirts were hoist in at the waist with thick leather ties contrasted with oversized fur capes. So, the McQueen touch was still there: ghostly beings that carry fur hooded jackets and folksy peasant dresses but, added to it, delicate as the turtledove, was Burton's craftsmanship.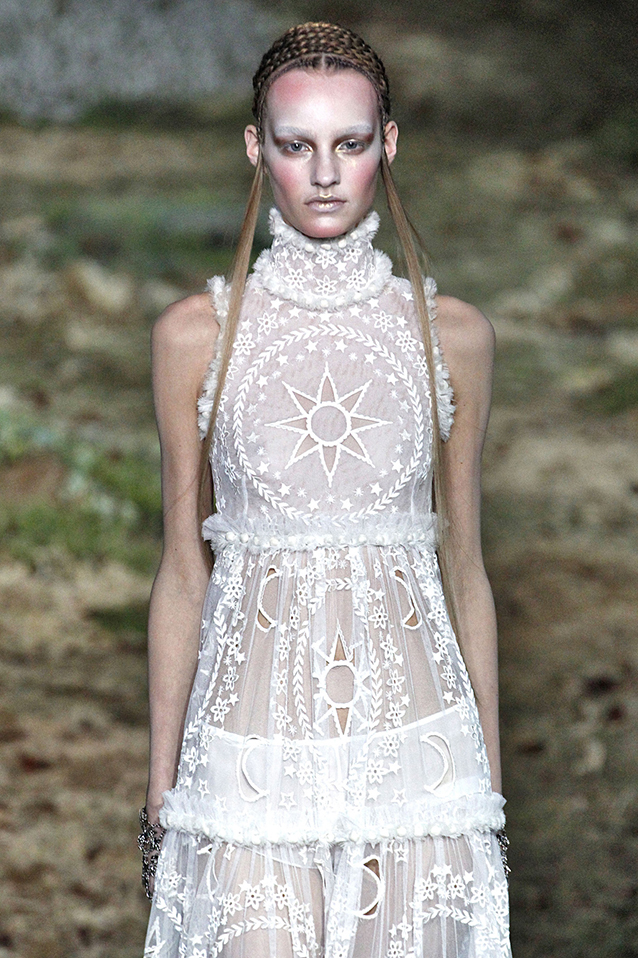 The damned temptresses wore gothic black: sheer dresses dotted with black feathers that grew into a full skirt, seductive low-cut gowns of inky ruffles, and shadowy black fur hoods. Gothic warrior ravens in black feather coats entrapped and seduced the innocent in virginal white dresses. The turtledove was left at the top of the decrepit landscape waiting for her lost lover. A Bjork soundtrack set an eerie tone, from the threatening march of "Earth Intruders" to "Bachelorette" for the finale that gave us an idea of what was happening to our mythical being.
She would be awaiting solitary forever for her lost mate. It's all right though; she's wearing a McQueen's gown.