The Unicorn:
—From Isidore of Seville [7th century CE] (Etymologies, Book 12, 2:12-13):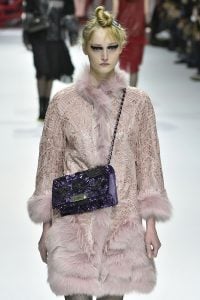 "The unicorn is fierce, strong and swift, and no hunter can catch it. To tame the beast so it can be captured, a virgin girl is placed in its path. The unicorn, seeing the maiden, comes to her and puts its head in her lap and falls asleep. The hunters can then easily capture or kill it."
Shiatzy Chen's collection for AW16 proved that strength and power also lies on the softness and delicacy of beauty. Frills, bows, and glittery embroideries, rabbit and fox fur, all of them in juxtaposition to create pieces that, like creatures of a myth, predicted spell and danger on the catwalk. These contradictory delicacy/power qualities were highlighted with corsets and tomboyish sportswear-inspired outfits and accessories. The message on the catwalk was about creatures full of grace and might. Through symbolic pieces, Chen set the reminder of how women are beings of limitless command. They are the maidens; capable to control the most fearful beast just with beauty and gentleness.
Models step on the catwalk with splendorous beauty. Asian-inspired prints and embroideries, as on a yellow tea gown or a Mao-collared print dress edged with fur, styled with crackled leather coats giving a touch of authority albeit absurd.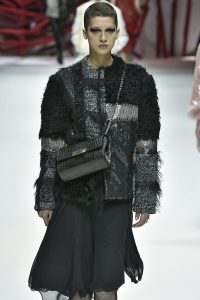 Full of contradictions, the styling was a clash of opposites that, together, described the powerful and complex beast that womanliness is. It is the one that maybe becomes thee most menacing and intimidating of beasts. Like the sleeping unicorn, once it is awake, will combat and prevail.