"If the fire in your heart is strong enough, it will burn away any obstacles that come your way."
– Suzy Kassem, Rise Up and Salute the Sun: The Writings of Suzy Kassem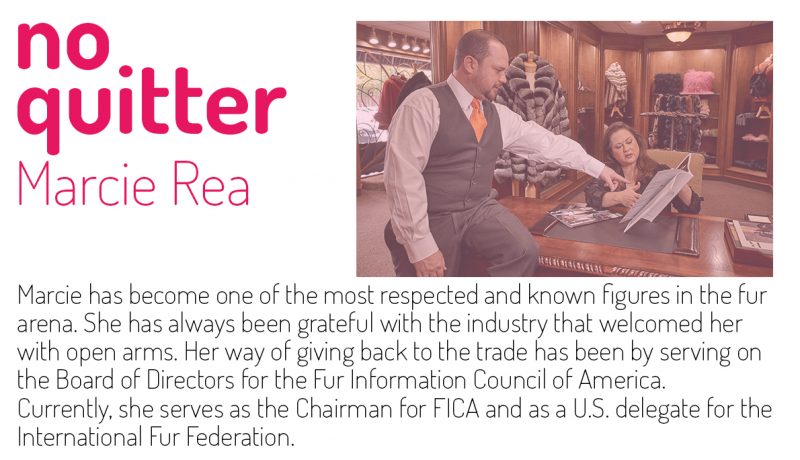 I met Marcie October 2016 in Greece. The introduction was brief and we shared a bit of conversation (with good Greek food, music and wine). Marcie is approachable, friendly and makes you feel at ease from the moment you meet her. Yet (I was told), in business she's determined, unstoppable, respected and loved by all people from the fur trade.
But let's be honest "we are not avocadoes" (as we say in my country) to be loved by everyone. And if she is (an avocado, I mean) then, I want to find out how she does it.
The Guru arranged to meet her and ask about her story and how she has lived under such a positive light throughout her career. After speaking with her for a few minutes this writer understood the reason of this lady's reputation.
This woman has endured difficult times but guess what? This story has a happy ending. Marcie has become one of the most respected and known figures in the fur arena. She has always been grateful with the industry that welcomed her (since the beginning) with open arms. Her way of giving back to the trade has been by serving on the Board of Directors for the Fur Information Council of America.  Currently, she serves as the Chairman for FICA and as a U.S. delegate for the International Fur Federation.
She talked about her childhood and how she wasn't born in a furrier family. Yet, Marcie's determination to make her business work came from an individual quest and interest in fur. She talked to the Fur Guru about a recurrent childhood dream of running through racks of fur coats. Marcie said:
"I remember vividly the smells and the way the furs felt against my face.  I was in love with fur from that point on." At the same time her love for visual arts took her to go to college on scholarship, majoring in art. She mentioned: "At some point, my love for art and furs merged.  Now, when I look at a fur coat, I see a masterpiece that is as beautiful as anything Renoir ever painted.  I see the vision of the designer who considered the texture of the pelts and the curve of the woman who would eventually wear them.  I see the skills of the furrier who took nature, bent it to his will, and transformed it into a glorious creation." 
Marcie found strength in a deep friendship with a woman to which she refers as her "Grandma" (even though they weren't actually related). For the Guru to understand clearly this bond, Marcie sent an excerpt from an article where she referenced her:
'"When I was a young woman, I went through a divorce and became a single parent.  I had been out of the workforce for a couple of years while I was at home with my little boy.  I didn't know how I was going to provide for us.  My adopted grandmother, who had been one of the working women from WWII, took my face and said, "Honey, you can do anything a man can do."  We went shopping, she dressed me from head to toe in business attire, and then she said, "Now, type up your resume, and go get that job."  I did.  My grandmother was by no means a feminist, but she believed that you should always roll with the punches.  That kind of work ethic is what makes a successful entrepreneur. . ."'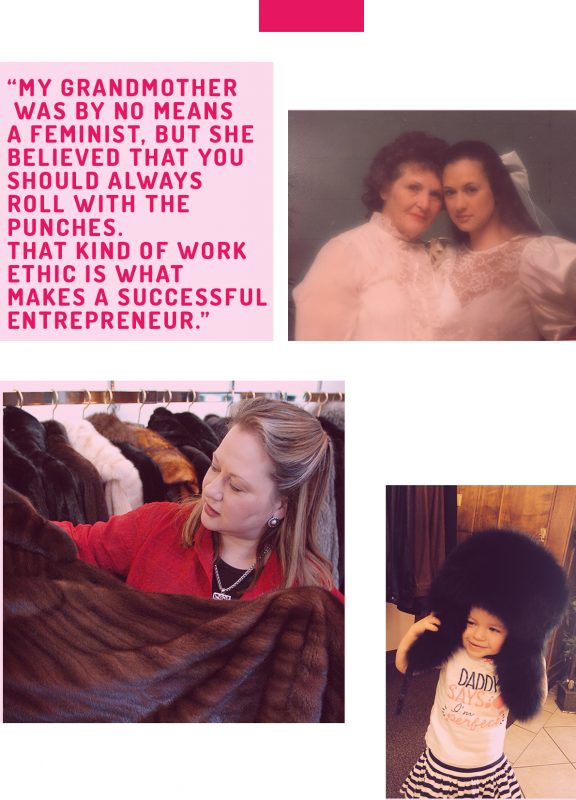 The Guru was also introduced to the last (but definitely not least) person in Marcie's life: her husband. She described the Guru how he helped her while starting her business by using a $6000 loan against his retirement plan: "He believed in me. I purchased coats with the money.  I sold them all and continued reinvesting the profits until we had enough money to open the first store." 
While speaking to her, the first thing that strikes the Guru is that Marcie Rea is all about family and hard work. She is a wife, a mother and grandmother.  When she's not working in her business, she stays busy serving her trade, her community, and her church.  When she finds extra time (huh?), she loves playing golf with her husband.
I asked Marcie if there was any other influence in her life that inspired her to follow this innate passion for fur. She replied that her mother was a hard-working single parent who always had an eye for beautiful things.  After Marcie started her business, one of the most rewarding things for her was to give her mother her first fur coat.
This lady sounded to the Guru as someone who likes to listen to the story that objects tell. But beautiful things are not only about narrative they are also about heritage. How does this resonate in the life and profession of this woman? Marcie has proved to be a person that appreciates the emotive inference of materials, people and daily occupation in life: "On a personal level, I've always admired the way my friends who've come from fur families would talk about how their father, grandfather, or even great-grandfather started the business.  I didn't ever have that.  Because I started our family business, I am the beginning of our fur legacy. My son has worked with me from the very beginning, at first as a part time employee and then working his way up to management.  He is my right hand. Now I also have the joy of watching my granddaughter grow up in the business. Like any girl would, she tries on everything in the store. I wouldn't have it any other way. On a business level, I've always been intrigued by the heritage of the coats themselves.  I make it my practice to ask my customers about the history of their furs, and I've found that each one has a story to tell.  The best, however, are the stories of the passage of a coat from mother to daughter or granddaughter.  It is like a mantle of family blessing being passed along to the next generation. No fabric could ever stand the test of time like fur can."
Marcie is definitely a woman that is not afraid of risks. She mentioned to this Guru how she had a previous job before deciding to leave it behind and start working with fur. This writer was interested in finding out how this transition was for Marcie and what pushed her to leave everything behind and follow her dream of working in the fur industry:
"Yes, I had had a full career in the insurance business, and it was a lucrative profession for me.  It was unfulfilling, though. I felt like God had something better for me, so I left my job and spent a full year trying to decide my next step.  I therapeutically started taking apart my own furs and turning them into new creations.  It was, after all, how I felt my life was going at the time. The truth was, however, that God was simply redirecting me, and I found that I had a real gift for designing.  That's how it all started."
Marcie is enthusing not only because of the stamina she has to overcome difficulties and challenges but also because she considers herself (and the rest of us: women) as owners of our own set of distinctive gifts to bring to the table. She doesn't believe women need to prove themselves in a man's world: "Women usually have a softer touch. We have a unique ability to rule with compassion and not a heavy hand.  It's not a better way than a man's way of doing things. It's just different."
A woman with so much endurance proved the Guru that women are still caring but also can be really "tough cookies".  So, can "tough cookies" get scared? And if they do, what is that makes them feel afraid?
"I had a cancer scare a few years ago.  I thought for sure my career and possibly my life was over and that the business would suffer without me.  Little did I know, I had trained my son very well to take the reins. He stepped up and the business carried on smoothly under his care."
Marcie also shared with the Guru images of what she believed, described her as a woman (business and all). I looked at a very young Marcie with her Grandma, a brave entrepreneur, a proud grandmother, an experienced business woman and a very fulfilled mother. Learning about the growth of a woman in such a way made the Guru wonder if Marcie faced challenges in the same way the new generation does. What does she find like the most radical difference between them and her?
"Of course, the answer to that question is linked to technology. Women today have the opportunity to shop anywhere in the world on the web, and our industry has more chances than ever to reach those women with our fur products. I keep myself surrounded by millennials who can help me navigate new technologies and help me understand the thought processes of this generation.  Dynamic young women of vision must be a part of that equation."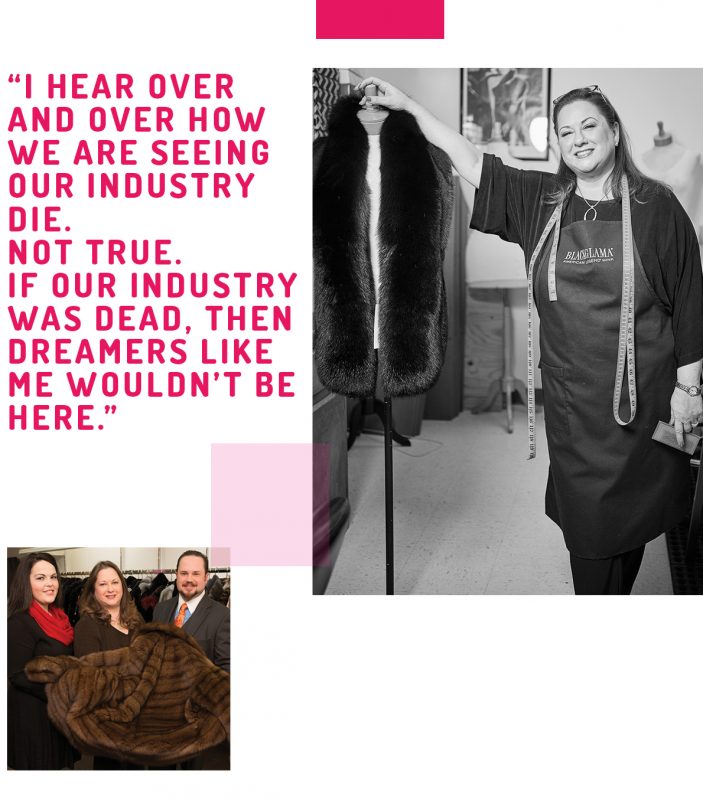 I'm certain a lot of young women find Marcie's story encouraging because of her relentless personality. I asked her what other qualities does she think are necessary to, not only survive but, also succeed when starting a new business?
"You have to be a good steward, keep a budget, and listen to those who have gone before you. You don't have to reinvent the wheel. There is wisdom in asking questions of those who have more experience.  Most of all, you must have tenacity. You will get knocked down. You must get up, dust yourself off, and keep moving forward."
The constant with Marcie is not only her sympathetic personality but also her persistence. "There must be an extraordinary reason to keep you going on like this!" (the Guru held). Oh, my darling readers, and there is! The gasoline that keeps Marcie's machine working is love, the love for fur to be more precise. She added that more importantly, it is the people:
"I love working with my customers.  I also love standing shoulder to shoulder with others and fighting for the success of our trade.  I hear over and over how we are seeing our industry die. Not true. If our industry was dead, then dreamers like me wouldn't be here."
Even though her inspiration is endearing Marcie also has awareness of competitors, co-workers, associates (which happen to be, mostly, men). So, how does this gal makes her voice heard in a strongly dominated male industry?
"In Texas, we would call it a "good ole boys club." When I was in the insurance industry, it was the same story.  I was the only woman broker among 10 men in my agency. When I stand next to a male colleague, I don't see myself as different from him.  I see the playing field as even. Therefore, I don't hesitate to speak my mind or offer wisdom when there is a problem. I listen before I speak, though.  I want to hear all sides to get a better picture of a situation before making a decision. We all need each other, and it is important to hear what others have to say."
There you go girls: no cold feet or quitting is allowed!
But, let's be honest; women still encounter sometimes gender boundaries. How do women like Marcie deal with this kind of situation:
"I can only think of one occasion where I was overlooked because I was a woman.  However, in my mind and my heart, I know that I am as qualified as any man. I have faith that God will open the doors that need to be opened for me and He will shut the ones that I should not go through.  In the case where doors are shut, I figure it is for my protection. I am at peace when those things happen."
Meh! There are still a few of them out there then… do not gloom my darling readers, we are more on the other side! We have in our team men and women who want to play this game equally and we have so many amazing people opening the path for the upcoming generation. Which takes me to my last question:
How does Marcie believe she's contributing to open path for the emerging young ladies in the fur industry?
"Much of my spare time is spent working with the Fur Information Council of America. I believe my work there is making a difference for the generations, including my son, who will come into the business after me.  People like Allen Soifer, Helmut Rothe, and countless others paved the way for me, and now it's my turn to serve."
The emotional connotation Marcie found in fur, the encouragement of a strong woman that supported her through the toughest times, her deep spiritual approach to life and the love of her always supportive partner and family made a wonderful combination for Marcie not to give up. All these elements were a bit of a "super-charged blessed supplement" that kept her going and helped her achieve her childhood goals.
Isn't it wonderful my darling readers? So, dreams do come true! But, let's not forget this only happens with a lot of hard work and keeping our eyes on the prize. It gives the Guru (and I hope, the rest of you) the encouragement that she needs so frequently in her daily trail. In a way, meeting Marcie and learning her story provided her with faith to believe that hard work pays off (and being a decent and lovely person thrown in the mix too, of course!). Transcendent and much-loved, Marcie Rea represents the power of belief and true love, the happy ending achieved with the unyielding battle.
 If you want to learn more about Marcie's work and her business follow her in FB at www.facebook.com/MarcellaFurs.
If you want to keep up with this lady's busy day to day go to her insta account @MarcellaFurs
P.S. You really (REALLY) don't want to miss next week's post. This Guru is meeting the charismatic and multi-faceted Katie Ball. Bored of the city life darlings? Not to worry, Katie will take us on a trip to the wild side. Until then, keep safe.
The Fur Guru xx