"Fashion is not something that exists in dresses only. Fashion is in the sky, in the street, fashion has to do with ideas, the way we live, what is happening." – Coco Chanel
From London to Warsaw, the Fur Guru's fur fashion fiesta continues…On October 12, I travelled to Warsaw, Poland, hailed a taxi and headed straight for my favorite restaurant – the Chef's Table at The Sheraton. And as I enjoy my prosecco brunch I am overcome with excitement and anticipation because I, the Fur Guru, have received an invitation to Dorota Goldpoint's Fashion Show! Dorota Goldpoint is foremost a fashion designer, Creative Director at FurLab Poland and a fur advocate. She unites her innovative and timeless designs with her political will and fur advocacy. Dorota's latest collection is titled: "Desire for Freedom", and it's my next stop.
Suspended 180 meters in the air with a background of illuminations – the most eye-catching being the purple Palace of Culture and Science – Dorota Goldpoint's fashion show is starting. A trail of spotlights and ice sculptures carve the runway into a meandering tundra, while the audience, a galaxy of stars with Grażyna Szapołowska leading the pack, take their front row seats. The catwalk is lined with the most influential faces in Poland's fashion scene, a collection of celebrities, television crews and media area all seated, and I'm nestled in between them all, it's time.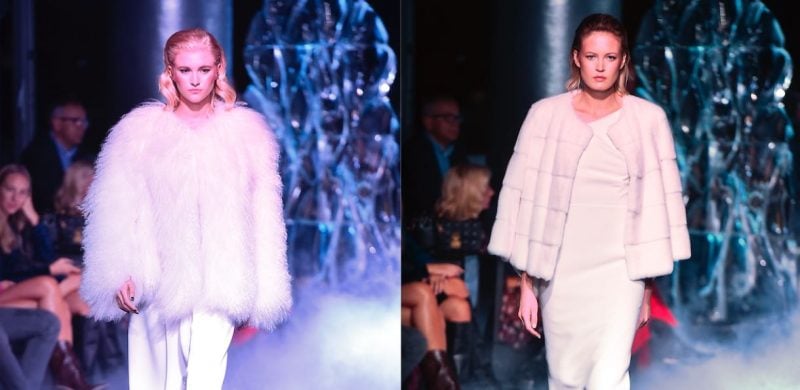 The room is quiet and fog begins to surround my feet as an eerie song fades in, and then, through the misted glass of an ice sculpture, emerges the first model looking fierce and confident in a white fabulous fur coat. She struts until she becomes nothing but an icy white silhouette in the distance, and I see how this garment, which softly sways with the breeze, is perfectly fitted to look oversized – a favorite fur look of mine. This coat is the epitome of Dorota's brand and collection: classic and fresh. It is the exquisite opening I was hoping for and received. But the show has only just started, and I'm ready for more. Continuing with a white fur theme, the next look featured a layered white mink jacket which was draped so beautifully on the models shoulders it appeared as though it was floating. And then… the show stops momentarily. The fog continues to engulf the runway, the drama begins to climb with a light change, the mood intensifies with the injection of an upbeat song, and the next model makes her way down the runway in a floral print forest green textured dress – Dorota's bold use of colour begins.

A black mink fur jacket is tied round the waist of a model dressed in a checked green gown, a natural brown mink coats dangles delicately off the shoulder of another model in who struts in khaki thigh highs and a thin strapped dress. And a white and golden-brown two-tonal fox fur gilet takes center stage when another model emerges dressed head-to-toe in khaki.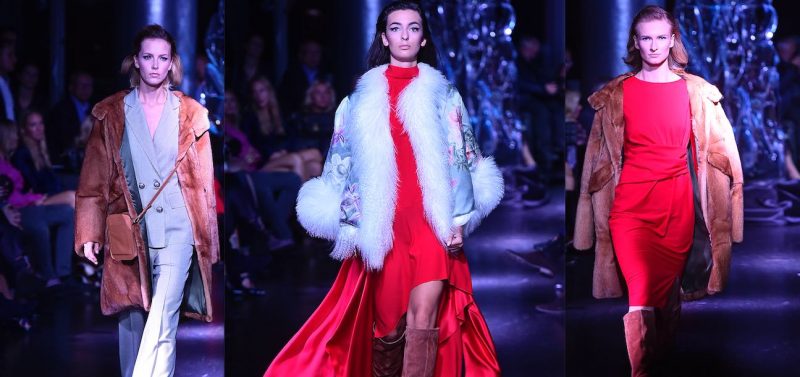 Along with a new design theme, comes another transition in mood, style and tone – a more relaxed and youthful vibe begins to emerge from back stage. Rich brown furs paired with side bags and bold red and black sequin designs. Red was the stand-out colour of Dorota's collection, its vibrancy was unexpected but welcomed, and I found out red is the perfect colour to pair with fur. First to catch my eye was a riveting red asymmetric gown topped with a silvery coat with white fur trim, a traditional oriental fusion given a modern European twist.  This was followed by a rich red fur scarf and matching corset dress which for me is the embodiment of a strong and feminine mystique. And then, just as the crowed is totally immersed in this fur fantasy, a 'plus' size model in a classic black middy-dress draped with a black, white and grey fox stole is greeted by a warm round of applause. And immediately, the audience is reminded of Dorota's open attitude and inclusive collections – the perfect note to finish on.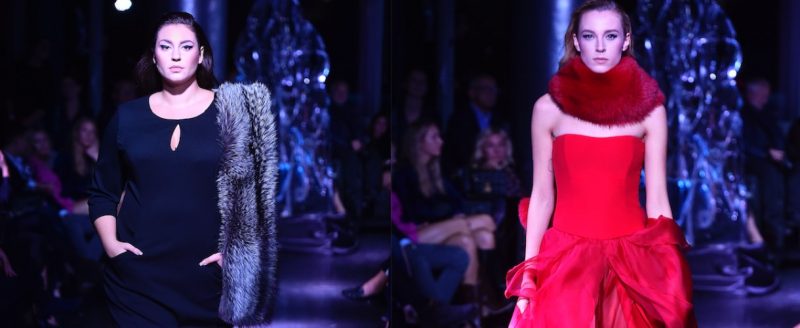 As Dorota exits the runway followed by her designs, for a split-second I have an outer body experience. I am overwhelmed by pleasant surprise that already so much fur has been paraded in front me. In a world where more designers are going fur-free, and the bullying tactics of animal 'rights' campaigners are working – I cushion the word rights in quotation marks because these groups promote plastic fur as an alternative to natural fur without recognizing that most plastic fur is made from modacrylic – a derivative of oil and synthetics which means that, like all petroleum-based products, it pollutes our planet during production, releases micro fibers into the ocean during washing, and won't ever biodegrade. Plastic fur ends up in our oceans, washed up on our beaches, drowns, chokes and ends up in the stomachs of sea animals meaning it also enters our food chain. Yet, animal rights groups wont narrate this inhumane and irresponsible story, they ignore the environmental truths of using natural materials and instead propagate sensationalist mistruths. And this is why the Guru delights in Dorota's fashion show, because we are both firm believers and advocates of furs natural and sustainable qualities which don't harm our precious planet. Fur is now having its time to shine on Dorota's runway.
As the fog dissipates, the lights go dark and the fashion crowd head to Dorota's fashion party, I reflect on the principles of Dorota's "Desire for Freedom" collection. I can't help but feel there are three elements to Dorota's collection, each one I wish to explore, starting with Desire. Desire is a sentiment embedded in Polish culture and history – which has been a turbulent at times. A desire to overcome adversity and fight for what's right. A desire which Dorota and I share with our passion for fur. The next element is Freedom, a term defined as the power or right to act, speak, or think as one wants. And Dorota's collection does just that – it is free: free from restraints; free from bullying from activists; free from body conformity; freely created with; freely combining natural materials; freely including fur. I believe the freedom and creativity that surrounds Dorota's collection can be traced to her role as the Creative Director at FurLab Poland. FurLab Poland is renowned for pushing artistic boundaries to the limits and encouraging innovative ways of designing and creating with fur. And I feel these influences have helped inspire Dorota to create freely when creating her "Desire for Freedom" collection. So, I'd like to finish this post with the same Coco Chanel quote I opened with, because "Fashion is not something that exists in dresses only. Fashion is in the sky, in the street, fashion has to do with ideas, the way we live, what is happening." Dorota's Desire for Freedom collection is the embodiment of this. How do I know? Because the Fur Guru saw this with their own two eyes.