From the time I was very small I was interested in fashion. I had very strong opinions already about what I wanted to wear to kindergarten. In grade school I designed and sewed bags for a project, and even sold one to a teacher.
In middle school we were required to do 2-week practical courses locally. I chose a furrier in town. The owner and staff were kind and let me create fur bags. The owner even displayed one of "my" bags in the store window. So it was only natural that when it came time to find an apprenticeship, I applied at a large furrier, in fact, one of the largest in Europe. It came with hardships—I had to move away from home and into an apartment next to the furrier. It was over 100 km far from home, I was only 17 at the time. My mother told me that I could go to art school after I completed this apprenticeship. I can't lie, at times I wanted to give up, especially at the start. I didn't know anyone, and we had a very strict master artesian. I was pretty miserable at times, but I kept at it.
In Germany, vocational training is a part of an apprenticeship. I had my lessons in 2-week blocks, about every 2 months. My class was very small—the furrier profession is not as common in Germany as it is in many other countries. Because of this, I qualified for special funding from the German state. This was a welcome supplement to my pay, which was quite low compared to other apprenticeships. I had great, talented teachers who motivated me to do my best. I entered the "Red Fox Award" which is a fashion design contest held in Dortmund, Germany each year. My entry was bought straight off the runway at the show—my boss said that was a first. I was very flattered and my taste for contests was whetted.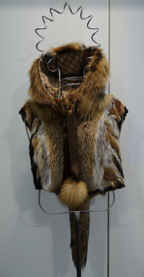 My apprenticeship lasted 3 years. I had to take notes each day about what I did in the workshop, and I was regularly tested on theory and practical techniques. My final exam was to create a fox coat. I was able to take a seamstress with me who helped sew the coat, but it was still a difficult task to complete in the time allotted. I was thrilled when I found out I had passed and become a certified furrier.
Right after passing my certifications to be an official furrier, I had the chance to enter a national furrier competition. It was open to young furriers who had just finished their apprenticeships. I was thrilled to have won not only my region, but also my state and finally the national level. I was also awarded a special citation in recognition of outstanding craftsmanship. I traveled throughout Germany to receive these awards. They were all lavish ceremonies with local dignitaries attending, and wine and food were always served. I got some press attention through these awards. I also have a certificate signed by the president of Germany at that time, Joachim Gauk. However, the best part of winning was receiving a grant I could use for my further education.
Now I was ready to study fashion design. I wanted to go to a state school, not a privately-run one. I applied at the Berufskolleg for Design in Stuttgart. My national recognition helped me be accepted into this school. I thoroughly enjoyed my time there, and appreciate all that I learned. I was able to share my knowledge of fur use in fashion, and I incorporated fur into my work. In my final line I used fur to accent my pieces.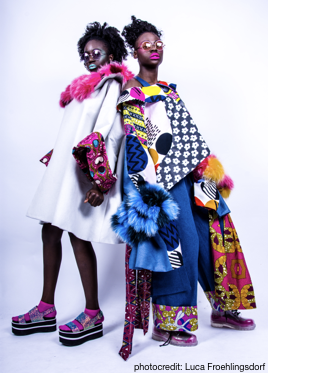 During my apprenticeship, I read about a competition held in Milano each year during the fashion week every February, the REMIX award. Iremember sitting in the workshop deep in the Bavarian Forest, i.e. in the middle of nowhere, dreaming of being at this award competition. So once I finished my professional training, I started my design sketches and researched where I needed to apply and what was required. I had to fill out a lot of forms and write a lot about my designs, why I chose the material and why they were sustainable. I also had to submit a lot of documents as only young designers may compete.
The first stage was being picked to represent Germany. Knowing I was a part of the REMIX 2019 was almost surreal. I got incredible support from the German Fur Federation. I felt like I was already a winner. They gave me confidence which helped me in the months to come.
One of the highlights was being invited to show my pieces and meet fur industry representatives and press at Feinkost Käfer's in Munich, Germany. Käfer's is an exclusive location in the glamorous scene of Munich. Vogue Germany and International Fur Federation were two of the guests.
It was a lot of work but imagine my delight when I found out my designs made it into the top ten submissions. I was headed to Milan to represent Germany in this internationally-acclaimed event—amazing!
In Milan I had a great time! I met so many nice people. I stayed at a swanky hotel with the other 9 finalists. They represented countries from all over the world. I made some great friendships. It was enlightening meeting other young fur fashion designers. We were wined and dined and made to feel extraordinary. The evening when the top three were announced was both exhilarating and nerve-wrecking. I can't lie when I say that I wasn't disappointed to come into the top three, but like my mom said, all the ten finalists were winners. Besides, it led me to getting a fantastic position working for the German Fur Federation. That was the real prize in it all.

Now I am getting my Bachelor's Degree in Arts and Fashion in Pforzheim. There I continue working with fur. In my last project, we had to create a garment and hat around the theme of a chosen animal. I was able to incorporate fur into my piece which is now on display at the Haus der Geschichte (Museum of History) in Stuttgart. I feel using fur gives me an advantage over my competition. As a young designer, I see unique opportunities open to me because I know how to work with and design with fur. More often than not my professors, teachers and school mates show interest in fur and don't reject it as one would think from the publicity fur receives at times. I love fur as a material–it is glamourous, attractive, practical and ecological. To me, fur instills the essence of high fashion. I have never regretted learning how to work with fur. I can only recommend this to anyone getting into the fashion industry.