"Vain trifles as they seem, clothes have, they say, more important offices than to merely keep us warm. They change our view of the world and the world's view of us ".
– Virginia Woolf
Oh bliss, it's Friday! The Guru suggests that, to get you ready and in the mood for this weekend, you pour yourselves a glass of bubbles, put your feet up and enjoy this little package of beautiful surprises and unforgettable experiences she brought from FASHIONCLASH in Maastricht. Trust me people when I say this is a gift for the eyes and soul.
FASHIONCLASH: Pleased to meet you!
This is a four-day festival program with fashion shows, exhibitions, performances, designer markets, fashion talks, awards and parties (yes, you can do all this in four days) that has been running since 2009. 900 designers and creative people from 50 different countries have hitched themselves to this festival and their careers have rocketed from there. It follows a different topic each year and this one was all about the sense or lack of it in Fashion. So, the Guru woke up in Amsterdam and took a quick trip on the train to Maastricht. She found a beautiful city, full of all the stuff she really likes (trendy coffee shops, gorgeous boutiques and lots and lots of design, catwalks and events… clap, clap the Guru cheered with excitement). She also happened to be very lucky and stayed in one of the coolest hotels in the city, The Dutch, that was minutes away from the festival. No time to waste! The Guru freshened up and out she went to the first night of catwalks.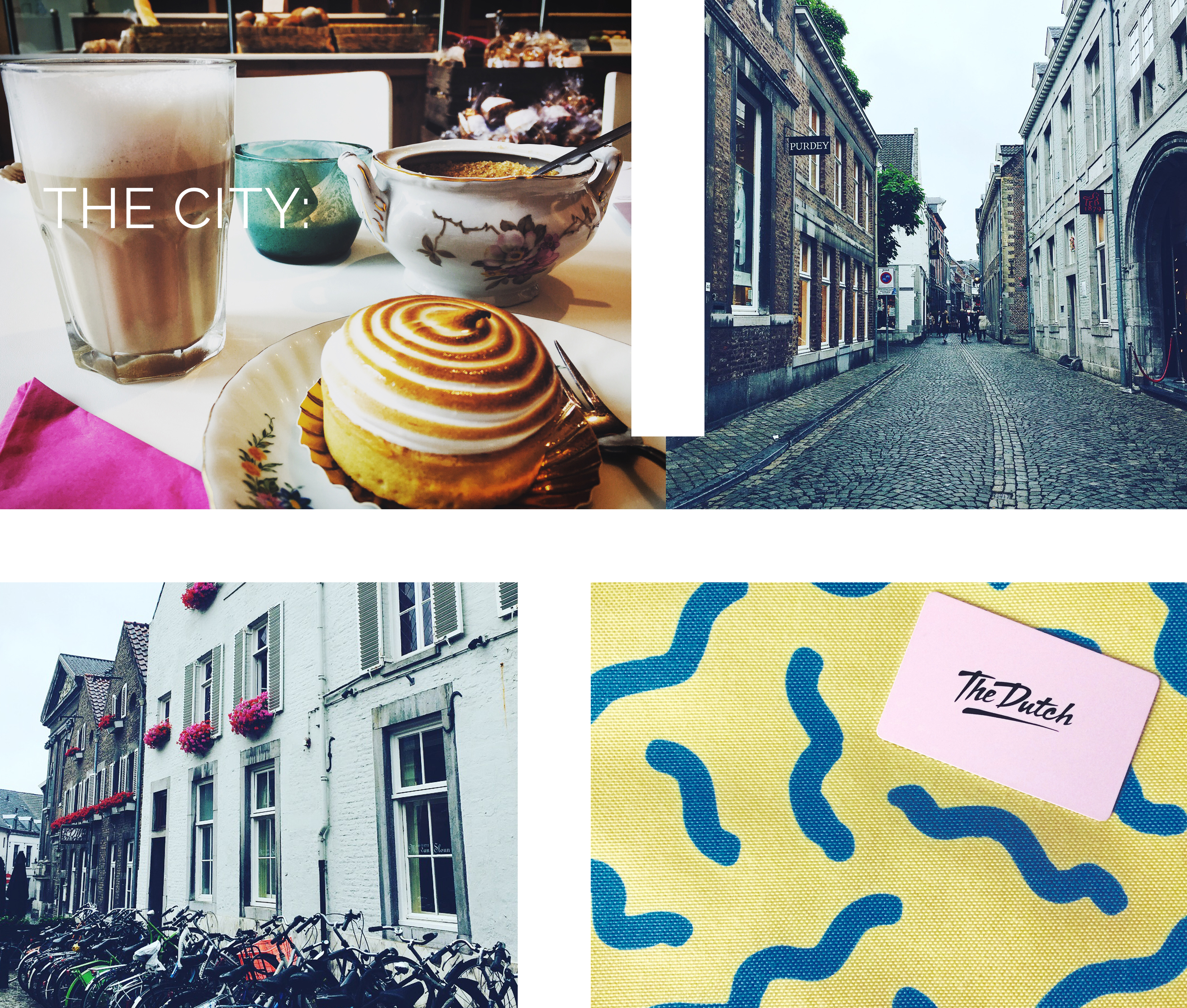 THE CATWALK: THE NEW GENERATION AND FASHION COMPATIBILITY
For the Fur Guru it is always wonderful to look at what new talents are capable of. She finds it very interesting, what the new generation has to say about the world they live in and their suggestions to make it better.
There was plenty of interesting takes on fashion and how it makes sense from the creative process. How it has lost sagacity because of the urge to produce volume instead of products that last. It should also enjoy a substantial narrative and satisfy the need of making fashion an extension and reflection of the human body and mind. Culture and personal history appeared to give each of the international talents on the catwalk an individual interpretation of how "fashion makes sense" to them or, also, how it has lost it and why.
So, the Guru curated a little selection of the most outstanding pieces or collections based on material, concept or visual narrative just for you to look and enjoy.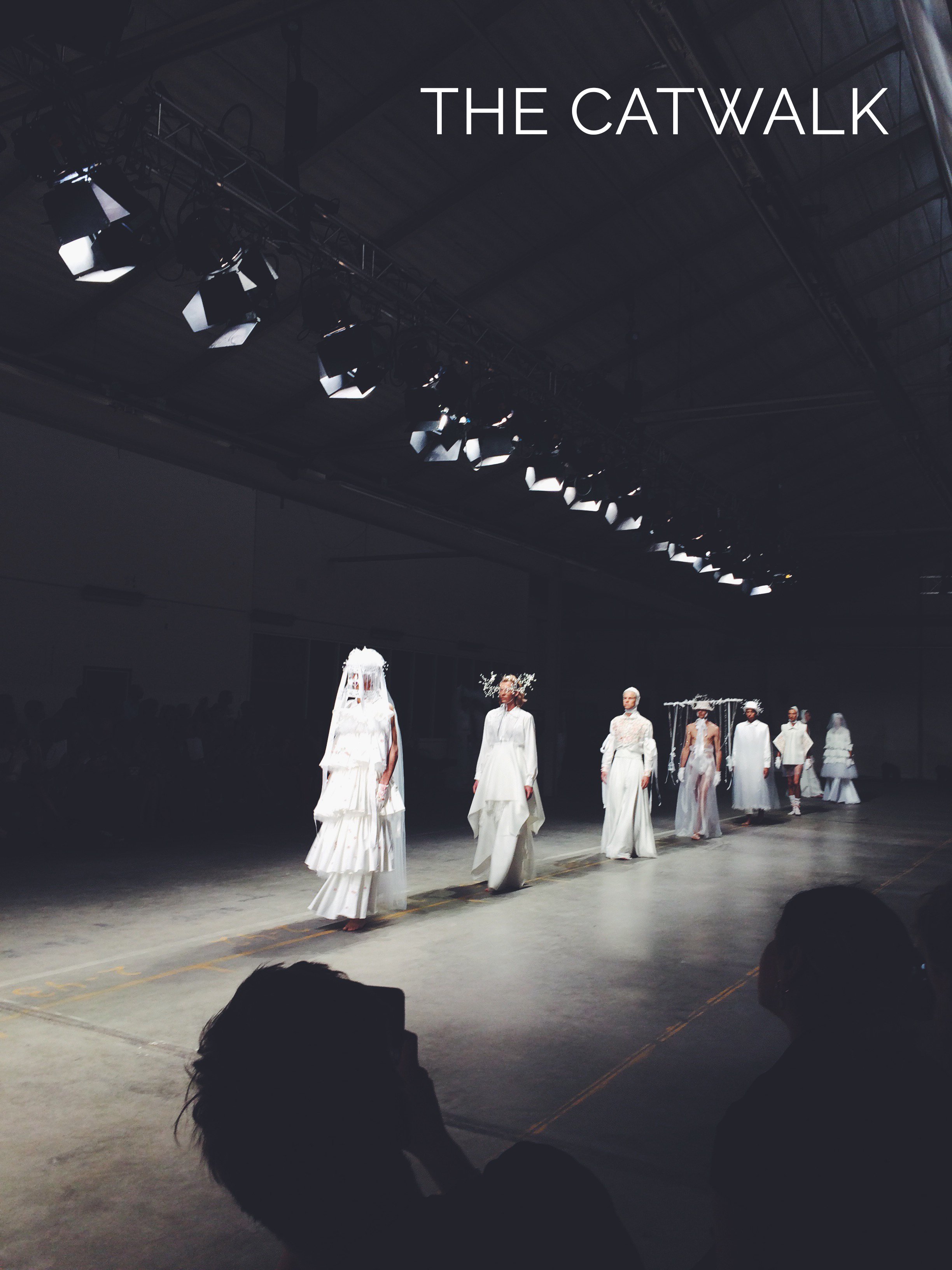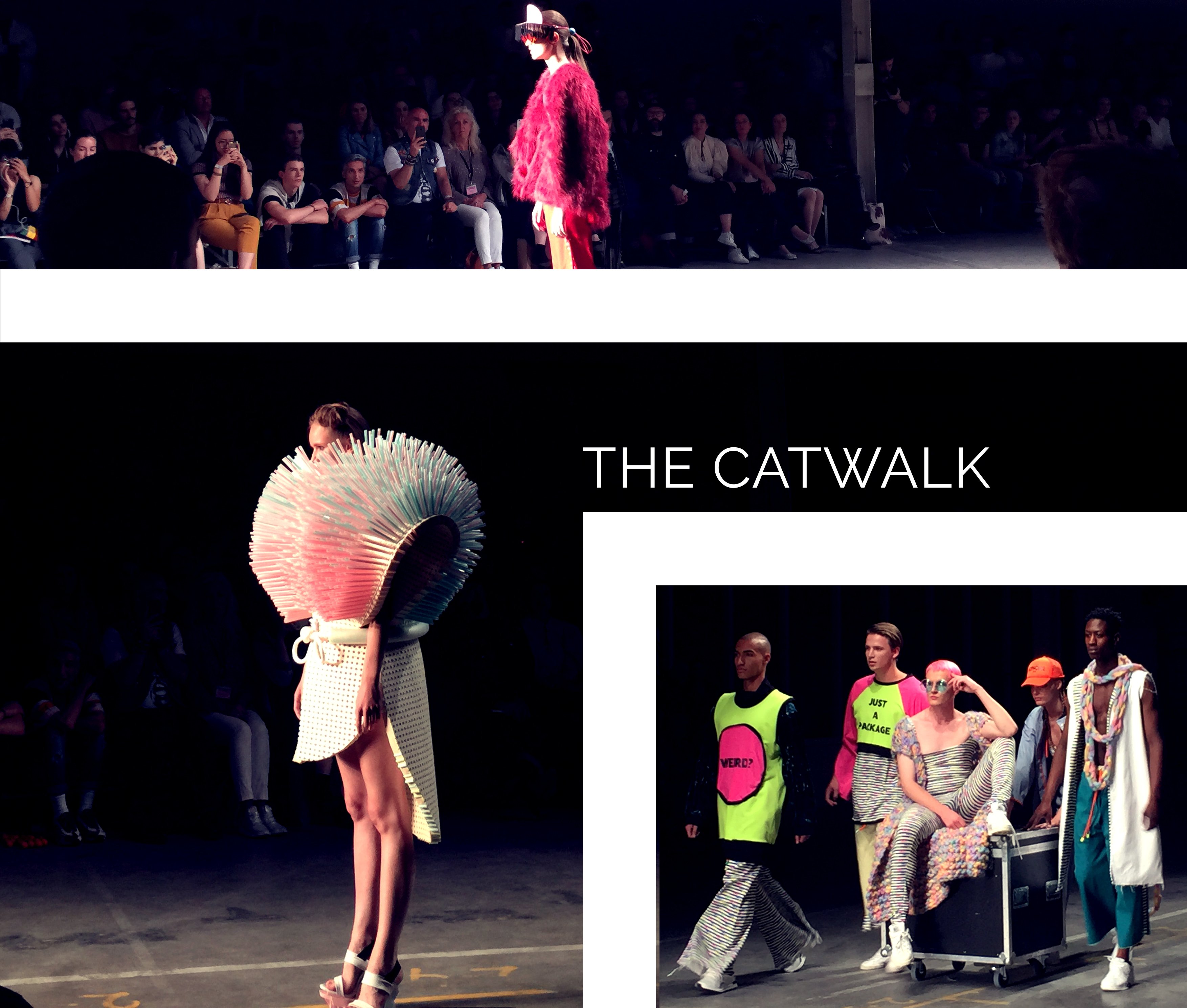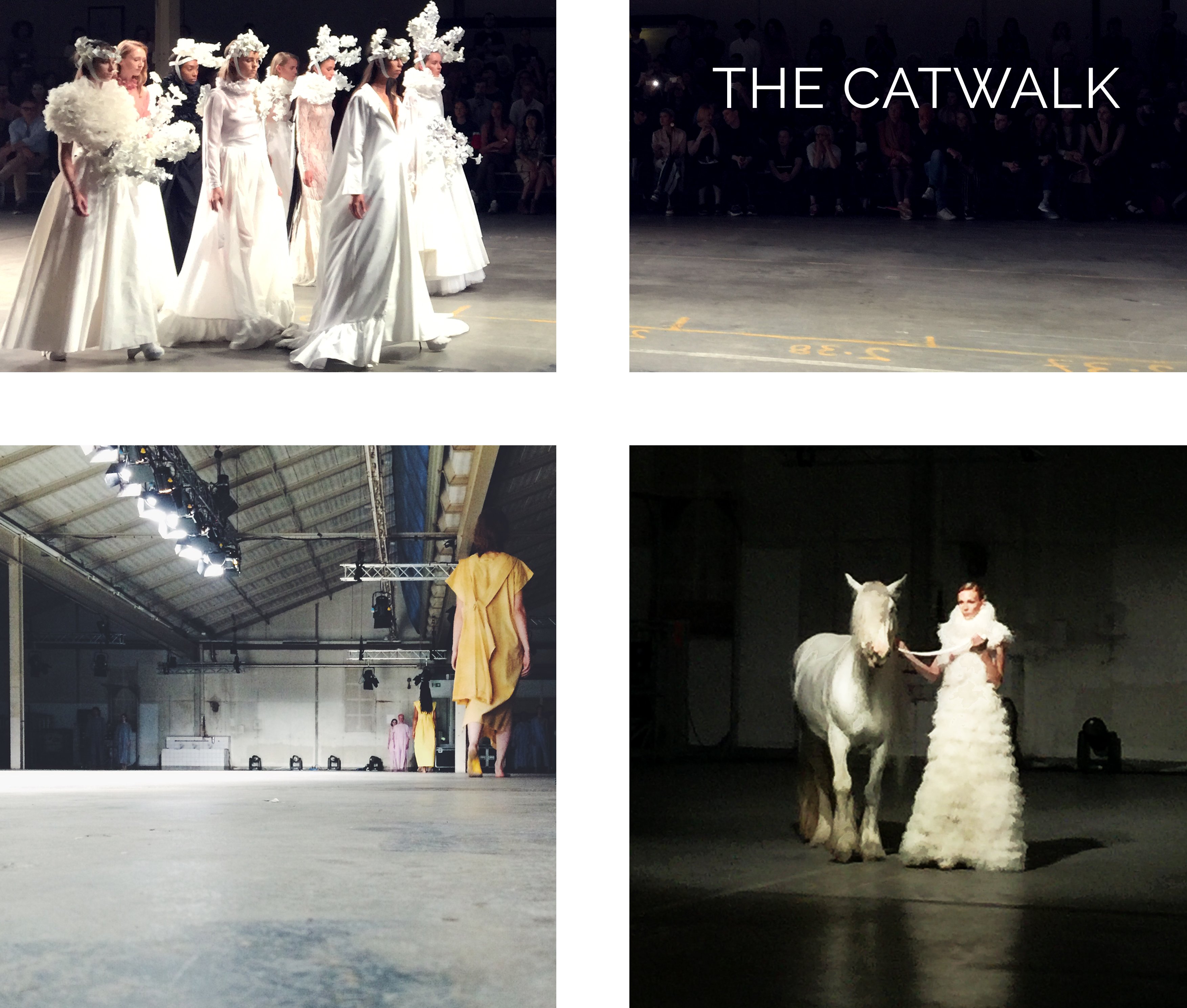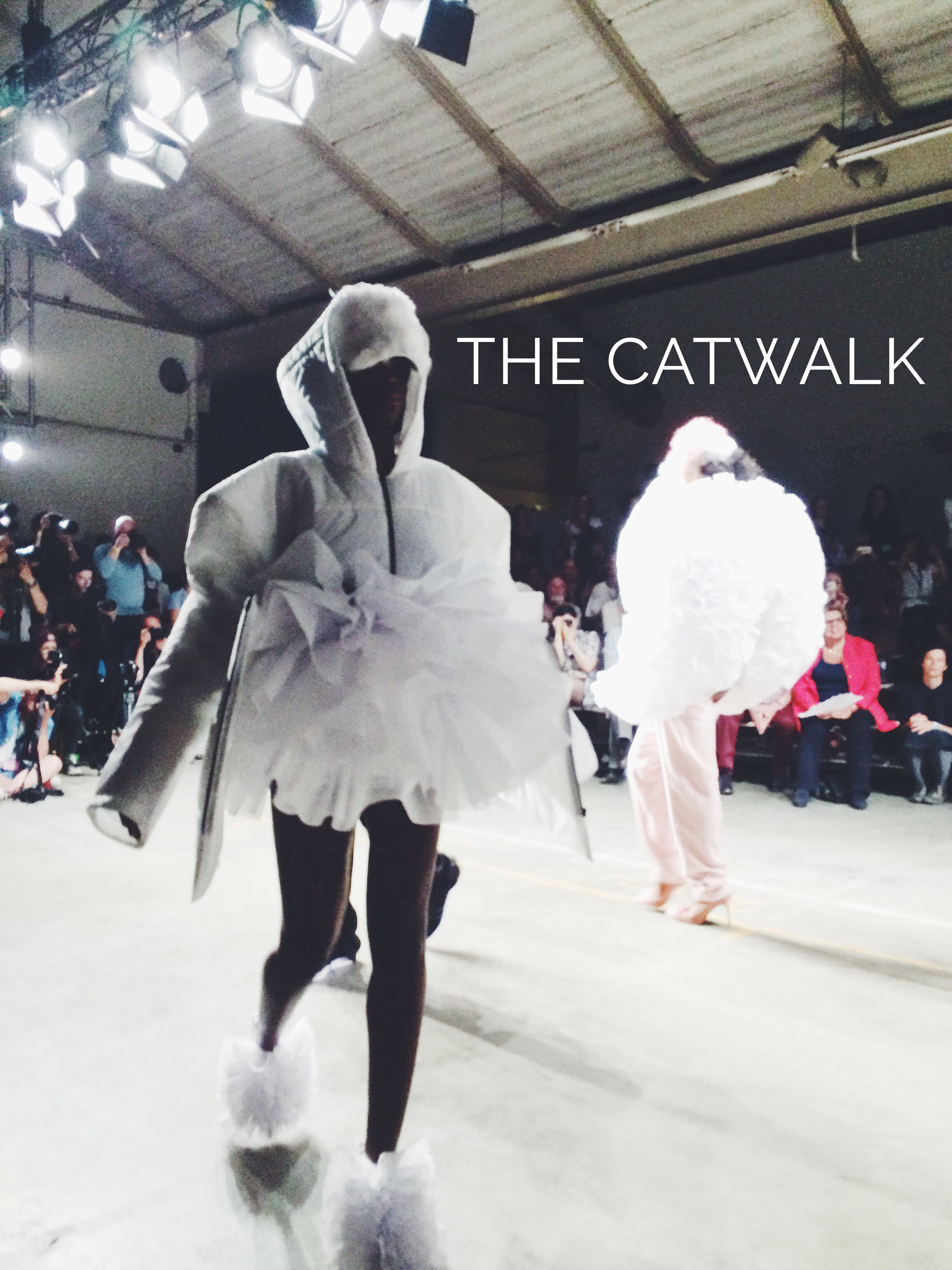 ADAM BYSTRZYCKI: SOPHISTICATED INSURGENCE
Of all the designers on the second night of catwalks, one stood out for the Guru. She already had her eye on him (I'm not going to lie) as, this Polish designer showed quite a talent and interest to work with fur. Nevertheless, it was such a lovely surprise to meet him in person during the festival. Based in London, Adam is quite an old soul. Most of his collections are inspired in vintage paraphernalia. His latest collection ANGEL proved to include big icons of the 90's (oh, delight!) like Madonna's blond ambition corsets and merchandise.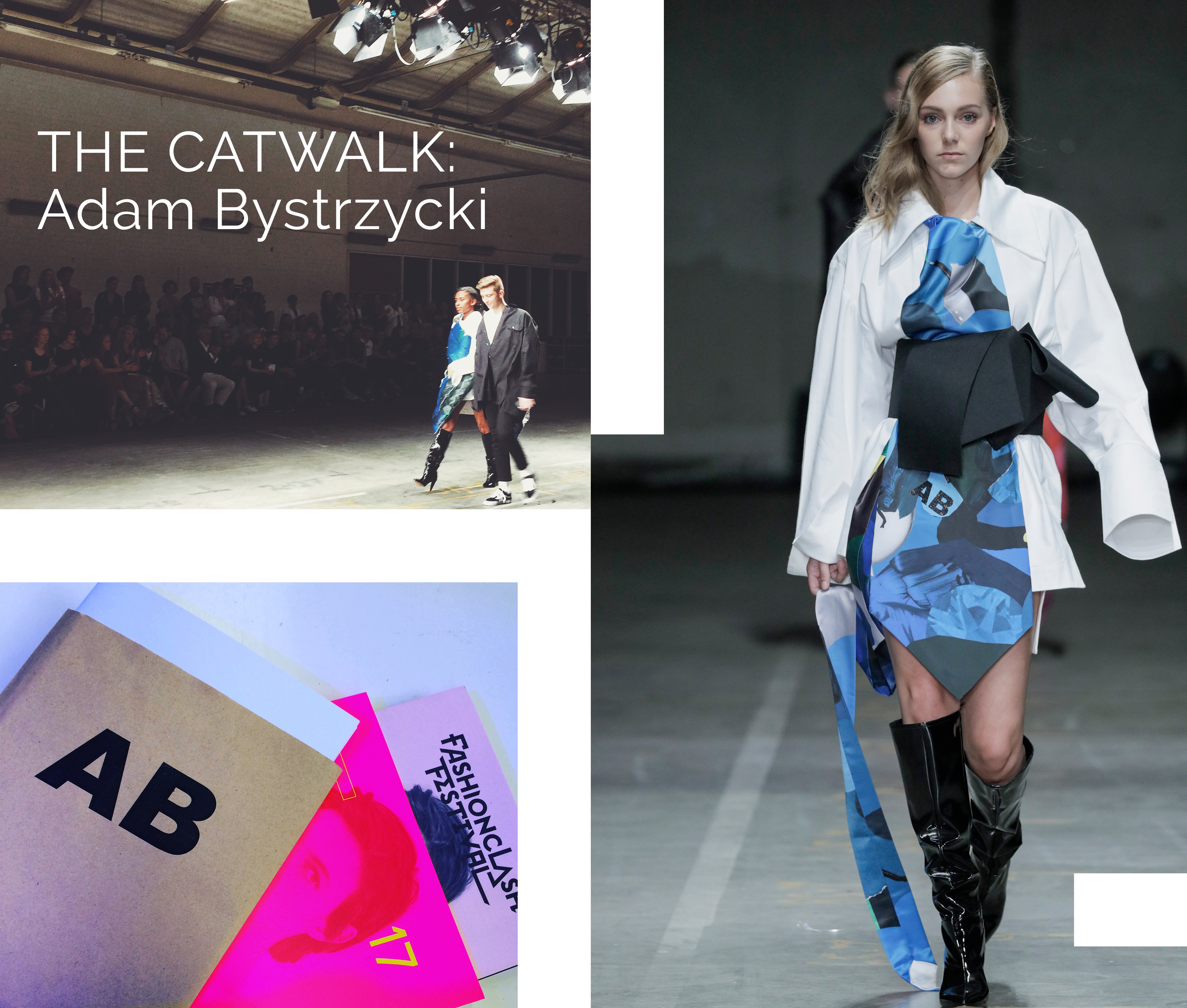 Adam Bystrzycki likes to provoke but he does it with so much elegance and sophistication that people don't only not mind but come back asking for more. The Guru was under a spell while listening to this soft-spoken Pole reminiscing about his early years in his birth country, watching his mum and grandma using fur coats as a daily, comforting cover from the harsh, Polish winters. Later on, he did the same. He would wear those same coats, not only for the physical characteristics of the material but also, because of the provocative and symbolic content that fur entails: to make a statement, to show the qualities and beauty of it and to provoke a reaction.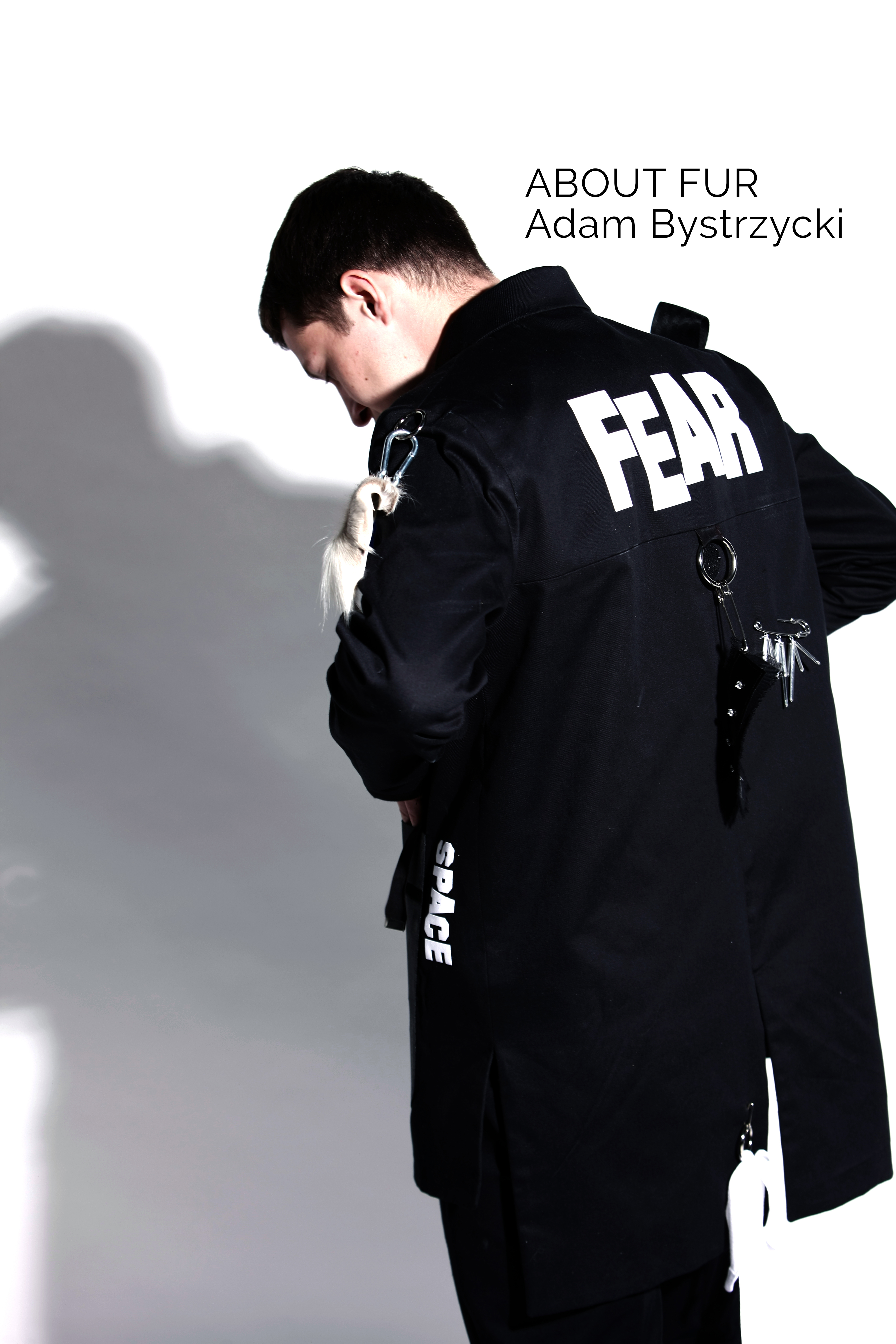 He replied to every single question of the Fur Guru (you know she's nosey) with utmost patience and politeness (the perfect man!). Among which was the question of why he finds fur so inspiring and what message he believes he puts across when using it:
"I find fur inspiring because it is a beautiful material which, compared to other textiles, gives unique movement. I also think that wearing real fur gives a strong sense of luxury; it has something bohemian and also makes you feel very extravagant.
The reason why I have used real fur in my work is that it triggers different reactions: some people love it, and some don't. Real fur has a stigma attached to it. I grew up surrounded by women wearing real fur in my family, making it a great inspiration to use it in my work."
If you want to find out more about Adam, have a look at his compelling images in Instagram @adambystrzycki
I left him celebrating his successful catwalk show and went to bed. I was going to have a busy next day so I decided to finish my glass of Albarino and get ready for an exciting new adventure in Maastricht.
THE MARKET: PLAYING WITH MEANING, PLAYING WITH WORDS
Like everything in this festival, the market was sort of a visual tongue twister. Don't get me wrong, you could also find the beautiful bag here and the high-chic ring there but, mainly, the designers offered a range of objects that would entail food for thought and a bit of deep observation to get the idea or purpose of their stuff. The Guru was particularly impressed by Belgian designer Neri de Meester (branded Under Thy Skin) and the range of furry toys from Biyuan Zhang fashion accessories from UK. You thought you were looking at nice lingerie but, looking closer, there was a hidden message that would talk about deeper topics (like, how a woman perceives herself with or without stretch marks, hair or any other physical feature).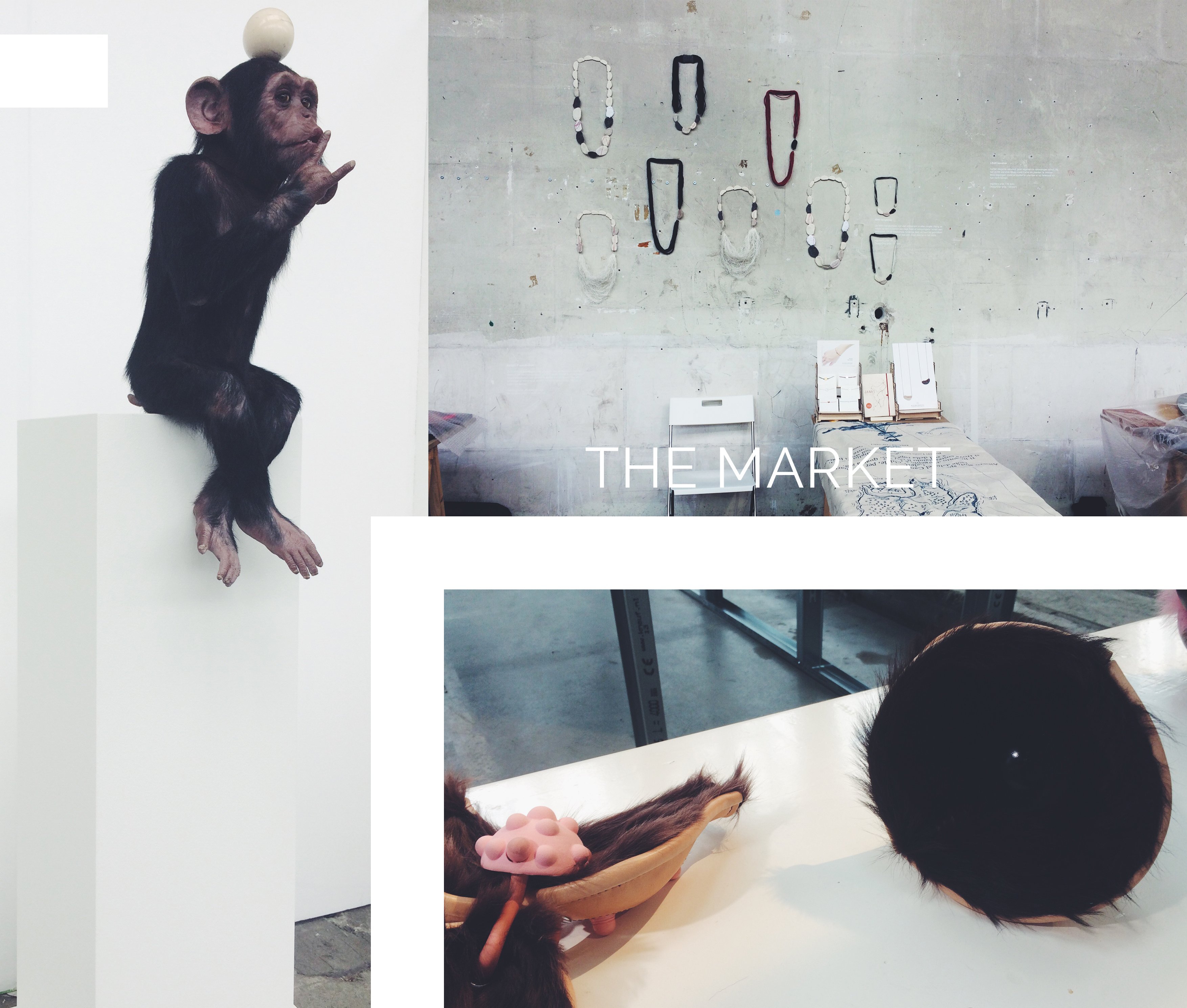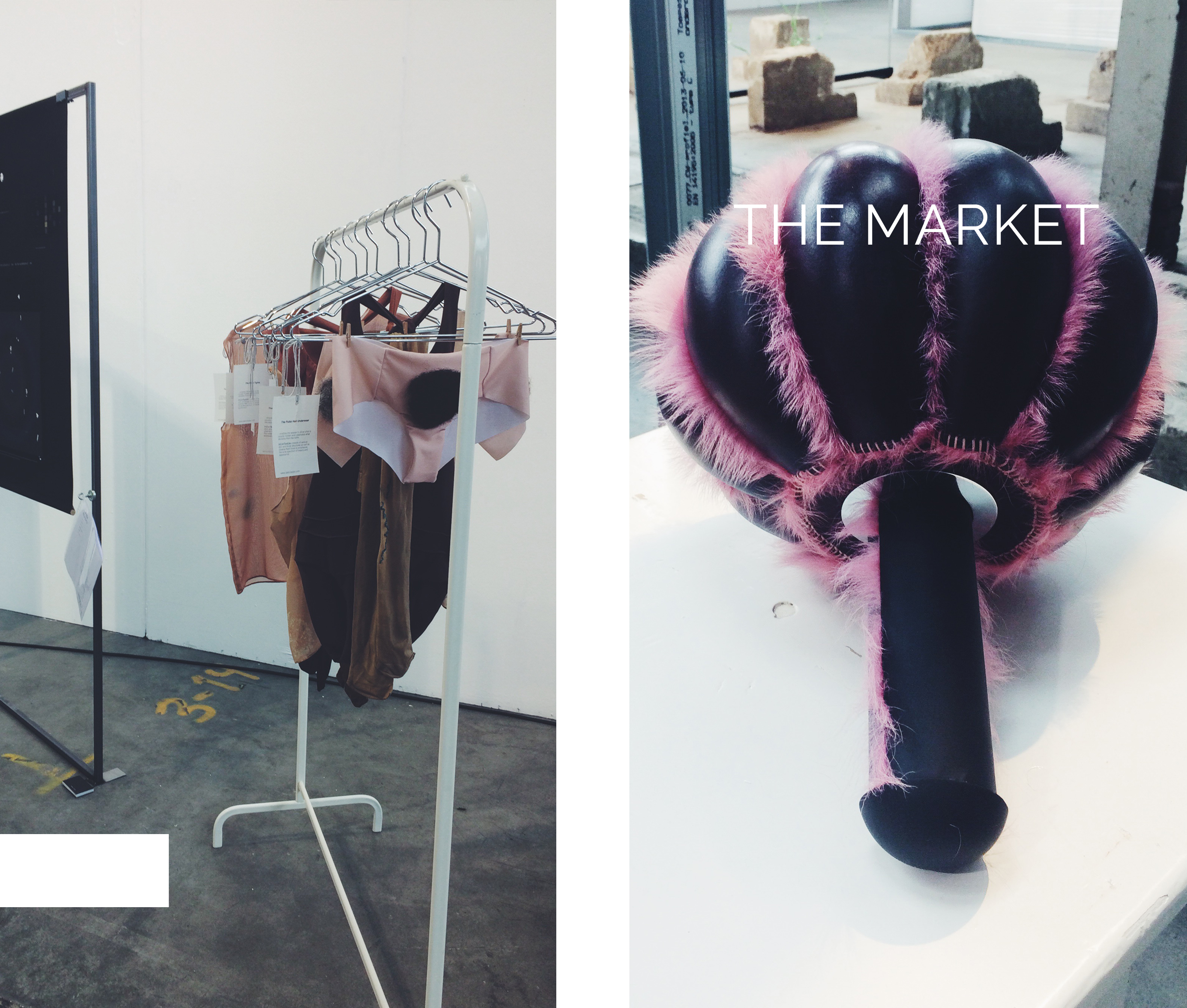 This was the last part of my visit to the Netherlands. My train was waiting and sadly, I left behind the beautiful town of Maastricht. The Guru grabbed a coffee and hopped in the train. She had a bag full of pictures, market ware she couldn't resist to buy and a lot of great memories to share with all of you my darlings! Good-bye Maastricht, good-bye Amsterdam, good-bye Netherlands; you have been unforgettably welcoming and fun. Don't fear, the Guru promises to come back very soon.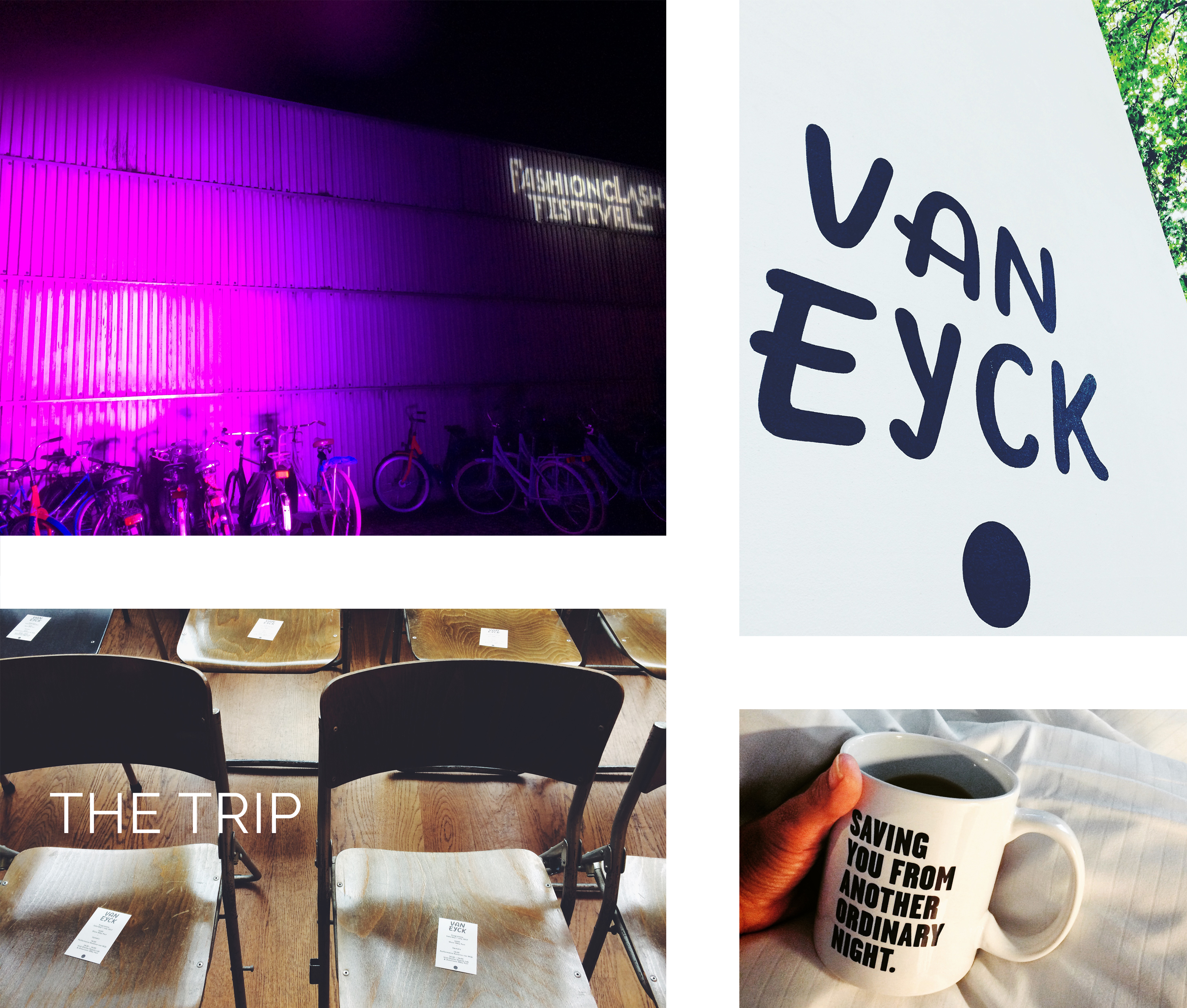 P.S. Next week, the Guru is on holidays (hurray!!!!) but don't gloom my preciouses! Keep an eye on her Instagram feed @furgurusnaps for updates, travel tips and charming images of the outdoors and alfresco galore. It's going to be wild!
The Fur Guru xx