Fur and shearling once again took centre stage across all four leading AW17 fashion weeks, with an estimated 67% of collections overall featuring the natural materials. This compares with last year's AW collections when fur was seen in around 70% of all collections. Fur use is holding up despite pressure from animal rights organisations.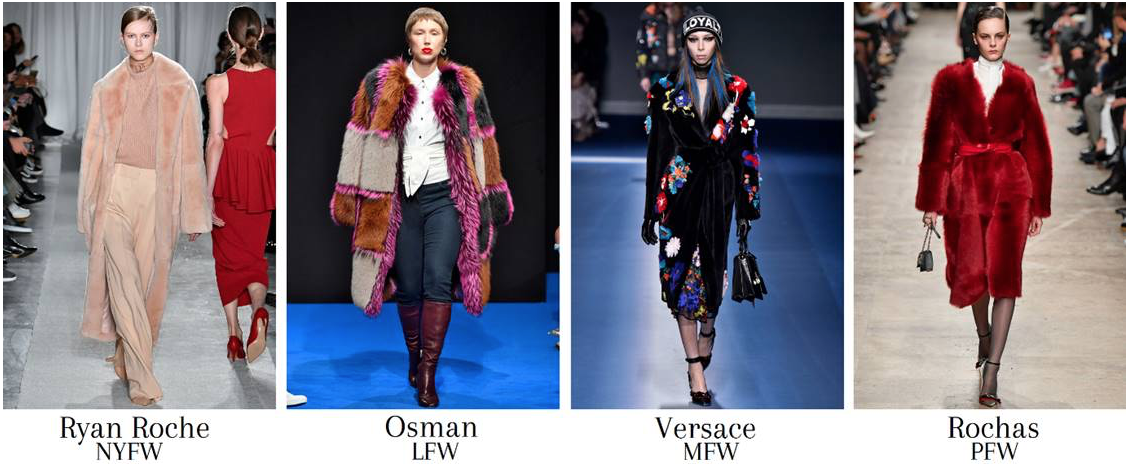 From the oversized 70s throwback coats of Marc Jacobs to the soft longline pieces from Ryan Roche, New York Fashion Week saw 90 of 146 designers (62%) craft beautiful fur pieces. Oscar De La Renta delivered understated elegance with full midnight black fur skirts, whilst Diane Von Furstenberg crafted beautiful Bohemian coats in eye-popping colours.
Despite less fur on show in London than in Paris, Milan and New York, the use of fur on London's runways is gradually rising. An estimated 34 of the 62 designers (55%) incorporated fur and shearling into their collections, an increase on the 47% recorded last year.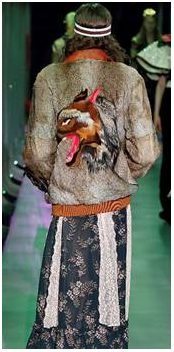 Christopher Kane turned heads this year with his fur-lined Crocs,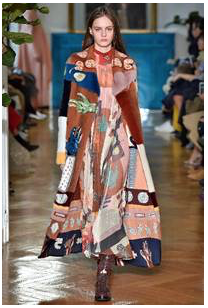 using the vilified foam clogs to grab media attention. Other stand-out pieces included JW Anderson mammoth-esque oversized coats and the beautiful clashing patchworks of Osman.
Fur and shearling made their biggest impact during Milan Fashion Week, with 50 of the 63 designers (79%) using the natural material. On the runways was everything from Gucci's 70s inspired bomber jackets complete with large full fur motifs to Versace's black bathrobe style coats adorned in oriental fur flowers. Moschino turned heads with brilliantly oversized coats in natural fur colours.
Paris, the last stop in the AW collections, saw fur use almost on a par with the Italian shows; 60 of the 86 designers (70 %) chose to include fur or shearling. Chloé and Rochas delivered a quiet elegance with their deep red and pale cream numbers, whilst Céline and Lanvin used natural fur colours to create stand out coats. Valentino clearly kept an eye on the competition treating audiences to a stunning multi-coloured coat with an intricate patchwork detail that delivered a wealth of depth and interest to the garment.
Mark Oaten, CEO of International Fur Federation (IFF), said: "It's incredibly heartening to see the amount of fur on the runways holding firm. In fact designers are using fur in ever more creative ways and giving consumers gorgeous, versatile pieces to wear on every sort of occasion, and across the seasons. And all of this comes at a time when the animal rights groups are promoting their agenda like never before. It just goes to show how resilient our industry is and how consumers are exercising their right to choose what they want to wear, not what they are told to wear."