"Women belong in all places where decisions are being made… It shouldn't be that women are the exception."
– Ruth Bader Ginsburg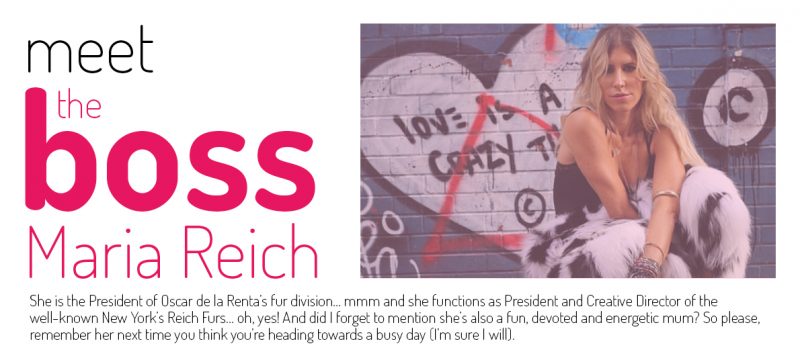 How exciting! The Guru can't believe she has been so lucky to start this new venture with one of the best representatives of female triumph: Maria Reich AKA the Fur Boss (I'm pinching myself right now). The Fur Guru was pretty curious to find out how Maria can play so many roles throughout the day and still look glorious at the end of it.   She is the President of Oscar de la Renta's fur division… mmm and she functions as President and Creative Director of the well-known New York's Reich Furs… oh, yes! And did I forget to mention she's also a fun, devoted and energetic mum? So please, remember her next time you think you're heading towards a busy day (I'm sure I will).
The Guru is very much about talking of leisure but, do not get confused, she's also a multi-functional creature which can become sometimes overwhelmed with this female, "natural" ability of multi-tasking. You certainly can learn a lot about the real meaning of the word success with Maria. Her resilient attitude, work ethic and always curious personality are fundamental elements to evolve and succeed in such a competitive environment as fashion. Not only that; she is also an approachable, friendly gal always open to supporting new talents, good causes and give back some of the blessings she has received.  She very much epitomises what this Guru likes so much: women empowerment.
We all ask you Maria to teach us a few of your magic tricks because, lets be honest, we need more like you on this planet earth. Now my dearests, get ready and please don't be "fashionably late" (it doesn't apply today) because this meeting is with the one and only Maria Reich. Ladies and gentlemen meet the boss:
Even though Maria is well known in the fur industry for her accomplishments, she considers herself a student. Constantly schooled by her children, the people that surrounds her and industry leaders. The Fur Boss is in the constant search of ways to be inspired, all so that she becomes an inspiration to others. This business woman is humbled, generous of spirit and resilient.  She moves through her daily life with three basic values: gratitude, authenticity and daring of fear. Maria told the Guru that she has the habit of sitting at the kitchen table each day and write on a piece of paper with her sons what they are grateful for, then add it to their Gratitude Jar. "Even on the worst days, taking that time to show appreciation for life and the people in it is what truly keeps me going. There are so many hurdles, but when you have gratitude it reminds you that the struggles are worth it." She applies authenticity by "being real" as she believes that's what entices people to her. What makes them trust and believe in her. She says, "There is nothing more exhausting than trying to be something you're not, plus everyone only wants the real deal."  To be a business woman is always related to daring to be yourself. The Fur Boss is the living example of this theory and advises to allow yourself to let go of it: "Letting go of fear brings peace of mind. You just have to trust in yourself and the process."
Her welcoming and energetic personality made the Guru forget for a moment about all the struggles Maria should have had faced as a woman to be in the place where she is today. But she found out that the Fur Boss has a very clever way to approach these endeavours (pay close attention and repeat this to yourselves ladies!): "Keeping the static out of my being. There is no "I can't," or "no time." There is only "I will." I remind myself that I can ALWAYS make it work and that's because I have to."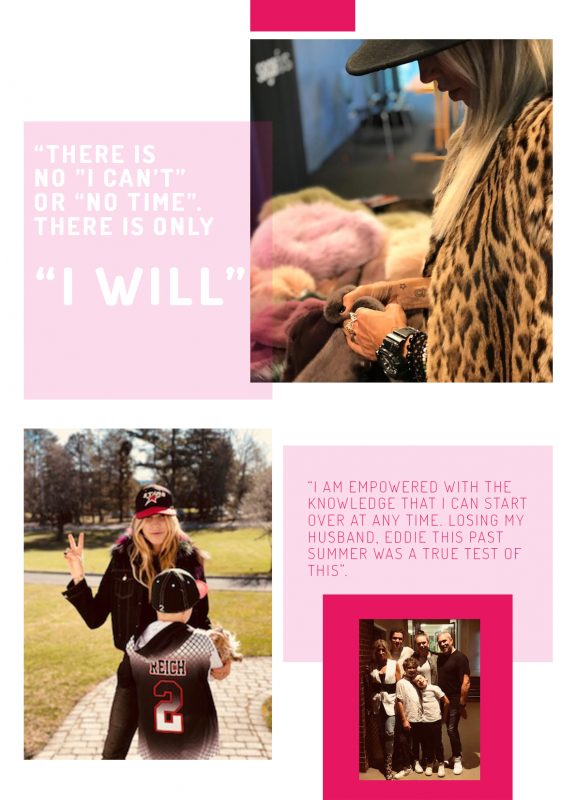 It might have been this approach to confronting challenges that made her not only survive but outstand in her young years at her career: "At the beginning of my career, one of my biggest challenges was staying authentic and not allowing anyone to define who I was. The start of anyone's career is what shapes them and I had to keep myself in check, while also being unapologetic for my hustle."
The Guru wonders how this woman keeps going on (and certainly with so much energy and positive vibes)?:  "There was never an option for me to not continue on. I admire anyone who can walk through life with strength and grace, people who can handle their business, even through the toughest of times or through adversity. I am empowered with the knowledge that I can start over at any time. Losing my husband, Eddie this past summer was a true test of this. I've had to navigate it for myself, my two young sons and our family business. I am still figuring it out, but I am doing so with grace" she says.
Now, lets not pretend my dear followers, we also know that this Guru was very curious about how this lady got to the high ranks in fashion. The explanation of how and when she started working at De La Renta's label (aside from the obvious and constant hard work behind every single achievement in her life) was straight to the point and sincere: "When Mr. De La Renta called, I showed up. It was an honour of a lifetime."
During my research about Maria's work and achievements I bumped into a part of this lady's life I didn't know about. Maria is also about being thankful with life and giving back to other people. She has been actively supporting charities such as National MS Society. Nowadays, she is concentrating in one very close to her heart: "The Edward Reich Memorial Fund, established by the FIT Alumni Association. Eddie was such a gift to the fur industry, so with this great loss, it only feels right to support the future of the industry in his honour."
The Fur Boss also left this Guru with a big lesson on how to break boundaries for other women through the exercise of her daily activity. Maria told me she is an empowered person setting her own standards. She deals with obstacles in her life not so much with "what happened" but with a "how I will handle it" attitude. She refuses to operate from fear and it's her constant task to extinguish the cloud of doubt put on her by others. She told this writer: "There are always many doors to choose from in life. I've learned my biggest competition in life is myself. Breaking boundaries? What boundaries?" (You go girl!!!!)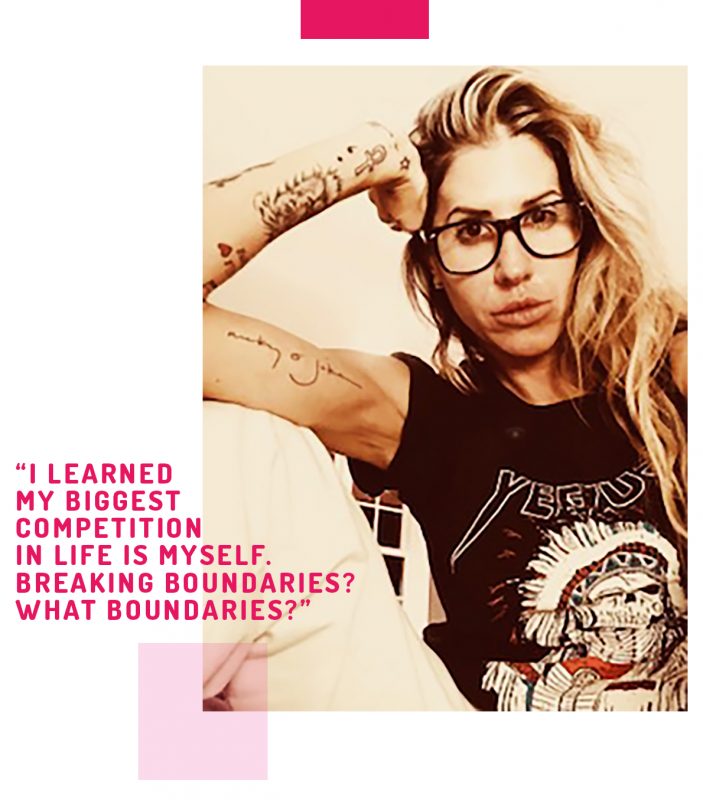 Well, you know, I love her approach but the Guru can still perceive them (those boundaries I mean) and one of them is lived by the Fur Boss herself, every day. She works in an industry predominantly headed by men so, in order to learn how to be more fearless I asked her what kind of changes are necessary to allow more women to be in charge: "I wish for anyone to be authentic and to be unapologetic in life and to seek what they believe they deserve. Women need to stop saying "I'm sorry" and start going after what is theirs. I hope that women will support each other's greatness. Real queens fix each other's crowns."
The Fur Guru had a lot of questions but she decided to give the Boss a break and let her continue with her very busy life. Oh! One last question J (and probably one of the most relevant ones): How does the Fur Boss envisage the future of women in fashion? "I see more and more women owning their power and becoming the bosses they were meant to be, in fashion and in all other facets as well. Hustle hard and the rest will come naturally."
At the end of this interview the Fur Guru understood why Maria is in the place where she is today. Her astonishing spirit and decisiveness have provided her with a solid career. She has opened paths to other women not only by inspiring them to aim for the sky but also because of her admiration and respect for others which continues to make the Fur Boss move forward and give support to her fellow sisters. Spirited and relentless, Maria Reich represents the fight and the achievement, the hard work and the reward.
If you want to learn more about Maria's successful career or buy some of her gorgeous outfits go to: https://mariareich.nyc/
To follow her steps and whereabouts follow her in Instagram @mariareichnyc
Learn about her interests and daily projects in her FB account at Maria Reich- The Fur Boss
P.S. Dear readers, keep up with the girls next week. Meet Catja Beck-Berge; a lady that has taken the lead in the renown creative hub of Kopenhagen Fur Studio. The furrier will talk to this Guru about how she has been setting example for all of us of how to be successful while keeping it cool. Until then, keep safe.
The Fur Guru xx