Kelly Killoren Bensimon has launched her EnVille collection with Pologeorgis, her second collaboration with the brand. Getting into the luxury fashion game, we have all of the exclusives behind Kelly's inspiration behind the collection, why fur was a coherent choice of material to use, how Kelly's past experiences reflected her creative process and much more. Looking for inspiration on how to keep yourself warm this winter? Have a look at the EnVille collection below.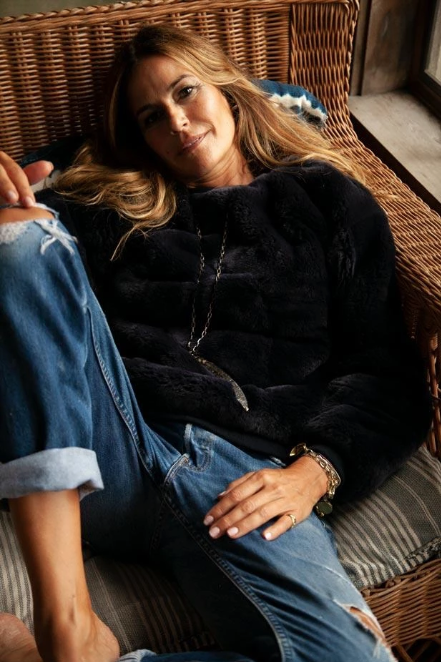 What made you start getting involved in designing? Is this something you've always had a passion for?
As an Editor of several magazines, and after working in the fashion industry in different capacities for a few decades, I've been so fortunate to be privy to the best of the best. I'm not a designer, I'm a synthesizer of information. I recognize what I need in my lifestyle, and I've been fortunate enough to observe how the most influential tastemakers have dressed and dress. My personal style of local relaxed lifestyle is in style, finally. My go to look is easy, accessible, and playful, yet rooted in quality. I like to feel like I fit in wherever I go – that's the DNA of EnVille by Kelly Killoren Bensimon for Pologeorgis.
How did the collaboration with Nick Pologeorgis come about?
I met Nick Pologeorgis through my friend designer Jill Stuart. I wanted to restructure one of my Mother's fur coats. When I realized all of the possibilities, I asked Nick to put mink on a pair of my slippers. I wanted to create an object for my daughter's school fair that would generate revenue for the school. I wanted something unique, and one of a kind. We ended up selling them off my Instagram hardwall to customers who were DM'ing me and literally trying to contact me all over my social media. Everyone wanted these one of a kind slippers. The demand was overwhelming. Not only were the slippers unique, but also the quality associated with Pologeorgis is incredible. It's been an unbelievable partnership which I'm grateful for. It's one thing to buy a beautiful outerwear piece, it' s a whole different mindset when you are the inspiration behind it.
What was your inspiration behind this collection?
My personal style inspiration has always been rooted in traditional luxury sportswear: nautical, equestrian, and vacation destination. I'm a curious person who has a lot of interests, and that leads to a lot of wardrobe changes. I learned to pack in a savvy way when I was a model, and always have a few items that could go anywhere: an oversized blazer, trend driven denim jeans, leather leggings, oversized fisherman sweater, ballet flats, high boots, long sleeve knit dress, hoop earrings, Manolo Blahnik patent pumps, Barbor coat, fur vest, a crisp white shirt, and a great handbag. I've always resorted to a classic look in life and travel – for you never know who you are going to meet, or what you are going to be doing. I just want to be prepared and to be a 'go anywhere kind of girl.' I never wanted to feel like I was out of place. In Europe, a weekend look has a very specific feel with textures, and an American vibe means the colour ways of a denim wash has to be specific, and the colour of the hunter green has to be just worn just enough. Hubert de Givenchy called American Style 'cool' in the 70s, and he was right.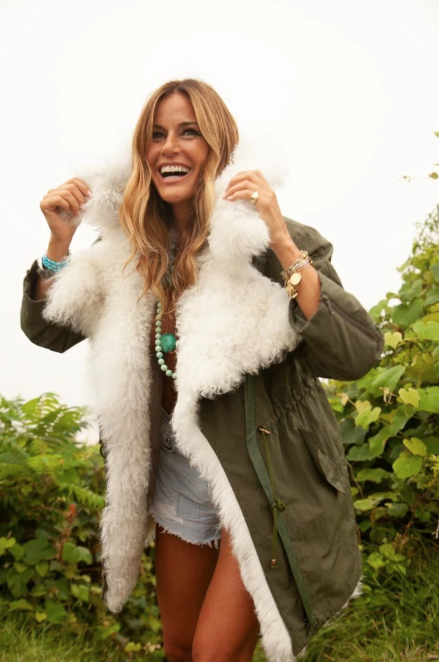 Why did you decide to include fur in your collection?
Fur has been a staple in my wardrobe since I was young. I was raised in Illinois where the temperatures are low, and the snowbanks are high. I have worn my fur in the rain, sleet, and major snow. It's been a sustainable material which I've always had in my wardrobe. I still wear my mom's minks today. My mindset focuses on wearing resources that are renewable, and biodegradable (plants, animals) rather than non-renewable and not biodegradable-notably plastics and petroleum-based plastics found everywhere from clothing to packaging… Faux fur garments end up in a landfill, just like petroleum based plastic bags. So, you have to wait around 1,000 years for it to decompose. Real fur biodegrades in less than a year. Faux fur has been researched that it is not great for our planet. Including fur in my outerwear collection has become a new conversation which I'm more than interested in. It's important in all business to be open and aware of all opinions.
What do you think as a material fur can add to a design that other materials simply couldn't?
Fur, to me, has incredible texture and depth. I don't see real fur as better than faux fur, it's just two different materials. Aesthetically, I've loved oversized faux fur designs from the 90s. I used to wear this warm Teddy Bear coat which had two Teddy Bears called the "manteau Teddy Bear' by French designer, Castelbajac. And, I was taken with the design aesthetic of the raccoon fur trench coat for men from 1928. I like the fact that we can use textures to navigate trends and style. I also like fur accessories which can speak to trends and be worn by any woman of any size, or age. And, as far as durability; real fur is reliable.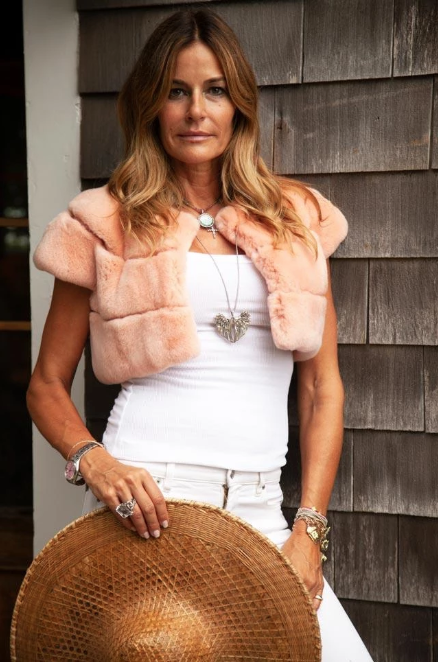 What is your favourite piece that you've designed?
My favourite piece I have designed is the oversized sweatshirt showcased in my first collection; oversized 80s vibe in a muted grey, spoke to that boyfriend style sweatshirt, which I love. I've always loved and worn sweatshirts. I wanted to design a sweatshirt that could be worn with trousers or upgrade denim. In my current collection, back by popular demand, I've offered it in two different colour ways; snow white and midnight navy.
You're an author, socialite, model, editor, former cast member of "The Real Housewives of New York City," and a real estate salesperson on the Holly Parker Team at Douglas Elliman. That's a lot of hats to wear and a lot of expertise. Do you draw on any of these past experiences when you are in your creative process?
I have written four anthologies for Assouline, started two magazines, and created over seven jewellery lines that were sold in Bergdorf Goodman and on HSN. My forte is to fill voids. I design to make others look and feel better. I created a home line specifically, because as a real estate salesperson, I was looking at these new homes, and realized that staging is a critical vehicle to selling an apartment. So, while I was creating my outer line called EnVille, I created a home collection that spoke to the same palette and environment as my outerwear. Aesthetics are in everything from the way you live to the way you dress. It's important to have parity. The way you posed the question makes it seems like I've done so much, it's all under the same umbrella. I love making people look and feel happy- that's my forte.
I've read that this is your first time designing. What made you want to get into it?
I'm not a designer, I'm a synthesizer. I speak directly to my customers, and they tell me what they like and what they don't like. It's exciting for me that the 14-year-old daughter and the 40-year-old mother like the same pieces from my line. I'm curating traditions and uniforms we have seen before with a nod to local lifestyle. Whether you are going to the movies in East Hampton, on a date in Chicago, or walking around Aspen, I want you to feel good about yourself. Outerwear isn't just to keep you warm, it's a signature to style.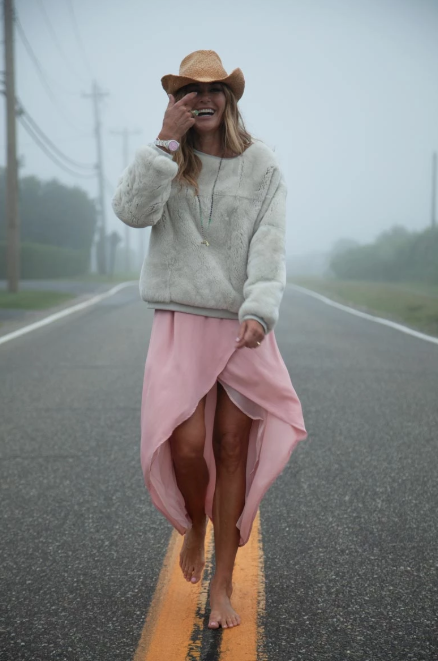 Has designing this collection been encouraging? And would you do it again?
Designing is a very cathartic experience. As a model, I've worked with some of the most prestigious and talented designers in the world. I've had more pins stuck in me during fittings by the Masters of the fashion universe. I've seen so much, and it's fascinating how naive I feel. I have a tremendous amount of humility at this moment of my life. I'm just trying to stay open and positive and let who I am shine through. My father always says, "Do what you love, and the money will come." I love where I am in my life and in this design process.
Fur is a challenge which divides opinion. Some are pro-fur and in favour for sustainability, whereas some are in favour of faux. What would you say to people who are in question?
I've been having this conversation about fur since I was at ELLE Accessories back in 2005. I'm an advocate of individuals speaking their truth; however, I'm not an advocate of people hurting others to have their voice heard. We live in a divided society where people's opinions are supposed to really matter. I wear fur, I make, and I sell fur and shearling outerwear. I would never aggress anyone who did something I did not agree with. There is a place for every opinion and I appreciate how the conversation has opened up to a more thoughtful discussion of how fur is manufactured. Knowledge is powerful. This is all a learning curve, and we are all on this same planet trying to preserve our future. Please feel free to send me any facts or information so I can hear your opinion. I appreciate you asking me this hot button question. And, thank for taking the time to ask me about what I love doing- creating ways for people to live and be happier- that's EnVille.