"You have the power to read in-between lines and look through people… that's a hitch that will haunt you for the rest of your life."
– The Guru's dad regular quote whenever he encountered the threat of her questioning the real meaning of life… words, rules, the system or people's real intentions.
And so, it is my darling readers. My father was right; it keeps haunting me. But, it's good to know I'm not alone in this world. Oh no (no, NO!). Not under any circumstances is this Guru looking for a pitiful gaze from the reader while reading this post. Let me underline; my father also recognized it was power, painful and all but, still power. Why exactly is this Guru writing about advantages that turn on us and make our lives so much harder and about how life sometimes turn to be so indescribably unfair? Yes, you know: the "too sympathetic, too good for this world" kind of people. The geniuses that died in anonymity, the loyal and caring wives that get betrayed, the hard-working and outstandingly bright ones that never managed to accomplish the dream, terrified children separated from their parents because of political agendas, abuse of power, corruption… and so on. So, what element of life's mechanism isn't working properly that makes that thing that everybody calls "karma", fate, luck, fairness or justice not appearing to apply in most occasions? And why am I questioning it now?
I just left the cinema after watching McQueen's self-titled documentary. Yes, it is incredibly inspiring and touching but, it also left this Guru troubled…
Who doesn't remember Alexander McQueen's nonconformist 'Eclect Dissect' for Givenchy Haute Couture in 1997 and its lush mix of fox fur and leather, the felt farewell for his dearest friend Isabella Bow in 'Bleu Dame' in 2008 and its intricate patterns made with mink? Or his last masterpiece 'Plato's Atlantis' SS Collection in 2010? Since his early stages Lee McQueen would constantly question, surprise, refute and sometimes even insult. He was the master of reaction and his constant for every single one of his catwalks and collections was to awake an emotion, to remind us of the true human side that we sometimes seem to forget. That was "doing his job properly". His daring approach to style would make him the "bad boy of fashion". He would continuously bend and most times break rules and he would always be expecting a reaction. But more importantly, he would never follow statutes because of fear. He was a revolutionary of shape, colour and textures but, for this writer, his true magic resided on his ability to remind us of our brightest but also darkest sides of humanity.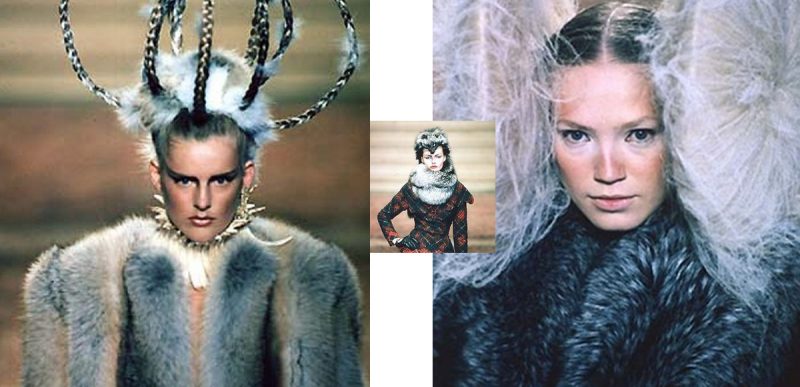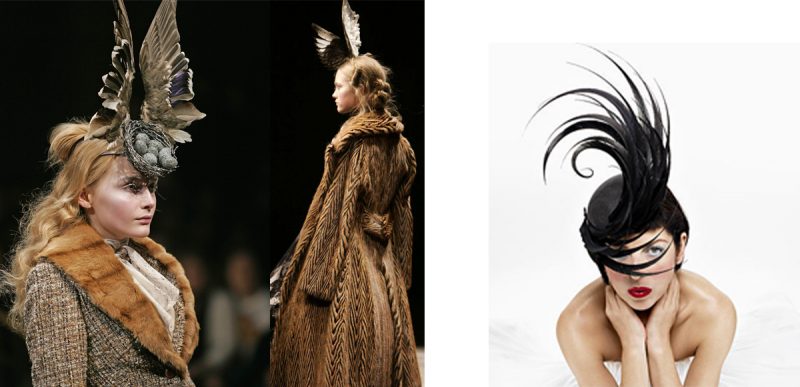 Last night, while watching his catwalks on the screen, I read in between the lines and shapes of his designs, the horrors we confront nowadays as individuals, as societies and as countries. All these dreads are just a consequence of our fears; we are not prepared to question, to confront or to react. And for this Guru, that was exactly his staple: he would not be ashamed to look at the mistakes, the repulsive, the scary and use it as stimulus to create a better world.
McQueen was gutsy and through his work he was constantly inviting us to do the same. In his collections, he reflected his Scottish background (with wars, blood and all) at Highland Rape AW 1995. Through the use of tartan, fox fur and latex he would present the horrors of the Anglo-Scottish wars. He would make his models look fierce and proud even with ripped clothes because that was the message: reborn, retaliate, DO NOT DARE TO GIVE UP. He would use the abuse he suffered as a child (always painful) as a paradoxical yet powerful engine to feed his hunger to never feel that defenceless again. The extremely stressful, high demanding and contradictory world of fashion (all superficial and very lonely) would also be re-interpreted at his VOSS SS catwalk on 2001. He would use all these meanings and give them new significance: he empowered women with savage looks (as a reflection of his own mother who was a constant inspiration and source of strength for him), he reinstated the truth of beauty by reminding us where it comes from: pure nerve.
Yet, his life finished in a sad and lonely place. Where did all the glory go? And why it wasn't enough if he worked relentlessly for it? His unruly spirit seemed to disappear.
"This doesn't make sense!" thought the Guru. "After so much craft, talent, genius (and yes, loads of money) … what else could you possibly need? When is life going to be a square deal?"
The last part of McQueen's documentary (which refers to his last catwalk 'Plato's Atlantis' SS Collection, 2010) presents a designer that looks very different to the initial South London Lee but, most importantly, sounds very different too: his concerns are about work and loneliness. But, in-between the lines, the Guru could read his past demons overtook his dreams. What once was the defiant force which ignited his outstanding creative subversion won the battle and left him disenchanted. These demons came so many times to bite back that, maybe they convinced him there was no way to change anything, not even with such a gift and talent like his. Matters got worse when he lost his mother, leaving him with a feeling of abandonment and a deep lonesomeness.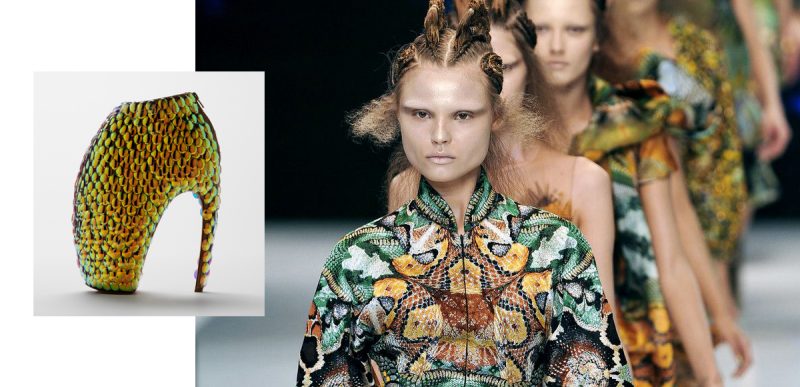 And, my darling readers, isn't it something that happens to us as well? Lately the Guru finds it hard to watch the news. History repeats itself and we don't seem to understand we have to look closely at the nasty mistakes and not do them again (ever again). She questions (lately every day) why, when we hear or look at abuse, despair, deep unfairness (caused by a government or an individual) we don't act straight away and fight back with all our talents and strength? Why we shut up, pretend not to see, keep walking on?
The Guru is all about enjoying life, appreciating the beautiful bits of it but, lately things just look so messed up. McQueen's movie last night was a reminder of how one single human being can change the path of Fashion history. Something so closely related to our presence and mortality, to the fears and dreams that come attached to being human. Is it possible to do the same with social crisis, human maltreatment so common nowadays?
Lee Alexander McQueen was capable of changing the direction and intention of fashion. He reminded us through mesmerizing designs to never dare give up. To continue believing that we can make a change. McQueen's pain might have come because, too much commitment to create change, implies sacrifice. His motto "don't dare to give up" and his intent to continue shifting the world through his activity became,maybe, overwhelming.
But all this might have been just the Guru's hitch (predicted by her father) that came back to haunt her. Maybe she read too much in between lines. The truth is, she liked what she read and, following McQueen's axiom, she will never give up.
This movie was a good lesson, the Guru believes, in how to commit, create positive changes using our talents (whichever and as many as we have) in order to make the world better place to live and fight back unfairness. So, lets start already, we have a lot of work to do out there…
P.S. My darlings, the Guru has found more to see and talk about McQueen's treasures! She found a new fashion corner with archives containing work from the famous couple McQueen- Galliano while working in Givenchy. Stay tunned and expect more wonderful findings from the Guru. Until then, keep safe.