It has become progressively known that wearing fur in seasons other than winter has become a growing phenomenon. With so many fur options that brands can explore with in their collections, I have rounded up which brands have shown fur during RESORT 2020 and Milan Fashion Week Men's Spring/Summer 2020.
RESORT 2020:
Fendi
Resort 2020 has been the first collection designed exclusive of the late Karl Lagerfeld, and as an enormous presence was missing, Silvia Venturini Fendi made sure the runway show delivered. Finding inspiration from John Cassavetes's 80's thriller Gloria, the collection mirrored the main character, Gloria's attributes – a courageous, poise woman and girlfriend of a gangster, who restores herself after helping save a young boy from the mafia whilst on the run. Designer, Emanuel Ungaro, helped construct Gena Rowland 'Gloria's' wardrobe and formed the elegant but seductive character, that Fendi underlines within its collection through their daywear attire.
Many furs were exhibited, taking on Fendi's usual stance of different shapes and patterns. Particularly, much to Fendi's norm, there were consistent use of stripes across the fur garments and bags, pinning the iconic staple that the brand is well-known for. These furs came in colours of a light beige, brown, blue and a scarlet red – all working well, intertwined within the different silhouettes. The notorious 'FF' logo, which fun fact, stands for 'fun fur', was printed prudently all around the pieces which gave a familiar feel of Fendi's chic and sophistication. This print was stapled on the tights of the models, on the skirts, scarfs, bags and garments. With the 'bagginess' feel of the fur garments was where the inspiration of Gloria took effect and gave a sense of 'hood' as they were oversized and loose-fitted. This look was combined and paired with unconfined trousers that touched the floor. Keeping Gloria, the character well and truly the inspiration, the scarlet red, fitted fur garment also resembled the seduction side of the character and played a piercing role in keeping the facet true to the collection.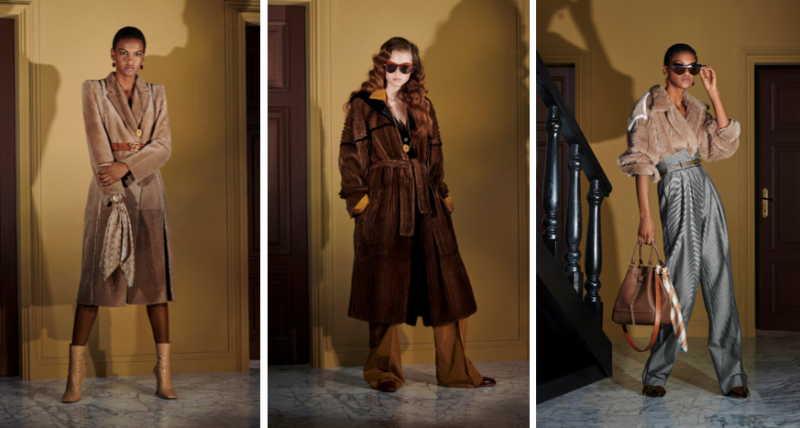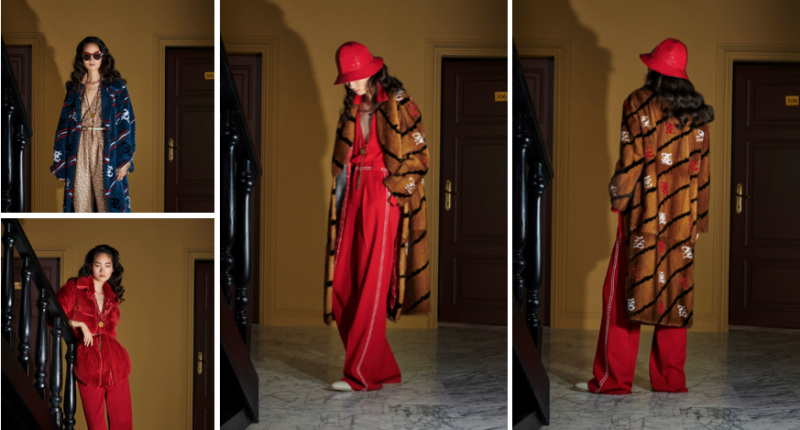 Thome Browne
Thom Browne knows no gender-boundaries. Masculine and feminine exchange has been a prominent attribute within his collections, and Browne has standardised this where he has previously dressed women in suits and men in skirts. This reoccurring theme was still alive in Browne's Resort 2020 collection as he delved into a boundary of masculine and feminine sportswear, blurring the lines of what is seen as the 'norm'. This was also represented within the models, as both the male and females looked almost indistinguishable, symmetrical in their appearance and attire.
Furs were seen and these came in cuff and hem detail in the form of midi/long blazer coats. These fur features added another dimension to the sportswear ensemble as they provided a 3D-like effect where the 'casualness' of the collection suddenly became juxtaposed by the formality of the fur detailing and colour. On the whole, colour scheme had consistency, with neutral colours of grey and black coats, trompe-l'oeil gowns, ankle-length trousers and maxi skirts circulated the sudden burst of pale green, blue, pink and yellow socks, shorts, bags and mini blazer hues. Intriguingly, on the topic of intertwining both genders into the collection, one way Browne clearly achieved this was by bringing the masculinity into his women's looks with ties paired together with high-raised socks and shorts, whilst saying that he "loves what I've done for men, and I really almost want that attention in the same way to the girl as well." He certainly did.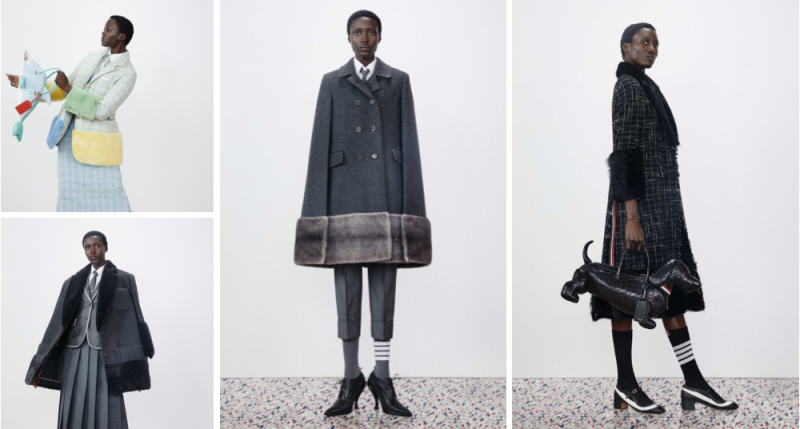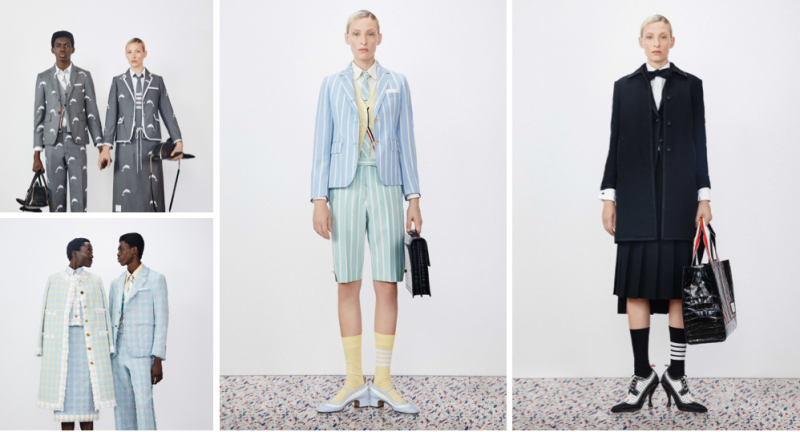 Altuzarra
Joseph Altuzarra's Resort 2020 collection inspiration derives from Robert Altman's 1997 3 Women, where the main narrative focuses on a personality exchange of two very dissimilar characters. Set in an underpopulated Californian desert town, Altuzarra has emulated the earthy-tone and translated it into his collection, where doses of colour interjected in-between the more neutral colours that epitomised Altuzarra's inspiration of the forsaken hoary town. The general aesthetic of the collection follows a rhythm of maxi skirts and dresses (some with a seductive but-not-too-revealing slit on the side), flared trousers, and blazers. This was put together with an exceptional background set of a multi-coloured wall that completely became adjacent to Altuzarra's collection, as there was an eruption of many different colours and shapes.
Two fur looks were also displayed – a taupe fur scarf and a long taupe fur coat. From seeing these fur pieces, and appreciating the inspiration of Altuzarra's collection, it is evident that these two garments could represent the two main characters in Altman's 3 Women – the fur scarf paired with a more revealing dress symbolises Millie who is infatuated with style and is receptive, compared to the fastened fur coat which embodies Pink who is more subjective and closed. Both looks reflect the 'earthy' feel however are centre-focus within the ensemble as they are exceptionally opulent, standing out in an assortment of vivid colours, and different kinds of silhouettes. Altuzarra's other looks formed an unsurpassed configuration where current-signature 'handkerchief dresses', cropped sweater, multiple shapes and designs all alluded to the westernised composition.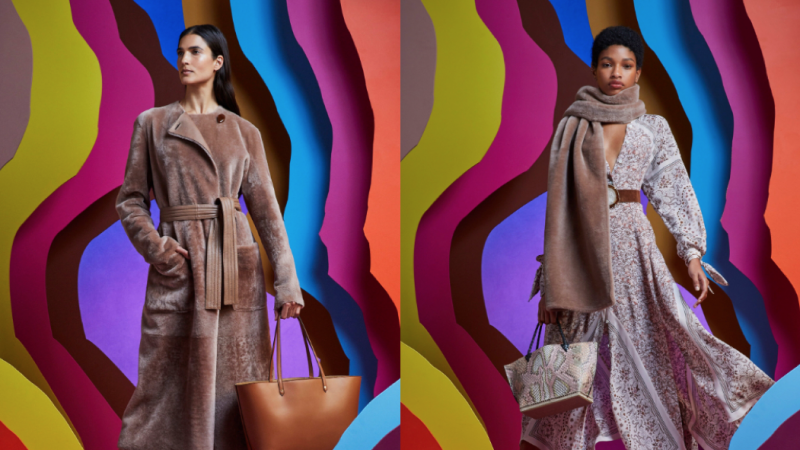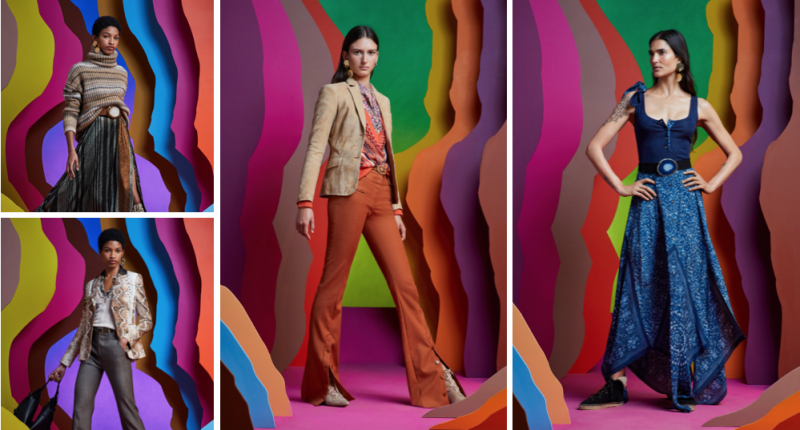 Paco Rabbane
Julien Dossena has given us an eyeful with loads of designs, colours and patterns to constitute his RESORT 2020 collection; and for inspiration he turned to the American West – Palm Springs, which is famous for its mid-century design elements and arts and cultural scene. Reference of this was instantaneously evident within the collection, as ruffled dresses, pleated skirts, and blazer jackets were three of the major looks that transported onlookers to Palm Springs, with colour scheme relying heavily on metallic silver, red, black and blue. Aesthetically, other western traces apparent were 'hairspray' glitzy hair-dos, cowboy boots and most patently, eccentric prints plastered as shiny stars on a ruffled blue dress, red and black flowers covered on a satin top paired with chequered pink and white trousers, and lion-scratch-like blue and purple print on a vibrant grey overlay dress.
Fur was also spotted on the very-heavily-pink desert back drop which was made to seem as though the model had come to live from the setting. This came in light and dark brown fur cuff detail on a cropped metallic jacket as well as a black, red and metallic long coat. The cropped metallic jacket had a lot going on, with not only fur on the cuffs, but pink flowers stamped on the pleated skirt and tights, whereas the second fur look was accompanied with more simple shapes of red and silver stars. The grandness of the fur didn't allow for it to get lost in the overwhelming-ness of all that was happening and bought a distinctive mark to the western.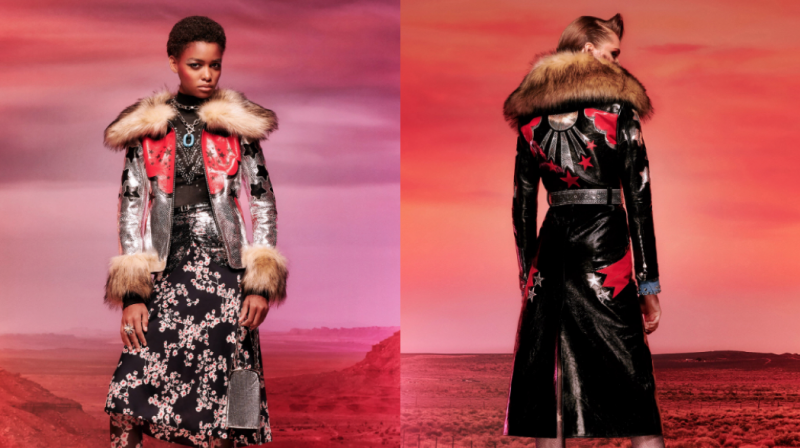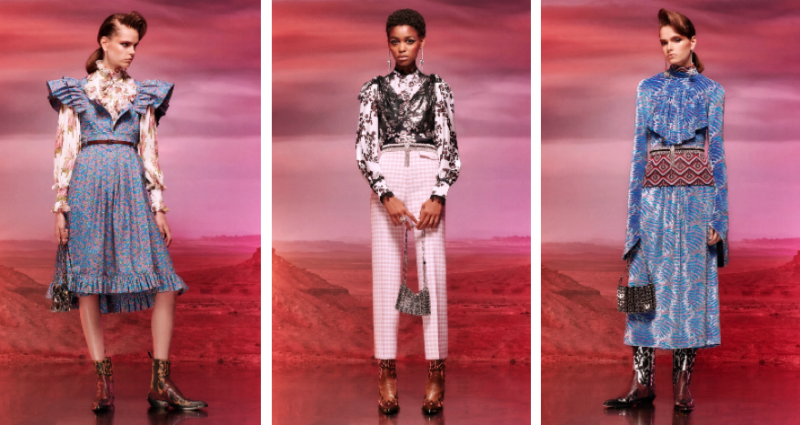 MILAN FASHION WEEK MENS:
Fendi
Fendi has taken its Spring/Summer 2020 collection to the gardens of the Villa Reale in Milan and has given an invigorating show bringing nature to the forefront to onlookers sat watching it all unfold. Silvia Venturini Fendi collaborated with Italian director Luca Guadagnino to deliver a refined gardeners dream, with plenty of innovative silhouettes and colours. As niche as having a garden inspired collection may seem, Silvia Venturini Fendi has made sure that her latest collection goes "back to nature and back to craftsmanship" with the extensive originality that lies in the detailedness of each piece.
Colour scheme focused heavily on different shades of olive, beige and khaki with a few random outbursts of black blazer coats and a coral two-piece, whilst the compilation stayed true to rain & trench coats, sun hats, denim trousers, overalls, knee-length shorts, cardigans and blazer-like-coats to complete Fendi's SS 2020 collection. Fur was spotted in the form of a chequered style jacket which was extremely appealing parading down the runway. As with Fendi's normal use of funky styles and shapes, this style definitely emerged as one of the most outstanding. Another fur piece that surfaced was a long fur cuff and detailed coat that really shone the expertise facet onto the runway. Fendi wanting to go back to nature and to craftsmanship is very well depicted through this style as it is clear to see the skill and craft taken to cut, stitch and piece together such a remarkable garment. It is evident that the exposition was rejuvenating and took us to a world that we should be endeavouring towards – a greener, more sustainable planet, with slow-fashion being at the forefront of it all.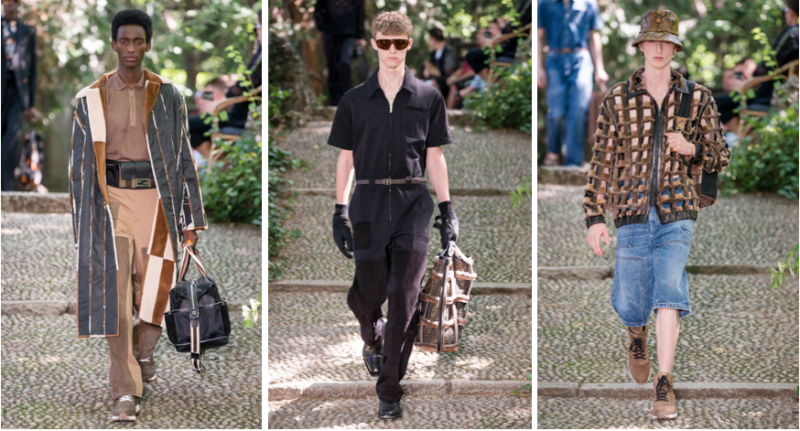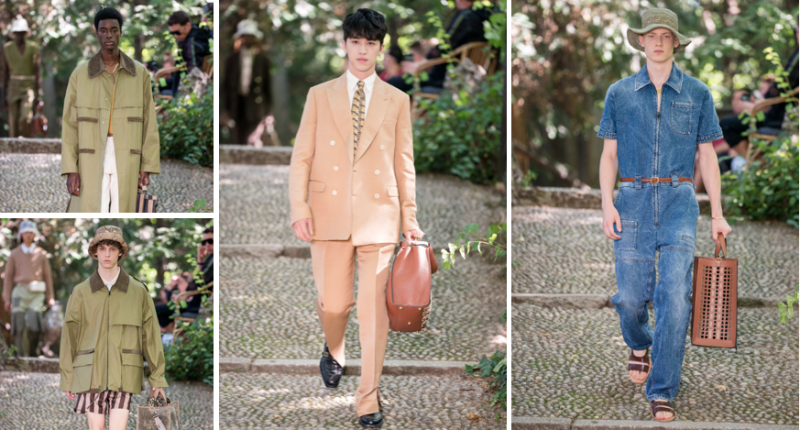 Overall, it is evident that natural fur has a place in all types of fashion shows. We have seen that for each type of distinctive, wide-ranging inspiration that designers have taken the route of their collection with, fur has played a significant role in enrapturing those concepts and references to conform to a collection and exhibition that plays a huge role in fashion.