Fur is taking fashion weeks by storm as usual, and Milan & Paris Fashion Weeks are no different. Similar fur silhouettes were showcased and paraded down the world's most opulent runways, and distinctive, sophisticated and chic furs took centre-stage. Not only did the six fashion houses that are discussed use fur, other major fashion houses did too, and included the same amount of creativeness and design… these six just caught my eye the most.
Milan Fashion Week
Fendi:
Two days before Karl Lagerfeld's passing, he had just finished working on what was his final collection for Fendi. As always Fendi is much awaited during fashion weeks, however this show was particularly anticipated as it was to be the last one with Karl Lagerfeld's extraordinary touch and iconic stamp. Immediately noticeable in this collection were the legendarily 'FF' double logo plastered alongside many materials, but most noticeably, fur – a material that Karl Lagerfeld revolutionized to the brand. The setting of the runway paid respect and tribute to the beloved designer, presenting Lagerfeld's signature on top of the runway entrance, and a glistening carpet with the 'Karligraphy' logo embellished on it. Each model also wore their hair in a low ponytail as a homage to the treasured designer, whilst walking down the runway with a soundtrack of Lou Reed & John Cale's Small Townand closing poignantly with David Bowie's Heroes.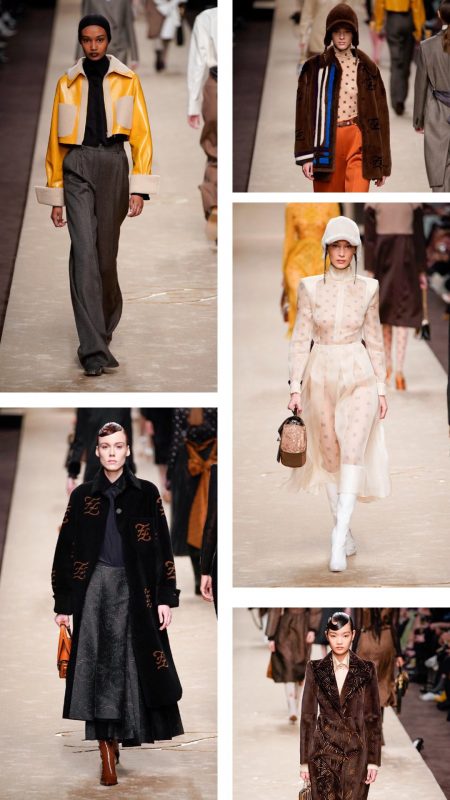 The collection featured Lagerfeld's known-desired style featuring bow-ties, blazers, patent vivid boots, long coats, subtle patterns, 'FF' tights, and shear tops and dresses. A steady colour that broke the cycle and bought shine and vitality into the room was yellow, Lagerfeld's favourite colour, amongst a chestnut brown that dominated the runway. An outburst of arbitrary and gaudy colours also made an appearance coming in forms of pink, red, white, green and yellow boots, orange flared trousers, a mint green knee-length skirt and dress to accompany the overall look and feel of Lagerfeld's final collection. Fur was an extensive material that was cherished by Lagerfeld, and exceled the runway, giving what was an incredibly emotional, and unforgettable show a touch of what Lagerfeld bought into Fendi when working with fur – class, responsibility, and sustainability into fashion. Timeless fur coats (with the notorious 'FF' double logo), hats (headpieces) and bags were very occasional, showcasing on the runway on every other model.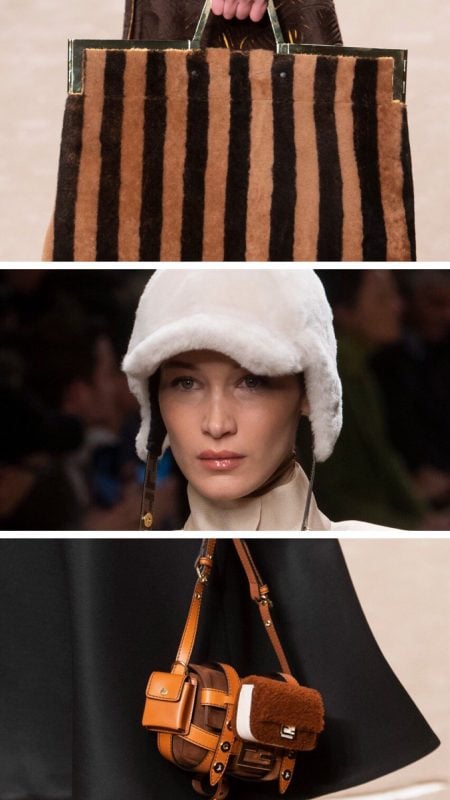 Upon the closing of the emotional show, a video appeared where Lagerfeld is seen sketching the outfit that he wore on his very first day at Fendi in 1965, explaining that in the 60's he "didn't hold back", before drawing a Cerruti hat, a printed lavallière tie, a hunting jacket, with French-style culottes and a bag that he found in Milan. His iconic legacy will continue to prosper and inspire upcoming designers into what it is to create innovative, pioneering and revolutionary pieces.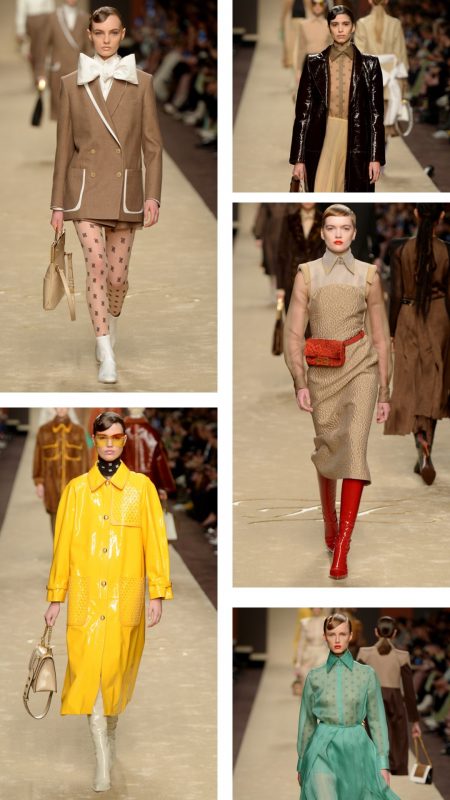 Roberto Cavalli:
Creative director, Paul Surridge showcased a range of the brand's notorious animal print designs during Milan Fashion Week. An explosion of colours and patterns transformed and translated into Roberto Cavalli's AW19 collection, where silk, knits, and of course fur formed seamlessly tailored trousers, coats, dresses, skirts and tops. Surridge accented the brand's heritage, and flawlessly created an evidently feminine collection, where Cavalli women drew on allure, sex appeal and charm. As the brand is known for its use of animal prints, Surridge made sure that he included the foreground component and delivered patterns on wherever possible, including dresses, tops, trousers and blazers, and even a lone jumpsuit. These patterns were almost identical on each piece.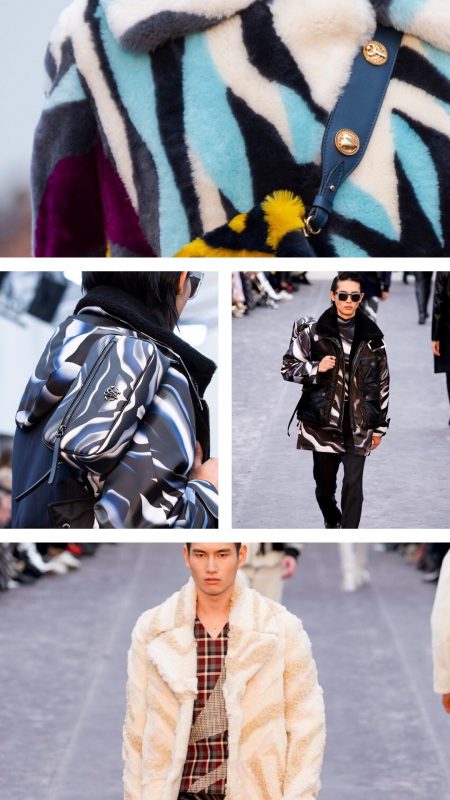 As mentioned, colour came in an outburst form with mustard yellow and sky blue being consistent hues that dominated the runway, leading the pattern soiree. A swanky co-ord came in blazer and trousers with a blue-green consistency with the infamous Roberto Cavalli pattern underneath just itching to be seen, as well as taking it to the next step with multiple pattern suit and trousers. Flowy dresses also made an appearance, going solo with eyepopping colours, such as fuscia pink and rose red.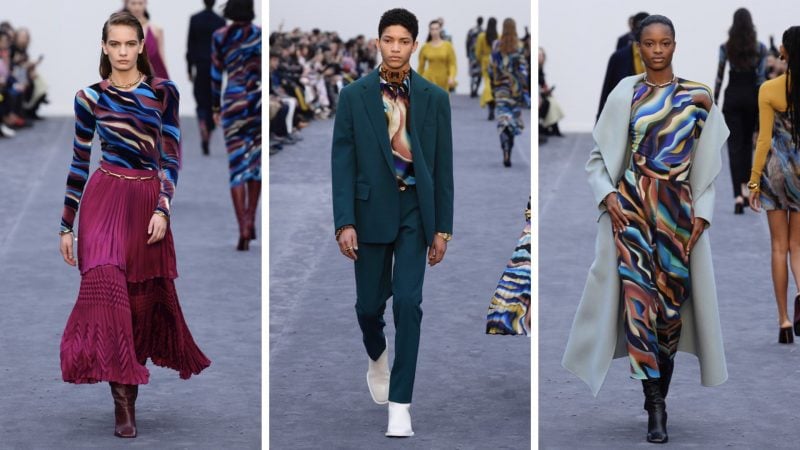 Fur congregated the whole look together and followed the consistency of the notorious designs. A remarkable look that had everyone talking was the fur coat equipped with a fur shoulder bag. Undeniably, Surridge's patterns were showered across both pieces, which made for exceptional viewing, and the miscellany of the patterns undoubtedly juxtaposed one another, but remarkably worked well together. Surridge also included fur into a jacket collar, and two more fur coats. These pieces were toned down, with an all-white fur coat, and an all-black fur coat with white fur designs taking the runway by storm.  
Blumarine: 
Blumarine definitely instilled 'love for beauty' during the latest AW19 show. Designer, Anna Molinari has injected a very pink ambiance, giving off an array of looks that reflect what she believes in – "We need to look after ourselves with an elegant, harmonious, passionate, seducing dress." Leopard prints, pink coats with fur trims, harlequin prints and roses were at the forefront of the very majestic runway show, and the consistent colour, baby pink, was the core colour that Molinari expressed her message with. Colour palettes that complemented the legendary pink came in equally light tones of green, blue, orange and purple coming in forms of harlequin cardigans, dresses, shorts, and tops.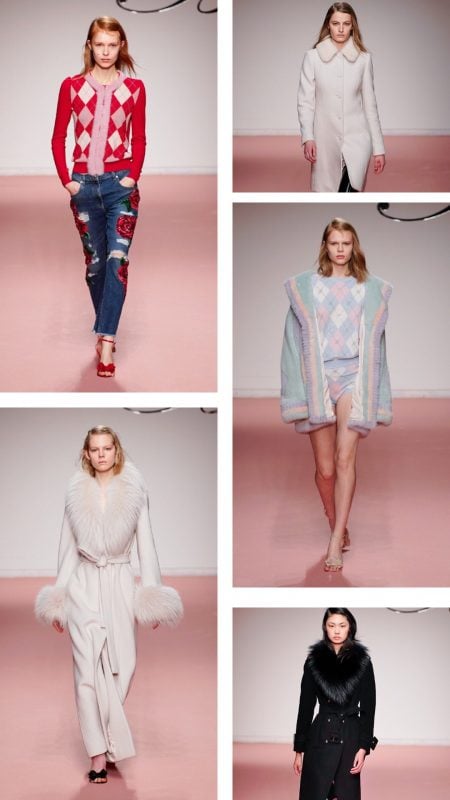 Leopard print was also very extensive during the runway as there were a significant number of pieces that supported the look, such as a long and short coat, knee-length skirt and a dress. Black dresses, trousers and skirts were indeed, too, prominent either coming in an off-the-shoulder, strapless, with slits or sheer type – all in the colour black with only the pink runway bestowing some pigment. Additionally, the colour red was seen in glistening, romanticised red-rose dresses, shirts and jumpsuits to compile to Molinari's viewpoint, that "(We need) passion, this love for beauty. I see women in winter, they are all dressed in puffer jackets and jeans, and in the summer, they wear jeans with T-shirts. This is not fashion, this is no longer love for beauty." Fur was also a material featured within the collection and translated to fur collars and cuffs on several pieces. These furs complimented the whole ensemble and created a collection that featured fragments that are elegant, sophisticated, and classy – just what Molinari was after, and of course, she delivered. Molinari created a collection that has love for beauty bestowed within it, as for all the women wearing jeans with t-shirts during the summer, have a collection to be proud of and wear.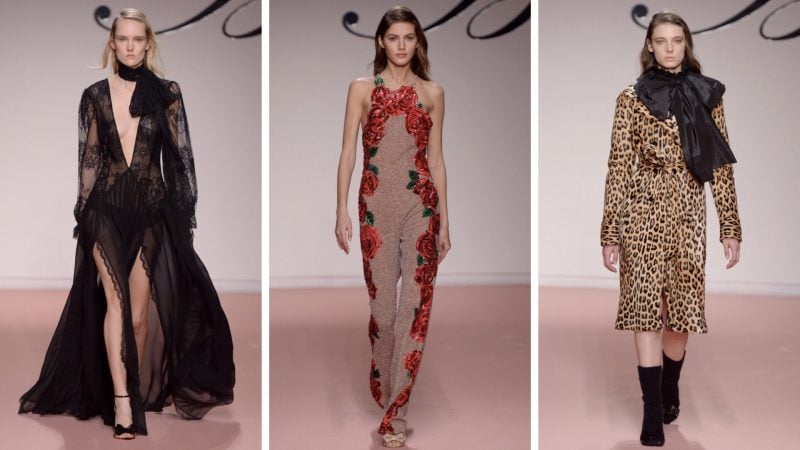 Paris Fashion Week
Yves Saint Laurent:
Anthony Vaccarello turned his runway into a vision of neon lights and an array of mirrors to form his AW19 collection, where his models became human glow sticks. This collection centred around a dark aesthetic, where all models walked down an eerie runway, with at least one piece of black clothing. Colour began quite dark, but with every model strutting down the runway, came a pop of colour adding to the dark ambiance. Pops of colour came in the form of red, turquoise, white, orange, and green. However, colour aside, Vaccarello particularly focused on a prominent feature out of his collection, and that was the shoulders. For many years, designers have aimed to form a collection that demonstrates powerful women, and in many cases, what that has meant is women taking up space, and Vaccarello has produced a collection with strong shoulders which indefinitely takes up space on the runway. Taking inspiration from Catherine Deneuve, Bianca Jagger and Betty Catroux, Vaccarello created a grey overcoat, a crocodile leather jacket, a glitzy blazer minidress and a cocktail dress with an oversized bow – all which featured strong, and bold shoulders. The idea that this leaves viewers with is, who is this woman, and where is she off to? It signifies that this woman is strong, powerful, and not one to mess around with.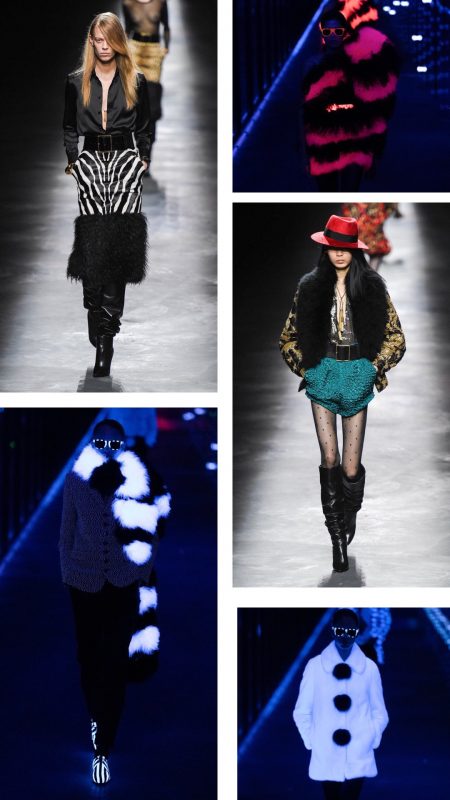 A consistent feature, seen throughout multiple shows have been sheer tops, something that Vaccarello has undoubtedly included too. High-waisted trousers, blazers, shorts, strapless/one shoulder dresses and pencil-skirts were prominent features that took the runway by storm too, many of which featured patterns, which has been another distinctive element that has been seen throughout various collections. These patterns included out-of-control prints, as well as zebra-like prints. Fur also came, and it came big. Fur trims, coats, stoles, and scarves were wow moments during the show. The fur scarves were vast pieces that stole centre stage by their extravagancy and grand presence and alluded to the idea that women can take up space and be powerful. During the neonic section of the runway, the furs lit up and were all that people could comprehend, as the lights dramatized just how striking the fur was, especially the hot pink fur (what seems to be, dress with a bow). Following up on the 'women taking up space', the furs greatly enhanced this concept, as the furs weren't just your average fur trim, but became an envision of a powerful woman who stole the moment during the show.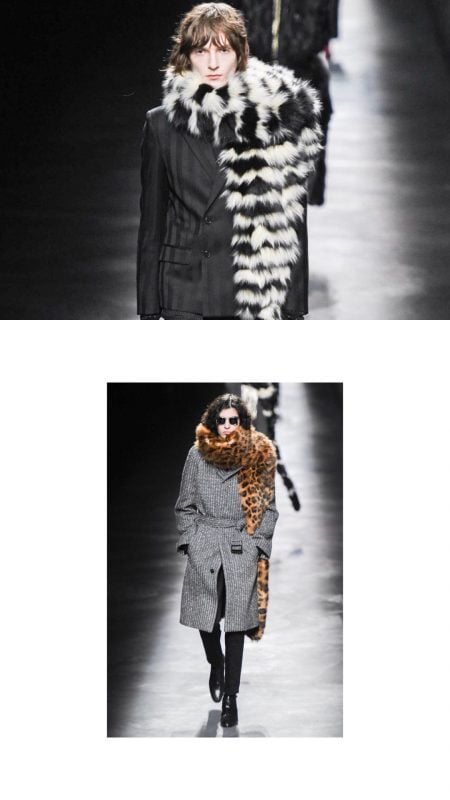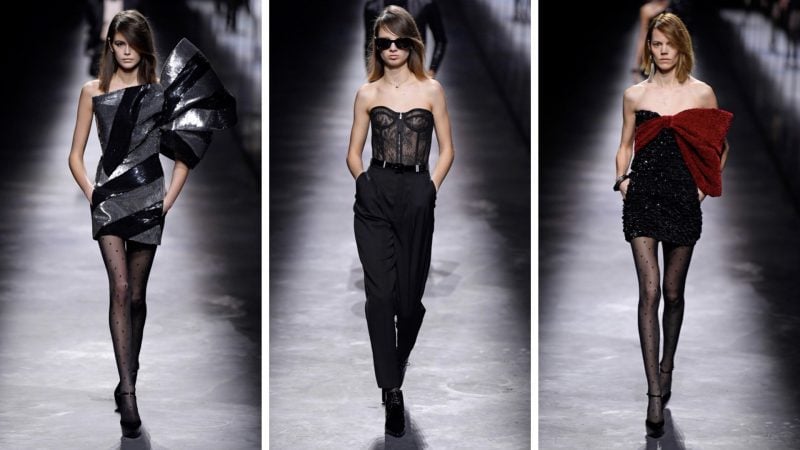 Thom Browne:
Another show, and another imaginative one from Thom Browne. This AW19 collection featured a more down-to-business look and feel, compared to his previous sky-high heels, and face masks. This Paris Fashion Week, Browne had his models working on the clock as each of them were walking down a runway towards a desk that was equipped with an old typewriter and a modern lamp. To conclude this look, models were all spotted wearing monocles and glasses which ultimately signified a better view towards the fashion world.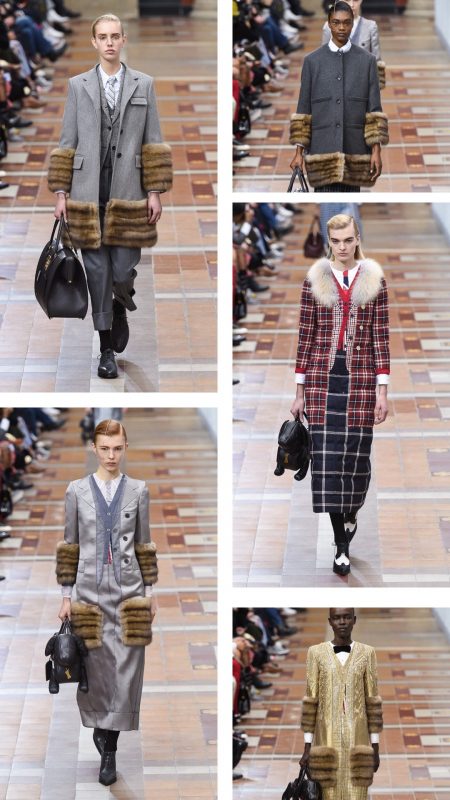 There were a set of three significant looks that Browne opted for – first being the classic ankle-length trousers with a blazer, paired with a cream coat to fit with the virtually 'school' colour and ambiance of the collection. The second look featured a conservative, tweed-pleated skirt suit, whereas the third, (which was more of a theme than a look) consisted of a load of square-like, eccentric patterns that crazed around in trousers, blazers, dresses, shoes, bags, and skirts. Colour was consistent, where tones of black, white and grey dominated the runway, and ultimately constructed the overall theme and message that Browne was communicating. Hues of red made an appearance and gave a break to the eye regarding the 'school' aesthetic, and this translated to both bolder pieces such as trousers, jumpers, and coats, to subtle pieces peeping through, which translated to details on shoes, ties, and accessories.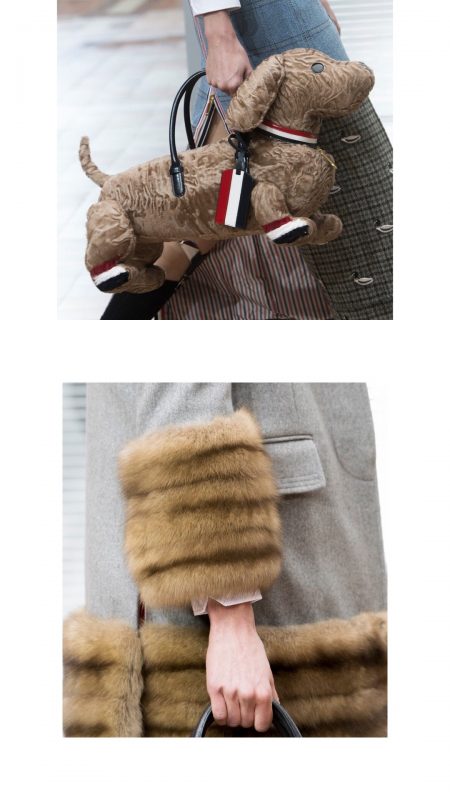 Fur was seen extensively during this 'educational' runway. There were a lot of fur trims, collars, and fur on the cuffs of the heavenly coats. This design was exactly the same for each coat that had fur integrated within it, however each coat had a different and unique pattern to it, with different designs and shapes, making it appear totally different with every piece. Fur extended to the accessories where 'pup' swakara bags and normal, standard bags were the main attraction at this school-like runway. Browne created something exclusive and trendy with this collection, and the extensive use of fur with the theme of school and education surely only means one thing? The future of fashion is fur, and that more people need to be educated on this.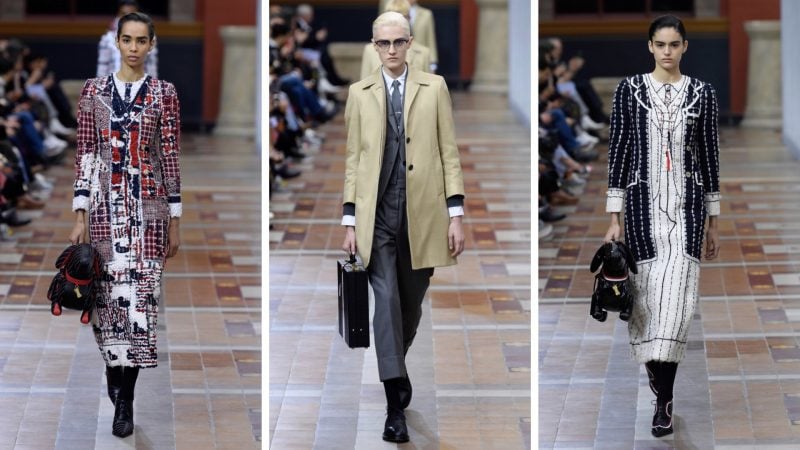 Lanvin:
Bruno Sialedlli debuted, and redefined Lanvin's original style. A fresh, youthful, and stylish collection was seen strutting down the runway. Out with the old and in with the new. The collection appeared to centre around a renewed vibe, and this translated to the pieces that radiated that element, such as long and graceful maxi dresses, mesh tops and dresses, flowy capes, jumpsuit 'suit' and overall pieces of clothing and prints that were paired up arbitrarily, but indeed worked well together. Colour schemes consisted around a shade of brown and blue that took charge of the runway, where multiple other colours of red, yellow, and green worked and centred around it. Bold colours such as lime green and yellow took centre stage and came in the form of large and long coats, snazzy trousers, and a vibrant jumpsuit.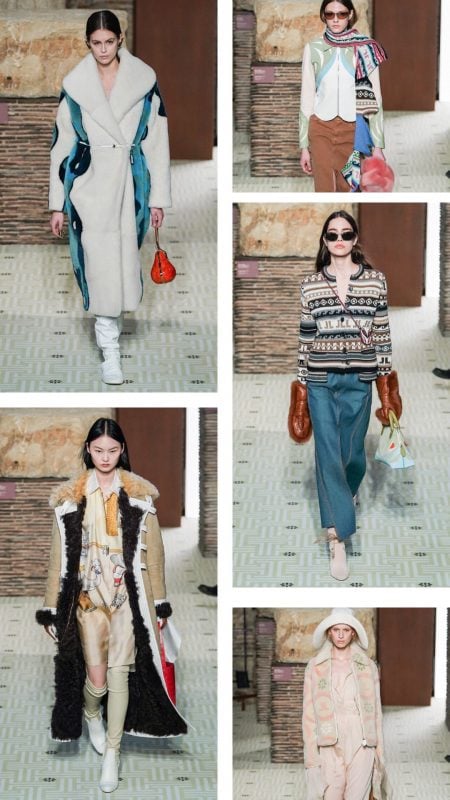 Fur also made an arrival on the runway, with several substantial looks. Kaia Gerber supported the central fur look with an exquisite white fur coat, with elements of blue and black prints to break the consistency of the overwhelming white. Fur lining was also spotted, alongside fur cuffs and gloves to tie up the overall ensemble of the silhouettes, which formed a remarkable AW19 collection.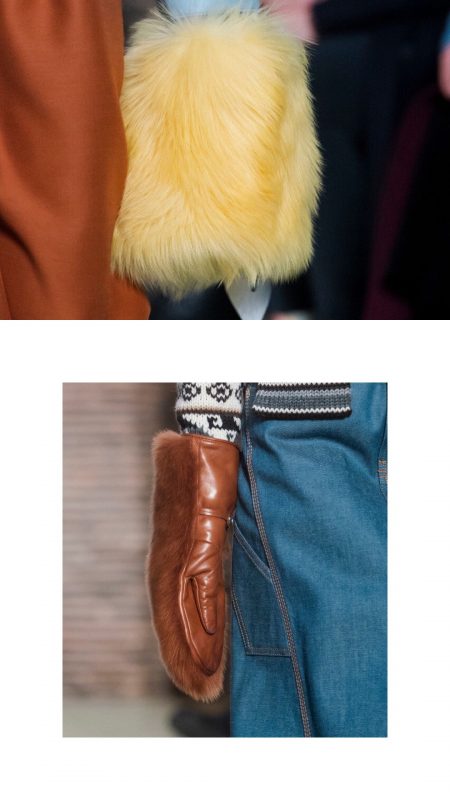 On the whole, all four fashion houses have taken a similar stance on fur within their pieces – it has been used and integrated as part of their collection with poise and consistency to show and demonstrate that fur is ever-growing in the fashion industry, with no plan to stop. Similar fur pieces were shown in all four houses, with accessories and fur trims taking centre stage, on runways that dominate the fashion world. Various other fashion houses included natural fur within their collection and showcased down the runway. Giambattista included fur collars on both their cropped-and-cool jackets, as well as on their above-the-knee coats, with a little extra fur-cuff to conclude the look. Valentino had a remarkable, knee-length white fur coat with blue, black and orange butterfly detail to amaze the fashion world. Loewe also had knee-length coats with fur trimming, as well as an eyepopping orange fur scarf to really divert the attention to the fur. Chloe amazed and graced the runway with a brown knee-length coat with fur collar and cuffs, whilst Isabel Marant went for fur-detailed gilets, and puffer-like jackets with fur collars, and detail. 
Fur is marking its territory, and continuing to prove that it belongs on the runway, as a sustainable, fashionable and responsible material.