13 January
Ermenegildo Zegna:
Milan's Fashion Week Menswear started with a surfeit of examples of the new trends for this FW17. The fashionistas continued to see athleisure attires and beautiful outfits that mixed cropped pants and fitted sweaters for FW17 as seen on the runways at Ports 1961 with their heavily embellished sweatshirt and Ermenegildo Zegna with its stitched padded jacket. The brand's first ever overall artistic director, Alessandro Sartori, established a whole collection based on the continuing casualization of menswear. Sartori's visual declaration to the Zegna's followers to loosen up. The declaration might sound a bit loud, over the top: an inside-out suit jacket that didn't need to be inside out or some joggers had zips down the side. Nevertheless, aside from the absurd, quite a lot of pieces stood up because of their tailored and clean cut, their beautiful treatment and techniques on fur. Tailored jackets with intricate, cobalt patterns and bomber jackets with intricate and detailed mink fur.
14 January
Antonio Marras:
Marras surprised us with a theatrical enactment of such scopes that it made use of models, performers and dancers. Fashion people rambled through wacky artistic throngs, each a set for pieces of incongruent tales. The carefree audience was inevitably enchanted.
Fashion was clearly not the emphasis. It really didn't matter as Marra's men's collection managed to preserve its protagonist role. Lavishly embroidered, patchworked, hybridized, and decorated vintage coats were retouched with a final touch of fur. Parkas, military coats and kimono-inspired jackets were added to one of the most entertaining shows in Milan.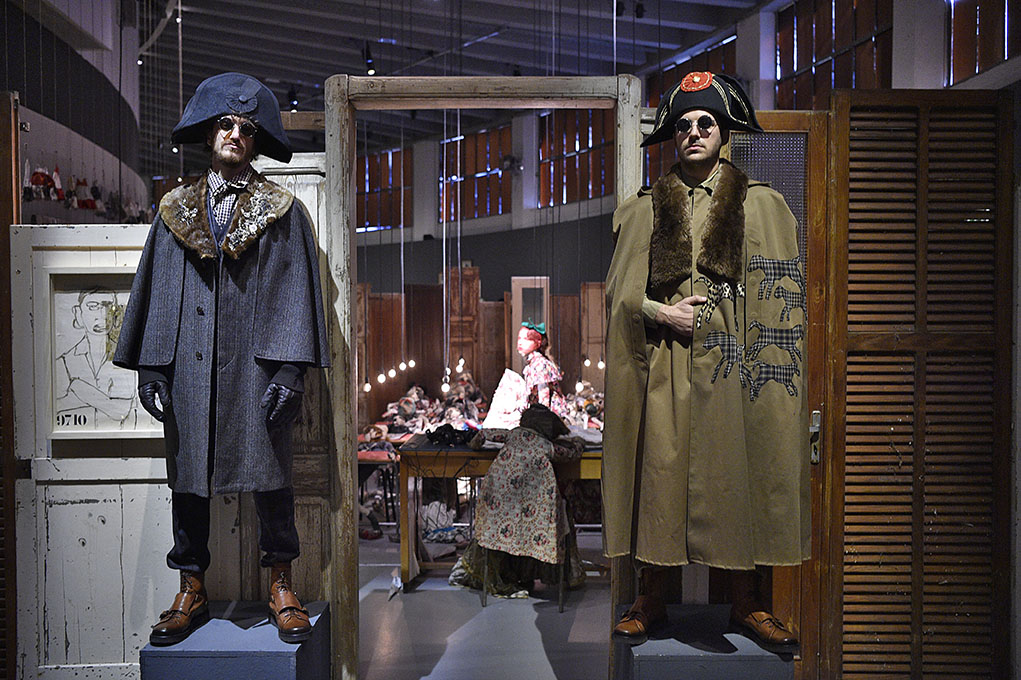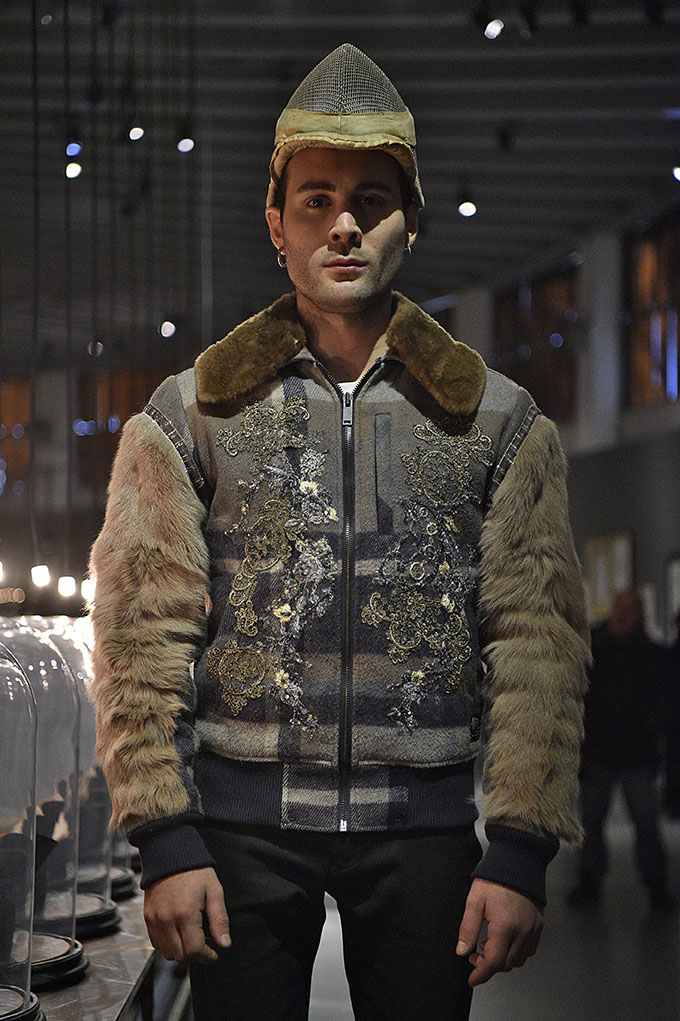 Marni:
This catwalk was a visual metaphor of the grey area between boyish trialling and adult assertiveness, one of Marni's main dogmas. Designer Risso also carried over the idea the season's hero piece; a coat in an assorted fur checkerboard. As the show developed, it became clear that one of Risso's main fascinations this season were the fur-patched jackets. Their function was to glamourize the shabby look. The one of the man who likes to go to a gallery but still accessorise his outfit with a DIY utility belt. Definitely a polemic show but it was very much Risso's style. It reflected his personality, the one that doesn't feel any obligation to play it safe or follow rules.
Prada:
This catwalk joint forces of contradiction and of opposites. Miuccia Prada's collection juggles the sentiment of big and small, architecture and art mixed with the simple-ness of humanity.
She said the interplay of corduroy and leather summarized the collection, and there was for sure sufficiently of both. From outerwear to accessories, all of them proved the power of fur and how it provides depth and can transport a coat or a bag to a different dimension. The '70s had ended up a heavy zest giving the whole collection a touch of rebelliousness and protest. Still, the collection did not loose their quintessential taste for the florals (so typically Prada) and the decorative.
The catwalk framed the 70's feeling with decking around the room as an emotionlessly, good-looking, mid-century rehab centre meets motel. But even though the mixture of stories was there, the feeling of intimacy for never left.
15 January
Moncler Gamme Bleu:
The collection showed fake snow but certainly not fake fur. Taking the mountain-climbing theme to a higher level, Thom Browne reduced this troop of "mountaineers" from comfortable movement by fastening and lining their legs at different points engaging movement in various levels.
But the mountaineering simulation wasn't just for kicks; it served as a recurring aesthetic device that projected embellishment originality and punchy graphic appeal. Carabineers with military jackets and trousers were glamourized with elegant lapels of mink.
Active wear was thrown in the mix. The same warming touch of mink was included in a neutral interlude of greys (reminder of the mountaintops). just to remind us of the outdoor activities men face nowadays; from running to hiking. And how this extra details of fur happen to be utilitarian.