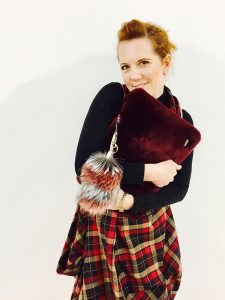 Ninx Flanagan, Furrier and Owner Bewitched Ltd.
Facebook: facebook.com/bewitched.couture
Instagram: @bewitched_couture
Online shop: www.bewitchedltd.com
Location: Workshop and Show room in Wiltshire, West of London.
Hello Ninx: It's a pleasure to interview you for We Are Fur.
Hi, thank you for asking me.
How did you get into the fur industry?
I always loved fur and have fond memories of my parents going to dinner parties and taking my sister and I, when we were very little, in sleeping bags and laying us down with the coats to sleep during the party. We used to snuggle up amongst the fur coats and scent of perfume and sleep like cubs.

Later in life I trained at London College of Fashion as a pattern cutter and also had an apprenticeship at a couture bridal design house. After a few years in the couture industry cutting patterns for small fur garments (such as bridal boleros), I realised I really wanted to work permanently with fur – there wasn't anywhere obvious to learn in the UK so I started buying furs at markets and auctions and deconstructing them to learn how they were put together. Whilst reverse engineering them I started building them back up into new, more contemporary shapes which my existing couture clients really loved. I then started making a name for myself repairing and remodelling furs for clients.

Over the years I've fine-tuned my skills and learnt to work with new skins as well. I've begged and borrowed tools, machines and training time over the years from the more senior furriers in the industry as well as saddlers and other leather workers. I soon realised these amazingly skilled men are a rare breed and furrier skills in the UK were in danger of disappearing so I decided then and there to put all my efforts into becoming a skilled furrier supporting the renaissance of the UK fur industry – I've now been a furrier for 14 years but we still have so much more to do to address the skills, gender and age gap in the industry.
What types of merchandise do you sell and what is the main function of your business?
My clients come to see me by appointment to either have their own furs repaired and remodelled or to have a new fur garment created for them. I also create capsule collections of fur accessories for other luxury British brands.

In the Spring I'll be launching my first retail collection of trans-seasonal jackets and gilets inspired by the Far East called '1/1'. Each jacket will be entirely unique and a piece of 'Wearable Art'. Here's a sneak preview… more designs will be launched in the Spring 2017.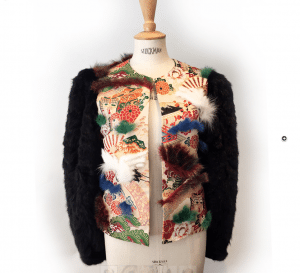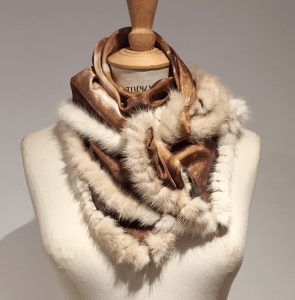 What is your favourite type of fur to work with and why?
My favourite fur to work with is mink as it is so robust and can be manipulated in so many ways. The breath of natural colours is fantastic too so simply mixing the different hair lengths of male and female pelts and varying the colours and direction of the hair can create very dramatic results. It's like sculpture that moves! I'm having a particular love affair with blue iris mink as it's so contemporary and versatile – it goes so well with denim, black, brown and navy blue… so it will go with just about every staple piece of your wardrobe.

However, my favourite fur to wear myself is crystal fox for its warmth and texture. Crystal fox is becoming extremely popular with my clientele as the colour is absolutely perfect for complimenting northern European skin tones.
What products are your best sellers?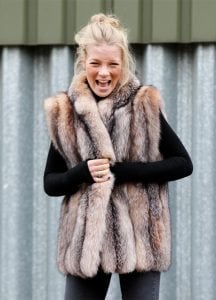 What makes fur stand out from other materials you have used in the past?
What I love about designing with fur is the added dimension of the length and texture of the fur. All garments are 3D but fur is '3D+'! There are extra challenges and also opportunities for the pattern cutter to create something remarkable. The flow and movement of the fur can be absolutely magical!
Do you see fur on a positive fashion trend?
Absolutely! In a world smothered in chemical rich non-biodegradable plastic there is a yearning for something more natural. Something with longevity that can be reinvented by multiple generations of a family. Many of the remodelled furs I work with serviced three generations of the same family and I love to add each generations monogram to the lining to show the historical provenance of the garment. Fur is becoming more popular again, less as a 'status garment' of the past, but more as a casual contemporary garment that can be worn everyday with jeans and casual clothes. Fur has 'returned to its roots' of being worn not just for fashion but also for warmth and comfort.
What fur techniques do you use? Do you get recycled pieces and then cut and trim? And do you do any dyeing?
A use a full range of typical furrier techniques to design and cut new garments and accessories but the innovation comes in creating new and unusual textures. I love to mix different fur textures in a collage affect. I get very excited when I have the opportunity to be really creative for a client but I have to admit much of my work utilises my 'surgeon-like' skills in performing intricate repairs and reconditioning of vintage pieces before they can be remodelled to look new and exciting.

Working with vintage furs is a skill in itself. You soon learn that vintage skins feel and behave very differently to their newer counterparts as dressing and dyeing techniques have improved so much over the years! Knowing exactly how far a vintage skin can be worked and what technique to use takes years of experience. Dyeing an existing garment isn't technically possible in the typical way as the skins get wet during a dying process and they wouldn't dry exactly back in the original shape of the garment. However, we an use leather 'edge dyes' to dye small faded sections.
Can you talk about the design process a bit more? How do you refurbish an old coat into something new? What types of equipment do you use? How long is the process?
The design process for working with a vintage coat is not like starting with a blank canvass each time – it's more like an episode of 'Ready, steady, cook'! You are challenged and limited by the size and condition of the existing garment in front of you AND the aesthetic and sentimental desires of the client who will be wearing it. I often see it as a bigger challenge than working with new skins and I love how that flexes my design muscles so to speak.

Once a design is agreed upon the first stage is then to strip the coat right back to the main fur shell, removing all hems, linings, facings and paddings. I can then assess the condition of the garments and make any repairs with fine glove leather reinforcements and recondition the skins with a special blend of fur oils before working out new pattern pieces. We use many different tools starting with traditional leather working tools, nailing boards for stretching and drying skins, cup sewing machines for creating flatlock seams and even hair dressers scissors for making sure any stray hairs are manipulated into the right outline! The process of remodelling usually spans a couple of weeks to allow for reconditioning oils to soak in and any dyeing to dry.