"Diana was the very essence of compassion, of duty, of style, of beauty… It is a point to remember that of all the ironies about Diana, perhaps the greatest was this – a girl given the name of the ancient goddess of hunting was, in the end, the most hunted person of the modern age."– Earl Spencer (Princess Diana's brother)
The Fur Guru begins a crisp yet sunny October morning with a trip to the iconic residence of British royalty – Kensington Palace. And I'm headed straight for the critically acclaimed exhibition Diana: Her Fashion Story, which chronicles the fashion evolution of Diana, Princess of Wales. Princess Diana needs no introduction. She is the most famous woman of the 20thcentury and remains one of the most famous people who has ever lived. Diana is a style icon of the ages who seamlessly combined the allure of royalty, the fascination of celebrity, the charm of philanthropy and the glamour of fashion to create a new breed of fame. She was the first public figure who could craft her public and private image while shining a light on great British designers and the philanthropic causes she championed. After being thrown into the public eye, a fresh faced nineteen-year-old Diana Spencer Diana gushed, "you'd be amazed what one has to worry about, from obvious things like the wind… so you can't have something too revealing and you can't have hems too short." As we all know, not all Princesses live happily ever after. But, what does live on for eternity, inspiring fashion and pop culture, are the iconic fashion moments at this exhibition. Diana's style is as influential today as it was before her untimely death. And oh my, what style she had, indeed.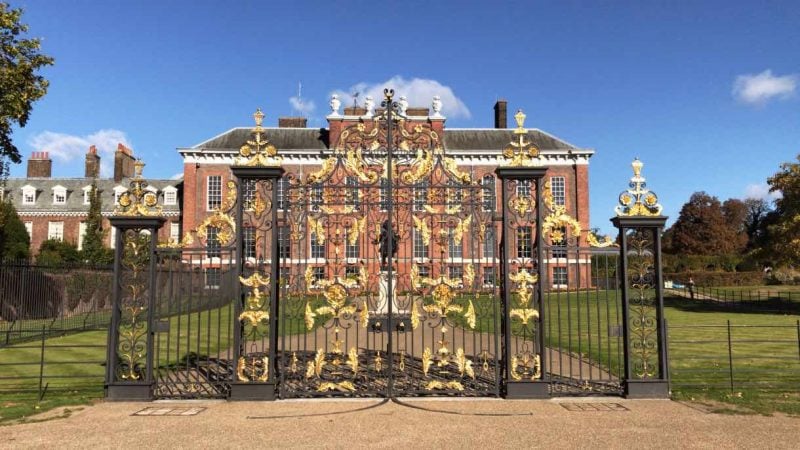 I began to tour the exhibition in respective silence and anticipation because I, the Fur Guru, am in the same room as the garments once worn by one of my favourite icons. Right from the off, it's highlighted that Diana was the most culturally aware and sensitive fashionista. A spotlight illuminates Diana's high-neck, long-sleeved falcon embellished Catherine Walker dress, which represented the national bird of Saudi Arabia on her trip to the Middle East. Another on Diana's Bill Pashley designed tweed skirt suit she wore on her honeymoon to the Queen's Balmoral Estate in Scotland, which payed homage to her British roots. And suddenly, the Guru realises how no royal before or since Diana has ever made tradition so modern and culture so stylish. As soon as Diana was brought to the forefront of public consciousness, almost instantaneously, host nations around the world welcomed her, whilst the nations of the world fell in love with her. Diana began treating the front page and world stage as her runway, and the Guru has front row seats.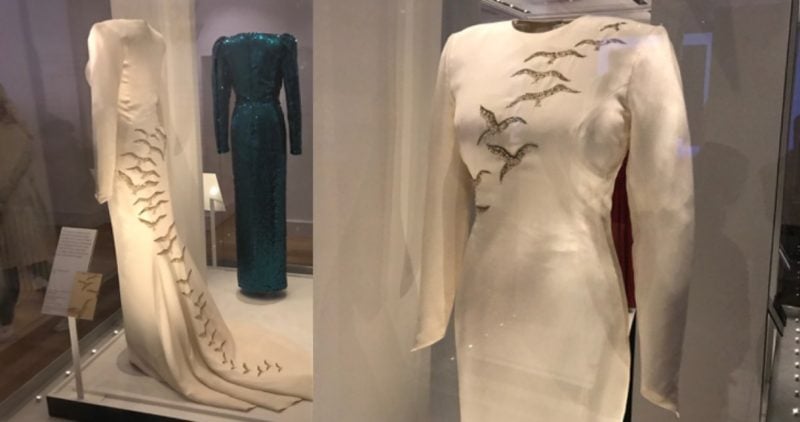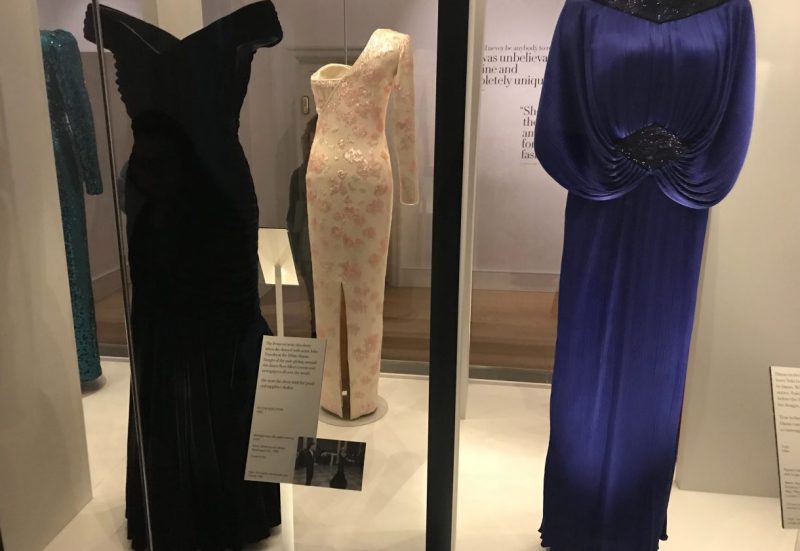 Before me is Diana's blue velvet Victor Edelstein dress which she danced with John Travolta at the White House in. A dress which Diana's son William encouraged her to sell (along with her most famous dresses) to benefit the many charities she campaigned so hard for. So, in 1997, Diana auctioned 79 dresses at Christies in New York City and raised a whopping $3.25 million for the Royal Marsden Hospital Cancer Fund and AIDS Crisis Trust. It was one of the last fundraisers she would host. And this is why the Guru stands here and spares a thought for Diana's sons William and Harry, who share with their mother this story of style and selflessness – they are her greatest legacy. Then, as the light catches Diana's iconic green sequin Catherine Walkers gown, which commands my attention and takes my breath away at the same time, I spare a thought for Diana's siblings who watched her transition from 'Shy Di' to 'Dynasty Di' (an era in which this dress was worn), and later to 'Fashion Icon Di'. An evolution which I am experiencing with each new room I enter. And finally, I spare a thought for Diana's friends, in particular her butler and confidante Paul Burrell who described Diana as his "rock." In fact, whilst sharing Diana's playful nature, a side of the Princess which only a lucky few were privy to, Burrell shared that Diana once greeted a lover in nothing but a fur coat! And alas! The Guru has struck a connection with Diana that goes much deeper – a shared affinition with fur.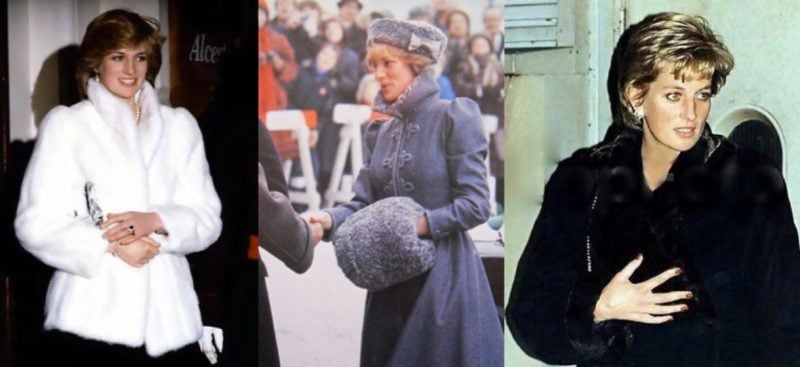 As famous looks of Diana reveal, she was a great lover of fur. Like the guru, fur accompanied Diana on many of her worldly travels. Whether it was thaticonic snow-white fur coat which kept Diana stylish and warm during her visit to the Royal Opera house, or her fur stole which added a touch of glamour to her look at the many gala's she attended (a favourite of mine Diana wore once belonged to 'royal rebel' Princess Margaret), fur was never too far from her highness's hands. Soon enough, knowing the power of fashion, it became the tool Diana used to attract the press, but it was what she did with the coverage which mattered most. So, it seems fitting that nestled beside Diana's experimental royal blue Yuki dress is the outfit she famously walked through an Angolan minefield in. A courageous act which highlighted the issue of landmines and led to the UK Parliament passing the Landmines Bill. It is here where the Guru realises, it didn't matter where Princess Diana was, or whether she was dressed in heels or pumps, or sequins or fur, in the words of Geeta Sarin, Diana "knew she was the most photographed woman in the world and she wanted to use that… to help others."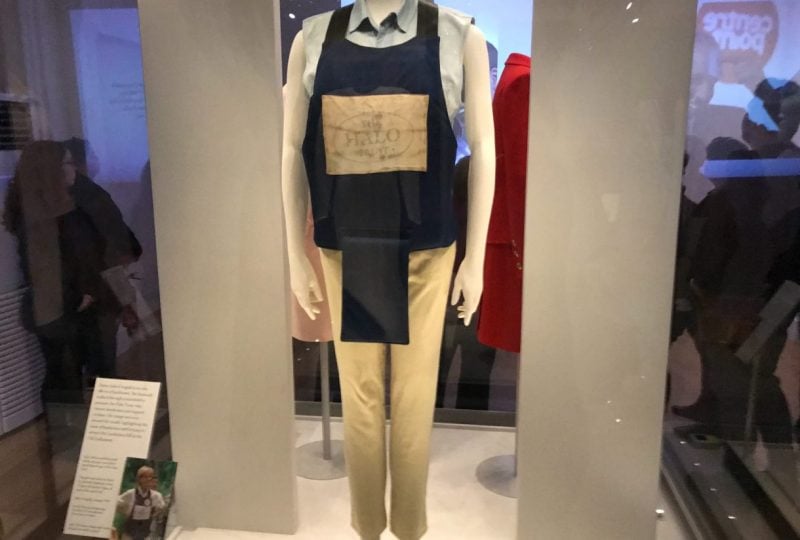 So, Diana did just that. Priding herself as a working woman, Diana attended roughly 130 public engagements a year, each one with a different clothing requirement and hidden fashion agenda, of course! Her gowns conveyed diplomatic messages while her visits to hospitals consisted of both informal and cheerful looks. "She would never wear a hat to a hospital," Philip Somerville confessed, "because she said you couldn't cuddle a child with a hat on." As Diana entered the 90s, her style evolved even more. A break away from the British establishment mirrored a separation from British designers and a step towards international ones like Gianni Versace – a favourite of the late Princess. Versace, famous for his flamboyant prints, sexy Italian designs, and fabulous fur creations was just as famous as the pop stars and supermodels who he dressed. And he too was inspired by Diana. Like Diana, Gianni Versace was also taken from the world too soon, and with him went Versace's customer's freedom of choice when his predecessor, Donatella, most recently turned her back on a natural and sustainable material; fur. I wonder what Gianni would have made of this decision, or even Lady Diana who can be seen wearing fur throughout her style evolution. The Guru realises while tracing her style steps, fur was a staple for the Princess of people's hearts.
A fresh-faced Diana can be seen sporting a long wool coat to Princess Margaret's 50thBirthday party, while Diana, as a young single mother, was often seen stepping of her royal jet in Russian style fur hats and matching mink coats. But this doesn't come as a surprise to the Guru, nor does it surprise me that fur is also adopted by the Queen of England, the Queen Mother and Princess Catherine, the Duchess of Cambridge. This is because fur is one of the most luxurious materials in the world, it has been linked to and worn by royals across the globe for millennia. Fur commands attention and respect, and it's a signifier of style and status, therefore, it seems only fitting that the most famous of all royals, both past and present, would drape themselves in it.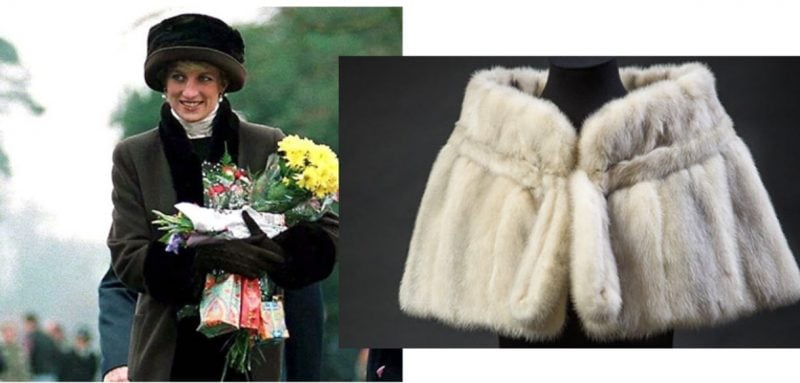 Princess Diana remains the most internationally recognisable member of the British royal family. She was "the People's Princess" and a champion of British style. And as the Guru remembers this blogs solemn opening line from Earl Spencer, and Goosebumps run down my spine, I realise, Diana was always doomed to be the first. The first style icon of the modern world, whose flirting with the media ultimately led to her downfall. Diana could never outrun the paparazzi, whether it was at the airport or while shopping for the latest fur on Bond Street, she couldn't hide on the ski slopes or on her ex-lovers' boat. And she never escaped that tunnel in Paris. Diana was in the public eye, but she wanted to be in the public's heart. While Valentino confessed "Every Designer was inspired by her," Diana wanted to be known as a workhorse and not a clotheshorse. And if you're asking this Guru, she succeeded. Now, my darling readers, I would like to end this blog post with the words of one-half of Diana's wedding dress design due, perhaps the most iconic of all of Diana's dresses, Elizabeth Emanuel –"There are loads of movie stars and celebrities but there will be only one Diana." She remains the world's immortal fashion muse.
The Fur Guru xxx