As we approach REMIX 2018, we wanted to showcase some of our recent success stories from the past few years of the REMIX Design Competition to present the opportunities available for potential applicants looking to participate in future shows.
We have seen past finalists who participated in recent years go on to work for labels such as Dolce & Gabbana and also see their own brand present in the international fashion weeks.
This week we take a look at our 2016 REMIX Bronze Winner Edda Gimnes, who has excelled in her young career since her participation at REMIX.
When did you first get into fashion and why?
I always loved creating and making things from a young age, but it wasn't until I did a summer school at Central Saint Martins in Fashion Design after Sixth Form, I realized that was what I wanted to do with my life. I had some amazing teachers that had worked for VOGUE etc. and which really inspired me. Moving to London was important as well. I absolutely fell in love with the city – just like a melting pot with so many different cultures and people. The city was so different from Norway – everyone dressed so fabulous and creative. I love being able to work as a fashion designer, and that's the medium I use to express myself.
How would you describe your creative vision?
My aim is to combine art and fashion in a new and unexpected way. I feel like you should have fun with the clothes and I feel like wearing my collection is like dressing up for different characters. I want people to wonder and question what fashion is, and get carried away into a fantasy world. I think it's important not to take fashion too seriously, but have fun with the clothes, dress up and make up your own narrative of who you want to be. It is important to me that my pieces have the ability to immerse both the wearer and the viewer, and raise questions about fashion and art and how they can work together and complement each-other. I draw almost everything with my non-dominant hand to achieve that hand rendered and almost childlike naive look. I think it is so important to have fun with fashion and this is a notion I strive to get across in my work. Hopefully it shows and people can relate to it and appreciate the ideal.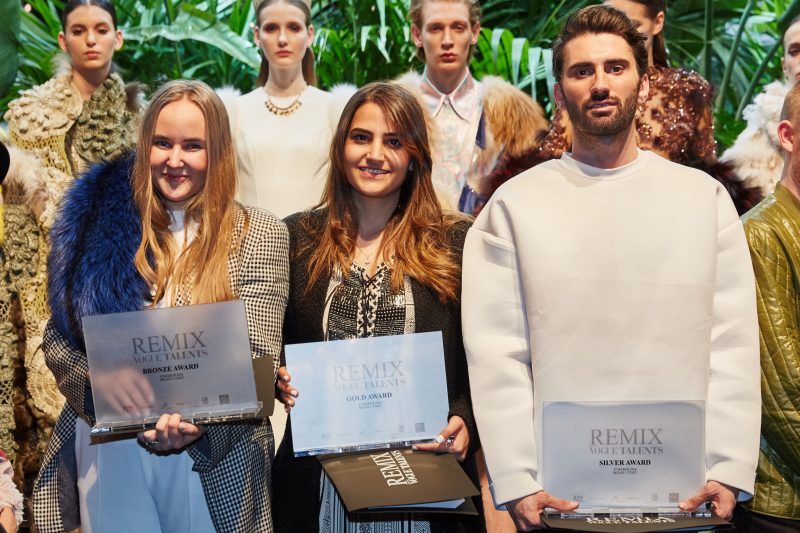 What are the highlights of your fashion career so far?
Wining the British Fur Trade FTA award in UK and thereafter being able to travel to Milan and receive the bronze award at the REMIX competition opened up a lot of doors for me. Such an amazing way of building a network and get insight to the fur industry. Another highlight must have been winning the DFT competition in Germany last year where Alber Elbaz was part of the jury. I got to spend time with him in Paris, going through the ideas for my new SS18 collection, which was incredible.
What did you learn from the REMIX design competition in Milan?
Since I won the British Fur Trade Association Award in London, I got the opportunity to get a fur garment produced for my SS 16 collection and work alongside furriers that has been in the industry for years. With their specialized knowledge and with my imagination I learned a lot about fur and how it can be used alongside different fabrications. Thereafter being selected to travel to Milan for the REMIX competition in partnership with Italian Vogue and represent UK was such an amazing experience. Since I won the bronze award I was invited to travel to Saga Furs design center in Copenhagen this September to work with fur and make some new things for my SS18 collection. REMIX gave me the incredible opportunity to work with the best in the industry such as Hockley, BFTA and Saga Furs, which inspired me to incorporate fur into my collections
Competitions such as REMIX and the BFTA are such important initiatives to help young designers get into the industry. It was incredible to take part in such an organised and well-planned event. Meeting Sara Maino (Senior Editor of Vogue Italia) and the rest of the jury and getting their feedback was extremely valuable. Competitions like REMIX are helping young designers to get recognition and as well as an amazing networking opportunity with people from the industry. I have learned and developed so many different ways of working with fur, with some incredible furriers, and being able to think outside the box with the way we combine fur. Being able to visit the trade shows in Milan was helpful to understand the industry as well as getting important contacts.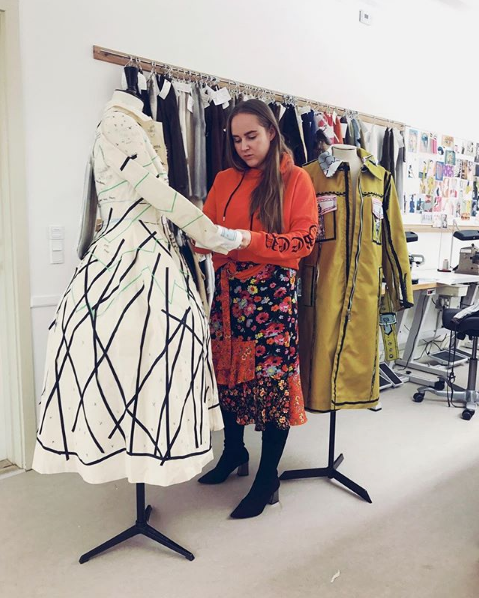 What have you achieved since REMIX?
Since Remix I have been building up my own brand EDDA and been able to showcase my collection in different parts of the world such as London, Oslo, Milan, Berlin and South Africa. This season is the first season were my SS18 collection is going into production, which I am very excited about. As mentioned before, I won the DFT competition in Germany and had the opportunity to spend time with designer Alber Elbaz. He was such a genuine and wonderful man and I learned a lot from him. Also, recently I won the Merit Award with Fashion Scout so I am very excited to showcase my new SS18 collection with them this season in September.
To find out more information on REMIX, please visit the link www.wearefur.com/remix2018