Like me, I'm sure many of you have crossed paths with Sandy throughout the years. Wearing many hats and with her fingers in all the fur trade's pies, Sandy juggles so many different ventures, it's difficult to pin-point her influence and knowledge as it is so huge.
From my first day working in the industry, I felt a strong connection not just to fur but also to the members of the industry. So many of the companies are family-run, multi-generational businesses. Coming from my own close-knit family, I connected to so many of the individuals. Some of my closest friends are in the trade. As such, I made it my passion to not only promote the fashionability of fur, but to help – and defend – the members of the industry. This is the reason I spend a significant part of my time doing industry-related work.

The Fur Guru wonders how one has enough hours in the day… I'll let Sandy explain!
As someone who is incredibly organized, my effective time management allows me to primarily focus on my main role as PR Consultant for The Fur Salon at Saks Fifth Avenue and for Maximilian at Bloomingdale's, which I thoroughly enjoy. My strong relationships with celebrity stylists and editors at prominent magazines worldwide has resulted in achieving high-level fashion media attention for furs as well as having gorgeous furs worn by many of the biggest names in entertainment. These celebrities become strong ambassadors for fur! It is important for me to also make time to support the industry. For my industry-related work, I am a member of the board of directors of FICA as well as of Fur New York, which is the local NYC-based organization. I organize FNY's annual "Person of the Year" and membership drive dinner held every June where we honour a fur industry colleague who makes a significant contribution to the trade.
All this important work goes hand-in-hand with Sandy Reports.For me, Sandy Reports was my introduction to Sandy, a woman with a mission to deliver the true facts, news and fur trade exclusives. But as I'm sure many of you are wondering, how did Sandy become the driving force behind one of the fur trades most valuable news outlets.
Sandy explains…
Two and a half years ago, my colleague and dear friend Sandy Parker passed away. Sandy had been publishing his weekly newsletter, Sandy Parker Reports, for more than 50 years. Upon his death, Sandy's daughter called me and told me how fond of me Sandy was and how she would consider it an honour and a tribute to his legacy for me to take over his newsletter. With our namesake as the connection, I took it as a sign. I seamlessly renamed the newsletter Sandy Reports, and have been publishing it weekly ever since. Keeping in mind my consummate support of the industry, I vowed that this newsletter would be a true "trade publication" with all features focused on informing and supporting the trade. No politics, no internal conflicts, no gossip … just the facts – whether positive or not – always with an underlining support of all sectors of the industry.
I speak on behalf of the entire fur trade when I thank Sandy for her tireless and invaluable reports. While Sandy considers it an honour to have inherited a long-running and renowned publication, the honour of receiving her weekly round-up is all ours!
With so much press (good and bad) surrounding the fur trade, Sandy is never short of events and topics to cover. Sandy is a part of the proactive majority of the fur trade, doing all she can to promote it in a positive light, something she is proud of.
FICA, Fur New York and the IFF – as well as other industry groups – are fighting every day to oppose the proposed bans.
But what exactly are FICA doing to further our cause you might ask, Sandy explains…
FICA fights the good fight every single day both behind the scenes and on the ground. They keep the industry informed on all the work being done and hold industry-wide meetings on an ongoing basis to keep the members of the industry updated and to have their questions answered. Very often, they will ask for the industry's support to generate letter-writing campaigns from a grass roots level as well as on social media platforms. They open their board meetings to have all industry members join and have their voices heard. And yet, it seems, the people that are most vocal and critical of the industry's efforts are those that have not contributed a dime to the fight, or contributed an hour of their time. It is incredibly frustrating! But instead of focusing on those that seem to enjoy complaining, I choose to focus – and support – the many that work so hard every day and fight the good fight!
(The Fur Guru stands resolutely behind you Sandy!)
Adopting a role on the front line, Sandy is always coming into contact with customers and celebrities, I need to know what is the typical conversation Sandy has with these influential groups. Do they still love fur but are too scared to wear it? Or are they turned off from fur as the media so seldom reports?
I come in contact with the most fashion-conscious clients. These women that are shopping for fur, understand and appreciate its fashionability, its warmth and its versatility. They don't need validation as they are already fur lovers. They do occasionally bring up the hypocrisy of the issue – activists that are against fur, but not meat, leather or wool. One client who is very fashion savvy, addressed Gucci's decision to ban fur. "What about those gorgeous Gucci crocodile bags that we all love? Why are those OK and a mink coat isn't? It's ridiculous!" When I work with celebrity stylists, all they need to know is their clients love fur and want to wear it. They love the glamourous look and how it makes them feel. They, too, feel there is a deep sense of hypocrisy. It is very clear to me that the industry's messages of sustainability and the hypocrisy of the animal activists' movement are resonating and are being heard! There have been an increasing number of stories in the media supporting the industry's position.
Just as I can, I'm sure many of you reading this can draw parallels between your own encounters with those who challenge our industry from the encounter Sandy describes above. We all know (for the lack of a better word) it has become "fashionable" for brands to ban fur. But equally, we all know this is a just PR stunt, and a transparent one at that!
It wouldn't be a Here Come the Girls feature without a question referencing the challenges that many women often face (or have faced previously) in the work place. So, Sandy, while at 22 you achieved what many could only dream of, have you found any obstacles in your career being a woman? Or, alternatively, do you feel that being a woman is irrelevant in today's society and you don't need to prove yourself in a 'man's' world?
I was very young – a college student – when I started to work in the industry. I heard a lot of 'honey' and 'sweetheart'. This was all way before today's "Me Too" movement. At the time, I didn't think much of it.
If someone said, "Honey get me a coffee", I would get them a coffee. I just did what I was asked. I felt it was my job. I've always found it ironic, however, that a product that is predominantly bought by women is part of an industry that is predominantly run by men. No one better understands the buying habits of a woman than another woman; yet there have always been a minimal number of women in leadership and/or management roles. This always frustrated me. That is why, to this day, and especially in my role as journalist of Sandy Reports, I will always support women in this industry.
Supporting the next generation of female fur trade luminaries should be a joint effort, and by following Sandy's lead, and our Here Come the Girls initiative it can be. So, moving forward, what area of the fur industry should we all be focusing our efforts, Sandy?
I feel the industry's target audience needs to be the millennials. They are very plugged in – literally – and consciously aware of sustainability and environmental issues.
This is the area of the industry you are trying to elevate and change?
Yes, their mothers and grandmothers lived in different times. If we can educate and influence this group about the sustainability and fashionability of fur, the industry opens itself up to a vast new audience for its future. Then, of course, the fashion styling needs to follow and reflect this group's lifestyle.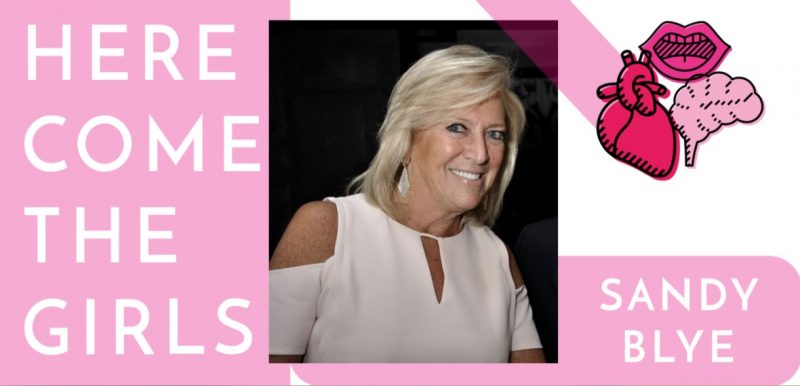 As we wrap-up our conversation, Sandy echo's the sentiment shared by the majority of the fur trade, one so eloquently spoken I felt compelled to share. Sandy opens up…
The fur industry has been around forever … and it willcontinue. It is more important now than ever before for every member of the trade to work together and support each other as well as to support the trade organizations who are on the front lines of the attacks from animal activist groups. Fighting each other – not supporting trade associations, being negative and critical of all the good work being done will NOT help us win the challenges the industry is facing. Working together will!
I couldn't agree more, Sandy! Together we are stronger. That being said, I like to ask all my fur trade wonder women if there's a quote they'd like to share to end our enlightening discussion on for all of our readers. So, is there a quote that springs to mind, Sandy?
When I started in the fur industry, a mentor of mine told me, "You have two ears, but one mouth. Listen twice as much than you speak." I remember those words every day in all the meetings and conference calls in which I participate. "And most important – always BE NICE and BE KIND! It's that simple!"
Duly noted, Sandy! Both of these are mottos we should all strive to live by. All that's left to say is, on behalf of the IFF and the entire fur trade, thank you for all that you do to strengthen our industry. You are a guiding light and the definition of what it means to lead from the front.