NYFW and MFW SS19 did not disappoint in giving us eye-catching vibrant pieces to romanticise over. Striking shades have been the 'it-thing' on the runway this year proving that being 'empowering' and 'assertive' can come in colour form. We saw this with more designers choosing to experiment with their designs and bold colours creating a youthful and playful feminine mystique on the catwalk.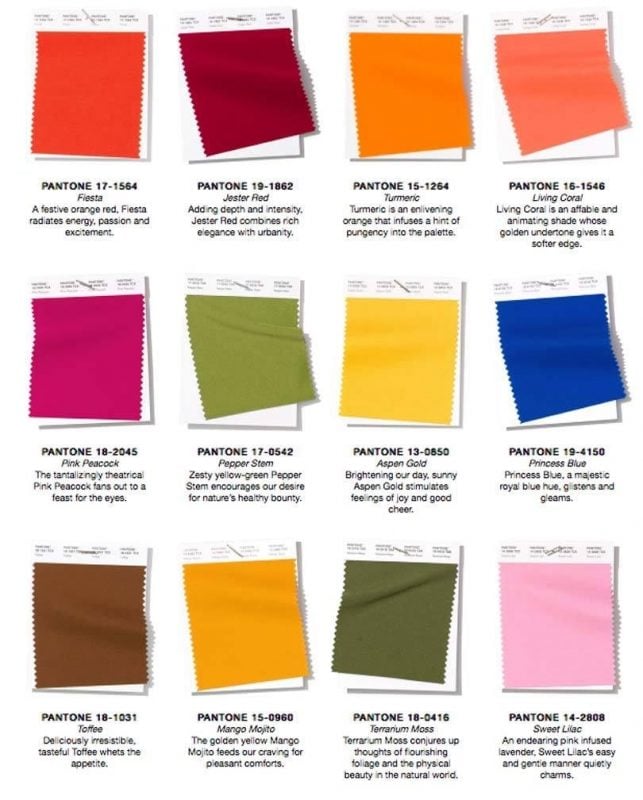 Pantone released predicted shades that were thought to be popular this NYFW.
Sally Lapointe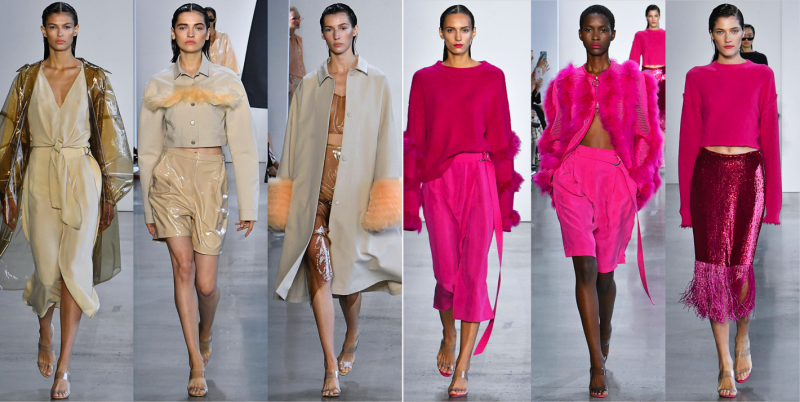 Sally LaPointe primarily featured neutral tones with a selection of bold statement pink looks to break up her latest collection, which she says was inspired by the comic book series "East of West." The ultramodern look of LaPointe's latest collection, her use of PVC trench coat (left) some of which were paired with vinyl sartorial short pants, represented a culmination of past and future inspirations while her peacock pink designs (right) offered a welcomed bright and glamorous feminine edge.
Mimicking the cartoon theme, Lapointe – as known for her bold colour blocking – focused on a range of looks that combined a monochromatic feel. A Lapointe statement – which consisted of a series of neutral tones – khaki, acid-wash grey, and navy, followed explosion pops of pink which diverted the continuous cycle. Summer furs, like fox fur, were seen in various segments of the collection in the runway, making a seasonal comeback in forms of signature jackets, cuffs and pom poms.
Oscar De La Renta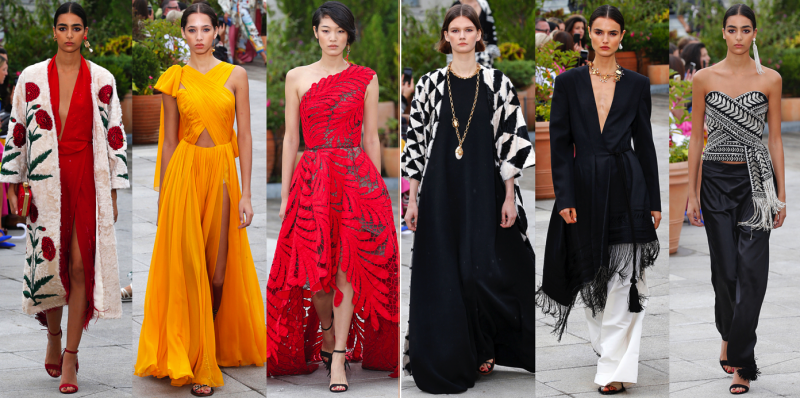 New Creative Director at Oscar De La Renta, Laura Kim and Fernando Garcia, ushered in a new style during NYFW. Taking over the iconic Dominican brand, this design duo didn't hold back with their use of asymmetric monochromatic (right) and royal red floral fur designs (left) this season. Kim and Garcia are no stranger to Oscar De La Renta, having worked with the brand for 12 years prior, nonetheless, nothing on the runway was similar to the elaborate wedding gowns of the past.
Captivating capes, fabulous fringe and on-season stripes were showcased by supermodel sisters Gigi and Bella Hadid who both made their own mark during the show. Most notable was Gigi who strutted past the A-list front row, which included actress Kate Beckinsale, rapper Nicki Minaj and fellow supermodel Rosie Huntington-Whiteley, in an oversized sleeved kurta and a pair of eye-catching neon yellow flared trousers. According to Kim and Garcia, this collection was inspired by their trips to India, Morocco and Greece, which translated to a series of intricate kaftans, feathered shoes, and sari-influenced designs.
Dennis Basso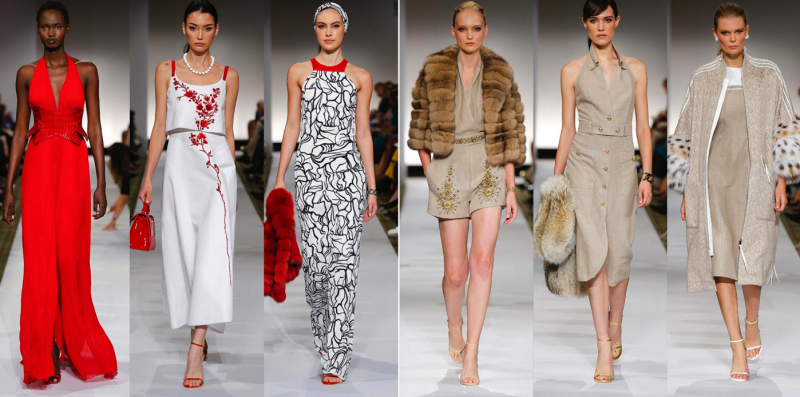 Dennis Basso's SS19 collection was constructed around the theme of authoritative women. His muse was the iconic noblewoman, socialite and style icon, Marella Agnelli – who reflected these assets vicariously through his collection – poise and individuality in her fashion. The expedition of Basso's designs took the "woman" from day to alluring evenings through his striped pyjamas to white silk elegant dresses. 'International' was the keyword that Basso had envisioned for his collection, as the women wearing his designs would be those who travel the world with fashion at the core of their itinerary. He took us around a journey through colours and themes – as his message of women being confident and empowering, radiated through choices of colour and design. Through this, we were taken on a trip worldwide and taught how fashion is achieved. Although SS19 doesn't see as many furs as Fall/Winter, Basso had created pieces of mink, Russian broadtail, sable and fox fur that accompanied the main pieces.
Max Mara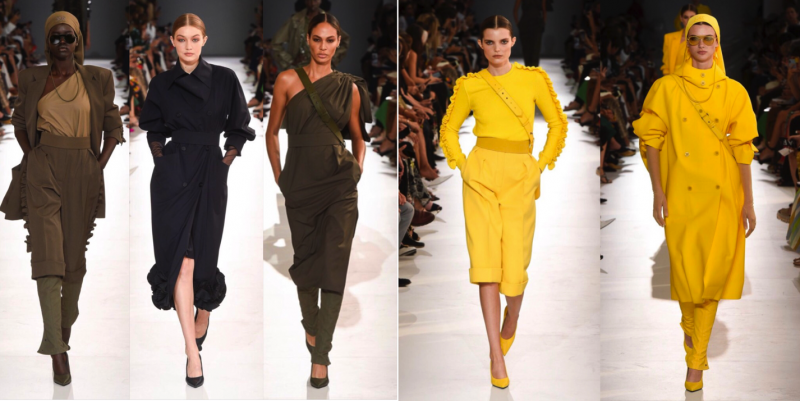 Max Mara definitely followed the same notion and bought neutrals vs pop of colour in MFW SS19.  This season has been all about the classics with a few colourful pieces to break up the cycle, and play them up. For SS19, Max Mara went down a similar route (powerful women being the core), with women's portrayal throughout history being the concept and inspiration behind the designs and what they symbolize. Inspiration drew from Margaret Attwood, and Madeline Miller, as part of a strong female base, with narratives of Gaia and Amphitrite being what Max Mara envisioned the collection to be about – Amphitrite winning her throne back, and re-establishing power.
The basis of this collection consisted of sophisticated shapes and neutral colour palettes – as Max Mara is commonly known for – however the pop of yellow gave the monochromatic sets a long-awaited glimpse of energy. This inspiration translated to leather straps, extended blazers, and headscarves.
Fendi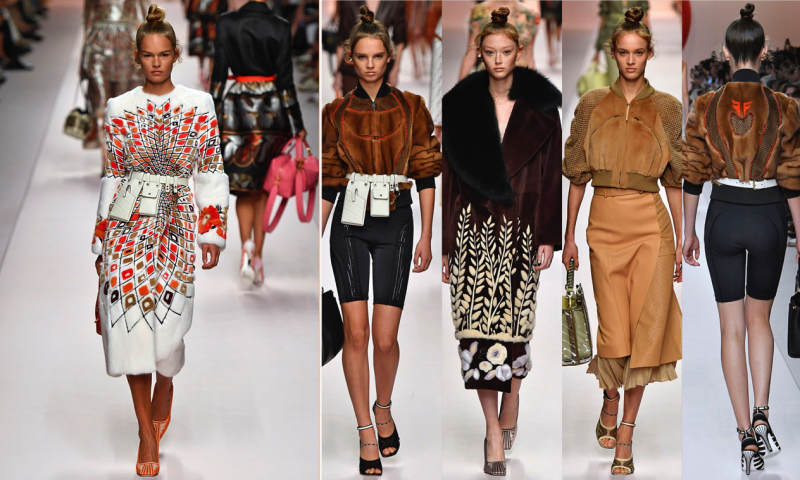 Fendi SS19 channelled similar traits during MFW, where an earthy and chic palette, balanced futuristic shapes, alongside shots of bursting, fierce orange. Skirts and dresses liberated the collection, with embroidery and flowy drapes taking centre stage, hinting femininity. Functionality appeared to be the most dominating feature in this collection, with bomber jackets with pockets, multi-pocketed belts and shirts, delivering what women had wanted – storage within their clothes.
All six designers had something in common – the colour selections and themes within their collection. All consisted of neutral tones throughout, with splashes of colour to juxtapose one another, and break the sequence. The subject of powerful women was the common denominator, as it was what all collections established their inspiration around. NYFW and MFW SS19 did not dissatisfy in terms of colours, designs, and models, and conveyed a message that fashion, fur, female power and colours are here to stay.