The fashion industry exists in a constant state of flux with only veil of gauze, thin enough to see through, separating iconic from controversial moments. In today's climate, with cancel culture on the rise, a number of prolific fashion moments have played an integral part in how we have spoken and thought about fashion for the last twenty-plus-years. However, when sifting through archives of monumental style sensations and fashion faux pas, a theme arises: Fur. So, before looking ahead and entering a new decade, it's time to revisit the headlines that have defined fashion since the turn of the 21st century.
Anna Wintour & Animal Activists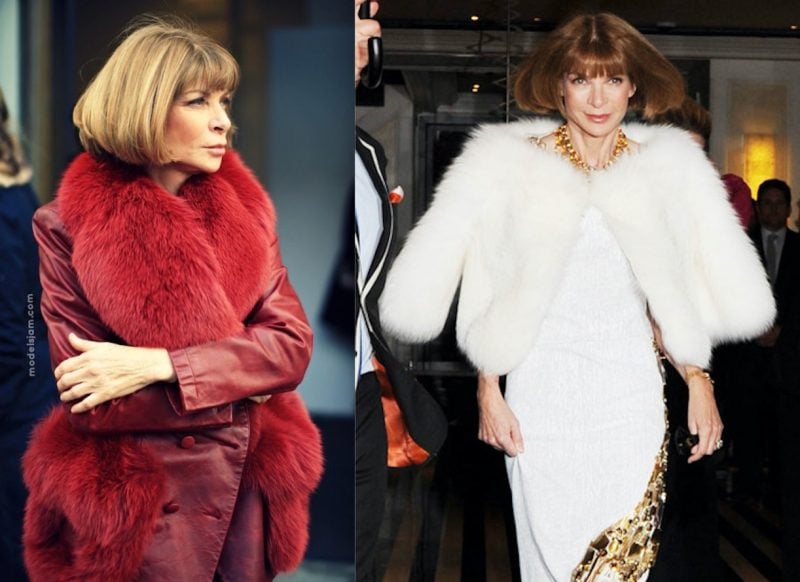 Anna Wintour's encounters with militant animal rights campaigners are plentiful and well-documented. From an animal rights activist storming Wintour's lunch in the Four Seasons in New York and slamming a dead racoon into her soup in 1997, PETA sending her an perfume with a dead animal scent, all the way to the just last year, in 2018, when Wintour was confronted by an angry mob of animal activists outside Marc Jacobs show as part of New York Fashion week, Wintour's love of fur has never wavered.
Throughout her considerable career and current reign at the helm of fashion bible – American Vogue, Wintour has come under fire and to the defence of fur countless times. Supporting the most sustainable natural fashion materials and steadfast in her rejection of fast fashion and the synthetic materials that it propagates, like faux fur, Wintour remains a fur advocate in an increasingly challenging climate. Again, earlier this year, Wintour found herself in a media storm after reiterating her stance on fur. When being interviewed by CNN's Christiane Amanpour, Wintour was asked, "What's your view on fur these days, because you did popularise it again?" To which Wintour responded, "I think that fake fur is obviously more of a polluter than real fur [and] I think it's up to the houses that work with fur to make sure that they are following best practices, that they are being ethical in their treatment, and we will make sure from our end that we are doing exactly the same thing." Thus, while Wintour has had some controversial fur moments, the same way we are confident that the hamster wheel of fashion trends will continue to recycle concepts in this age of simulacra, we can be sure that Anna Wintour and animal activists will meet again.
Madonna and Michael Jackson Make History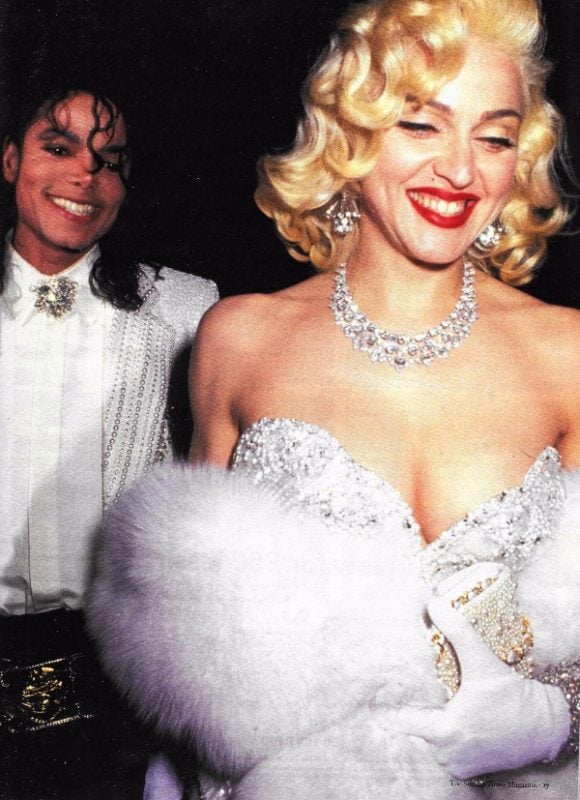 Two people who need no introduction are Madonna and Michael Jackson. Two musical icons who between them dominated the music scene for the best part of thirty years towards the latter half of the twentieth century. So, it would come as no surprise that during the peak of their careers, when attending the Academy Awards (better known as the Oscars) in 1991, the pair were splashed across every newspaper, fashion magazine and television network.
While Madonna won the Academy Award for her song 'Sooner or Later' – written by Stephen Sondheim for the film Dick Tracy – it was Madonna's white fur stole that caught the world's attention. And since that iconic red-carpet moment, Madonna has been seen in many different furs over the years. Spotted wearing a mink coat in her "Music" music video in 2000, then in a £35,000 chinchilla coat in 2006. Madonna's love of natural fur has endured throughout her career earning her PETA's Worst Dressed Celebrity in 2009. Regardless, as Madonna continues her decades-long music career dressed in the most fabulous furs, we are sure we haven't seen the last of the Queen of Pop looking utterly iconic.
Fashion Week Wrecked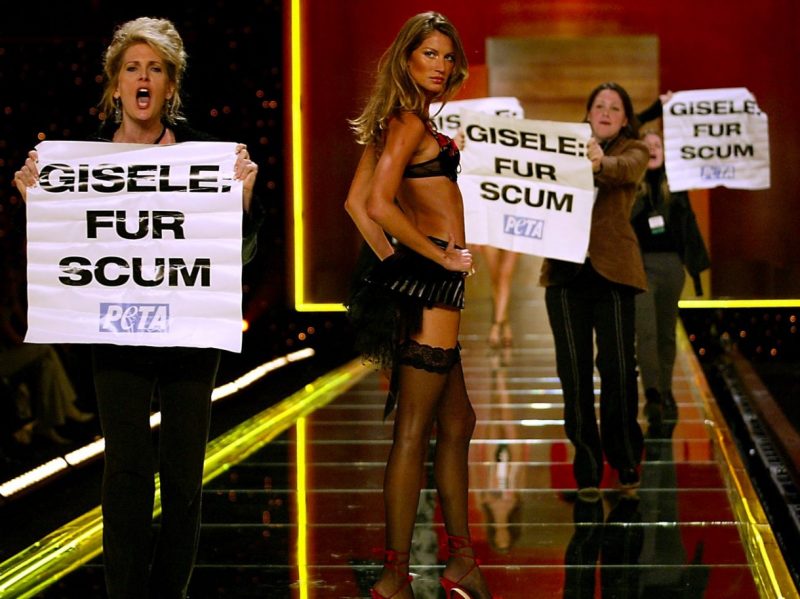 Fashion weeks are some of the most exclusive events, not only in fashion, but the world. And with celebrity laden front rows, fashion weeks have become a target for animal activists to gain public and media attention since New York's inaugural fashion week in 1943. Even the most famous designers have fallen victim to activists storming their runways, resulting in some of fashion's most controversial moments. The list includes; Julien Macdonald (2006); Jean Paul Gaultier (2013); and Burberry (2017) to name only three.
While these designers have previously been ardent defenders of their use of fur, using the material in copious collections, it's interesting to note that all three of former PETA targets have now gone fur-free. In the last three-years, all three designers have turned their backs on the artisanal craftmanship that is fur design which they have previously supported. However, earlier this year (2019), less than one year after banning fur, Jean Paul Gaultier stated that he would return to fur if he could be sure where it came from. Thus, with the fur trades traceability and certification program Furmark launching early 2020, we could see a number of high-profile designers returning to natural fur.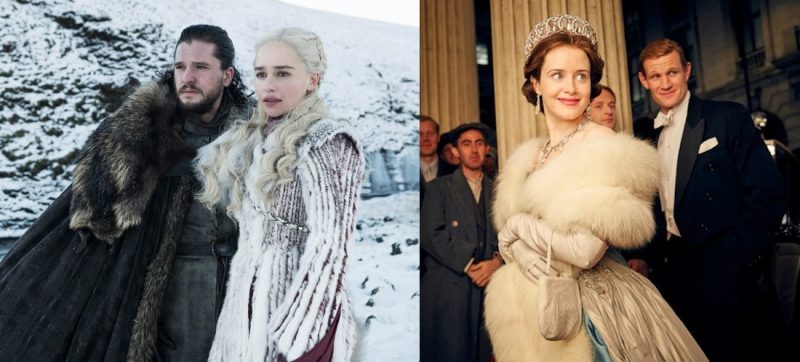 Big Furs on the Small Screen
Moreover, while a string of high fashion designers have turned their back on fur out of fear of attracting unwanted negative attention, the anti-fur contagion has not spread to television. In fact, fur is a regular feature in two of the most iconic and popular television shows in the world: Game of Thrones and The Crown. The fur looks in both of these shows are as iconic as the stories they tell, one about the blood-thirsty power-struggle between houses, and the other chronicles the life of the current British Monarch, Queen Elizabeth II. While there is some controversy around some of the furs in Games of Thrones being make from shearling rugs, the fashion in both of these shows is as grandiose as the life of Queen Elizabeth II in The Crown. No matter if you see fur on the big screen or on the small screen, in Game of Thrones or the Crown, the costumes are iconic.
Putting the "Puff" in Puff Daddy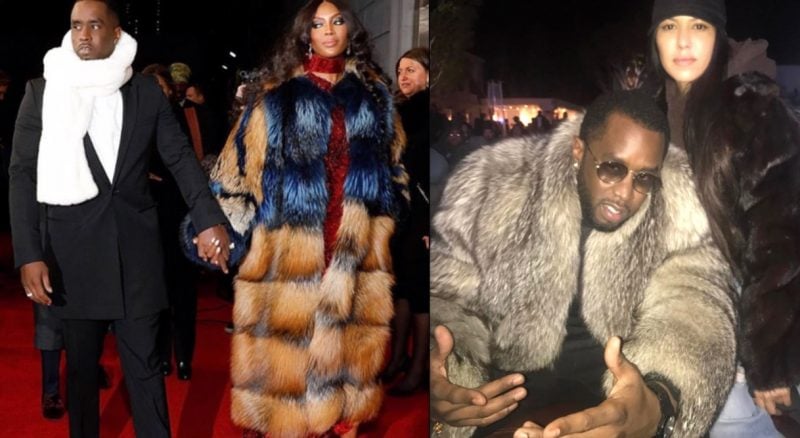 Puff Daddy, also known as P. Diddy, celebrated his 50th birthday at his Beverly Hills mansion in December 2019. The star-studded bash included a line up to rival the Met Gala, guests included Beyoncé, Jay-Z, Kanye and Kim Kardashian-West, Cardi B, Kylie Jenner, Leonardo DiCaprio and Naomi Campbell who have all been pictured rubbing shoulders. Amongst guests, Snoop Dog was seen in a fur coat, rivalling Puff's own love for the natural material.
Throughout his decades-long career, P. Diddy has continued to perform in and wear fur, ignoring the calls to ditch the material from animal rights groups. In fact, Puff's return to Instagram was marked with a photo of the rap superstar in a plush grey fox coat. Fur and the music industry, particular rap music, goes hand-in-hand. Everyone from French Montana, seen in a Mink Stroller and Chinchilla fur coat, Kanye West, spotted in a fox coat at Paris Fashion Week when showcasing his latest Yeezy collection, to Gucci Mane, photographed in a multi-colour patchwork mink, can be seen in fur. Fur has never been more prominent in rap than it is today.
Yet, it is arguably the Godfather of the genre, P. Diddy, who has been seen walking the red carpet in fur the most. Three of the most recent times are from 2017, when Puff sported a white mink scarf with Naomi Campbell on his arm in a two-tone floor length fox coat, another time Puff adorned a Marc Kaufman Whiskey Mink coat at the Superbowl in 2018, and in 2017, Puff was spotted in a hamster coat. No matter the occasion, Puff continues to be one of the most iconic dressers in showbiz.
Naomi Campbell – Fashion's Fur Fantasy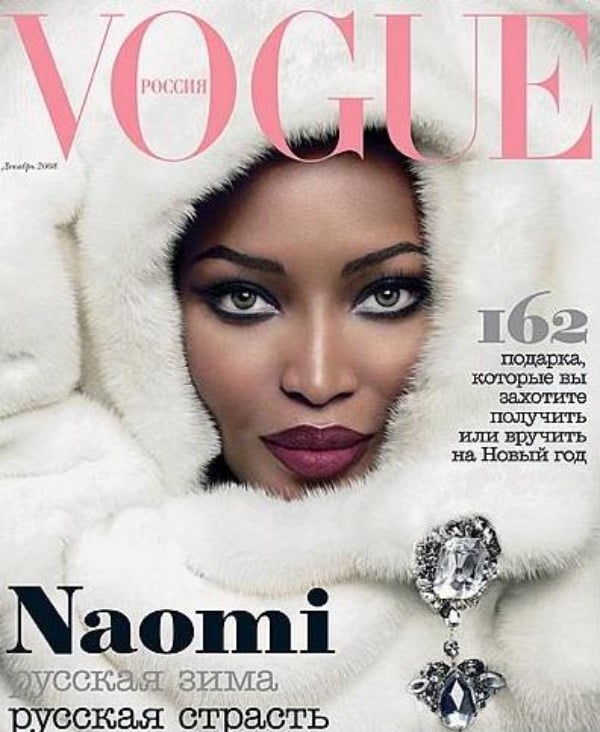 A fashion icon who is a popular today as she was in the 90's and 00's when she was the world's most famous and in-demand supermodel, Naomi Campbell has had enough controversial and iconic moments to rival even Anna Wintour. Appearing in a PETA campaign in 1994 with a slew of fellow models that featured the slogan: "We'd rather go naked than wear fur," Naomi Campbell later walked for Fendi in their F/W 1998 collection in showstoppingly sumptuous sable coat. This created a media storm with many branding the British model a "hypocrite." The sensation made the front page of the British broadsheets and marked the beginning of the end of a decade of anti-fur activism and the hypocrisy of many fashion pundits. Since then, not one to shy away from media attention, Naomi has been pictured in fur in both fashion magazines and everyday like. From gracing the cover of Vogue Russia in 2008 wrapped in a white fur stole to attending Grammy Award winner turned beauty and fashion designer Rihanna's Fenty New York Fashion Week show in 2016, Naomi's iconic natural fur looks continue to make headlines.
The Kardashians vs PETA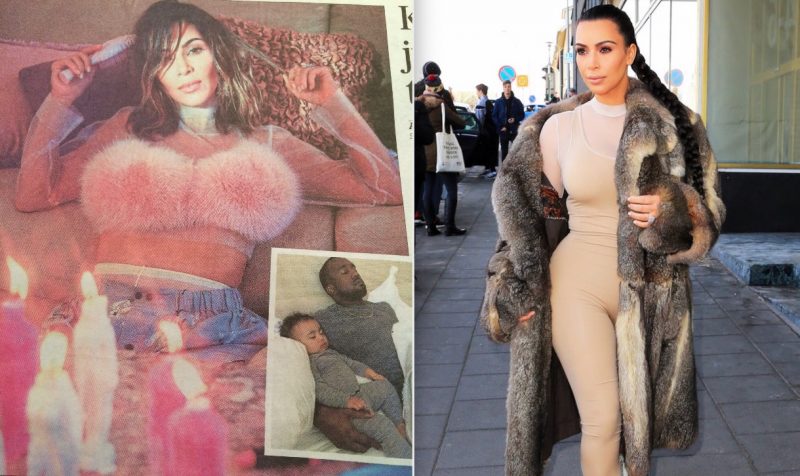 Love them or hate them, the Kardashians have built one of the most famous brands in the world. And with having built a career out of controversial moments, it's no wonder this family has made our top ten. Starting with People's Choice Awards winner for Best Reality Star (2019), Khloe Kardashian. Khloe starred in a PETA campaign alongside the slogan: "I'd rather go naked." Once an avid PETA supporter, after starring in a series of campaigns, Khloe denounced PETA in 2012 after a militant PETA activist flour bombed Khloe's sister, Kim Kardashian-West for wearing natural fur. Khloe publicly announced that she "will no longer support PETA," adding "Bullying and harassment is NEVER a solution, and I won't be a part of any organization that thinks otherwise."
Khloe's controversial fur moments are matched by none other than Kardashian empire catalyst Kim Kardashian-West herself. Once a habitual wearer of natural fur, seen in a $4000 Marni fur scarf in 2013, a fur bikini and matching boots in 2016, a hot pink fur bra in Wonderland Magazine, and a series of fabulous fur coats in between, Kim could always be seen in the latest furs. However, in 2019, Kim Kardashian-West announced she was having all her natural fur coats remade out of synthetic fur. While Kim may think she is doing a good thing by remaking perfect coats from plastics and crude oil-based polymers, there is no reasonable explanation for this. Instead, Kim contributes to the fashion industries unwanted title as the second biggest polluting industry in the world. However, is Kardashian-West simply stating the coats are remade from synthetic fur so she can parade the streets of New York and L.A in her real furs and not be attacked? One wonders.
Putting the "fur" in Jennifer Lopez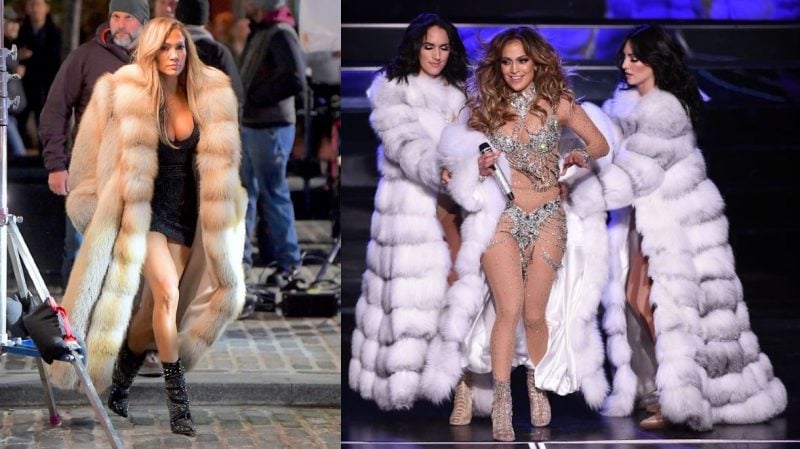 In 2005, Jennifer Lopez, more commonly known as JLo, bagged the much-coveted final slot of New York Fashion week not only to the dismay of established designers, but to anti-fur activists too since the entire collection were furs (in collaboration with Saga Furs Action house). A great lover of fur, JLo has been confronted with aggressive animal rights activists a number of times, most recently at the Toronto International Film Festival (TIFF) premiere of her feature film Hustlers. The three-time American Music Award winner has been bullied, threatened and confronted by militant animal rights groups like PETA in the past, with PETA calling the her "arrogant and ignorant," a "monster" and claiming her beauty is "only skin deep."
Nevertheless, unlike the which-ever-way-the-wind-blows designers who have turned their back on fur, JLo has remained steadfast in her love of fur. It only takes a quick glance at the Grammy nominated artist's Instagram to see an unrivalled archive of fur pieces. Regardless of the naysayers, whether she's attending Fendi's fashion show in New York with floor-length Fendi print fur coat, or taking centre stage in Hustlers in a voluminous fox coat, JLo retains her fashion icon title as well as her integrity for sticking with what she believes in.
Carine Roitfeld – Fur's Muse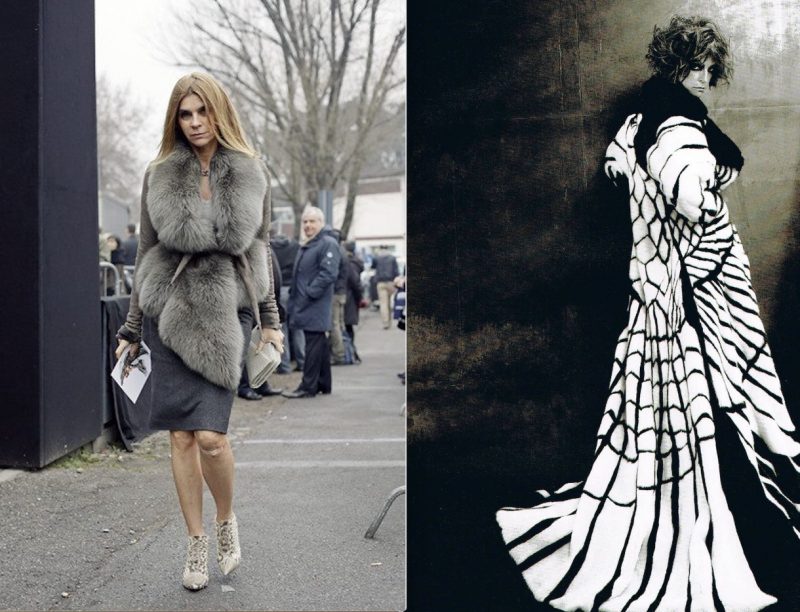 Former editor-in-chief of French Vogue (2001-2011), Carine Roitfeld is as obsessed with fur as they come. A familiar face on the front row of fashion month, Roitfeld has been seen furs throughout her fashion career. Whether sporting a showstopping floor length two-tone mink coat at Diesel Black Gold F/W collection in 2010, a red, black and white fox coat at the Givenchy Menswear F/W show in 2014, or a white fur coat at the Ralph Lauren F/W show in 2016, Roitfeld is a fur fashion icon.
Carine Roitfeld has actually worn fur when she posed as the Marchesa Casati in this New Yorker 2003, the feature was titled "The Divine Marquise," written by Judith Thurman and photographed by Karl Lagerfeld.
Long-time friend and often design partner to Karl Lagerfeld, Roitfeld has become the ongoing collaborator of Lagerfeld's own label since his passing, continuing the pair's partnership and joint love of natural fur. For us, one of Roitfeld's most memorable looks is her Roberto Cavalli party look from 2004, this leopard print ensemble with fur trim is one for her sell-out books.
Lady Gaga Drives PETA Coocoo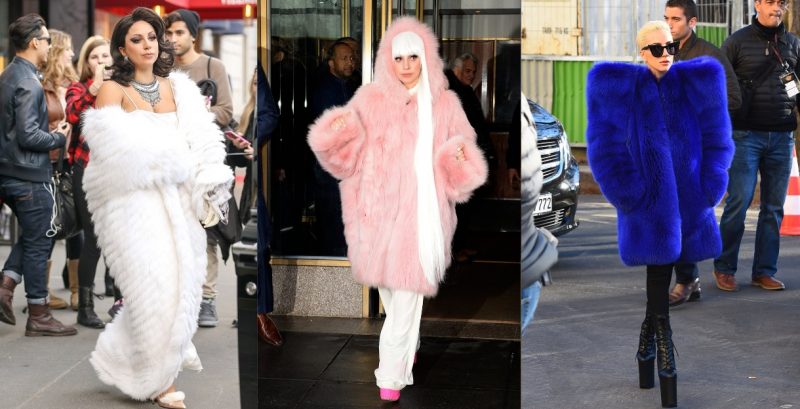 Lady Gaga is one of the most famous artists in the world, she is an Academy Award, Golden Globe and Grammy Award winner, and fashion trailblazer building her fame on a foundation of iconic and controversial looks. Since before Gaga's Video Music Awards "Meat Dress" in 2011, all the way until last year after being spotting in her Saks Potts fox cuff and collar trench coat (2018), Gaga has been a target for PETA for more than a decade.
When questioned about her support of fur in Rolling Stones magazine in 2012, Gaga described the material as "an absolute art piece… You see a carcass, I see a museum pièce de résistance." Gaga apologized to anyone who was upset by her fashion choices, but said she respects everyone's views and hopes hers can be respected in return. "And to campaigners," Gaga concluded, "Save your flour to make bread for the children who are hungry. And Kim Kardashian is fabulous" – a direct pushback against PETA's flour-bombing of Kim Kardashian-West. Whether she is wearing a white fox scarf in Berlin, a dusk pink hooded fox coat in New York, or a royal blue mink coat with the biggest 80's shoulder pads you've ever seen in Paris, Lady Gaga is a fashion icon.
In 2019, fur is considered a divisive material – you either love it or you don't. For many, it's iconic but for some it is controversial. After delving into the archives and reliving some of furs most memorable moments over the last twenty years, one wonders if iconic and controversial are in fact one in the same. Can something ever be iconic if it is not attached to controversy, or vice-versa? Perhaps the two work in a twisted symbiosis and that's why we have so many memorable fashion moments. As fashion trends come and go, so do anti-fur sentiments, and as we enter a new decade, we can all be confident that more iconic and controversial fur fashion moments are just around the corner.
A special thanks to fashion historian Judith Watt for helping produce this blog with her extensive fur history archive.