"In Paris, everybody wants to be an actor; nobody is content to be a spectator."
—Jean Cocteau
I have always had a soft spot for Humphrey Bogart and the original bad boy look. Heart breakers, deceivers… I have had them all. What makes them so irresistible? The idea of these beautiful outlaws reflects independence and unruliness; they do what they want when they want; they don't follow trends, trends follow them. This kind of men often looks scruffy, but hip; he's not looking for trouble, but there's a sense of danger about him. Apparently, all the previous qualities (say what??!!) provide him also with the right to break hearts with five o'clock shadow. Such influencers they are that, this year, the Paris catwalk was jam-packed of them. And there we were all, clapping at them and dreaming of taking them home (fur and everything!).
They came in different presentations: from the blatant rebel, free-spirited look to the heavy, dandy look. Yes, the clothes helped but, also the spirit of the shows, the concept of the catwalks were more than a suggestion that, if you want to be a character you just have to be yourself (but please gentlemen, with style and heaps of them). Too much beauty but I chose three pieces that (for this Guru, at least) proved to represent the French always-defiant spirit.
DIOR HOMME:
Personally I believe that man's best friend is not really a dog, but a good suit. It has been assessed, examined and revaluated since its creation and it appears to be a Parisian ingrained habit to continue challenging this subject. And who best to do this complex analysis than DIOR. Kris Van Assche has gone further than the initial question, it's not about the suit but about the user. In a way, Van Asscche believes that every man has the right and potential to use one. It might be just that some just lost the inspiration. But they can be reformed! And he believes so because of his style subculture background (and his date of birth). He watches MTV, was surrounded by pop cultural imagery and danced through the night making use of the lavish dodging of diehard clubbing. He knows (because he suffered it) about the massive shoulder pads that came with a bright coloured suit, the suit renaissance of Jean Paul Gaultier and the super sharp cuts of the early 21st century. He has seen it all (almost) so, he's the best to guide men of all ages and styles to become best examples of how to become an unrestrained and stylish bad boy.
His suit compendium roved from the latest and cleanest lines through rave references. He brought fond memories from the '90s to the originals in the crowd with examples of attires that once populated muddy fields and illegal warehouse parties. He renewed the look with luxurious capes, fur accents, fox fur. The showstopper of the catwalk was this aquamarine, fox gilet that proved there is a market for the lurid stuff.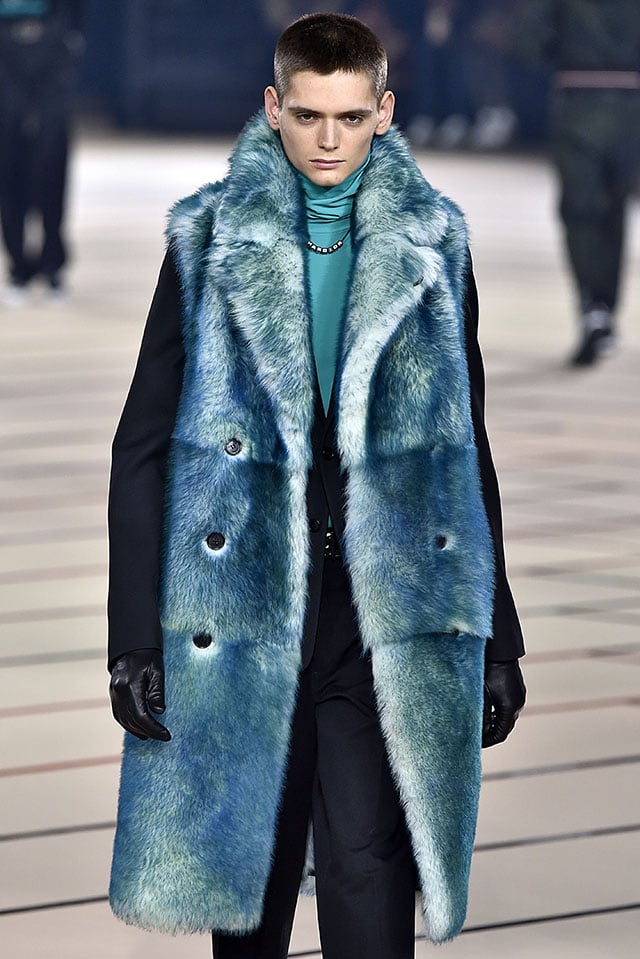 DRIES VAN NOTEN:
This designer is far from sentimental; he rejected the melancholic review of past years and concentrated on a grounded surfeit of attires for the next-door bad boys. His clothes just look good; they are effortless (with use of long-lasting colours and materials) that give his collections that feeling of classic and stylish indulgence. Who wouldn't like to have a neighbour that would go to your door and ask for a cup of sugar while carrying effortlessly a Bowie circa his early-'80s Serious Moonlight tour kind of look (a proper Rebel Rebel excuse the musical pun)? Well, and the range of familiar looks didn't stop there. All the music devotees were excited to watch the parade that went from the 60's Beatles details to the uncontrollable punk 80's. Certainly, he used faux fur but nevertheless, the Guru decided to include him because of his outstanding designs and beautiful collection.
Funnily enough, even though it was an amalgamation of oldies (but VERY goodies) looks, the latest trends were still shining. That brings me to the shining star piece of this collection: a trendy puff long, black jacket with a whole inside fox lining. Do I need to say more? Just have a look and fall in love with this beauty.
OAMC:
If you are a fan of the exotic and the far away land, this is your man. Luke Meier brought his collection to a clandestine setting to accentuate the laborious detailing of each of the pieces of this show. For this designer structure, reverse construction in suiting, fur lapels and outstanding fabrics and materials is what increases masculinity. So, the bad boy this time is an underground creature that belongs to a very special-access group. In a few words: a rarity that very few times you can find in the real, conventional world. He lives a love affair with the silent but defining luxury of detail, beauty. He selects and chooses, he decides.
And in the selected range of materials and pieces, one that shined the most was this Swakara fur jacket. Not only the cut, the detail and the fur was what made it twinkle among the rest but the use of a lilac colour. Some people would say I'm over thinking it but, I find it funny that Meier chose exactly a colour that is well known for its reference to royalty and nobility to use in such apiece. Oh well, fine by me. I can keep the one next door and leave this one for Meghan Markle.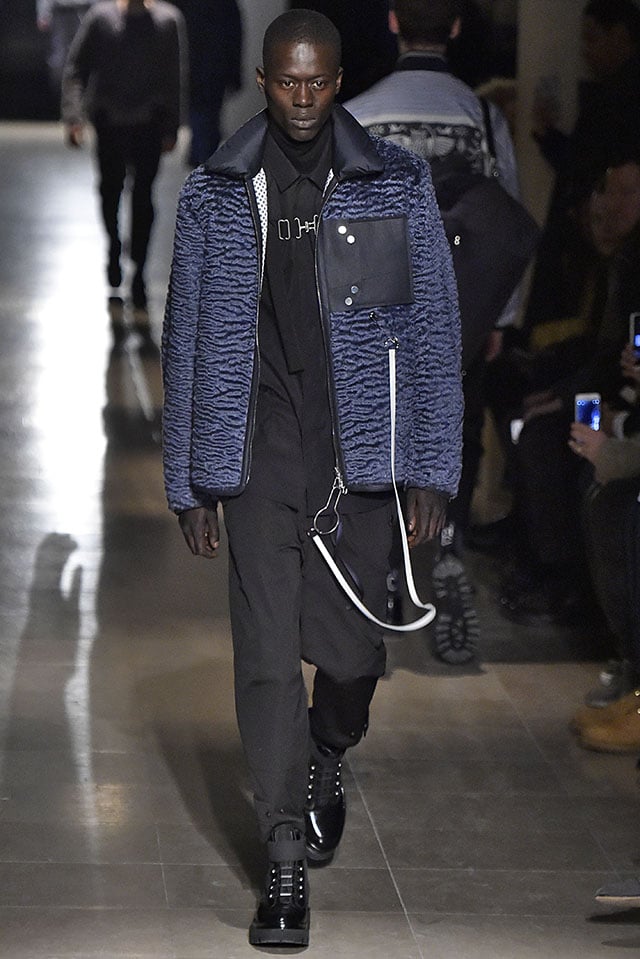 P.S. You just wait because, next week, will be a special one. I'll be introducing you to our REMIX 2017 Finalists. Can't wait!
The Fur Guru
xx