Cold winter months might be a daunting prospect for some, but not for fur lovers. The more the temperature drops, the more the fur coat that has been hiding in the back of your wardrobe is begging to be worn.
Though fur is becoming increasingly versatile across the seasons, it goes without saying that fur feels most at home in Winter. Not only that, but there is simply no other material as naturally insulating – and of course stylish – as fur when it comes to bracing the colder Winter months. There is no doubt that the upcoming Thanksgiving Black Friday and Christmas Sales will see designers flaunting the very best that fur has to offer in anticipation of its most fitting season. So in aid of you finding that perfect festive furry gift, whether for a loved one or yourself, we have pulled together some striking must-haves that have caught our eyes.
Take, for instance, the upcoming limited edition men's 'Canada Coat' from the renowned manufacturer of high-quality winter clothing, Canada Goose. Inspired by parkas made for Canadian rangers, this coat has been designed in celebration of the brand's 60th anniversary, boasting it's iconic red-colour, arm-logo and fur-trimmed hood. Whether you're tackling the slopes or finding your inner-ranger, this is the coat for you.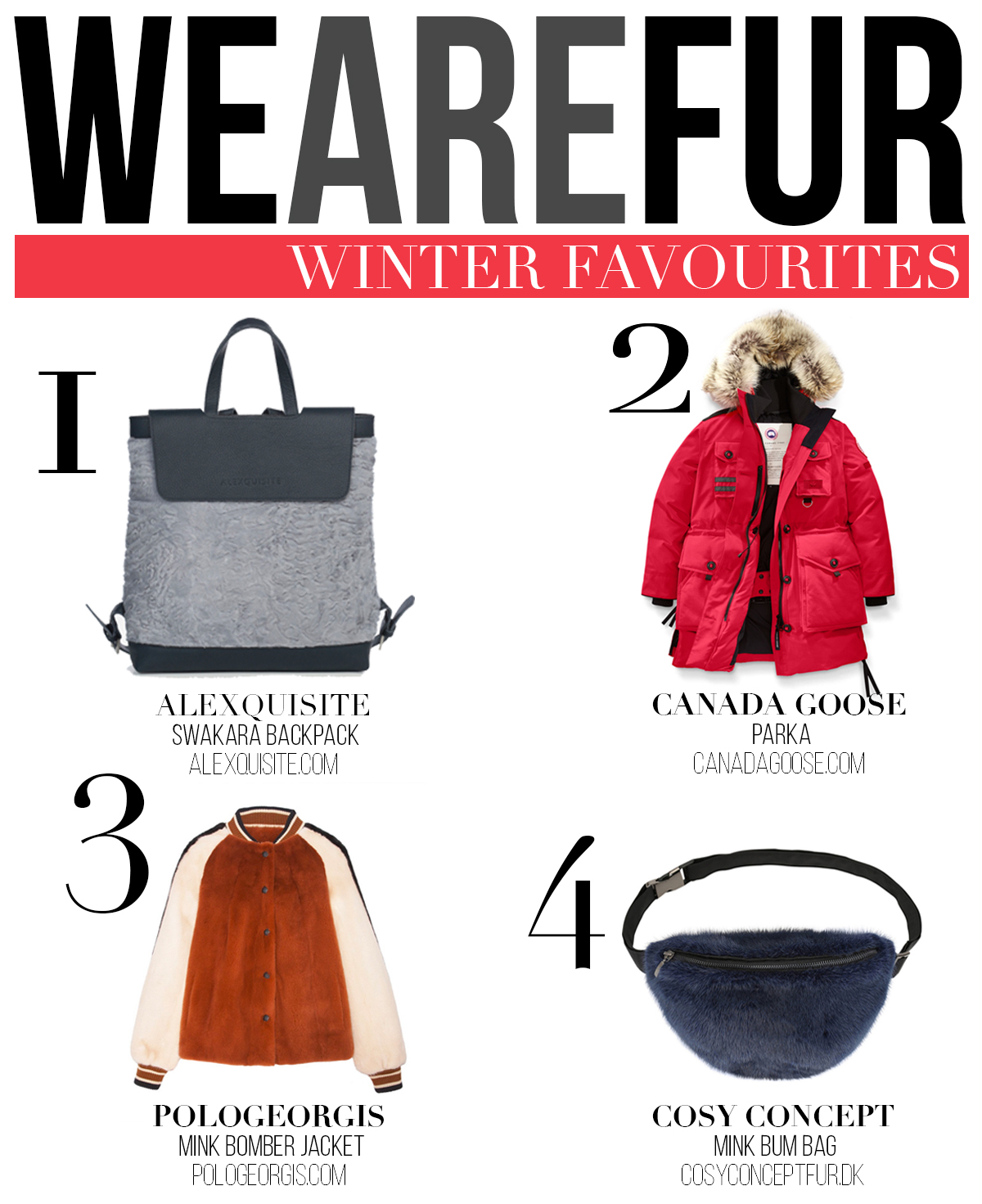 In the coat department, Yves Salomon are stepping up the glamour. Their bi-colour fox coat is a stunningly sophisticated creation, designed with luminous winter tones and subtle hints of a 70's nostalgia. Joining this calibre of glamour is Oscar de la Renta, with its timelessly elegant graphite-dyed mink open-neck Bolero, which would be the ideal match to neutral or bright hues.
There are other perfectly chic opportunities for those who want to stay wrapped up warm without having to don a slightly bulkier piece. For example, a snuggly solution would be Pologeorgis's enticingly coloured cinnamon mink Bomber Jacket; it couldn't be more on brand with an Autumnal colour palette. An even bolder option – while keeping things slick – would be Liska's beautiful red lamb fur and nubuck leather Vinzenza jacket.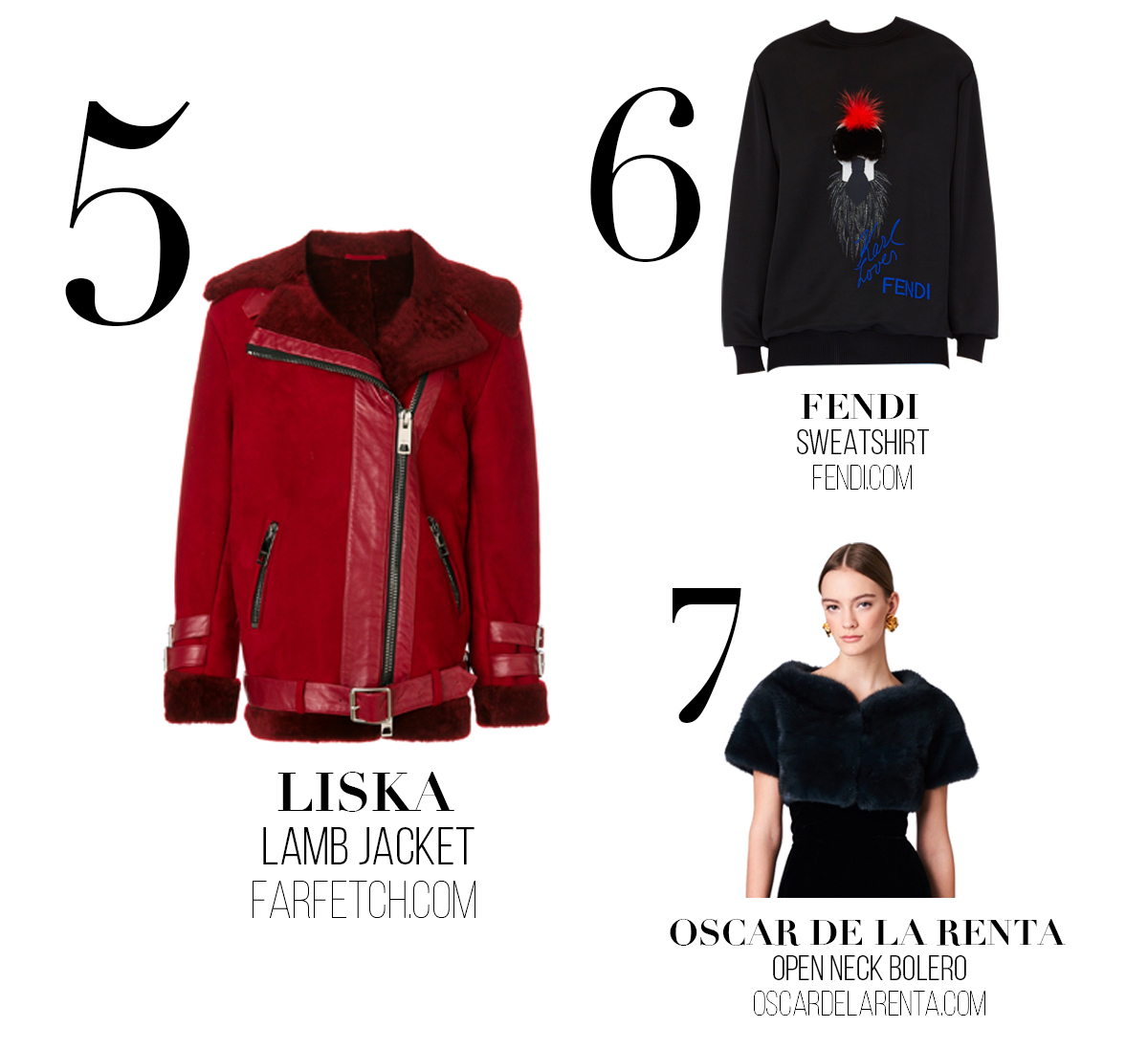 For those seeking a less conventional and more head-turning route is Fendi's fur embroidered sweatshirt. The long sleeve fleece is mounted with Karlito embroidery featuring a mix of threads and textures, with Tangies red and black fur appliqués, finished with a blue "Karl loves FENDI" signature. For those wanting to go bolder still, Christopher Kane is making a daring offering of 100% mink-fur trimmed Crocs. Retaining the practical slip-on style, round-toe and sling-back strap of an ordinary pair of Crocs, this uniquely simple yet striking footwear will ensure that your feet are prepared for whatever the British weather has to throw at you.
Designers are continuing to impress us with their versatility when it comes to fur. For instance, ALEXQUISITE'S limited edition Sky Grey backpack made of 100% natural SWAKARA fur and leather is an elegantly simple example of how fur is as practical as it is warming. Crafted by artisanal independent workshops in Greece, this backpack is an innovative bag designed for an urban environment, suitable for both men and women.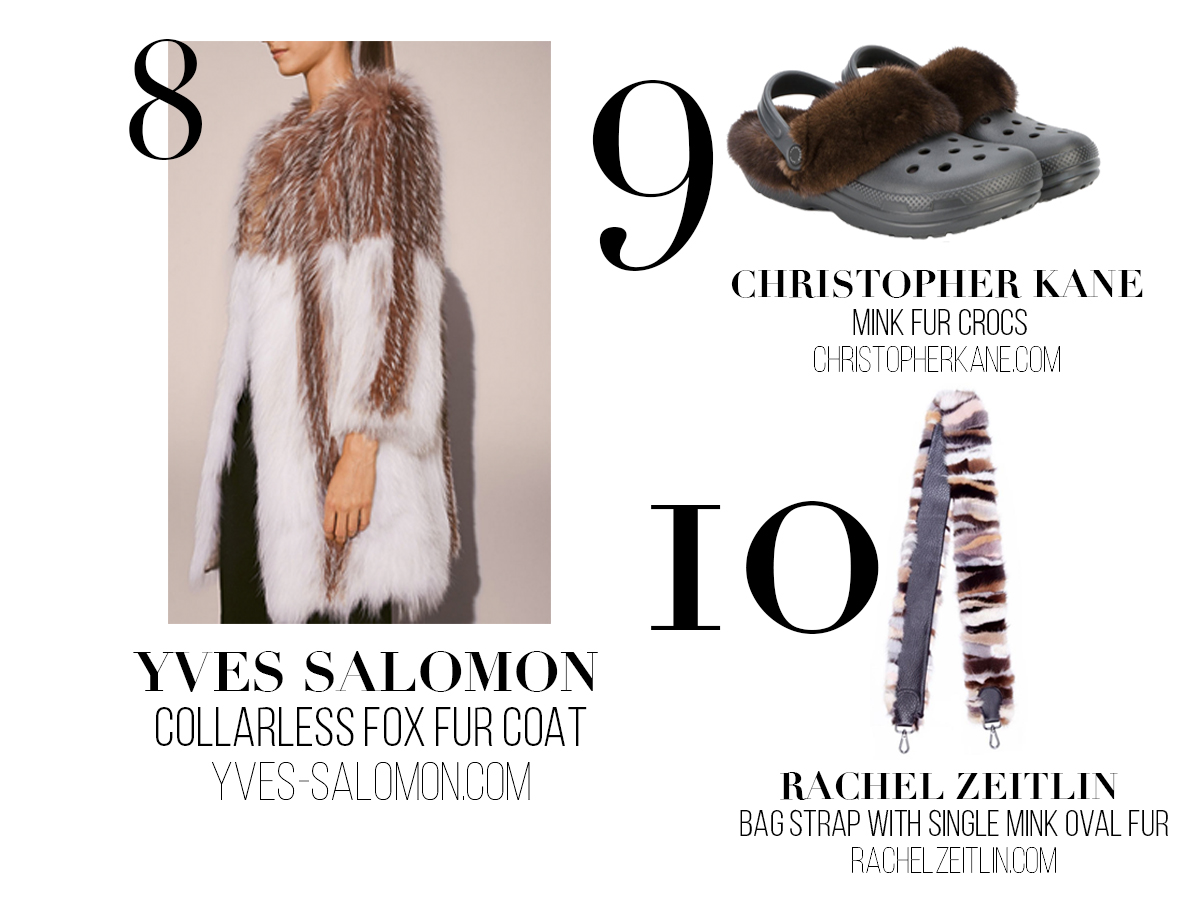 Furthermore, Cosy Concept Fur's charming mink-fur bum-bag comes in a subtle array of colours, from grey through to black, pink, yellow and blue. London based designer Rachel Zeitlin's single fur back strap is a classy, understated and modestly priced accessory that would elevate any outfit.
Winter is not just the pinnacle of sales and the shopping season, but is the pinnacle of fur's suitability and style too. Whether you plan on spending the festive season on the slopes, wandering through Christmas markets or wrapping up at home, fur is undeniably the ideal fabric for all. 'Tis the season to be furry…