The International Fur Federation had the pleasure of granting a fur bursary for Diana Agaian to partake in an internship in Ukraine to continue her progress in working with fur.
Diana Agaian describes how Fur Futures bursary has helped her gain traction in the field of design.
My name is Diana Agaian and I am a fashion designer working in Kyiv, Ukraine. I started creating collections immediately after my graduation from the Kyiv National University of Technologies and Design.
I started off working with basic fabrics such as cotton and silk, however, I decided that I wanted to work on more varieties, which moved me on to using the likes of fur and leather.
The collections I produced were presented at the Fur-Expo exhibition by the Ukrainian Association of Furriers, in which I was also invited to participate in a workshop with the Centre for Fur Design of the Centria University of Applied Sciences.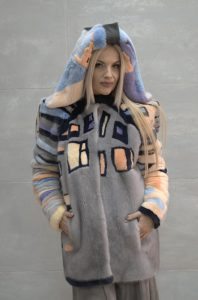 Over time, I improved my skills of working with fur, but I needed to go further and continue improving. This is where I applied for an annual bursary from the IFF. I was thrilled to receive an e-mail stating that I had been accepted for a FurFutures bursary and that I would also be taking part in a two-week internship at Tykafurlux, Ukraine's leading company that works with fur.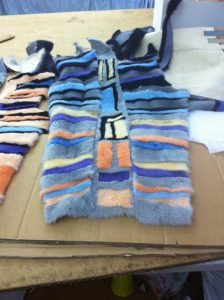 During my internship, I had also had the pleasure of being accepted to the final of the REMIX-Eurasia competition in Moscow. This meant that my internship would also consist of me working with a garment that I designed.
The inspiration for my design comes from a long admiration of architecture, especially when I came across the Solar Power Tower in Southern Spain. This gave me a focal point of a new journey with modern architecture.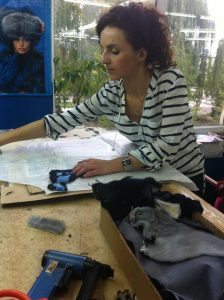 At a first glance, it can represent futurism, but when you go deeper you can see that it is not. The wave-like design, glass, colourful windows, all these features is not just a trend; the tower was simply built in this way for environmental purposes. The wave-like shape lets the sunlight in, so that people can save electricity by using the natural light. This shape also supports the natural air-circulation in order not to use air-conditioners. At some point I realised that this is exactly my style.
I wanted to create a simple, yet practical garment that will be in line with rules of nature.
My design for my fur coat was similar to the tower in Spain due to the grey basis and shape. The tower also had a number of colourful windows, which I also wanted to include. The convertible hood compliments the practical fashion trend of the fur coat. They can also convert the hood into a collar.
With my sketches, I had to choose a fur from hundreds of pieces and could not imagine how these pieces will turn into my garment design. Once the pieces had been chosen, they were sent to painting and I started on making the patterns for the coat.
With the front and back pieces of fur together, I used some application techniques to put together the 'windows' on the coat. After this application was done, I completed the pockets and hood.
When the fur coat was finished I could not believe that I was the one who had designed it. I learnt a lot of techniques such as choosing the fur, dealing with the direction of the nap, and its length as a result of this internship. In fact, these things are crucial for the final result, because they really determine the final look of the garment.
I am very grateful to IFF and the great people I had been working with for this unique experience and the skills and knowledge I acquired.