Rebecca Hermes recently graduated from the University of Westminster's BA Fashion Design course with a fur-orientated collection inspired by Lindsay Lohan and her time at the Chateau Marmont Hotel in LA. 
"I also take inspiration from the work of Helmut Newton and Tom Ford, and the '90's Supers' like Naomi Campbell, Cindy Crawford, Christy Turlington, Linda Evangelista and Kate Moss," said Rebecca.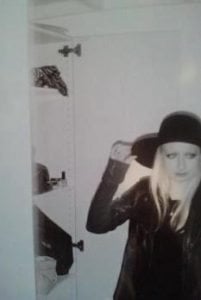 Rebecca Hermes previously worked at London furrier Hockley, learning how to use and work with skins. She has also spent time at Swiss leather house Bally, along with working at a studio in Paris improving her pattern-cutting skills. 
"Working with fur is fun – it adds an element of playfulness whilst still being the ultimate in luxury. Developing manufacturing techniques keeps it new and diversifies its uses helping fur in fashion to stay ever relevant."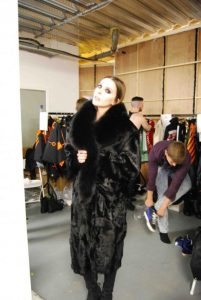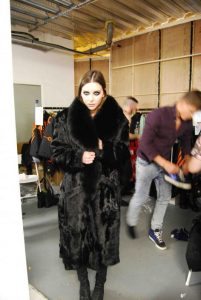 Rebecca Hermes was invited to attend the Saga Furs Design Centre in Copenhagen where she got the opportunity to investigate new techniques to mix fur with other materials, such as plastic, as well as surface manipulation.
She says "My first 'style-moment' was watching Clueless in the 1990s, and wanting all that plaid. But my first 'fur-moment' was seeing Lil Kim in a chinchilla."
In 2012, Rebecca Hermes won 2nd place in the British Fur Trade Association's Fur Design Competition with an embroidered mink and fox fur coat. She then won the honour of exhibiting her garment at IFF's REMIX fashion show in Milan in 2013.