Lucy Upsher is a young designer and Fur Futures member who graduated from the University of Westminster in London with a BA(Hons) in Fashion Design. During her studies, she interned at Mary Katrantzou, Christopher Kane, Katie Eary, Jonathan Saunders and Louis Goldin and has most recently worked in a Junior Designer role at Roberto Cavalli in the Womenswear Print department.
She says "My first 'style-moment' would have been around the Spice Girl era; most aspects of my life took inspiration from them at the time. At one point I had my hair sprayed red at the back with blonde bits at the front to be like Geri [Halliwell] and wore it with my favourite (Baby Spice [Emma Bunton] inspired) strappy dress to some sort of School Fete and felt like the bees knees."
In 2012, Lucy Upsher collaborated with Hockley Furs in London to produce her design for the British Fur Trade Association (BFTA)'s annual fur design competition, where she was awarded the First Place Prize. Lucy won a trip to Saga Furs' Design Centre in Copenhagen, where she was able to experiment with different fur techniques and take part in some inspiring workshops. Her design for BFTA's competition was then exhibited in Milan at IFF's Remix 2013.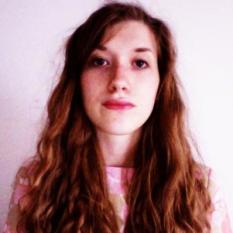 "My inspiration comes from Nature, travel and general life adventures. Films and photography also very often influence my work. I think this is because, like fashion, they capture something that's between reality and fantasy; elevating and distorting imagery beyond what we see in everyday life."
Lucy Upsher enjoys working with fur and continues to use it in her designs.
"I always adored fur when growing up; whenever my Mum would go to fancy dinners and wear her Grandmother's furs, I would always insist on parading around in them myself before allowing her to leave. A stand out moment would be my first fur coat, which was given to me by a near stranger who had seen me wearing my Mum's fur every Christmas Eve for years. It was the most beautiful thing I've ever owned; really glossy chocolate brown, calf length coney fur."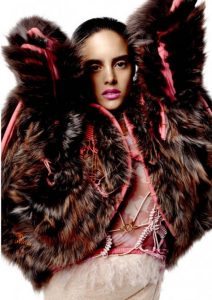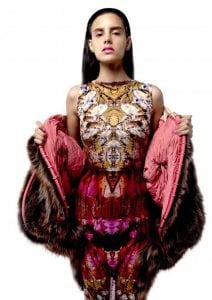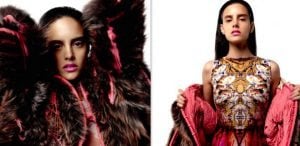 Ultimately, she aspires to be a Senior Designer at a fantastic brand, or to head her own successful label – but what really drives her are opportunities working with, or for, a brand that really excites and challenges her creatively.