The fashion industry is one of the most innovative industries in the world. Ultimately, this means that a large amount of responsibility is needed to ensure that the entire supply chain, and we, consumers, are protecting the environment. The fashion industry is taking a serious approach to sustainability, and rightly so. Albeit demanding, many luxury brands now have programmes to help ensure that they are doing the upmost to guarantee that they are becoming more environmentally-aware. As we develop our environmental consciousness as a society, we are becoming increasingly aware of the harmful consequences of fast fashion. And as a result, sustainability strategies are now commonplace. Consumers want to be able to trust that retailers, big and small, are serious when it comes to responsible fashion.
However, while sustainability appears to have only entered the zeitgeist in the last few years, the fur industry has been sustainable for decades if not centuries. In fact, the fur trade continues to pave the way when it comes to sustainable fashion.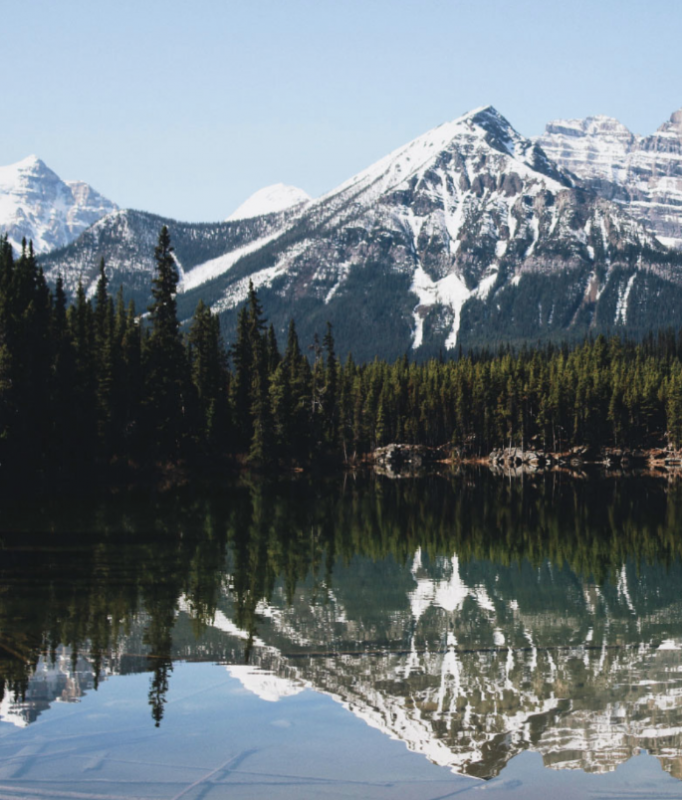 Foremost, the fur industry recognises that natural fur is inextricably linked to nature meaning sustainability is inherent. Nonetheless, the fur industry doesn't stop there, it's in the process of developing an industry-wide global sustainability strategy. One which will tackle issues holistically taking a three-pronged approach: good for welfare, good for the environment and good for people. These three pillars will comprise the fur industry's sustainability in Autumn 2019 with a full report the following year. The strategy means that the industry will continuously assess its impact on the environment, animals and communities, and the annual reports which follows will enable consumers to keep track on whether the industry is living up to its commitments. Daniela Liebetegger, Head of Sustainability at Fur Europe, says that she has "always known about the inherent sustainability qualities of fur. With our industry-wide strategy we are now going to document and work with sustainability in a much more structured way and according to internationally recognized guidelines." The strategy will assess the sustainability level of the industry and this will set targets to be achieved. Having standards is an imperative tool which allows tangible proof of the accountability of the supply chain. For consumers, it is a guarantee for the product they are purchasing. The fur industry has a positive story to tell and a thorough strategy will allow this; 'sustainability', 'strategy', 'reporting' are buzz words that the fashion industry are paying attention to.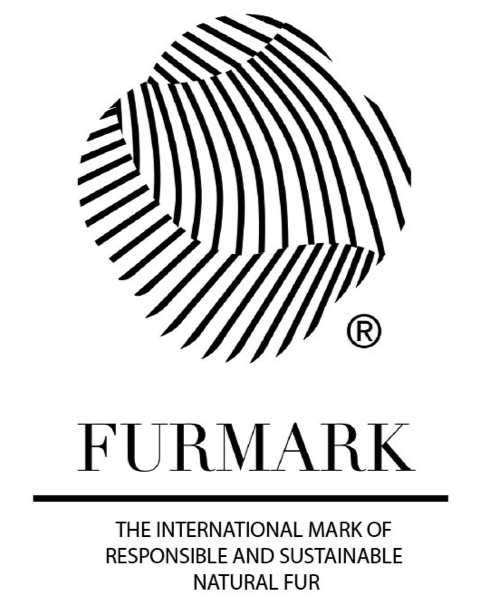 The fur industry has gone even further to ensure its sustainability by developing FURMARK; a global systematic certification program which oversees the fur trades traceability and certification. FURMARK is an assurance that the fur industry is striving to further improve the sustainability of the sector. Paul Stockall, Director of Standards & Sustainability elaborates more on FURMARK explaining that he believes "animal welfare and sustainability are the top priorities for the fur industry. FURMARK sets high standards and ensures that each step of the production process meets strict, globally recognised standards of animal welfare and sustainability. We want everyone to feel confident and reassured when they buy natural fur. This is why the certification is also transparent, traceable and will be readily accessible." The program will be implemented through a standardize traceability system that links various process through each stage in the fur supply chain. Under the program, the highest welfare and environmental standards are ensured thanks to the 3 key principles followed: science-based, independent inspection, transparency. The FUMARK program draws together developing independently verified certified programs under one umbrella. It will ensure alignment between regional certification programs, taking into account geographical differences and regional, national and international requirements.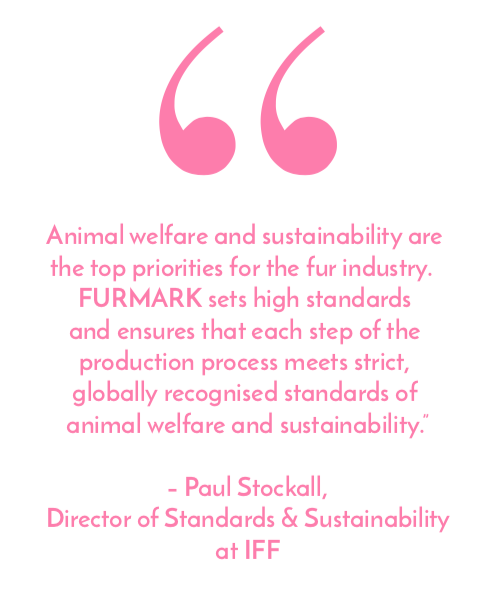 This will help to set international standards that reflect the local reality and identity. FURMARK will become the international mark of responsible and sustainable natural fur. It means that, from 2020 when you buy FURMARK certified fur, you are guaranteed the highest standards of sustainability and animal welfare were met throughout the supply chain. Under the FURMARK programme, all stages of the supply chain are a part of comprehensive, transparent and independently verified traceability systems. The wild fur programs are subject to a wide-ranging system of laws, regulations, checks and controls. Saga Certification includes the principles for advanced animal health and welfare; conditions for rearing animals; farm hygiene; environmental management; and for training and preparing for exceptional situations. FURMARK certified dressing and dyeing are committed to using chemicals from an agreed list; this satisfies laboratory verification requirements and government oversight on the environmental footprint of their factories. Link to website: https://furmark.com/
The direct link of consumers impacting and harming the planet must be acknowledged as fast fashion infamously damages and deconstructs the planet, as well as the animals in other ways. Instead of a spring, summer, autumn and winter collection, a season has now become a new week, which ultimately means that clothes are being produced, quicker, lower-priced, and undoubtedly due to the poor quality, continues to harm the ecosystem. Due to this rise of fast fashion culture, clothes are now being discarded faster, as there are new trends every week. "Britons binned clothes worth £12.5 billion last year as the rise of "throwaway" fashion led to 300,000 tonnes of textiles ending up in landfill", as reported by The Times. And that's just in Britain… Globally, 80% make their way to landfills (https://remake.world/stories/news/are-our-clothes-doomed-for-the-landfill/). Plastic products in fast fashion, most notably acrylic, which according to a report by the European Commission, had the worst environmental impact in 2014, which is neither good for welfare, good for the environment or good for people; three of the essence pillars for sustainability. Consumers are becoming passive buyers who are chasing the fantasy of 'buying more clothes will make me happier.' This fast fashion phenomenon is the foremost reason that brands need to embrace a sustainability strategy. Sustainability begs the question, how do we as consumers consider our relationship to nature, and about the ethics of our actions. In more recent times, sustainability has become a core differentiator, and a key element that consumers look for when deciding between brands. To know where a garment has come from, and the history behind its production attempts to answer how important our relationship with nature actually is. Consumers, especially millennials and Gen Z, are slowly picking up, and becoming more aware of how fast fashion affects the planet, and how brands can ultimately improve to help ensure that sustainability is at the core of their collections.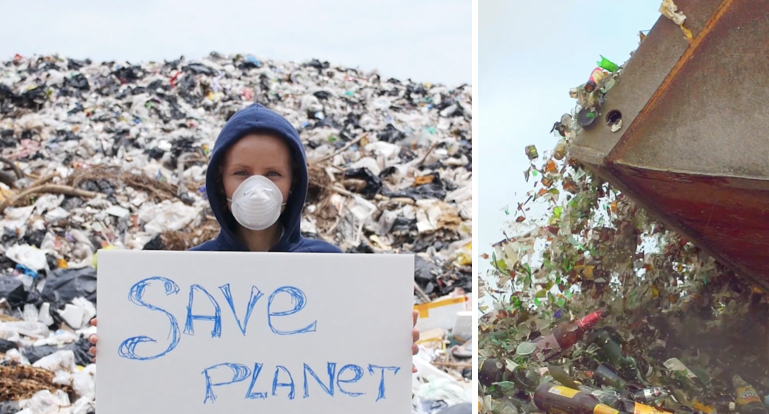 In general, the fashion industry isn't an industry that people immediately assume is a pollutant one, let alone the second largest polluter in the world, and in many cases, people don't take into consideration the environmental impacts of fast fashion. Everybody is responsible for contributing to vast change in the environment, and it takes the change of people to really work towards a more sustainable fashion future. Kering's chief sustainability officer, Marie-Claire Daveu makes an imperative note on sustainability saying that there is a 'less visceral sense of duty' where people don't immediately detect a direct link with themselves to the textile industry. For the fur industry, having a sustainability strategy is extremely important. It allows consumers to feel confident in purchasing their fur garment and know the cycle that it has taken for it to get to them. It provides proof and guarantee that the highest standard of sustainability and animal welfare were met, which gives consumers the confidence that the furs that they are buying are in conjunction to their increasing sustainability expectations for their awareness of the environment. FURMARK and the sustainability strategy are imperative to have for a greener, more sustainable future. The world is waking up and coming to the realisation that sustainable fashion is the only way forward to ensure that we take care of our planet, as well as everything in it.