Milan, March 4 2016: REMIX, the international fashion and fur competition organised by The IFF, named its winning designers last night at its annual award ceremony in Milan.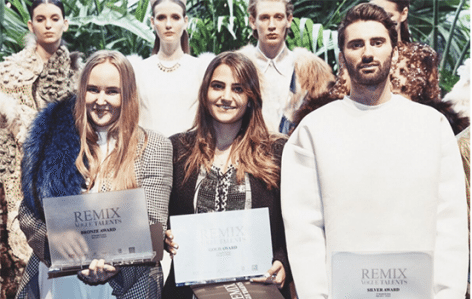 This year Daniel Kohavi, from Israel was awarded the Gold prize. Daniel wowed the jury with three looks that blended angelic wings with distressed fur to create a 'fallen from heaven' look. Her collection was inspired by installations created by the artist Claire Morgan. Daniel recently completed an internship at Lee Grebenau and is currently studying at her country's famous university Shenkar College.
The jury, composed of Sara Maino (senior editor of Vogue Italia & Vogue Talents), Veronica Etro (creative director of Etro Woman collections), Tamu McPherson (American blogger, author of All the Pretty Birds and street-style photographer), Leah Perez (head of the department of fashion at Shenkar) and Lory Yedid (partner at Value Search), selected Daniel Kohavi's innovative designs of over 36 garments presented.
The REMIX Silver prize went to Ali Koc from Turkey for his psychedelic pieces combining swirling black and white furs for a true optical illusion. Ali graduated in Fashion and Textile design from Namik Kemal University in 2011, and went on to study Business Administration and Management at Anadolu University, graduating in 2013.
Edda Gimnes from the UK scooped the Bronze award with her abstract pieces focused on bringing sketches to life. Her collection used a blend of mink furs in black and white. Edda has recently graduated in Womenswear from London College of Fashion.
For the first time in its 14 year history, REMIX awarded a people's choice accolade, with the winner chosen by votes cast by those in attendance at last night's event. The first winner of the people's choice is Louisa Ogaard Reinholt Jakobsen from Denmark. Her collection blended geometric and swirling coloured furs over white dresses to create a stand out look.
The winners of REMIX will feature in a Vogue Italia photo shoot with their garments, which will be used in an editorial expected at the end of March on the official Vogue Italia website. They will also receive best-in-class training working with some of the world's leading fur and fashion designers, and a supply of pelts to allow for design experimentation and innovation.
Each year, REMIX gives up-and-coming design talent from across the globe an opportunity to showcase their innovative designs to a highly influential, international audience and to receive global exposure across a range of traditional and online media channels.
Mark Oaten, CEO said:
"Year after year, the young talent that comes through REMIX continues to push the boundaries of fur, re-inventing this versatile, natural material. Daniel Kohavi's collection truly captured both mine and the judges' attention through a blend of beautifully distressed furs and simple fabrics. As always, I am taken aback by the talent our industry produces year-on-year. As always, a huge thank you and well done to all those that entered this year's REMIX."